The Big Read: The million-dollar pasar malam industry and S'poreans' love affair with it
SINGAPORE — Whenever a pasar malam pops up near his neighbourhood, Sengkang resident Gordon Chia would make it a point to visit it almost daily.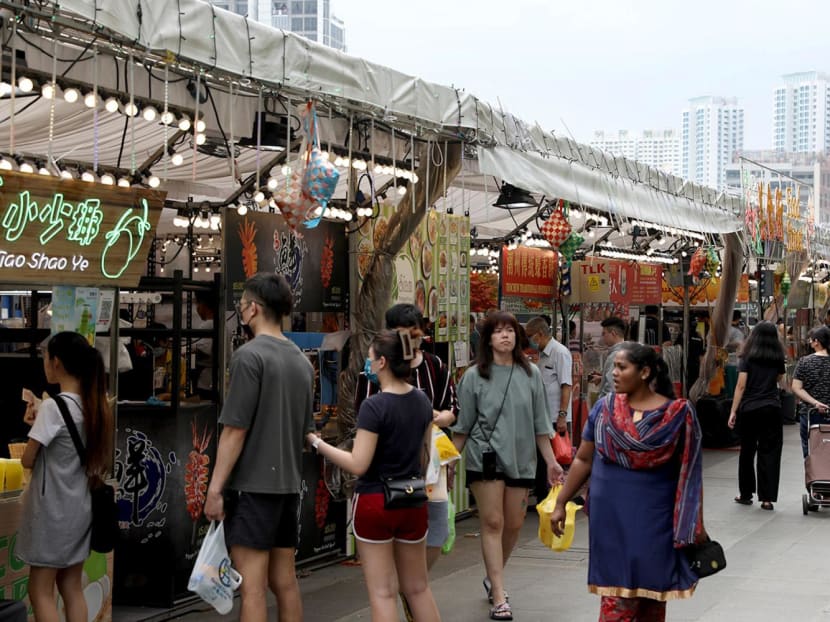 Festive bazaars and pasar malam have long been a popular and common sight in Singapore, but skyrocketing rental prices have compounded overall rising costs, eroding their attractiveness
Companies that organise bazaars point to how tender values — the amount they pay to People's Association to organise such fairs — add to costs
Tender values can make up at least 50 per cent of the evaluation criteria, while some tender documents even say full weightage is given to the tender sum
Such tenders run into hundreds of thousands of dollars for those in the heartlands or over S$2 million in the case of the Ramadan bazaar at Geylang Serai
Organising companies, stallholders, consumers and business experts say it is worth relooking how tenders are awarded to tackle this issue of rising costs  
SINGAPORE — Whenever a pasar malam pops up near his neighbourhood, Sengkang resident Gordon Chia would make it a point to visit it almost daily.
"It's the variety of food, some of which you'll hardly find elsewhere," said the 35-year-old, speaking to TODAY on Thursday afternoon (April 20) at a pasar malam next to Punggol MRT Station in between bites of crispy-fried cuttlefish.
Though he acknowledged that prices of his beloved street food have gone up over the years, Mr Chia said he is still drawn to the variety offered and still buys them frequently to "support local businesses".
On the other hand, a Yishun resident who wanted to be known only by his first name Kishan, 34, professed that his love for pasar malam, which began in his childhood, has faded through the years.
"When I was in secondary school or even as a younger adult (some years ago), I would make it a point to visit almost daily for vadai," said Kishan, referring to a fried dough snack popular at night markets.
"But now, even though a pasar malam would appear near my place once in a while and I have to walk through it to get to work or go home, I rarely buy anything," he said, attributing it to costliness.
"Sometimes, I don't even take a look around when I walk past."
For decades, trade fairs such as festive bazaars and neighbourhood pasar malam — Malay for night market — have been a common sight in Singapore.
While these trade fairs took a hiatus during the Covid-19 years, they have since made a return and one organiser has even listed 11 such fairs at various housing estates across the island from this weekend till July this year, each lasting 14 to 16 days.
The bazaars also tend to run the whole day instead of only at night, as the term pasar malam suggests. 
These fairs typically constitute a mishmash of stalls selling anything from clothes, toys to plants, and most popularly, food.
Vendors, organisers and customers told TODAY that beyond these goods, the pasar malam provides an avenue for visitors to bond with families and friends.
While these fairs have undergone some positive changes over the years, such as being generally cleaner and having better layouts, other developments are not so welcome. One issue that sticks out in particular, as highlighted by Mr Chia and Kishan, is the escalating prices of the pasar malam offerings.
Vendors interviewed by TODAY blamed the price increases on rising costs, of which rent is a significant one. They cited how daily rates have doubled in some cases since pre-Covid-19 years.
The issue of rental rates drew much public attention yet again recently, as the base rental prices at this year's Ramadan bazaar at Geylang Serai reached as high as about S$25,000 for some stalls, excluding miscellaneous costs, for the 36-day festive event.
Amid the eyebrow-raising figures, Mr Mohamed Mustaffa Shah Jehan, one of the co-organisers of the bazaar, stressed two key points in an interview with TODAY: First, the bulk of about 800 stall spaces are being rented out at a much lower price of between S$1,000 and S$6,000 for the whole period.
More importantly, the founder of Enniche Global Trading felt the public is unaware of the high costs involved in organising the fair — in the region of almost S$5 million, of which just under half constituted the tender sum. This refers to the amount that organisers had to pay to People's Association (PA) for the rights to organise the event.
As for pasar malam in the heartlands, a 20-day fair at Our Tampines Hub with 50 stalls had a tender value of S$171,000, according to publicly available information on the government procurement site Gebiz.
Meanwhile, a 22-day fair at Sembawang West with about 110 stalls had a tender value of "over S$100,000'', according to one of its co-organisers Abdul Rani Mustafa, founder of Adex International.
The Tampines fair ended on April 19 and the one at Sembawang West concluded on April 10.
PA's website currently lists four tender notices to hold trade fairs at Bukit Batok, Braddell, Keat Hong and Jurong from mid-May until August.
Vendors, other bazaar organisers and a business expert suggested that PA relook how it awards the tender, considering the tender price forms a significant part of overall costs.
An evaluation mechanism that emphasises tender value might lead to a bidding war, with additional costs trickling downstream through rental rates and eventually prices of goods sold. 
"I think, if nothing is done, pasar malam might not be around anymore in three to four years' time," said Mr Fraze Tan Boon Leng, 35, a third-generation owner of Hock Kee Birds Nest drink stall, a family business that has been operating at night markets since the 1980s.
He said that if vendors try to absorb the additional costs, it would cut into their profit margin. On the other hand, passing the cost increase on to customers would turn some away, effectively impacting the bottom line of the stallholders.
Either way, this would threaten business sustainability.
TRADITIONAL APPEAL OF PASAR MALAM
One attractive feature of the pasar malam is the accessibility of its items — both in terms of price and convenience.
Ms Jasmine Chia, who was at the pasar malam next to the Punggol MRT Station with her husband Mr Gordon Chia on Thursday (April 20), said that whenever the family drops by at a trade fair, she would take the opportunity to look around and get whatever she might need for the household.
Similarly, a cleaning supervisor at a pasar malam in Woodlands, who wanted to be known only as Yati, 58, said: "I occasionally buy things here because it's along the way home." 
Ms May Oh, 62, the owner of the stall from which Ms Yati was buying from, has been plying the trade for the last 15 years, selling cheap household products ranging from kitchen knives to reading glasses.
Most of her items sell for S$5 or less.
She said that while she sees a healthy mix of customers, the bulk of them are seniors. She attributed this to the younger crowd being able to buy items that she sells from online sites instead.
These trade fairs, which are not permanent, also offer visitors a sense of novelty.
"(Visiting them) is just something fun to do if I'm bored. There's a quaintness factor at these pasar malam," said Jedrick, 20, who just finished serving his National Service and declined to give his full name.
He added that he has never seen one being held in his neighbourhood in Bukit Timah.
The ambience is made extra special when it comes to festival-related bazaars such as Ramadan bazaars, said some visitors.
"The atmosphere and genuine joy of a community celebrating together is wonderful — the sense of festivity is obviously a large draw," said Ms Liyana, who declined to share her full name or age.
For vendors, they are largely drawn to set up shop due to the promise of large footfall and the opportunity to expand their customer base.
"If I open a stall at pasar malam, I get to sell to different customers in different parts of Singapore. And because the stall is not permanent, some customers might feel the urge to buy more before we close," said Mr Tan of Hock Kee Birds Nest Drink stall.
"Compared to our permanent shop at Hougang, it serves customers from nearby. And they know it will be there every day."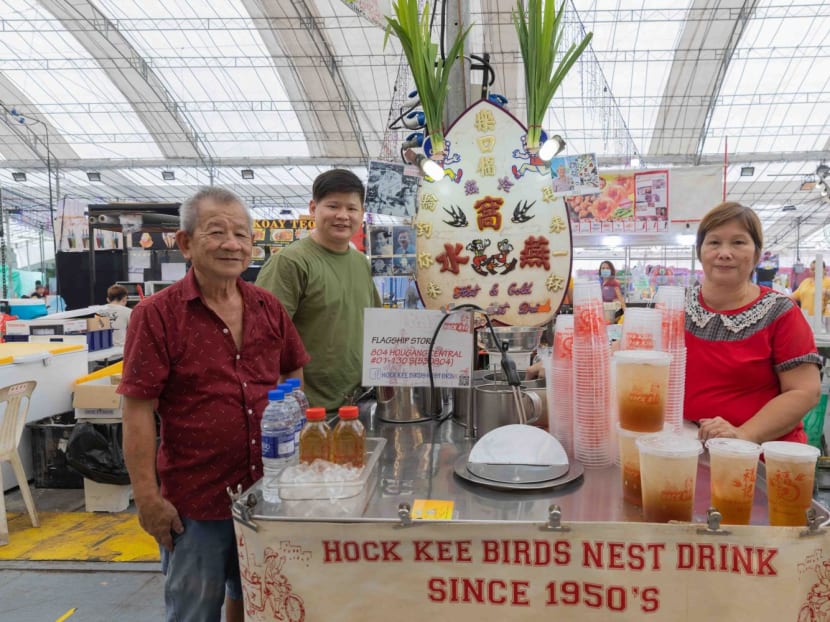 Ms Cindy Koh, a senior lecturer and programmes facilitator at Nanyang Polytechnic's Singapore Institute of Retail Studies, also highlighted another perk of having a physical presence such as at a pasar malam even as many businesses go online.
"Retailers also see bazaars as an opportunity to generate awareness to bring in new customers into their regular business, or use this as an outreach platform to draw visitors to their eCommerce platforms," she said.
"Consumers, new to the brand, may be better converted with a physical experience to start them off, rather than encountering the brand only over an online platform."
Many customers agreed that the biggest attraction of all at pasar malams is the street food like tutu kueh (steamed rice flour cake), apam balik (sweet pancake) and vadai, which may not be as readily available elsewhere all the time.
When TODAY visited the pasar malam at Geylang Serai, Kampong Glam, Woodlands and Punggol at different times these past two weeks, food stalls could be seen drawing more crowds than retail ones.
Visitors who spoke to TODAY also appreciated the cashless payment options more commonly offered at stalls now, and better thought-through layout of the bazaars and pasar malam, with more walking space and dedicated seats for people to enjoy their snack haul.
MOUNTING CHALLENGES
However, shifts in market conditions are eroding the attractiveness of pasar malam.
Ms Oh, the houseware seller at Woodlands, told TODAY: "Last time selling things at pasar malam was enough. I could even raise two children and send them to school.
"Now it's barely enough for me and my husband," said Ms Oh, whose two children are now working after graduating from university.
The couple relies solely on their income from their sales at pasar malam and do not have any shop or business elsewhere. 
She attributed the change in fortune to the rising rent and overall costs, as well as the shrinking customer base.
Mr Stephen Suriyah, a second-generation owner of The Original Vadai chain, still opens stalls at the Geylang Serai Ramadan bazaar every year, as that was where his family business started in the late 1980s.
However, he lamented the rising costs and what he described as a lack of community spirit.
"The reason why my mother could start a business was because a stall renter was kind enough to 'tumpang' a small space at their stall for her to sell her vadai. They charge very little for that space," said Mr Suriyah, 33, using the Malay word for sharing of space.
"Now, you see the high rentals, it has become very money-focused. A lot of stalls I see cannot survive," he said, adding that he is fortunate that his income could be supplemented from stalls at other pasar malam and the permanent shops the company has.
Rental rates for some stalls at pasar malam have easily doubled since about four to five years ago, according to vendors at various fairs who spoke to TODAY.
"Rental before Covid was around S$100 to S$250 per day. Now it's minimally S$200 for the non-prime areas and S$350 to S$400 for the prime ones," said Mr Suriyah.
Vendors and consumers alike agreed that as the costs translate to higher product prices, it would impact consumers' ability to spend.
Other changes such as the addition of game claw machines at the pasar malam have drawn a mixed reaction.
While generally accepted at neighbourhood night markets, consumers and some vendors found these game booths a little out of place at the Geylang Serai Ramadan bazaar during this festive season.
Mr Hussin Said, who runs a few food and beverage stalls at various pasar malam including at Geylang Serai, said he suspected that the organisers had placed the game booths there to fill up space as there were not enough take-ups of regular stalls.
"This really spoils the Ramadan and Hari Raya theme of the bazaar," said Mr Hussin, who had worked at various pasar malam stalls in his teenage years, and has been running his own stall since 2019 under the Mango Bossku brand.
When asked, Mr Mustaffa, the co-organiser of the bazaar, confirmed Mr Hussin's speculation.
"The game company was among the first who approached us saying they wanted to rent space. But we delayed it as much as possible as we wanted to prioritise other potential businesses that fit into the theme," said Mr Mustaffa.
He attributed the slower take-up rate for stalls to the existence of other pasar malam at around the same period, saying it was the "greatest" competition he had faced thus far.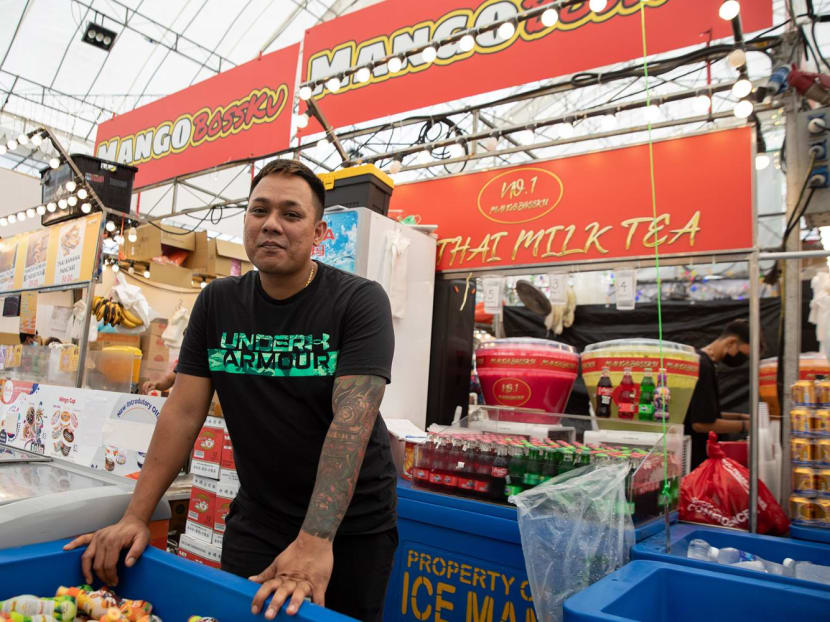 The grouses aside, these pasar malam and bazaars in general continue to draw crowds.
For example, Associate Professor Muhammad Faishal Ibrahim, Minister of State for Home Affairs and National Development, said that the bazaar at Geylang Serai had attracted over three million visitors as of April 14, a week before the bazaar was scheduled to end.
But vendors who TODAY spoke to at various pasar malam and bazaars said that business was less brisk than in previous years.
"The crowd is still there, although a bit less since after Covid-reopening. I think because many are used to buying things online already," said Mr Hussin.
"Even though there's a crowd, they are buying a lot less items because each item now is more expensive. Which is why I try my best to sell my items cheaper and bank on volume of sale."
Even then, he projected that his overall profit would take a significant hit this year.
Worse still, some vendors at the Geylang Bazaar said they had seen some stallholders being evicted due to their inability to pay rent. Mr Mustaffa confirmed with TODAY that some evictions had occurred.
He said that having been a stallholder himself at the bazaar many years ago, he sympathised with these vendors. However, he added that they were evicted only as a last resort after being issued multiple reminders and warnings for not paying rent.
"I feel kesian (pity) for them also. But the thing is, these vendors can come into our office and ask for discounts and all that, but we cannot go to Wisma (Geylang Serai) and ask for a discount in turn. Because we already paid in full before the bazaar started," he added.
Wisma Geylang Serai is the body under PA in charge of organising the Ramadan bazaar.
THE THORNY ISSUE OF TENDER VALUE
To organise a pasar malam, interested companies would first have to submit a tender to PA and indicate a tender value. If successful, the company would then have to pay the tender value to PA.
Replying to a parliamentary question on Friday (April 21), Minister for Culture, Community and Youth Edwin Tong, whose ministry oversees PA, said that trade fairs are organised through an open tender process to appoint a professional fair operator to manage and operate the event.
The successful tenderer will set the rent "based on market rates", he said in response to a question by opposition Member of Parliament Faisal Manap from the Workers' Party.
"An entity or individual who intends to bid for a stall will know in advance the rental rates which are proposed to be charged, as well as the other details on which the trade fair or bazaar is operated. They can then assess whether to make a bid," said Mr Tong.
Citing the Ramadan bazaar at Geylang Serai as an example, the minister highlighted that "a fair number" of holders also took up more than one stall.
Replying to a supplementary question by Mr Faisal, Mr Tong added that the point of the tender "is not to get the bidder with the highest price, but the bidder with the best expertise, the best proposal".
"In considering the tender, price is one factor amongst others. In the case of the (Geylang Serai Ramadan) bazaar, the award did not go to the bidder with the highest price," the minister said. 
PA did not respond to TODAY's queries asking for further details on the tender evaluation process in general, how prices have changed over the years as well as a list of companies that have successfully won tenders to organise trade fairs across the island.
However, a spokesperson of the organisation told TODAY that "all the proceeds" from this year's Geylang Serai Ramadan bazaar "are used for the community".
These would include funding the Hari Raya Light-Up and programming to build a festive atmosphere to the 36-day bazaar, supporting collaboration between Wisma Geylang Serai and Malay-Muslim organisations, as well as providing community and social programme to assist low-income families and the elderly.
TODAY's check of Gebiz, the government procurement site, shows that the tender for Ramadan bazaar at Geylang Serai this year was awarded to a consortium of three companies comprising TLK Events Management, Enniche Global Trading and S-Lite Events, at a value of S$2.26 million.
The consortium's bid was the second-highest among seven proposals, behind an automotive retail company Cili Padi Auto which submitted a tender value of S$2.53 million. 
Mr Mustaffa said that in previous years, 50 per cent of the evaluation weightage was given to the tender price, while the remaining 50 per cent was based on other qualitative considerations such as the proposed concept for the bazaar and the organiser's track record. 
This year, the tender sum was given a higher weightage in the evaluation process, he added.
"I think it should return back to 50-50. Then it would be fairer to all companies, and we will have more breathing space and have less pressure when putting in a tender price." 
Other companies which had unsuccessfully bidded for the Geylang Serai bazaar project agreed with Mr Mustaffa, saying that their companies are smaller and would be less able to afford paying a large tender sum to PA.
As for Mr Mustaffa, he said the tender was a significant but not the only major cost that his team had to bear in organising the bazaar. He said about S$2.5 million was spent to set up the infrastructure and provide security, among other things.
Mr Osman Arrifin, a consultant at Orange Travel, which had organised or co-organised the Geylang Serai bazaar for three consecutive years since 2018, shared how the tender price previously was a lot lower.
In 2019, his company successfully tendered for one zone of the bazaar with a tender sum of under S$900,000, to run about 500 stalls. In that year, there was a rental cap of S$14,000 imposed, but his company was able to meet this criteria due to the low tender price, he said.
While he could not recall the evaluation criteria that year, he said that the fact that Orange was only the fourth-highest bidder at that time and was still able to win the tender shows that there was less emphasis on tender value on PA's part so bidders could compete in other areas such as providing a good bazaar experience.
Still, checks by TODAY found that in some cases, tender prices may have an even higher weightage than was the case in the Geylang Serai bazaar.
PA's tender documents for at least three pasar malam sites seen by TODAY indicate that full weightage is given to the tender sum when evaluating it.
However, the tender documents also stated that the organising committee is not obligated to accept "the highest or any tender offer".
As for the identity of the key players among pasar malam operators, vendors interviewed by TODAY said that there are only a handful of such companies.
One of the more dominant player is TLK Events Management, a veteran operator and one of the partners involved in the Ramadan bazaar at Geylang Serai. 
A check on TLK Events' Facebook page shows that it has listed almost 30 fairs between February and July. The company has not responded to TODAY's queries.
Professor Sharon Ng, who heads the marketing division at Nanyang Business School, Nanyang Technological University, said that generally speaking, an oligopolistic market can lead to higher prices.
"In a market with a few big players, these players exert significant control over the market. They have more resources and understanding of how the tender process works. The players may also have a mutual understanding of how they would 'share' the market, which may lead to anti-competitive practices," she said.
Even if consumers find prices at a pasar malam are too high, they would have little choice but to make a purchase as there are few alternative trade fairs to turn to.
MOVING FORWARD
Mr Darryl David, a Member of Parliament for Ang Mo Kio Group Representation Constituency, told TODAY that his ward typically sees trade fairs being organised twice a year. And these pasar malam "generally speaking, (are) very well supported," he said.
Like many members of the public, Mr David acknowledged the important role such trade fairs play in the community.
Besides preserving a tradition of street markets and providing a platform for some to engage in trade, pasar malam motivates members of the community "to get involved and to get engaged".
"As you come out there (to the trade fairs), you walk around, you see your neighbours, you may get to meet people. So it also encourages people to come out of their houses and do something," said Mr David, who is also deputy chairperson for the Government Parliamentary Committee for Culture, Community and Youth, and Education.
Despite the various challenges that trade fairs face, Mr David said he believes that trade fairs will remain relevant as long as the tenant mix and product mix is done right. 
On the issue of rents, he said that it would be difficult "to do any regulation or any kind of subsidising", as it is a function of the market.
"Organisers also have the cost, if organisers don't price their rental correctly, then the organisers would go out of business as well," he said.
Ms Koh, the senior lecturer from NYP, noted that high rents "are not a new thing", and she foresees that inflating prices will be a norm and just "a matter of by how much".
"Ultimately, in a willing-buyer-willing-seller situation, retailers need to ensure that they have done their sums properly and understand what/how much their potential consumers at the bazaar will be willing to pay," she added.
Though they acknowledge that larger market forces are at play in causing the overall increase in costs, stall vendors, organisers and customers are still holding out hope that something can be done with regards to the tender process.
"After all, trade fairs are organised for the people, right?" said Kishan the Yishun resident.
Professor Ng from Nanyang Business School summed up the various calls to relook the tender process succinctly.
"Reduce the weightage on price in the tender decision. Relook why PA is organising a bazaar. Is it purely a revenue generating tool or are there other reasons?" she said.
"If there are other reasons, include other considerations (such as how the proposal is helping PA to achieve its other goals) when evaluating the tender."