The Big Read in short: 3 months on, a stock-take of S'pore's response to Covid-19
SINGAPORE — Exactly three months after the first Covid-19 case was reported in Singapore, the total number of people infected with the disease crossed the 10,000-mark on April 23.
Each week, TODAY's long-running Big Read series delves into the trends and issues that matter. This week, we examine how the Singapore authorities have been tackling the Covid-19 outbreak since it first landed in the country three months ago. This is a shortened version of the feature, which can be found here.
SINGAPORE — Exactly three months after the first Covid-19 case was reported in Singapore, the total number of people infected with the disease crossed the 10,000-mark on April 23.
While Singapore's handling of the outbreak was once hailed as the "gold standard" by international academics, the Government now face criticism by some for their response, particularly for their inability to prevent the ongoing viral spread within foreign worker dormitories. Others question why the drastic moves taken today were not done sooner.
Several international headlines now paint Singapore as a "cautionary tale" and a lesson to the world that even the best-laid strategies may be derailed by the highly contagious coronavirus. 
Amid the debate, TODAY looks back at three months of the pandemic and examines the steps that were taken to contain the virus at three distinct phases: The initial outbreak, the rise of imported cases from around the world, and the subsequent spread at the foreign worker dormitories.
THE FIRST PHASE 
Lack of virus information 
The initial outbreak in January was marked by a lack of scientific understanding of the novel coronavirus, other than the fact that it belongs to the same family as the severe acute respiratory syndrome (Sars) virus, and involved human-to-human transmission.
This dearth of key information was critical: It created uncertainty in the policy response and led nations to adopt tactics used during the 2003 Sars epidemic, such as a reliance on temperature screening which later turned out to be less effective than thought.
Associate Professor Josip Car, director of the Centre for Population Health Sciences at the Lee Kong Chian School of Medicine, said there are ongoing difficulties in generating robust evidence on the infection fatality rate or case fatality ratio, which measures how fatal the virus is. These uncertainties still exist now. 
Dr Leong Hoe Nam, an infectious diseases specialist, said that it made sense then to rely on pandemic tactics that Singapore was familiar with. But the lack of full understanding of the severity of the virus had a profound impact on how governments initially reacted.
As more cases emerged, there was a switch of narrative to portray Covid-19 as a "bad flu", said Dr Leong. 
On Feb 7, co-chair of the multi-ministry task force Lawrence Wong noted that the fatality rate in China was 2 per cent, but if one excluded the Hubei province from the figure, the fatality rate would fall to 0.2 per cent. As such, Singapore was considering an approach similar to the H1N1 pandemic to cease contact tracing and send infected mildly ill Covid-19 patients to recover in isolation at home.
Singapore ultimately did not head down this path of stopping contact-tracing efforts, which would have compromised the containment approach at the time. 
Dr Leong said: "Now we know a lot more (about the virus). It spreads asymptomatically and pre-symptomatically. It acts like a Trojan horse. Super-spreading events occur, like Sars and Mers. The rapid spread is incredible, beating influenza. People die primarily because hospitals are overloaded. Death rate can be reduced simply by helping hospitals cope."
In hindsight, Associate Professor Eugene Tan from the Singapore Management University (SMU) said the Republic could have quickly switched gears from a containment approach to eliminating it completely while numbers were low.
"An upward calibration of measures would not only flatten the curve but helped prevent a continuing spike in later days which we are now experiencing. This precautionary principle would have helped. Given that little was known, we ought to have erred on the side of caution," said Assoc Prof Tan.
Face mask policy 
A second issue relates to the Government's advisory at the start of the outbreak in late-January to discourage people who are well from wearing face masks. 
The initial advisory by Singapore to not wear masks was made in the context of a potential shortage of masks for frontline healthcare workers, as people had reacted to the outbreak by hoarding mask supplies.
"If we do not manage the private utilisation rate and prioritise allocation, we can end up in a situation where we deprive essential health services of masks as well as those who really need it," the Ministry of Trade and Industry had said on January 30.
Outside of China, Hong Kong and Taiwan, where people started wearing masks early on in the outbreak, the Czech Republic was the first European country to make wearing masks mandatory in supermarkets, pharmacies, and public transport on March 18. 
Slovakia followed suit on March 25, and four days later, Bosnia and Herzegovina made it mandatory for its citizens to wear a face mask or a cloth covering their mouth and nose while walking in the streets or outside their homes.
The WHO, which had earlier also advocated against wearing masks in public unless people were sick with Covid-19, reversed its advice on April 3.
Singapore did likewise the same day, with the Government no longer discouraging people from wearing masks even if they are not showing symptoms of sickness. From April 14, it became mandatory to put on a face mask when heading out of home.
Responding to a question about the reversal in mask policy, Mr Wong said on April 14 that the updated mask advisory was based on the latest findings, medical advice and scientific evidence, including proof of pre-symptomatic spread of the virus.
Given the likelihood of more undetected cases in the community, the Government then required people to don masks when going outdoors as an "extra precaution worth taking", said Mr Wong.
Experts said it would be impossible to tell if having a mask-wearing requirement would have made a tangible difference in the number of cases before April 3.
Said Assoc Prof Tan: "In an ideal world where masks were available in abundance, a precautionary approach would be to wear masks, since some barrier is better than no barrier."
Dr Leong said the wearing of masks "may have made a difference, but not by very much". 
"If you look at all the best evidence in handling outbreaks, the most effective measures are: Search, isolate and quarantine, followed by physical distancing, then handwashing, and finally the use of surgical masks, in that order," he added. 
"Our mistake is this: Our people did not do sufficient distancing and it is still inadequate."
THE SECOND PHASE
Travel restrictions and the return of overseas Singaporeans
For a time until the first week of March, the measures appeared to be working for Singapore, with the virus appearing at one point to taper off after a peak of nine new cases on Feb 14. 
But as the pandemic spread around the world, some experts told TODAY that Singapore could have imposed travel restrictions on affected countries at an earlier time. 
Separately, Mr Tomas Pueyo, a Silicon Valley consultant who writes data-driven articles on how governments are dealing with Covid-19, noted on his website that Singapore imposed a travel ban on mainland China when there were 12,000 infections there, but only did the same for other countries like Germany, France, Spain and Italy when their combined case numbers hit over 50,000 reported cases.
The authorities had also called for the return of all Singaporeans who were studying overseas, and they would have to serve a two-week stay-home notice (SHN) upon their return.
With the benefit of hindsight, this strategy could have been better implemented as the assumption was that they would serve out their SHNs obediently, said Dr Leong.
It was only till March 25 that the authorities made it mandatory for returning Singaporeans from America and Britain to serve their SHNs at dedicated facilities such as hotels, with dedicated transport to ferry them from the airport. This was later expanded to all countries on April 9.
Social responsibility and business continuity
At the time, social responsibility was also notably lacking even as the virus continued to rage around the world, said experts. People had continued to socialise and go to work while feeling unwell, which had contributed to some cluster of cases. 
These cases, such as the clusters at Safra Jurong and the PCF Fengshan preschool, occurred before stricter safe-distancing measures that carry severe penalties for non-compliance were put in place on March 26.
Some businesses also appeared to be ill-prepared for a pandemic, added Dr Leong. Alternative work arrangement policies that would have encouraged those who are feeling mildly ill to work from home were lacking.
The explosion of infections at foreign worker dormitories could have originated from a lack of segregation or social distancing in the construction sector, as findings point to a spread through common work sites and social activities during their rest days.
Dr Car said: "We all need to calibrate our behaviours and attitudes in relation to how we view work and ill health and disease… We must see concrete actions such as staying at home when unwell as a social good that protects loved ones, colleagues, society and the economy."
THE THIRD PHASE
Outbreak in foreign worker dorms
When April came, the virus had already spread to the migrant worker population residing in purpose-built dormitories. The virus was likely to have been circulating among migrant workers in the second half of March, at a time when safe-distancing measures were being ramped up amid a rise in the number of imported cases.
Experts said the lengthy lag time between transmission and detection of Covid-19 cases calls for preemptive, rather than reactive, action. 
Speaking at a task force press conference on April 14, Manpower Minister Josephine Teo said that since the start of the Covid-19 outbreak in January, the authorities had progressively limited the inflow of workers to Singapore to minimise the risk of imported cases and reached out to dormitory operators to be more vigilant.
The Government took more active steps after some dormitories were gazetted as isolation areas on April 5, effectively placing all migrant workers residing in these dorms on lockdown.
Could the authorities have taken more decisive action earlier? In a recent interview with the BBC, Mrs Teo said: "Yes, we took some safe distancing measures within the dormitories, and if we were able to rewind the clock, one could say that these safe distancing measures needed to go much further."
She added: "We are not perfect, but we do what we can."
SMU's Assoc Prof Tan reiterated that more should have been done for migrant workers earlier on, when the authorities' understanding of vulnerable groups was limited to the elderly Singaporeans and the school-going population. 
"It's hard to explain why the authorities did not up the ante in terms of infection controls at the dorms. Perhaps there was a policy blindspot with the focus being on Singaporeans," said Assoc Prof Tan.
But other experts said that without the benefit of hindsight, the answer to whether the Government should have stepped in sooner is not clear-cut.
"In my opinion it would be inevitable that the close contact (between migrant workers) would facilitate disease spread within the dorm community once one or more individuals were infected," said Associate Professor Richard Sugrue, a virologist from the School of Biological Sciences at Nanyang Technological University.
Without the context of active viral spread among migrant workers or a circuit breaker in place, Dr Leong said locking down workers will be construed as "bitterly wicked".
Timing the circuit-breaker
On April 3, Prime Minister Lee Hsien Loong went on national television to announce a four-week-long circuit breaker as a preemptive move to reduce the risk of Covid-19 pushing Singapore "over the edge" and gradually ease the crop of new cases.
Several commentators have questioned why this move was not taken earlier, which would have allowed the proper context for the authorities to act more decisively at worker dormitories.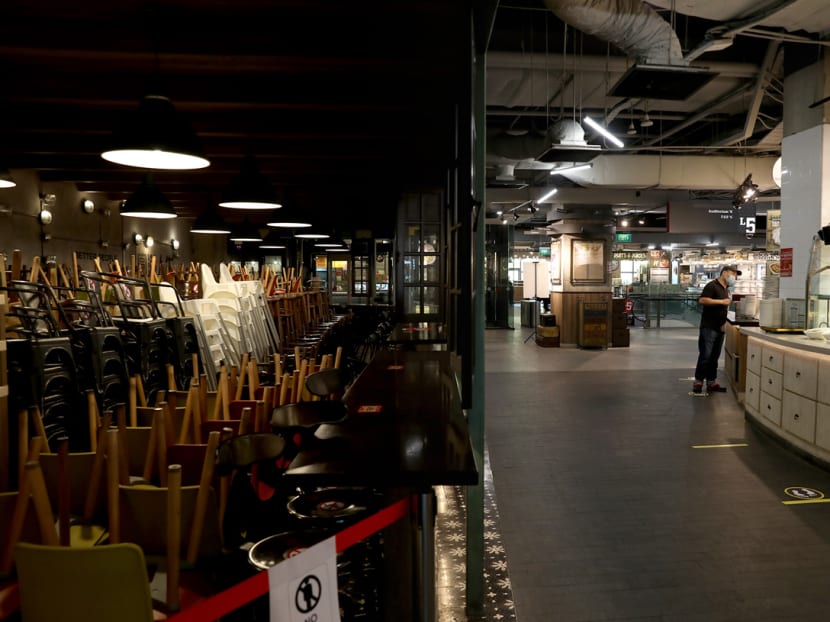 When asked on April 3 whether the circuit breaker could have occurred sooner, Mr Wong had said that it all comes down to a "judgement call" based on the global and domestic situation. He also warned that an earlier circuit breaker could have created fatigue to the measures.
Assoc Prof Tan said Singapore "waited too long" for the circuit breaker to happen, and that the four-day lead time, before the measures kicked in on April 7, was excessive.
He argued that calling it a "lockdown" instead of a "circuit breaker" would have driven home the message that the health threat is severe. This would ensure that the measures were taken seriously, he added.
Others disagreed with Assoc Prof Tan, stating that the judgement call on the timing of the circuit breaker was correct since it occurred in a matter of days after the dormitory clusters were detected, and after incremental safe-distancing measures were put in place. 
The circuit breaker was also called before Singapore's healthcare, lab testing and contact tracing capacities reached the point of being overwhelmed, a scenario that other countries which have instituted lockdowns cannot claim to enjoy, they said.
The use of the term circuit-breaker as opposed to a lockdown is also more indicative of the actual situation in Singapore, said Dr Car.
Institute of Policy Studies deputy director for research Gillian Koh urged people to not dismiss all the efforts that the city-state had done prior to the circuit breaker, as these measures had flattened the epidemic curve initially and bought precious time for the circuit breaker to be subsequently implemented.
Professor Danny Quah, dean of the Lee Kuan Yew School of Public Policy, pointed out that every government that is looking sensibly at lockdown policies amid Covid-19 is weighing the costs to economic activity and livelihoods against the effect of reducing new Covid-19 infections.
"Remember, while a complete 100 per cent perfect lockdown might quell transmission, when the economy tumbles as a result, it is the poor and vulnerable who will take the economic pain," said Prof Quah.