The Big Read in short: Dissecting the boomer-millennial divide
SINGAPORE — Generation gaps have existed since time immemorial. But the chasm between millennials and baby boomers has come under the spotlight, and taken a new twist — an insulting one from the older folks' perspective — after a popular Internet meme becomes the retort of choice for youngsters fed up with the supposedly patronising, outdated and know-it-all ways of their elders.
Each week, TODAY's long-running Big Read series delves into the trends and issues that matter. This week, we look at the generational divide between millennials and baby boomers which has come under the spotlight recently after a popular Internet meme became a retort of choice for youngsters against their elders. This is a shortened version of the feature, which can be found here.
SINGAPORE — Generation gaps have existed since time immemorial. But the chasm between millennials and baby boomers has come under the spotlight, and taken a new twist  — an insulting one from the older folks' perspective — after a popular Internet meme became the retort of choice for youngsters fed up with the supposedly patronising, outdated and know-it-all ways of their elders. 
The "OK boomer" phenomenon may have originated in the United States, but TODAY's interviews with millennials and boomers in Singapore found that intergenerational quarrel had already broken out here long before the meme found its way here. 
Millennials are generally defined as those born between 1981 and 1996, while baby boomers were born between 1946 and 1964.
Millennials, including those in Singapore, have taken to private Facebook groups to vent their frustrations by role-playing as baby boomers. They can be seen mocking the way older people use Internet abbreviations and make common spelling errors. As of Friday (Dec 6), one of these groups, called "a group we all pretend to be KIASU boomers", has over 2,300 members. 
For millennials all over the world, their frustrations run the gamut of social and domestic issues, such as fears surrounding job insecurity, changing values when it comes to family and marriage, and disagreements with their elders on social issues, such as the looming climate crisis. 
The baby boomers, on the other hand, have expressed exasperation over millennials' stubborn individualism and idealism. Though they recognise that their kids are growing up in different circumstances, they are still baffled by the youngsters' motivations.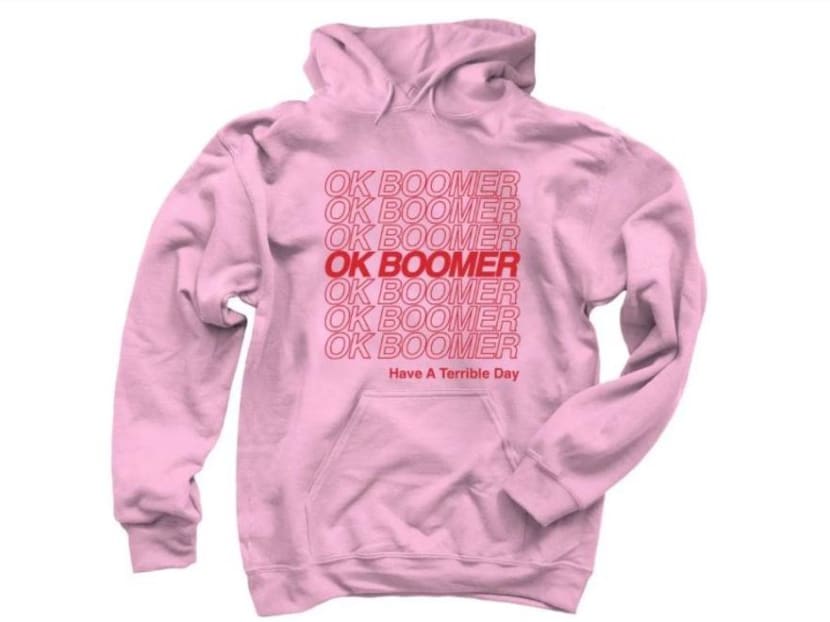 Some experts whom TODAY spoke to believe young Singaporeans share some of the same worries expressed by millennials in other developed economies. 
Assistant Professor Woo Jun Jie, a Singaporean academic from Education University of Hong Kong's Department of Asian and Policy Studies, said: "These include rising home prices, stagnating wages, and an increasingly competitive job market that was fuelled by immigration. While real wages have been rising in Singapore, the unfortunate reality is that the rise in home prices have outpaced wage increases." 
Professor Chua Beng Huat, who is the Provost Chair Professor of the National University of Singapore's (NUS) Department of Sociology, noted that millennials and Gen Z are unlikely to have the same economic opportunities that their elders had.
Among other things, baby boomers were able to accumulate wealth as they were the first generation to have dual-income professional families. They also benefited from opportunities provided by the reconstruction efforts after World War II, Prof Chua said. 
These opportunities are unlikely to be repeated for post-boomers, he added.
A DIVIDE AMPLIFIED BY SOCIAL MEDIA 
The "OK boomer" phrase started as a meme on social media platforms such as TikTok and Twitter. First, as a retort aimed at those who voiced criticisms on millennials and Generation Z, generally defined as those born after 1997. Then, it evolved into a viral meme on the social media app TikTok.  
The TikTok video, which shows a 16-year-old girl holding up a sign that says "OK boomer" next to an unidentified man ranting about millennials and their inability to grow up, has been viewed over 15,000 times. 
The phrase has since become the caustic, rallying cry of millennials and Gen Z all around the world, bandied about in response to social posts on social media that dwell on often-heard stereotypes of young people. 
The young people who have used "OK boomer" said the snappy response encapsulates the collective exhaustion and exasperation that has built up over the years of trying to explain themselves to their elders. 
SITUATION IN SINGAPORE
There are currently no public studies available to show that intergenerational income mobility — the degree to which income status persists across generations within a family — has slowed for the millennial cohort in Singapore. 
The most recent study, conducted in 2015 by Singapore's Finance Ministry, found that for those aged 37 to 41 — who belong to Generation X — intergenerational income mobility in Singapore has remained high. 
However, the study acknowledged that upward mobility for younger cohorts of Singaporeans would not be as easily achieved as the country's development slows. 
It said: "As the pace of Singapore's development slows, it will be an increasing challenge to sustain such mobility in the future". 
While this is an indication that Singapore could face similar problems of slowing intergenerational income mobility in the future, they are at present still less pronounced in Singapore than elsewhere, some experts said. 
The gulf between generations in Singapore has more to do with disagreements on the "softer" social issues, where boomers and millennials see things differently and where the younger generation is able to blame their elders directly for the existing situation, said Prof Chua.  
Recent studies conducted by CNA and the Institute of Policy Studies (IPS) revealed some of the issues where a clear difference in ideologies could be observed between the generations.  
A door-to-door survey conducted by CNA between April and June, which involved over 1,200 respondents from different age groups, explored the views on issues such as the environment, foreign talent, LGBTQ and politics. 
ATTITUDES ON LGBTQ ISSUES 
In particular, there were stark differences between the age groups on how they saw LGBTQ issues: When asked if they agreed, disagreed or were neutral to not exposing their child to LGBTQ influences, 69.8 per cent of baby boomers agreed. In contrast, only 39.6 per cent of millennials agreed. 
Similarly, when the respondents were asked if they would have positive or negative emotions if their child were LGBTQ, 61.5 per cent of boomers indicated "negative" compared with 37.5 per cent of millennials. 
Separately, an IPS survey conducted between August last year and January this year also showed that younger Singaporeans had become increasingly liberal towards homosexuality over the past five years.
The study involved 4,015 Singaporeans and permanent residents, and its findings were compared with the results of a similar survey conducted in 2013. 
In 2013, 47.6 per cent of Singaporeans aged 18 to 25 felt that gay sex was always wrong but for the lastest survey, the figure was nearly halved, to 25.4 per cent. 
The proportion of Singaporeans from this age group who felt that gay sex was not wrong at all nearly tripled from 11.6 per cent to 30.2 per cent between 2013 and 2018.
In 2013, about 40 per cent of Singaporeans aged 18 to 25 believed gay marriage was always wrong. This fell to 23.9 per cent in 2018.
In response to TODAY's queries, a Pink Dot spokesperson said that young Singaporeans have more access to different platforms that provide LGBTQ content, and this, among other things, has led to a general increase in open-mindedness and acceptance towards the LGBTQ community among them.
Ms Jean Chong, founder of women gay rights group Sayoni, noted that with more people coming out of the closet, it is likely that a young person would have a friend or a classmate who is LGBTQ, which has led to greater acceptance.
The baby boomers, on the other hand, came from a time when there was not much exposure on these issues.
"It came much later to them when they are much older. If you talk to many of (the baby boomers) they will say, 'oh I don't know any LGBTQ people'. But actually, they do know them. It's just that (LGBTQ people) were not out (of the closet) during their time," Ms Chong said.
ATTITUDES ON CLIMATE CHANGE  
Climate change is another issue that has been perceived as dividing the young and the old, with young people generally viewed as more passionate about environmental causes. 
For instance, millions of youths, inspired by Swedish teen activist Greta Thunberg, held protests in some 150 countries, to speak up about the impending effects of climate change. 
World leaders, including Singapore's Prime Minister Lee Hsien Loong, have also acknowledged a greater interest and concern among youths regarding climate change.  
Environmental experts told TODAY that youth leaders play a major role in influencing others in their generation to take on more active roles in tackling environmental issues. 
Earth Society's vice-president Low Chip Khoon said: "With youth leaders such as Greta Thunberg sounding off the alarm, the youths began to realise that if we do not do anything about climate change, they may not have a liveable planet to inherit from us (the older generation)". 
He added: "Youths are the ones who are more willing to make lifestyle changes like eating less meat, to help the planet. Most adults have not realised the urgency and seriousness of climate change." 
Still, some experts pointed out that older Singaporeans might be just as concerned about the issue. 
Ms Kia Jiehui, the principal strategist at Forum for the Future, a non-profit organisation that promotes sustainable practices in the workplace, said that the generational divide on climate change in Singapore is more of a question of different approaches than a "fundamental mismatch of ideals". 
Indeed, CNA's survey revealed that both millennials and baby boomers were willing to protect the environment even at the expense of economic growth, with 86.5 per cent of millennials and 87.2 per cent of baby boomers agreeing to the trade-off. 
DANGER OF FRAMING CONFLICTS AS 'YOUNG VS OLD' 
Some experts have warned against labelling the divide as a generational issue, arguing that the reality is much more complex than a matter of young versus old.
"It assumes entire generations are monolithic, and in many ways, scapegoat people who are also from the boomer generation but suffer from consequences of decisions made by others," said Assistant Professor Walid Jumblatt Abdullah of Nanyang Technological University's School of Social Sciences' public policy and global affairs programme.
"Rather than looking at (the issues in terms of) boomers versus Generation X or millennials, I would rather look at things from the elite-masses, powerful-powerless, just-unjust angles." 
In a similar vein, Dr Scott argued in an opinion piece for The Washington Post that framing conflicts in generational terms can be dangerous. 
Citing the example of student activism in the US in the 1960s, which was also framed as generational conflict, she said: "Getting bogged down in generation clashes ensured these problems went unresolved, and we run that risk again today if we distill our divisions into a generation gap." 
Asst Prof Walid reiterated that while there may be specific issues which different generations face, this by no means indicate a "generational war".  
To cast it as such would be ill-advised, he cautioned. "The phrase itself is patronising in many ways, implicitly or explicitly juxtaposing the cool, 'woke' millennial alongside a backward, older person," he said.