The Big Read in short: The end of dept stores? Not quite
Each week, TODAY's long-running Big Read series delves into the trends and issues that matter. This week, we look at the relevance of department stores amidst the rise of e-commerce, and how they can reinvent themselves. This is a shortened version of the full feature,​ which can be found here.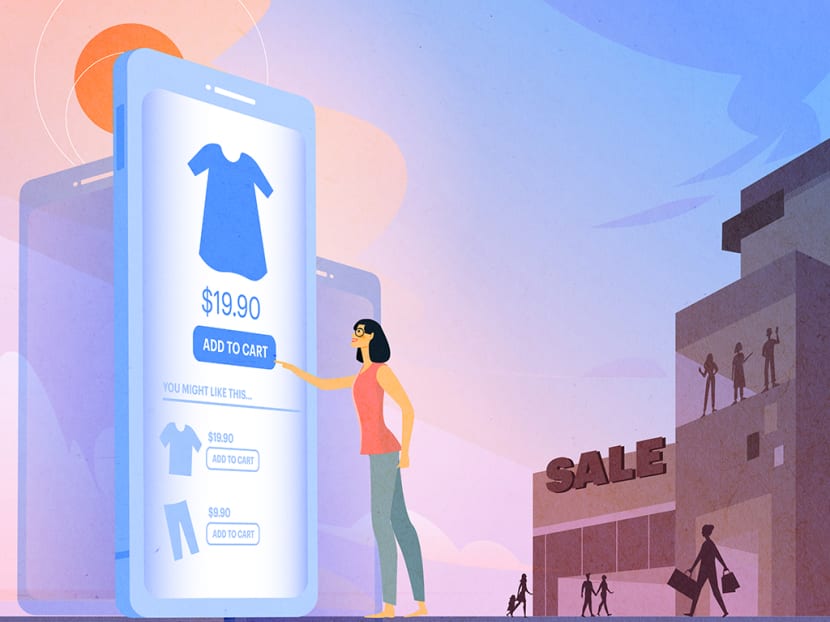 Each week, TODAY's long-running Big Read series delves into the trends and issues that matter. This week, we look at the relevance of department stores amidst the rise of e-commerce, and how they can reinvent themselves. This is a shortened version of the full feature,​ which can be found here.
Industry observers believe department stores can still be relevant as long as they reinvent themselves
Experts suggested that department store operators leverage on the benefits of having a physical store and marrying it with the advantages of e-commerce 
Other suggestions include downsizing and changing the layout of a department store, as well as finding brands and products that are relevant to a younger generation
The human-touch should not be neglected too, and more investment should be spent on training staff to interact and engage customers to keep them coming back
SINGAPORE — It may have more than two decades since the last Yaohan department store in Thomson Plaza pulled down the shutters, but a group of former employees still meet regularly to reminisce about their time with the Japanese chain.
Before Covid-19 struck, the size of their annual gatherings would reach up to 200 people. While their fond memories include the daily morning gatherings — where they exercised together and motivated each other — and the long queues for Yaohan's iconic anpan red bean buns, it was really the company's work ethics that stuck with them.
Ms Jenny Gan, a 62-year-old former Yaohan cashier, said: "We worked with our hearts and our souls." 
A recurring theme that surfaced during TODAY's interviews with the former Yaohan employees was the emphasis on training, which included learning how to serve customers better and even rotating employees through different departments to widen the scope of their product knowledge.  
These days, Mr Adrian Png, 54, said he cannot help but feel a sense of disappointment when he walks into another department store because "you just don't see people helping you when you need something".  
In his time, Mr Png, who worked in human resource at Yaohan, said the sales staff in the clothing department would pull out all the stops for a customer by showing them different sizes, fabrics and designs.
"They just don't bother today," he lamented. 
Yaohan Singapore's last branch in Thomson Plaza closed in 1998, following the bankruptcy of its parent company in Japan — a victim of the Asian Financial Crisis which began a year earlier.  
Over the years, other department stores such as Sogo, Daimaru and John Little followed suit and shuttered their stores due to dwindling profits.
The latest to join the list of casualties is Robinsons, which started its business here in 1858 at Raffles Place. The household name announced its closure on Oct 30.
It has not always been this bleak for department stores; there was a period where they enjoyed widespread popularity as titans of the retail landscape.
IS THE ALLURE OF DEPT STORES STILL RELEVANT?
Before e-commerce came along to shake up the retail scene, department stores had a winning formula in the form of their "all-under-one-roof" concept which allowed families to meet their needs in terms of product variety, pricing and services, industry experts told TODAY.  
They noted that department stores in the past excelled at curating international brands and providing good customer service. 
While e-commerce has allowed for consumers to browse for products worldwide at the comfort of their homes, the department store model still has its advantages. 
The experts said these include providing a sense of instant gratification by allowing customers to leave a store with a product in hand. Such stores also allow customers to inspect items in person before buying, and provide customers with a logical layout to find their items compared to a shopping mall
Mr Samuel Tan, course chair of the diploma in retail management in Temasek Polytechnic, said that department stores also generate buzz and interest to pull in shoppers during seasonal sales.
One example would be the Tangs Christmas shops and festive displays, which "are always something to look out for and talk about by shoppers at the end of the year".
THREAT OF ONLINE SHOPPING
Despite this, advances in technology over the years have affected the appeal department stores once had, according to both industry observers and younger shoppers.
Mr Tan said the widespread accessibility of the internet has "disrupted the traditional way of buying", and even offers a virtual alternative of having everything in one space.
"With the widespread possession of mobile phones, tablets and laptops, shoppers are finding that even without stepping out of the comfort of their homes, they can browse across shopping e-platforms to search for merchandise and do price comparison effortlessly," he said.
This is precisely the appeal of e-commerce for Singapore Institute of Management student Amanda Seah, who appreciates the convenience of having deliveries sent to her doorstep since there are no department stores near her home.
The ease of being able to zoom in on the exact product she wants online, and even buying it at a lower price on occasions, is an added boon for the 22-year-old, who last visited a department store about three months ago.
Some department stores have yet to go the whole hog when it comes to e-commerce. 
Mr David Chen, chief executive officer of payment platform Atome, noted that these stores had not fully developed their digital presence when the circuit breaker was imposed in Singapore a few months ago. This forced even more people to rely on established online shopping portals such as Lazada or Amazon. 
Associate Professor Lawrence Loh from the National University of Singapore Business School stressed that a digital shopfront "does not make a digital transformation". "It has to be a very holistic reconfiguration of the business," he said. 
What this means is that department stores will have to rejig both their inventory and distribution system to make them more efficient.  
Even if department stores were to list themselves on an e-commerce platform, they will have to grapple with another issue — the risk of getting buried under the avalanche of thousands of brands online.  
Mr Tan said: "(Department stores) will need to reinvent their purpose and decide on how they can complement their virtual presence and physical stores."
HOW DEPT STORES CAN REINVENT THEMSELVES 
Despite the numerous advantages that e-commerce has over the traditional brick-and-mortar department store, experts believe its demise is not a foregone conclusion yet.  
The experts provided several suggestions which could help keep department stores afloat. 
Among other things, department stores must stop seeing e-commerce platforms and offline stores as separate channels, and instead view them as a means of offering customers a multi-channel shopping experience, said Mr Warren Hayashi, president of Asia-Pacific for payment platform Adyen.  
Citing their merchant partner, Dutch department store De Bijenkorf, as an example, he said the high-end chain has been using technology to personalise in-store experiences, while providing online offerings.
For instance, to ensure no customer journey is wasted because of an out-of-stock item, the department store has installed in-store kiosks that allow shoppers to browse for more items online.
Once they find an item, they can then order and pay on the spot using an in-store payment terminal, said Mr Hayashi.
Since De Bijenkorf manages its in-store and online sales in one system, it makes no difference where the payment takes place, he added.
Furthermore, De Bijenkorf also removes the hassle of customers needing to wait in queues, as it offers mobile point of sale terminals which let sales assistants take payments from anywhere on the shop floor.
Other suggestions include:
 

Transforming physical spaces into a gallery for products, rather than just stacking or putting them on racks, which may seem unorganised and unappealing

 

Making the business more cost-effective by lowering rental costs. This can be done by reducing the department store's floor space, while putting excess stock into warehouses where the digital side of business can take place 

 

Consider entering a revenue-sharing deal with the landlords, as opposed to just paying rent
Still, even with the adoption of technology and a radical redesign of a department store's business model, it is the human touch that will draw people back, said Assoc Prof Loh. 
Hence, operators need to focus on training their staff to move beyond the "old paradigm of customer service with a superficial smile" to customer engagement, he said.
Rather than trying to hard sell a specific product to a customer, Assoc Prof Loh said having a staff who is able to sincerely engage with a customer and find out what his or her needs are will leave the customer feeling happy and increase the chances of closing a sale.
While this will incur additional training costs, Assoc Prof Loh believes that it is worth it.
Whatever the case, Mr Png, the former Yaohan staff, feels that department stores still have their relevance in society.
"We humans love to shop," he said. "A brick-and-mortar business allows people an avenue to go out together and bond."
Indeed, the bonds forged between him and his former colleagues along the aisles of Yaohan all those years back have withstood the test of time. 
There is every chance the same can be said of department stores in the years to come.