The Big Read in short: Ethical shopping on the rise
Each week, TODAY's long-running Big Read series delves into the trends and issues that matter. This week, we look at the rise of ethical consumerism and whether it could lead to the uplifting of low-wage workers. This is a shortened version of the full feature.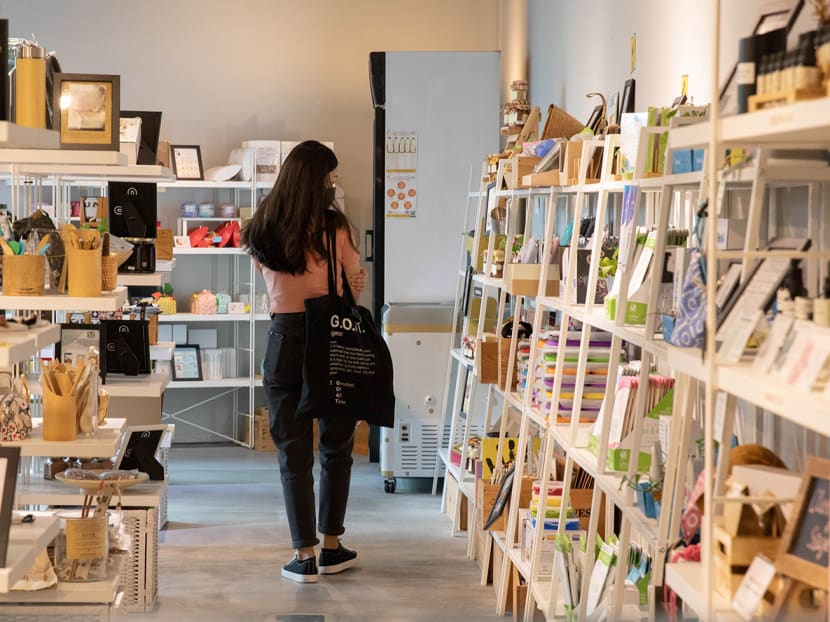 Each week, TODAY's long-running Big Read series delves into the trends and issues that matter. This week, we look at the rise of ethical consumerism and whether it could lead to the uplifting of low-wage workers.  This is a shortened version of the full feature,​ which can be found here.
There is a growing movement of younger consumers here who practises "ethical consumerism", even if it means paying more
Zero-waste stores have seen their business grow substantially in recent years  
The trend is a result of developments around the world, as well as the rise of social media which has raised awareness and also empowered consumers  
Nevertheless, such consumer behaviour is not yet the norm in Singapore, as most consumers here are pragmatic and cost-conscious 
To get buy-in for other facets of responsible consumption, such as paying more to improve the wages of low-income workers, will require more time and discussion, experts say 
SINGAPORE —  In 2015, Ms Jasmine Hussain watched a documentary titled Cowspiracy: The Sustainability Secret, which showed how animal agriculture had become the leading cause of deforestation, water consumption, pollution, and an even greater emitter of greenhouse gases than the transportation industry.
The film opened her eyes to the environmental impact of livestock production, and set her off on the journey towards becoming an ethical consumer. 
"I kind of made the decision to go vegan overnight after watching it...It was the least I could do since I was studying ecology and environmental science," said Ms Hussain, who was then a 19-year-old undergraduate at the University of Edinburgh in Scotland.  
Changing her consumption habits even further after that became a "very natural transition" for her, she said. It was also made easier by the fact that such behaviour was seen as the norm among her like-minded classmates. 
"If I was already being vegan and conscious about my eating habits, I was also going to be conscious about my spending habits as well, and be willing to spend a bit more on going to the zero-waste stores," added Ms Hussain, who is now 25 and works in the green finance industry.
The ready availability of such stores in Edinburgh had made it easier on the wallet for Ms Hussain to sustain her lifestyle, as the "price range was more affordable" compared to what she found when she returned to Singapore in December last year.
Nevertheless, Ms Hussain has continued with this lifestyle and is part of a nascent but growing group of ethical consumers in Singapore. 
Ethical consumerism is broadly defined as buying products and services produced in a way that minimises social or environmental damage, or both. This could range from buying cosmetic products that are free of animal testing to buying only from companies which pay their workers decent wages. 
While combining ethics and shopping can be a rewarding experience for some, there are those who are not ready to embrace it yet since the price tag attached to such purchases is often perceived to be higher than normal. 
Though the presence of stores selling sustainable alternatives in Singapore is not as widespread as what Ms Hussain had encountered in Scotland, various businesses in this sector told TODAY that they have witnessed a sharp growth in demand.
For example, Scoop Wholefoods — which originated from Sydney, Australia — has seen its number of outlets multiply since it set up shop here in 2019. 
Scoop has expanded from its lone store at Tanglin Mall to six outlets now, with another two scheduled to be opened later this year.
Conversations about sustainable living in Singapore have been ongoing for some time, though it was only around 2015 that community groups started forming, according to Mr Mayur Singh, the co-founder of The Green Collective, a store located at the Funan Mall that curates sustainable brands.   
Meanwhile, developments around the world in recent years — such as global movements to raise awareness of climate change — have given even greater impetus  to such discussions. 
The Covid-19 pandemic has also affected global awareness about environmental issues, based on a 2020 survey of some 3,000 people across eight countries.  
The survey was conducted by the management consulting company Boston Consulting Group. It showed that about seven in 10 respondents were now more aware, compared with before the pandemic, that human activity threatens the climate, and that degradation of the environment, in turn, threatens humans.
The Singapore Government, too, has also stepped up its efforts to promote a more liveable and sustainable future here, through initiatives such as its Zero Waste Masterplan unveiled in 2019, and the announcement of the Singapore Green Plan 2030 this year. 
A Climate Index published by OCBC Bank and digital media company Eco-Business in August also found that found that eight in 10 respondents ranked "sustainable living" as the most important, followed by "energy reset" (61 per cent), "city in nature" (55 per cent), "green economy" (54 per cent) and "resilient future" (49 per cent). 
The index was based on a survey of  2,000 Singaporeans between the ages of 18 and 65, 
THE SOCIAL MEDIA FACTOR 
While ethical consumption is growing in Singapore, it has yet to become a norm here, unlike in countries such as Australia, Canada and the United States.
Dr Jimmy Wong, a senior lecturer at the School of Business at the Singapore University of Social Sciences (SUSS), said that Asian cultures "tend to be more interdependent and collectivistic".
What this means, he said, is that Singaporean consumers tend to follow social norms, and at present, it is still not the norm for most to consider whether a product is sustainably or ethically sourced before making a purchase.
Instead, consumers here are by and large pragmatic and cost-conscious when it comes to consumption, said Assistant Professor Stephanie Lin from the business school INSEAD. 
Still, Asst Prof Lin believes that younger consumers here are gradually becoming more ethically minded, and they want to connect more with the brands that they consume.
"This is partially due to a global trend of brands becoming more socially responsible; they are using more sustainable materials, ensuring ethical labour sourcing, connecting with social issues like racial equality, and often contributing part of their sales to other good causes," she said.
The other factor is the role which social media plays in influencing younger shoppers, said the experts interviewed. 
During the course of her research, Asst Prof Lin found that consumers like to share content on social media that is in line with their personal values, so that they can display their "best selves" to the world. 
"Consumers sharing about their support of ethical brands to each other further perpetuates ethical consumption as a growing norm," she said. 
Social media also gives consumers a voice to speak out against unethical practices of organisations, allowing them to informally police brands. 
While Asst Prof Lin did not single out any company, media reports of homegrown bakery chain Twelve Cupcakes underpaying their employees had resulted in widespread backlash online, with some calling for a boycott of the business.  
"Firms are sensitive to optics right now… It seems like a lot of firms have learned the lessons of these pitfalls. That's why you see firms engaging in responsible behaviour, like donating to good causes, without loudly advertising and seeking recognition for it  — this can lead to greater brand loyalty," said Asst Prof Lin. 
Mr Melvin Yong, the president of the Consumers Association of Singapore (Case), pointed out that businesses which do not respond and adapt to consumer preference are likely to lose out in the long term.
Noting the "dynamic" relationship between consumers and businesses, Mr Yong, who is also the Member of Parliament for Radin Mas, said: "Consumer behaviour can be shaped by what the marketplace is offering, and consumers can collectively effect change in the marketplace by exercising their right to choose."  
VOTING WITH THEIR WALLETS

As a show of loyalty to their preferred brands that are aligned with their ideals, some consumers vote with their wallets, said Associate Professor Ang Swee Hoon from National University of Singapore's (NUS) Business School. This happens even if the benefits are sometimes not evident until further down the road — such as in the case of climate change.  
"So while it may appear not pragmatic (due to the higher pricing) in the immediate future, consumers, especially the Gen Zs, have longer-term ideals. Being younger, their actions today may well affect their life in the future," she said. 
Indeed, Ms Natalie Tan, a 25-year-old who recently graduated from the Global Studies programme at NUS, told TODAY that she does not want to "contribute to capitalism, and also harm the environment".
As such, she would rather pay more for a certain product if she knows that it can fulfill her criteria. Apart from deciding whether she actually needs the product, she also researches whether a company pays its workers a living wage or if it practises greenwashing — that is, deceiving the public into believing it is helping the environment — and if the product is durable or not. 
"Of course, it can't also be exorbitantly priced because I'm not super rich," said Ms Tan.
One example of a purchase she made with these factors in mind was a pair of durable slippers made of recycled tyres which cost her around S$60.
While she could have gotten a cheaper pair, she said this would wear out quickly and she would have ended up contributing more waste by buying another pair of slippers to replace them. 
However, not everyone shares the same consumer philosophy. Some of those who do not said that whether an item is ethically sourced or helps the environment is never a consideration in their purchasing decisions. 
"I have a young family to support, so I just go for items that are value for money, or things that are on offer," said Mr Shaun Ho, a 35-year-old operations manager.
To others like Madam Audrey Lee, it is all about convenience and pricing.  
Mdm Lee is an administrator of the Facebook group Taobao Addicts, where members can get help with shopping on the Chinese e-commerce platform.
As her days are busy, Mdm Lee, who is in her 50s and declined to reveal her occupation, said she "doesn't want to waste her time window shopping", let alone think about ethical consumption. 
WILL CONSUMERS PAY MORE TO HELP IMPROVE WAGES? 
Amid the growing awareness of responsible consumption, another facet of the issue has come to the fore recently: Will Singaporeans be willing to pay more for products or services to improve the wages of low-income workers, such as those in retail, and food and beverage industries?
In announcing several measures to uplift such workers during his National Day Rally on Aug 29, Prime Minister Lee Hsien Loong noted that the cost of higher wages for them will have to be shared, not just by workers and employers, but consumers as well.  
Over the years, there have also been spirited public discussions on whether hawkers should charge higher prices to improve their lot. 
Most consumers interviewed by TODAY generally felt that they would only be prepared to pay more if they know for sure that the additional amount they pay goes directly to the workers.
Others said they are concerned about how it will affect their cost of living.
To gain the acceptance of consumers, Case's Mr Yong said businesses not only need to show that any additional premium paid by their customers goes towards supporting the welfare of these workers.  There must also be discernible improvement in the services over time, he added. 
INSEAD's Asst Prof Lin described Singaporean culture as very "communal". 
"On the one hand, Singaporeans are very concerned about doing their civic duties and being responsible members of the community," she said. "On the other hand, it may be difficult to think about low-income workers as part of their immediate community that they have a responsibility to help." 
She added: "Humanising low-income workers and emphasising their part in a local or global community might be helpful in increasing empathy to low-income earners." 
In any case, Associate Professor Hannah Chang, from the Lee Kong Chian School of Business at the Singapore Management University, said it generally takes "a lot of time and discussion" to result in any meaningful change in consumer attitudes and behaviour.
"We can see that over the years, consumers have started caring more about the environment and social causes," she said. 
"Similar to how the importance of sustainability and green consumption have been highlighted… if people can be shown how they can play a part in (uplifting wages) by paying just a bit more with each purchase, it's more likely that people will start showing a buy-in."