The Big Read in short: Govt's push for data-sharing bears fruits, but gaps remain
Each week, TODAY's long-running Big Read series delves into the trends and issues that matter. This week, we examine the impact of the Government's big push in recent years to make more data publicly available. This is a shortened version of the feature.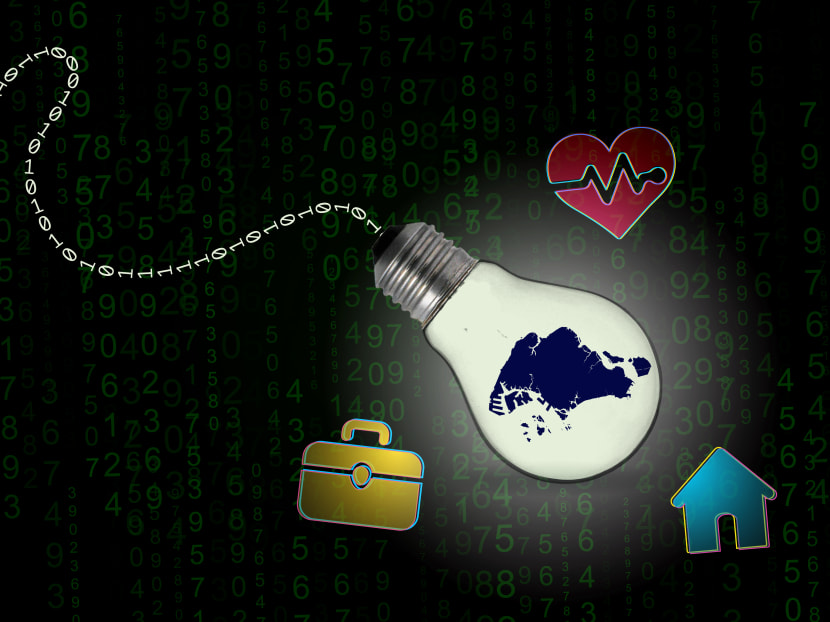 Each week, TODAY's long-running Big Read series delves into the trends and issues that matter. This week, we examine the impact of the Government's big push in recent years to make more data publicly available. This is a shortened version of the feature, which can be found here.
SINGAPORE — Nearly five years after the Government pledged to make more data available as part of Singapore's Smart Nation drive, a range of organisations and individuals — such as researchers and academics — interviewed by TODAY said they have benefited from the increased openness.
There is room, however, for more granular data in areas such as population distribution, the labour market and historical data, they said.
The latest 2016/2017 Global Open Data Index, which benchmarks the openness of data worldwide, ranked Singapore 17th out of 94 places, with a score of 60 per cent.
Taiwan (90 per cent) took first place, and Australia and the United Kingdom tied for second spot (79 per cent).
Singapore was fully open in its government budget, key national demographic and economic statistics, and procurement. But the city state was not open at all in areas such as government spending, the index found.
Associate Professor Lawrence Loh of the National University of Singapore (NUS) Business School noted that having data does not mean the Government has to release it unconditionally.
"We have to be clear what the rationale and impact of the data release are," he said.
POPULATION AND SOCIAL DATA
Firms tap demographic data, such as age and income, to determine the viability of setting up operations in Singapore and how to distribute their services.
Helpling, an online home-services platform, used government data to prioritise districts with demographics that resemble its ideal customer profiles. But the firm wants more data on where Employment Pass holders live and their country of origin, as expatriates form about 40 per cent of its customers. This will allow it to offer more "hyperlocal on-demand home services that cater to their unique needs".

Care-matching service, Caregiver Asia, used population statistics to determine where elderly people live, to deploy freelance carers where their services are needed most. But the firm said the Government should track and release more data to help start-ups in the sector. For instance, public hospitals can track the time it takes a patient discharged from hospital to get a professional caregiver at home.

NUS sociologist Tan Ern Ser, who researches social stratification, wants access to anonymised income and wealth data, so that he may merge these with those from his own surveys. Such data includes total monthly and annual individual and household incomes, and those comparing income, education and occupations between generations to gauge the extent of social mobility.
ECONOMIC AND LABOUR-MARKET DATA 
As for data on the economy and labour market, academics, economists and businesses said the figures were up-to-date, but were not sufficiently specific for their needs.
University of Michigan economist Linda Lim noted that, in the last few years, the Government has stopped publishing some data it used to put out. These include indigenous gross domestic product (GDP) and per-capita indigenous GDP in the national income accounts. Indigenous GDP measures the income levels of Singapore residents. As a result, she could not draw the full longitudinal trend of the share of GDP that went to Singapore residents.

CIMB Private Banking economist Song Seng Wun was concerned about data timeliness, noting that retail sales figures are published with a delay of about two months. This lag can be improved, he said. Responding, the Department of Statistics said it was committed to improving timeliness and providing more details, such as data on the proportion of online sales as part of total retail sales.

On the labour market, Maybank Kim Eng economist Chua Hak Bin said the Manpower Ministry (MOM) does not provide the foreign component of employment growth every quarter, even though this is important in ascertaining the employment situation of Singaporeans and permanent residents. Responding, the MOM said this component was excluded from the ministry's quarterly reports because foreign workers are transient and it was "more meaningful to look at the trends over a longer term".
HISTORICAL RECORDS
For academics in particular, delving into the past can help the country understand what had gone on decades ago. But government records, such as internal memoranda, can be hard to obtain.
Associate Professor Chong Ja Ian, deputy head of NUS' department of political science, researches foreign policy and said he would like to have looked into Singapore's ties with China before formal diplomatic relations were established in 1990.

Former prime minister Lee Kuan Yew had first visited China in 1976 to meet its then paramount leader Mao Zedong and his successor, Hua Guofeng. Assoc Prof Chong said he would have liked to explore how those types of contact arose, the considerations and limitations, and what informed, complicated or limited efforts to co-operate after that initial meeting.

He noted, however, that the National Archives of Singapore (NAS) does not have a detailed catalogue of the resources available. There is also no systematic process to declassify documents. Researchers may approach the NAS for resources, but requests are forwarded to the relevant government ministry, he said. Each agency may have a different approach to national security, privacy and other considerations, Assoc Prof Chong noted.
WHAT THE GOVERNMENT, EXPERTS SAY
In response to TODAY's queries, the Smart Nation and Digital Government Office said the Government shares data with the public, including businesses and researchers, to facilitate research, develop new applications and improve services. "This is done in a safe and secure manner, and strong safeguards are applied when sensitive individual-level data is shared," its spokesperson noted, adding that researchers may continue requesting data via data.gov.sg — Singapore's open data portal housing data from 70 public agencies. 

The Government Technology Agency of Singapore (GovTech) added that data.gov.sg, launched in 2011, was refreshed in 2015 to "actively provide data visualisations and data-driven blog posts, to make government data relevant and understandable to the public". A developer's portal was also introduced in 2016 to provide developers with easy access to real-time data from government agencies through application programming interfaces, which allow apps to talk to one another.

MacPherson Member of Parliament Tin Pei Ling, deputy chairperson of the Government Parliamentary Committee for Communications and Information, said the authorities have taken significant steps to share more data over the years. This, she said, was "a far cry from a long time ago", and signalled that Singapore would face more complex problems in future needing solutions not only from the Government, but from the private sector and the public.

Dr Kris Hartley of the Education University of Hong Kong said the balance between releasing more data and data security "must be mediated through the political process, and thus, differs across political systems". While Singapore makes some data openly available, it seems uninterested in embracing a wholesale approach to data sharing, particularly on issues related to elections, fiscal spending and other politically sensitive issues, said Dr Hartley, who obtained his doctorate from the Lee Kuan Yew School of Public Policy in Singapore and had written an op-ed on how Singapore can afford to be more open in data-sharing.
NEW APPROACHES NEEDED
Suggestions from businesses and others ranged from encouraging firms to share more data with one another to having a single government agency handle data requests.
Ms Yeo from Caregiver Asia said the community, academics and think-tanks should discuss, share and interpret data to make breakthroughs in service and product delivery. The private sector in Singapore, she said, does not do enough of these. By contrast, big companies in the United States, for example, have teams devoted to churning out white papers as part of initiatives for the good of the community.

Ms Tin suggested that a government agency or platform take the lead in acting on data requests from firms and the public, rather than have them approach various departments.

For the academic community, Singaporean political scientist Woo Jun Jie from the Education University of Hong Kong suggested the Government consider setting up a more comprehensive database. This could be linked to institutional accounts, such as university libraries, with caveats set out for more sensitive information, such as disallowing direct quotation of such data in publications.

Others urged the Government to engage them more deeply on the data they need. Ms Race Wong, co-founder of property transaction platform Ohmyhome, said: "Given that we are small and they (the housing authorities) are massive, it is not easy for us to approach them for a meeting or for a very open-minded conversation."