The Big Read in short: Looking back on the PMD conundrum, and moving forward
Each week, TODAY's long-running Big Read series delves into the trends and issues that matter. This week, we look at the lessons that Singapore could glean from its approach to personal mobility devices (PMDs) and the way forward for riders after the recent ban on electric scooters from footpaths.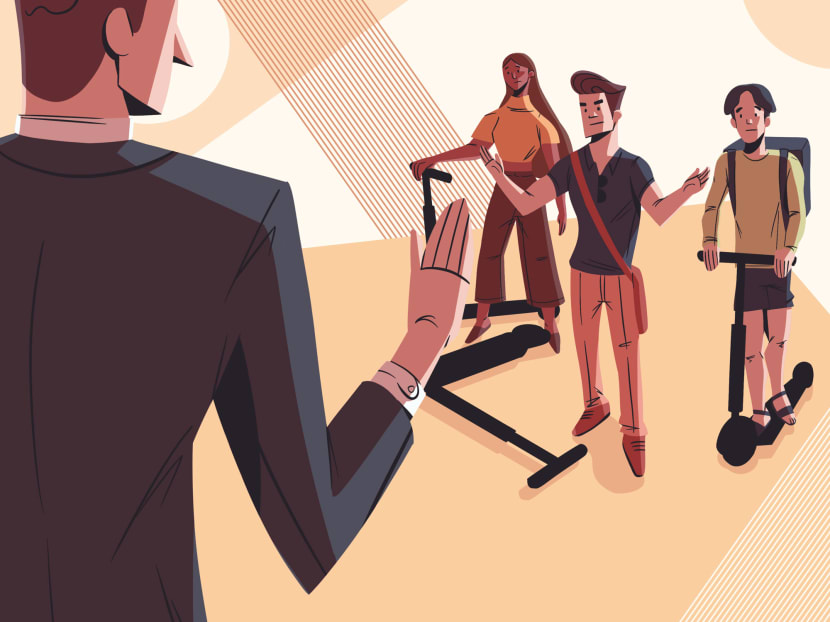 Each week, TODAY's long-running Big Read series delves into the trends and issues that matter. This week, we look at the lessons that Singapore could glean from its approach to personal mobility devices (PMDs) and the way forward for riders after the recent ban on electric scooters from footpaths. This is a shortened version of the feature, which can be found here.
SINGAPORE — After last week's headline-grabbing announcement that electric scooters would be barred from footpaths, pedestrians breathed a sigh of relief.
But many riders were up in arms. The most vocal of them were the 7,000-odd food-delivery riders whose jobs hinged on the ubiquitous "e-scooters" — as they are known in Singapore.
To assuage concerns, the Government, along with three major food-delivery companies, rolled out a S$7 million grant to help riders switch to other vehicles, such as electric bikes and bicycles.
The grant, announced days after the ban took effect on Nov 5, did little to placate riders, who lamented the spectre of lower earnings.
Errant riding and accidents were on the rise, and there were widespread calls for a ban in the lead-up to the announcement. But in the aftermath, there have been questions raised about whether the issue could have been handled better.
The Land Transport Authority told TODAY that there was no "one-size-fits-all"  solution to managing different technologies and business models, and that its top priority was to ensure the safety of pedestrians, commuters and all users of the land-transport system.
Still, in hindsight, analysts, Members of Parliament (MPs) and industry players said  there were lessons to be gleaned not only from events of the last fortnight, but from the time when these mobility vehicles first gained popularity.
Even so, there would be trade-offs and challenges whichever path policymakers had taken, they pointed out.
1. COULD IMPORTS HAVE BEEN RESTRICTED? 
The number of e-scooters has mushroomed from several thousand in the not-too-distant past to nearly 100,000 at last count. With their proliferation came dangers: They not only posed fire hazards but, when left in the hands of irresponsible riders, could cause injuries or even deaths.

In hindsight, the authorities should have controlled the types of PMDs imported and sold here, said Mountbatten MP Lim Biow Chuan, a member of the Government Parliamentary Committee for Transport.

Still, the observers acknowledged that illegal modification would make enforcement difficult. Unlike for cars and motorcycles, standards for PMDs would have to be devised from scratch as there were few lessons Singapore could learn from other countries, which were similarly grappling with a transport innovation, they said.
2.  WOULD LIMITED TRIALS HAVE BEEN USEFUL?
Analysts and industry insiders suggested that the authorities could have explored trials in selected towns to assess the risks and benefits of these vehicles, before subjecting them to tougher rules or allowing wider adoption.

The challenge for PMDs was that they had no "regulatory sandbox" or controlled trial environment that would allow the Government to assess the benefits and risks before deciding on the next moves, said transport economist Walter Theseira.

But the results of such trials, which would naturally happen in towns best suited to PMDs, might not be the same when applied elsewhere, said the observers.

Associate Professor Theseira said the growth of PMDs was so rapid that it became difficult to introduce the concept as a trial.

Nevertheless, Mr Steven Lim of the Safe Cycling Task Force said such trials could still be considered in future as an avenue to allow e-scooters to run on a wider scale again with appropriate controls.
3. WOULD LICENSING RIDERS HAVE HELPED?
Some felt that the Government could have explored licensing PMD users, which would come with comprehensive training and insurance.

Earlier this month, the Government said it had no plans to roll out mandatory licensing at this juncture.

But MPs and industry players argued that a licensing regime would encourage responsible riding, as users could be punished or have their licences revoked.

Nevertheless, licensing is not a quick fix, as the Government would have had to draw up the criteria for licences and insurance requirements where necessary. At the same time, it would also have had to set out criteria for the safe design and operation of these devices, and work with the market to ensure that these were reasonable and followed.
4. COULD MORE CYCLING AND SHARED PATHS BE BUILT EARLIER?
Singapore could have built paths needed to accommodate e-scooters and other innovative transport modes earlier, experts said.

Assistant Professor He Long of the National University of Singapore (NUS) Business School said the Government could have been pro-active in studying the impact of scooter use two years ago, at an early stage of rising adoption.

Singapore's network of cycling paths is set to be expanded from 440km to 750km by 2025. By 2030, the network will be thrice the present distance, and all Housing and Development Board (HDB) towns will have a cycling-path network.

Speaking to reporters this week after a dialogue session with more than 300 food-delivery riders and retailers, Dr Lam Pin Min, Senior Minister of State for Transport, reiterated that ramping up the infrastructure was a work in progress and it was the Government's "long-term vision to promote active mobility".

But former Nominated MP Calvin Cheng believed that the Government needed to speed things up, as he argued that building "a comprehensive network of cycling lanes is… a matter of political will and budget".

A transport consultant, who declined to be named because of the "sensitive" nature of the issue, said existing cycling paths and park connectors need to be complemented with "a network of local cycling paths and connectors" to raise connectivity.
5. COULD BAN HAVE BEEN EXECUTED BETTER?
Industry players and MPs said the authorities could have given food-delivery riders more heads-up on the ban, rather than less than 24 hours' notice.

But Mr Lim Biow Chuan said: "If someone else dies in between… people will say 'why did you wait' or 'why did you give them so much time'?"

Some, however, said the writing was on the wall. Mr Htay Aung, chief executive officer of Anywheel, one of 14 firms vying for a licence to operate shared PMDs in Singapore, said the delays in awarding licences this year were signs that e-scooters might be banned.

Still, Ang Mo Kio Group Representation Constituency MP Ang Hin Kee, deputy chairperson of the Government Parliamentary Committee for Transport, said food-delivery riders would have been more assured had the Government announced the footpath ban and the S$7 million trade-in grant at the same time, rather than several days apart.
HOW TO MOVE FORWARD
As food-delivery riders scramble to find alternatives and the Government grapples with the fallout, what is the way forward? Those interviewed by TODAY gave these suggestions:
Experts and industry players suggested that the authorities could consider the possibility of allowing e-scooters on minor roads and in car parks in HDB towns, as well as on roads in private-housing estates. Fewer vehicles move about in these areas. But some disagreed, saying that car parks have blind spots that render the suggestion unsafe. The idea would also not sit well with residents.

There were suggestions to convert wider footpaths into shared tracks with clear markings, so as to improve connectivity for e-scooter users. But over the longer term, as such paths are widened, there will be trade-offs: Roads could become narrower and more congested for motorists, and trees may have to be cut down.

The idea of a licensing regime could still be considered, MPs and analysts said. But Assoc Prof Theseira said this was unlikely to be an immediate solution: "It took decades for motor vehicles and drivers to be fully licensed for safety, standards and operator behaviour."