The Big Read in short: Migrant workers' access to justice
Each week, TODAY's long-running Big Read series delves into the trends and issues that matter. This week, we look at the challenges that migrant workers face navigating the legal system in Singapore. This is a shortened version of the full feature.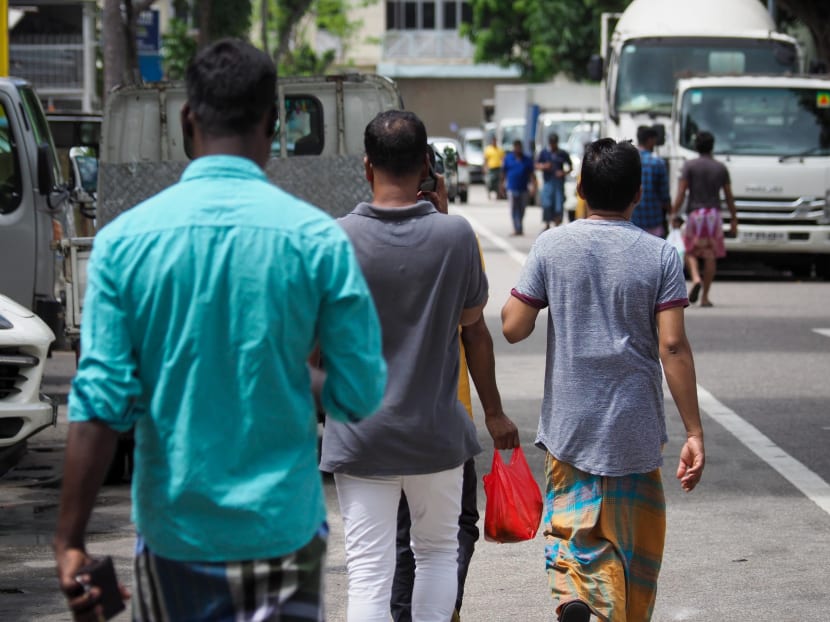 Each week, TODAY's long-running Big Read series delves into the trends and issues that matter. This week, we look at the challenges that migrant workers face navigating the legal system in Singapore. This is a shortened version of the full feature,​ which can be found here.
Case of Ms Parti Liyani has shone a spotlight on challenges faced by migrant workers in getting access to justice when faced with legal troubles
Foreign domestic workers in Singapore said they were cheered when they heard the news of Ms Parti's acquittal
NGOs and lawyers raised issues such as difficulties in securing legal representation, language barriers and the loss of income that workers incur during investigations and legal proceedings
SINGAPORE — Ms Simpen, 49, who goes by one name and has worked as a domestic helper in Singapore for 13 years, was among those in the Indonesian community here who were cheered by the news of the acquittal of their compatriot, Ms Parti Liyani. "She did not do anything wrong so it is good she is not going to jail," said Ms Simpen. 
Ms Parti, 46, had earlier been found guilty by a district judge of stealing S$34,000 worth of items from her employer, former Changi Airport Group chairman Liew Mun Leong, and his family. She was sentenced to two years and two months' jail.
But on appeal, her conviction and sentence for four counts of theft were overturned by the High Court on Sept 4, with Justice Chan Seng Onn ruling that the district court had failed to consider several points, and that Mr Liew and his son had an "improper motive" in accusing Ms Parti of theft back in 2016. 
On Tuesday (Sept 8), Ms Parti's case was formally concluded when she was given a discharge amounting to an acquittal on her last outstanding charge. 
Reacting to the news, another Indonesian domestic helper, Ms Dewi Cahyani, 33, said she was not only happy for Ms Parti but also proud that a fellow Indonesian had stood up for herself. Ms Dewi added that she doubted that she would be able to do the same if she were in Ms Parti's shoes.
Though they are from a different country, several Filipino domestic workers based in Singapore whom TODAY spoke to similarly applauded Ms Parti for her courage.
"I salute her," said Ms Grecilda Capopez, 47, who has worked here for 21 years. "She is a very brave woman to fight for herself. I think some maids in her position will just give up."
Apart from being an inspiration, Ms Parti's protracted journey to clear her name also resonated with the foreign workers interviewed as they worry about the possibility of being accused of a crime they did not commit.
Earlier this week, Law and Home Affairs Minister K Shanmugam said Government agencies are looking into what "went wrong" in the chain of events that led to Ms Parti being found guilty of stealing.
Indeed, Ms Parti's conviction and subsequent acquittal have also shone the spotlight on the challenges that migrant workers here could face in getting access to justice when they are in legal trouble.
TODAY's checks with lawyers and non-governmental organisations (NGOs) revealed a few systemic issues: Migrant workers often face difficulties obtaining legal representation and struggle with language barriers when navigating the legal system. Compounding the situation, they have to cope with a loss of income — and the added anxiety — while waiting for their case to conclude, which could take years.
Sometimes, these workers also do not know who they can turn to for help, or what they are up against, as pointed out by Mr Anil Balchandani, Ms Parti's defence lawyer, in a recent interview with migrant rights group Humanitarian Organisation for Migration Economics (Home), The NGO had provided support for Ms Parti during her trial, which stretched for four years.
When asked if they know who they could turn to for help should they be accused of a crime, most of the foreign workers whom TODAY interviewed said they will seek help from their respective foreign embassies, as that was what they had been told to do before they arrived to work in Singapore.
Otherwise, they said they would seek help from the local authorities — be it the police or the Ministry of Manpower — if they find themselves accused of a crime. Apart from these, most of them said they are not aware of any other channels that they can seek help from.
ACCESS TO LEGAL REPRESENTATION
An issue that surfaced repeatedly in TODAY's interviews with NGOs and lawyers is the difficulties migrant workers face in securing legal representation when they are accused of a crime.
As low-wage earners with limited means, these workers by and large can only afford to engage a lawyer on a pro bono basis.
To do so, they can seek help from NGOs such as Home, TWC2 and the Foreign Domestic Worker Association for Social Support and Training (Fast), which can assist them in finding pro bono legal representation.
But the NGOs said it is not always easy for them to find a lawyer who is willing to take on a case free of charge.
Usually, their first course of action is to help the migrant worker apply for the Law Society Pro Bono Services' Criminal Legal Aid Scheme (CLAS), which provides assistance to individuals who are facing non-capital offences and are unable to afford a lawyer.
However, CLAS only covers offences under certain statutes and applicants have to undergo means-testing and merits-testing.
Means-testing involves a set of tests that government agencies use to see if someone applying for financial aid meets the criteria, such as their income and annual value of their homes.
Merits-testing assesses, among other things, whether the applicant has reasonable grounds for defending his or her case in court.
Mr Alex Au, TWC2's vice-president, said in his experience, about half of the applications that it helps workers to submit are rejected.
Similarly, Ms Seira Ong, a senior executive from Fast's befrienders and volunteer management arm, said quite a number of the domestic workers whom they helped to apply for the scheme had also been turned down.
In response to TODAY's queries, the Law Society Pro Bono Services office said unsuccessful applicants may still seek help under its Ad Hoc Pro Bono Assistance Scheme (AHPBS).
However, AHPBS only accepts referrals and all applicants must still undergo means- and merits-testing.
The office added that about 15 to 20 per cent of the cases approved under both schemes involved migrant workers.
For unsuccessful applicants, the NGOs would then try to secure legal representation for the workers through their own network of lawyers.
Some foreign embassies would also step in to help the workers in finding a lawyer.
Still, Mr Au said there have been instances where even after exhausting all options, TWC2 is not able to find a lawyer to represent a worker, who would then have to face legal proceedings unrepresented.
WHEN LANGUAGE BECOMES A BARRIER
Another challenge raised by NGOs and lawyers is the language barrier that migrant workers face when navigating a legal system that operates in English — a language many of these workers are not familiar with, or do not even understand.
Migrant workers would face language problems even before their case reaches the court, such as when they are called to give a statement to the authorities.
While the police may have an interpreter present to assist the investigating officer with taking a statement from the worker, the interpreter may not always speak the same language or dialect as the worker. This could result in discrepancies in the statements.
For example, the NGOs and lawyers both raised cases where an Indonesian worker's statement is taken in Malay, rather than Bahasa Indonesia.
While the similarity between the two languages means the officer and the worker can largely understand each other, some words have different meanings in the respective languages. As a consequence, the worker's statements may be misrepresented.
Then, there are workers who speak languages where it is difficult to find an interpreter.
Ms Ong from Fast raised the example of a Sri Lankan worker who speaks Sinhalese and a limited amount of English.
When the investigating officer read her charges out to the worker in English, Ms Ong said the worker "sort of knew but sort of did not know" what she was charged for.
"She roughly gets the idea that she did something wrong, but she does not understand what each charge states because there are so many charges against her."
Ms Ong said it is important that migrant workers understand these minor details since a wrong interpretation or understanding of their charges and case proceedings will affect their course of action.
Mr Melvin Chan, a lawyer from TSMP Law Corporation who has represented migrant workers in landmark civil cases, said the language barrier may mean that the workers do not fully understand what they are being asked during an investigation. They may end up giving a confession even when they do not actually want to.
These translation issues also occur in the courts, said criminal lawyer Mohamed Muzammil Mohamed from Muzammil & Company. He added that the interpreters provided may not be skilled enough in either the worker's native language or English to provide an accurate interpretation.
In response to TODAY's queries, the police said it will engage the services of an interpreter if the interviewee is unable to understand the language used by the interviewing officer or vice versa.
They added that interpretation services are available in the four official languages and other foreign languages including Bengali, Burmese, Bahasa Indonesia, Thai, Vietnamese and Tagalog.
Both the High Court and State Courts said on their websites that they provide interpretation services to witnesses who do not understand or speak English, upon request.
The State Courts provides interpretation services in:
Chinese languages: Mandarin, Hokkien, Teochew and Cantonese

Malay languages: Malay, Javanese and Boyanese

Indian languages: Tamil, Malayalam and Urdu
The High Court provides interpretation services in:
Chinese languages: Mandarin, Hokkien, Teochew and Cantonese

Malay languages: Malay, Javanese and Boyanese

Indian languages: Tamil and Malayalam
A digital handbook available on the High Court's website states that individuals involved in civil cases who do not speak English or the languages listed will have to engage a private interpreter. 
TODAY understands the High Court provides free interpretation services in all languages for individuals involved in criminal cases.
In response to TODAY's queries, a spokesperson for the State Courts said that it has a database of freelance foreign language interpreters to provide interpretation services to a witness or an accused person if required.
These are separate from the pool of in-house interpreters who provide interpretation services in the listed vernacular languages and common dialects.
It added that all court interpreters are "held to a high standard of proficiency". Newly appointed interpreters are required to pass the Certification Examination for Professional Interpreters, which is conducted by the Singapore University of Social Sciences. 
The foreign language interpreters engaged by the State Courts are also required to provide proof of their language certification and qualification before they can be appointed.
GRAPPLING WITH LOSS OF INCOME
In a statement released after the High Court's ruling on Ms Parti's case, advocacy group Home said that migrant workers are often left waiting in Singapore while investigations are ongoing without any indication of how long the process might take.
Similarly, criminal proceedings also often take a long time to conclude, said Beacon Law Corporation's Ms Felicia Ong.
During this period, the workers are not allowed to work. Without a source of income, they have to rely on NGOs to provide shelter, food and financial assistance.
Home said Ms Parti had spent almost four years at its shelter while waiting for the conclusion of her case. She was not able to work or return home to see her family.
Given the circumstances, some foreign workers may choose to plead guilty even if they believe that they are innocent.
This is because the time that it would take for them to serve their sentence may be shorter than the time it would take for them to dispute the charges through the criminal justice process, said Ms Felicia Ong.
Echoing this, Ms Seira Ong from Fast said the loss of income is uppermost in the minds of many domestic workers when they are embroiled in criminal investigations.
She added that in her experience, the domestic workers often come from big families where they are the sole breadwinners and hence, there is immense stress — emotionally and financially — to keep providing for their families.