The Big Read in short: Money and marathons — what it takes to join the big league
Each week, TODAY's long-running Big Read series delves into the trends and issues that matter. This week, we look at the big business of marathons and why cities including Singapore are keen to make it into a select group. This is a shortened version of the feature.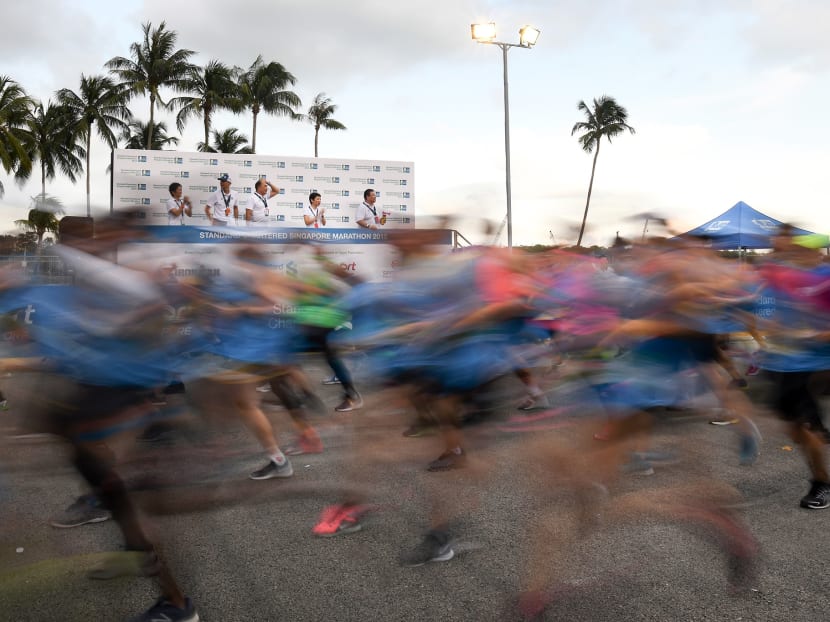 Each week, TODAY's long-running Big Read series delves into the trends and issues that matter. This week, we look at the big business of marathons and why cities including Singapore are keen to make it into a select group. This is a shortened version of the feature, which can be found here.
SINGAPORE — It seems like there is a marathon, a charity run, a race to spread awareness, or a fun run happening nearly every weekend in Singapore.
With 116 events held in 2019, there has never been more choices of endurance activities than in recent years, compared with only six events more than a decade ago, according to a listing on running portal JustRunLah.
Among them, the Standard Chartered Singapore Marathon, which is the nation's headline running event since 2002, has seen participation surge from around 5,000 in 2009 to 51,000 this year.
The event was held over three nights as part of its 2017 bid to become an Abbott World Marathon Major (WMM), a prestigious series of six marathons in global cities.
Yet, this year's Singapore Marathon has made headlines for the wrong reasons, causing thousands of motorists to be ensnared in a gridlock, and ignited a debate about the way marathons are organised and whether they are worth the disruption
 Several complained about the decision to host the race at night, and an apology by race organisers Ironman Asia and Sport Singapore failed to soothe public displeasure. 
Speaking to experts, consultants, athlete groups and industry players, TODAY combs through the debate to examine the economic and social potential of Singapore's growing marathon craze, and why race organisers need to work harder to earn public support in order to realise their ambition of catapulting Singapore into the big league.
SINGAPORE'S OPPORTUNITY
Hosting 51,000 runners across all categories in this year's Singapore Marathon should not be seen lightly, sports consultants said to TODAY.
It is a statistic that puts the Singapore Marathon in a similar league as the six marathons in the WMM, touted as the largest and most prestigious marathons in the world.
In terms of finishers for the full 42.1km marathon, the Tokyo Marathon attracted more than 34,450 runners. Boston and London had more than 26,700 and 42,500 respectively. Berlin saw more than than 44,000 runners finish the marathon while Chicago and New York had more than 45,700 and 53,600 finishers respectively, based on data from WMM.
Unlike Singapore's total count, the WMM numbers do not include participation figures in other races of shorter distances, such as the half-marathon. Singapore had 15,217 registered participants for its 42.1km marathon, said Ironman Asia but it did not disclose the number who completed the race. 
Of note is Tokyo, the only Asian marathon within the WMM calendar. Compared with Tokyo which held its first race in 2007, the Singapore Marathon has a longer history, having debuted in 2002.
Assistant Professor Jeffrey Cai from the National University of Singapore (NUS) Business School noted a 2019 study by online portal RunRepeat and the International Association of Athletics Federation which showed that global marathon participation has declined 13 per cent since its 2016 peak. But in Asia, running is "very much on the rise", just not enough to compensate for the international decline, the study said.
For these reasons, the WMM is likely to be looking at Asia (outside of Japan) when expanding its calendar to nine races from six currently. The Singapore Marathon's bid to be part of the WMM was first announced in 2017, and Ironman Asia is working towards achieving that status by 2021.
Mr Geoff Meyer, managing director of Ironman Asia, said: "Singapore is the centerpiece of Asia, a spectacular city that many tourists wants to visit. Many runner and elite athletes are showing that through sports tourism – for example, the Standard Chartered Singapore Marathon is the catalyst that gets them here with family and friends. A big portion of the world's travelers wants to combine their passions, a sport such as running, with a destination."
To meet the WMM's stringent requirements, this year's marathon had to be spread over three nights, compared with previous two-day events where the races were flagged off in the morning.
While some cite Singapore's hot climate as a negative factor for marathons, Mr Nicholas Fang, founder of strategic communications consultancy Black Dot, disagreed as the climate renders it conducive for outdoor events to be held in Singapore all-year round. This might also be why the Singapore Marathon is held in December when many other countries are experiencing winter and snow, he added.
THE ECONOMICS OF MARATHONS
Marathons attract serious and elite runners, who are spending more on high-tech sports equipment such as shoes, fitness trackers and consumables.
The rising entry fees and spurt of running gadgets meant some serious marathon runners could end up spending more than, say, the average cost of a Formula One Singapore Grand Prix ticket, which makes it a lucrative business for sports equipment manufacturers and advertisers.
International marathon participants spend even more, considering that they have to pay for flights and accommodation. With travelling to take part in marathons becoming more popular, Singapore Tourism Board said marathons "show promise as a tourism product that can attract runners from the region and beyond to Singapore".
Out of an annual average of 50,000 runners in the Standard Chartered Singapore Marathon in recent years, around 12 to 20 per cent are foreign runners. This figure is also steadily growing, said Ms Ong Ling Lee, STB's director of sports.
Mr Meyer said athletes typically stay a week in Singapore with family and friends. During this time, they would need to train for the race, while their family and friends enjoy the sights of the city. In 2019, foreign runners made up 23 per cent of the marathon and half-marathon field, he said.
In 2017, the Singapore Marathon generated a total economic impact of S$22.6 million, with S$7.2 million of the amount spent by international visitors. About 20,000 people travelled to Singapore for the marathon in 2018 and we have seen a steady increase in this year's participation too, said Mr Meyer.
TAPPING MASS APPEAL
Given that the appeal of such mass events lies in the participation, the bulk of marathon participants will still be local runners who are not professional sportsmen or elite runners, said observers.
Nevertheless, this mass demographic of participants are particularly receptive to marketing efforts — since training for marathons requires a serious commitment, long-distance runners tend to be more loyal to brands too.
Based on international figures, a marathon runner tends to be close to 40 years old on average and relatively well-off financially, said Dr Cai. 
Title sponsors are therefore willing to pay seven-figure sums to associate their names with major marathons, given the high visibility of their brands.
NUS Business School's Associate Professor Ang Swee Hoon said: "Because such sports events are associated with healthy living, sponsors hope that positive association is rubbed off on them. So StanChart or AIA (which was the title sponsor for the inaugural Glow Festival this year) stands to gain with positive vibes – that they are supporting a worthy cause of promoting healthy living."
GETTING THE PUBLIC ONSIDE BY GETTING THINGS RIGHT 
Race organisers have become highly reliant on title sponsorships as the main source of event funding, especially since these sponsors are likely to stay with the event for a long time. Standard Chartered has sponsored the Singapore Marathon since 2002, though its sponsorship deal ended this year and is up for renewal. The bank did not reply to TODAY's queries. 
Less than half of race revenue on average comes from race entries, said Mr Meyer. "The remainder of revenue comes from sponsorship, race expo retail activities, merchandise and the like. There is a heavy reliance on sponsorship. Race expenses are significant as we need to factor in medical, security, infrastructure, road closures, entertainment to name a few so as to provide a safe and great runner experience," he said.
Mr Kevin Wong, co-founder of sports marketing agency Equatre Asia, said with so many stakeholders — including public sector agencies — associated with a sporting event, there is a high chance for things to go wrong if there is poor inter-organisation coordination. Any failure could create bad publicity, he added.
Such an outcome would be catastrophic for marathons as a bad image could turn away sponsors. Runners who take part in what they see as a badly-organised are also unlikely to return the next year.
In more ways than one, getting the public buy-in and support could make or break the Singapore Marathon's organisers' bid to join the WMM.
The Singapore Marathon needs to do more to appeal to spectators — people who do not participate in the race, but watch on the sidelines or on television. In 2019, the event attracted 150,000 spectators on the ground, a far cry from the 1.7 million audience in the Tokyo Marathon and the 500,000 in the Boston Marathon which included television audience. Currently, the Singapore Marathon is not televised, unlike the WMM races. 
The sizeable presence of spectators enables the event to feel more lively and inclusive. Established marathons achieve this by featuring eateries and pubs along the marathon route that create a more festive atmosphere.
To this end, Singapore's organisers have been trying to appeal to non-runners too. This year, the Singapore Marathon had a Spectators Carnival — offering a plethora of live entertainment, food and beverage, and recreational options — and featured viewing points along the route for spectators.
Ms Ong believes that if the Singapore Marathon succeeds in attaining the WMM status, it will attract more foreign runners and their supporters, helping to drive tourism receipts. Becoming the first South-east Asian nation in the WMM will also increase the potential broadcast reach of the Singapore Marathon, she added.
While it is not there yet, Mr Fang said Singapore needs to develop its sporting culture in a national way to a level where sports, sporting events and other related activities are prized and valued for their intrinsic value among other things, he said. This takes creativity and innovation to traditional events such as marathons, and also newer sport concepts like adventure racing, obstacle-course races, and even e-sports, he said.
CLARIFICATION: An earlier version of the article cited publicly available participation statistics of the six Abbott World Marathon Majors (WMM) which were incorrect. The article has since been updated to reflect the data provided by WMM.