The Big Read in short: US presidential election — what a Trump or Biden win means
Each week, TODAY's long-running Big Read series delves into the trends and issues that matter. This week, we look at the United States presidential election on Nov 3 and what the future holds under a Trump or Biden administration. This is a shortened version of the full feature.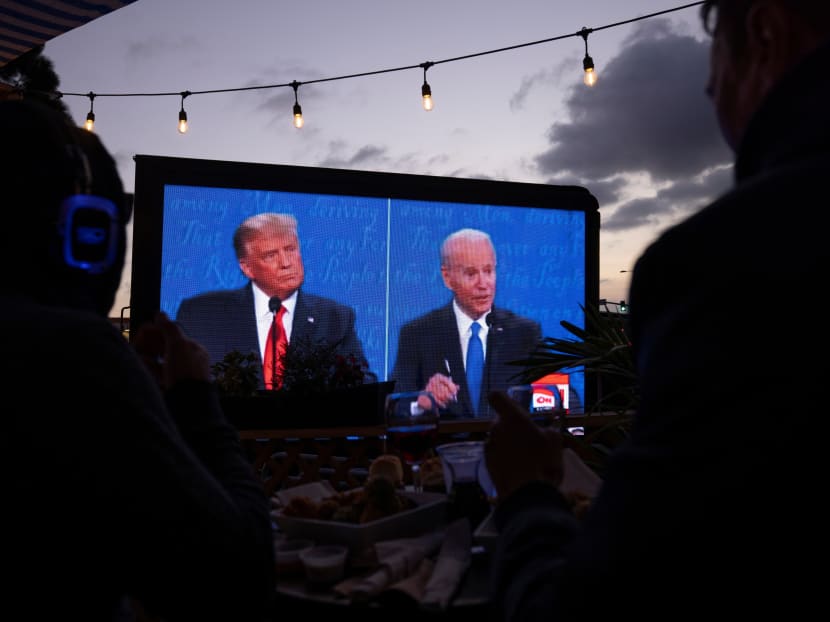 Each week, TODAY's long-running Big Read series delves into the trends and issues that matter. This week, we look at the United States presidential election on Nov 3 and what the future holds under a Trump or Biden administration. This is a shortened version of the full feature,​ which can be found here.
Republican nominee Donald Trump and Democratic candidate Joe Biden have offered starkly different views of America and the world
State of the US economy, healthcare policies, the recent Supreme Court appointment, and the Covid-19 pandemic, are regarded as the most important topics of the US election
There appears to have bipartisan consensus in America taking on China as its strategic competitor
A re-elected Trump's presidency is a known quantity in Asia, but political observers wonder how different a Biden presidency would be
Latest opinion polls show Mr Biden marginally ahead nationally and in several key battleground states but some wonder if history could repeat itself
SINGAPORE — Despite a valiant effort in a mock presidential debate in a Singapore university on Wednesday, Ms Tina Datta — who played Republican candidate Donald Trump — ultimately lost the students' votes by 32 to 68.
Still, Ms Datta, who chairs the Republicans Overseas Singapore, is undeterred by what students think and remains confident of her incumbent president's chances come Nov 3. Her organisation is the local chapter of the Republican Party's official association for American citizens living abroad.
Back home, Mr Trump and his running mate Mike Pence face Democratic candidates Joe Biden and Kamala Harris, with the latter team currently leading in most opinion polls.
Four years after his shocking electoral victory against Democratic opponent Hillary Clinton, President Trump remains a highly divisive figure both domestically and abroad, including in Singapore, where more than 20,000 Americans reside.
With a Biden presidency emerging as a real possibility, political commentators have been trying to decipher what his policies may mean for the US' economic recovery and its engagement with the rest of the world, since the election has primarily focused on domestic issues.
With only a few more days to go, the election buzz is palpable in Singapore too, where more than 20,000 Americans reside.
As of Thursday (Oct 29), over 80 million Americans have voted, which is more than half of the total turnout in the 2016 election.
As the presidential horse race enters its final lap, TODAY looks at the factors at play in the 2020 US election and what it will mean for the region if either candidate won.
IDEOLOGICAL DIVIDE
The election so far has been marked by starkly different ideologies of the Democrats and the Republicans, with little agreement between Mr Trump and Mr Biden owing to the growing role of partisanship in American politics
Both candidates could not see eye to eye on universal healthcare plans, the climate, the coronavirus outbreak as well as the economy and taxes.
One poll by Pew Research Centre, a non-partisan think tank, found relatively little change in how people perceived key election issues based on their gender, race, age, religiosity or education level over the past 25 years.
But it detected a dramatic rise in the importance of party affiliation.
Dr Bradley Jones, a research associate at Pew, said: "I think this is one of the most important things to understand about American politics — the preeminent importance of partisanship as a driver of so much."
In other words, a voter's party leanings are more likely to be the overriding factor when determining whether the person takes a conservative or a liberal stance on any particular issue.
This growing gulf in America politics also means that a moderate candidate will find it more difficult to win elections today than in the past.
Dr Jeffrey M Stonecash, distinguished professor emeritus of political science at Syracuse University, said: "(Centrists) have a very difficult time. They can't communicate to those who are really liberal or conservative."
DEMOGRAPHICS IN US POLITICS
Another Pew study of 10,000 respondents found that the most important topics of the US election are: The economy, healthcare policies, the recent Supreme Court appointment of Justice Amy Coney Barrett, and Covid-19 — in that order.
And again, the poll showed people divided along party lines on these issues.
About eight in 10 Biden supporters rated the coronavirus outbreak as a "very important" issue, compared with about two in 10 Trump supporters. Healthcare was also very important for eight in 10 registered Democrats, and four in 10 Republicans.
Conversely, the state of the US economy, however, was seen as very important by 84 per cent of Republicans and 66 per cent of Democrats.
Professor Mark J Rozell, founding dean of the Schar School of Policy and Government at George Mason University, said about Mr Trump's handling of the pandemic: "Indeed, polls show that he has lost some significant support among older Americans during the pandemic."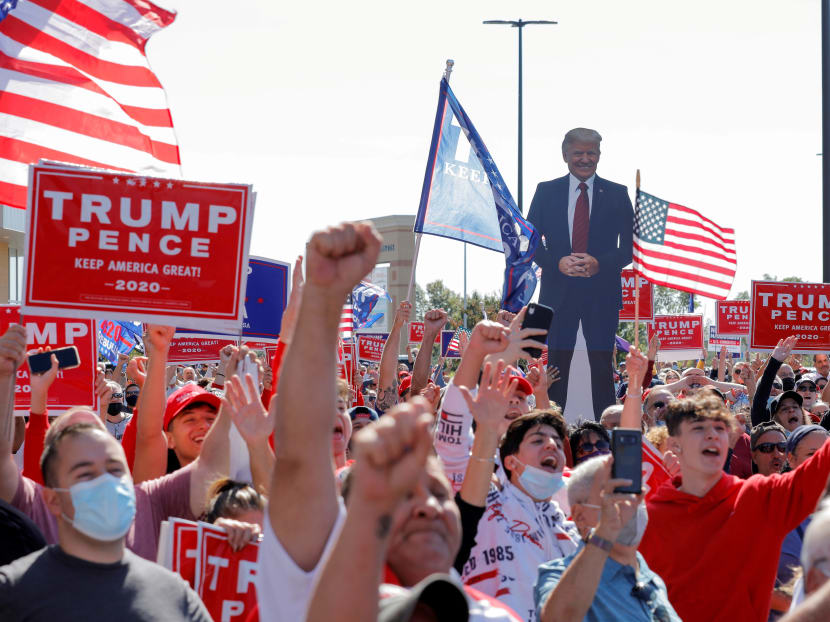 His supporters blame China for causing the outbreak, and the Democratic Party's states for losing control of the virus.
In the swing state of Florida, which has a large proportion of seniors, experts note that Mr Trump's handling of the Covid-19 might have put off these elderly voters. Mr Biden is 0.5 percentage points ahead of Mr Trump in state polls.
Younger voters are another demographic that could have an impact on the 2020 election.
This group is historically less likely to turn out to vote. But this time, more young voters are casting their ballots. More than five million young people aged between 18 and 29 have already voted early, including nearly three million in the battleground states.
A poll of Americans in this age group found that enthusiasm for voting in 2020 was on par with the 2008 election, which was won by former President Barack Obama.
The same study also found Mr Biden to be the favoured pick of young adults who voted early, by 63 per cent compared with Mr Trump's 25 per cent.
However, it remains to be seen how large the final turnout among youths will be, since most young adults are not familiar with the voting process and cite inexperience as a reason for not voting.
Dr Elizabeth Matto, associate research professor and director of the Center for Youth Political Participation at Rutgers University, recalled how many young people were backing Senator Bernie Sanders in 2016.
But when he lost the Democratic primaries to Ms Clinton, not all pro-Sanders votes went to the presidential candidate.
Another key demographic to watch is minority voters, who traditionally leaned towards the Democrats, given the context of the Black Lives Matter protest across the US.
CHINA POLICY APPROACH
Despite the divergent views of Trump and Biden on many issues, pundits have noted a growing agreement among both presidential candidates on how to compete with China.
"There is a broad-based bipartisan consensus in Washington that China is America's number one rival," research fellow Adrian Ang said in a podcast on the US election by the S Rajaratnam School of International Studies' (RSIS).
Experts do not believe that foreign policy will fundamentally affect the election's outcome.
Nevertheless, the Trump presidency remains a disruptive force in global politics, which has changed how regional relationships work in the long term.
Since taking office in 2017, Mr Trump has set his crosshairs on China as a "strategic competitor" to the US, and launched a trade war against it, which has since evolved into a race for technological supremacy.
Speaking at a Lee Kuan Yew School of Public Policy (LKYSPP) webinar on Tuesday, Mr Taimur Baig, DBS managing director and chief economist, noted that the world is unlikely to revert to "status quo ante", even if Mr Trump is not re-elected.
Dr Stonecash said both sides are posturing as being tough on China. "But ultimately a lot of this is election posturing. Things may change a lot in January (when the new president is inaugurated)," he added.
In an article in Foreign Affairs magazine in April, Mr Biden mentioned China only in competitive terms, striking a more hawkish tone that the Obama administration had avoided.
He wrote that the US should take down trade barriers that penalise Americans, and also to resist "a dangerous global slide towards protectionism".
"The wrong thing to do is to put our heads in the sand and say no more trade deals. Countries will trade with or without the US… The US, not China, should be leading that effort," said Mr Biden.
WHERE DOES SOUTHEAST ASIA FIGURE? 
When Mr Trump took office, one of the first actions in his presidency was to pull the US out of the Trans-Pacific Partnership (TPP) agreement that had underpinned Mr Obama's strategic economic involvement in Asia.
Washington began to view Asia primarily from a North Asia lens, focusing on the threats of a nuclear North Korea and the economic competition with China.
President Trump has embarked on a Free and Open Indo-Pacific (FOIP) strategy, where his administration portrayed China as an overt threat to the region.
As former Singapore Deputy Prime Minister S Jayakumar noted on the FOIP in his updated book Diplomacy: A Singapore Experience: "For Southeast Asian nations, the perpetual challenge will be in convincing the US to view its engagement of Southeast Asia as a worthwhile end in itself and not simply through the prism of strategic competition with China."
What about a Biden presidency? Ms Angela Mancini, partner and head of strategic consultancy Control Risks, said at the LKYSPP webinar that Mr Biden may see the Comprehensive and Progressive Agreement for Trans-Pacific Partnership (CPTPP), which replaced the TPP, as a way for more economic engagement in Asia.
On the other hand, Dr James Crabtree, associate professor in practice at LKYSPP, argued in the Foreign Policy journal that US allies are uncertain over the credibility of Mr Biden, as compared with Mr Trump's less ambiguous approach on China.
"Ultimately, Asian nations will adapt to whichever candidate ends up in the White House," said Dr Crabtree.
The need for clarity is amplified for delicate issues such as the South China Sea dispute and China-Taiwan relations.
LKYSPP visiting senior research fellow Drew Thompson said that with Mr Trump at the helm, US engagement with its allies in the South China Sea issue has in fact strengthened. The same is true for Taiwan, which is the US' 11th largest trading partner.
Not all agree. One survey earlier this year found that 47 per cent of Southeast Asians had little or no confidence in the US as a strategic partner, up from 34 per cent in 2019.
More than six in 10 respondents also believed their confidence in the US would increase if a new US president was elected.
DBS' Mr Baig said the reality is that Southeast Asian nations crave for clarity and leadership from the US, and are not keen on picking sides.
WILL HISTORY REPEAT ITSELF?
Most opinion polls have placed Mr Biden slightly ahead of his incumbent rival.
National polls indicate that Mr Biden is 7.4 percentage points ahead of Mr Trump based on the latest polling averages by RealClearPolitics, while state polls in battleground states also show a slimmer 3.5 percentage points lead by the Democrat.
In the Electoral College, Mr Trump is predicted to have secured 125 votes out of the 270 needed to win, while Mr Biden has 232. Another 181 votes are toss-ups.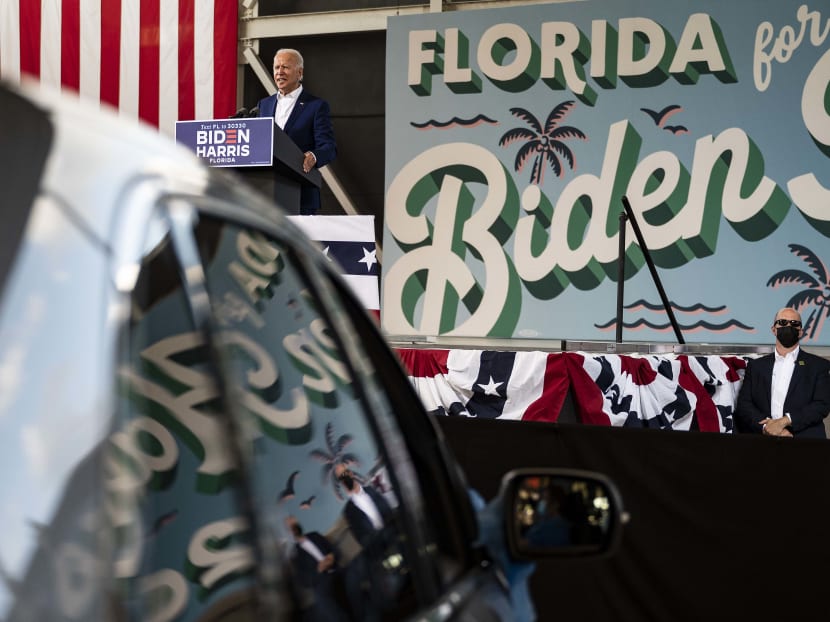 This is a similar situation for the Democrats as 2016, when polls wrongly predicted that Ms Clinton would win.
Dr Doug Schwartz, director and vice-president of the Quinnipiac University Poll, said that since the 2016 presidential election, pollsters have updated their methods so as not to underestimate white voters without a college degree, which was the case then.
But with so many mail-in ballots this time round, the full result of the election is not likely to come on election night, and is expected to take several days to weeks as state officials tally and certify the votes at varying rates.
Mr Trump has also refused to commit to the peaceful transfer of power if he loses due to possible ballot fraud, which led the Biden campaign to state: "The United States government is perfectly capable of escorting trespassers out of the White House."
Mr David Levine from the Alliance for Securing Democracy said it is unlikely for voting fraud to occur given the multiple processes in place.
"Of course, if someone is going to try and engage in that kind of (fraudulent) behavior, I think it's worth underscoring that the likelihood that they're going to impact the outcome of the election is very small and that the penalties can be very significant," said Mr Levine.