The Big Read in short: What happens to offices, CBD when working from home becomes the norm?
Each week, TODAY's long-running Big Read series delves into trends and issues that matter. This week, we look at the implications of mass telecommuting for Singapore's Central Business District and work and office life as we know it. This is a shortened version of the full feature, which can be found here.
Each week, TODAY's long-running Big Read series delves into trends and issues that matter. This week, we look at  the implications of mass telecommuting for Singapore's Central Business District and work and office life as we know it. This is a shortened version of the full feature, which can be found here.
SINGAPORE — Before the Covid-19 pandemic struck, Mr Rahul Raj had never quite entertained the idea of working from home.
The director of Prudential Public Accounting Corporation, an auditing firm, said that employees rarely requested to work from home, and there was no reason for him to implement an official company policy on telecommuting.
However, when the Government announced last month that non-essential companies like his would have to implement telecommuting during the circuit breaker, Mr Rahul's hand was forced. 
And despite his initial apprehension, he has now come around to the idea. 
"I do intend to see how best we can utilise work from home. If you know your job and you do your job efficiently, there is no reason why you need … to sit at the table from 9am to 6pm," said the 45-year-old.
When it comes to telecommuting, the proverbial needle has finally been moved, as the pandemic compelled firms to overcome inertia and fully embrace the idea.
With over 80 per cent of the Singapore workforce currently telecommuting, the Government has signaled that this work arrangement is here to stay for the long term.
The multi-ministry task force on Covid-19 reiterated the message earlier this week, saying that workers are expected to work from home as much as possible even as Singapore gradually exits its circuit breaker after June 1.
The widespread adoption of telecommuting is expected to have huge ramifications across all sectors — from public transport, retail and food and beverage to manufacturing, just to name a few. 
DOWNWARD PRESSURE ON OFFICE RENTS
While the office rental market has been on the rise over the past few years, the latest projections show that there is likely to be a dip in office rentals. 
Data from Colliers International in the second quarter of last year showed that Grade A office rents in the CBD hit a 10-year high at S$9.93 per sq ft per month (psf pm), driven by take-up from technology and flexible workspace firms.
At that time, the real estate research company had projected office rents to grow by 5 per cent in 2020.
However, Ms Tricia Song, who is Colliers International's head of research for Singapore, said that its revised forecast sees office rent in the CBD falling by 5 per cent in 2020, after accounting for a projected economic recession and the impact of Covid-19.
Ms Song said that demand for CBD office spaces from technology and flexible workspace is expected to slow, and affected businesses — especially in the tourism, aviation and transport sectors — are expected to downsize their office spaces.
Several property analysts agreed that there is likely to be downward pressure on office rents in the CBD in the short term, with companies expected to fold or downsize in the wake of the coronavirus pandemic.
Property consultant Karamjit Singh reiterated that a work-from-home culture will mean that companies do not need as much office space as before.
As a result, there may be lesser demand for office spaces, not just in the CBD, but also in areas such as business parks and industrial properties. Companies that fold during this economic downturn may also give up their office spaces, leading to further reduced demand.
Nevertheless, some companies which have multiple office locations — in the CBD as well as in decentralised areas where backend staff are based — may also choose to let go of their office spaces outside of the CBD. 
Meanwhile, employers told TODAY that they were also thinking of ways to redesign their office spaces.
Mr Wilson Lee, a partner at Ian & Son, an accounting and corporate services firm along Upper Cross Street, said that with fewer people in office, he may choose to remove some desks to create more storage space, and repurpose the conference room to host clients. It is currently used by part-timers who come in to do data-entry work.
With the need for safe distancing, companies will have to increase the area allocated for each staff, and put up partitions between desks and rooms. More contactless technology could also be introduced in offices to maintain hygiene standards, said veteran human resource (HR) practitioner Carmen Wee. 
Property analyst Ong Kah Seng said that with telecommuting reducing the need for office workers to work the standard 9-to-5 routine, companies may seek to optimise their existing office space by arranging for a team to work on the premises outside of the regular hours.This will reduce the need for the companies to lease additional space to accommodate staff, he added.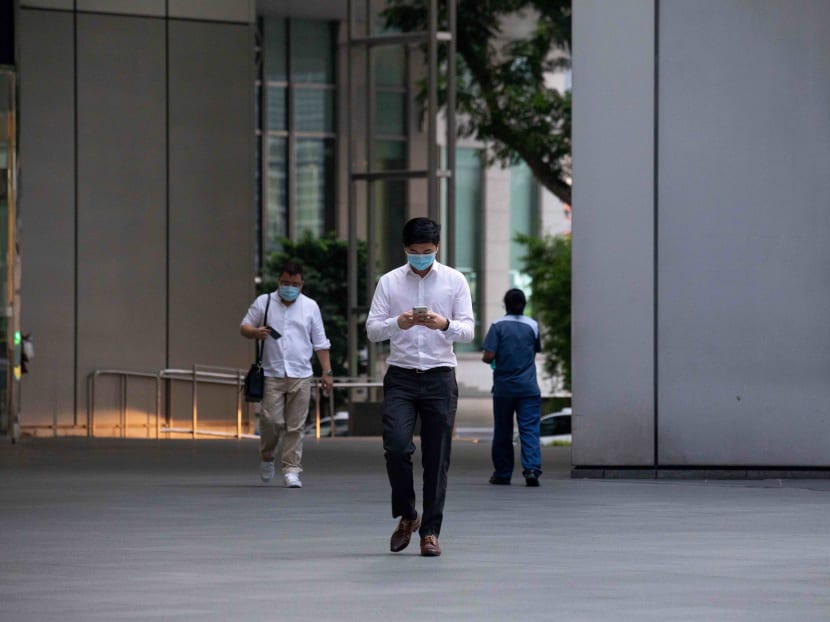 A MORE DIVERSIFIED CBD IN THE LONG RUN
Beyond office spaces, analysts said that Covid-19 will accelerate plans by the Government to rejuvenate the CBD area.
With the CBD typically quiet after office hours, the Urban Redevelopment Authority said last year that it will tap on vacant state properties for short-term use to boost footfall, and incentivise developers to convert ageing developments for residential or hospitality use.
Professor Sing Tien Foo, who heads the Department of Real Estate in the National University of Singapore (NUS), said that with rentals expected to drop in the CBD, more developers could step in to convert older buildings into higher-end residential areas as well. However, this could take a decade.
As recreational and leisure activities resume post-circuit breaker, Mr Ong believes that with telecommuting becoming the norm, more people would feel the need to leave the residential areas after they are done with work at home. 
This could result in increased footfall in retail areas in the CBD such as Marina Bay on weekday evenings and weekends.
Mr Ong expects this to happen as soon as the fourth quarter of this year, when people have adjusted to work from home, and are looking to unwind towards the end of the year.
Should Mr Ong's prediction come to pass, it would spell good news for retailers and F&B establishments in the CBD. 
But for now, these businesses, which have been severely hit by the circuit breaker, are gritting their teeth. 
For example, the owners of several gyms in the CBD told TODAY that they expected to see a fall in visitors compared to pre-crisis levels immediately after the circuit breaker is lifted.
Nevertheless, Mr Anil Chugani, 46, the country manager of gym chain Fitness First, said that the shift to telecommuting could mean more members visiting its fitness clubs during traditional non-peak hours on weekdays or weekends.
F&B establishments admitted that they are worried about the impact of lower footfall in the CBD on their revenue.
Mr John Hatherley, chairman of Tadcaster Hospitality which manages several bars and cafes in the CBD area such as The Exchange at Asia Square, said that after-work drinks will be a thing of the past in a post-Covid-19 world.
"The days of people finishing work at 6pm and going down to the pub to chill out — that's a trend that won't come back. Things are more family-oriented now, and people will prefer the family experience rather than go down to a pub," said Mr Hatherley, 55.
He said that F&B establishments such as his will have to find activities such as indoor mini-golfing, or pub quizzes to give people a reason to return to their premises.
DEMISE OF OFFICE CULTURE AND CAMARADERIE? 
Beyond changing the way people work, the shift to telecommuting will have a huge impact on relationships within companies, said both employers and employees.
Among other things, there will be changes to how staff are managed and assessed, they said. Office culture and workplace camaraderie will also be harder to foster.
HR practitioners and employers agreed that with more staff telecommuting, bosses will now have to manage employees based on their outcomes, rather than their face time in office. 
Mr Alvin Ang, founder of recruitment firm Quantum Leap Career Consultancy, said that with remote working, it will be harder for bosses to assess the soft skills of employees which may be useful to the organisation.
He gave the example of a salesperson who may not be the best at closing deals, but is nonetheless strong at team-building which adds value to the organisation. 
Such skills are harder to assess when employees cannot be observed in a physical environment, Mr Ang pointed out. 
However, other employers felt that there are ways to assess their employees holistically through remote working.
Ms Ginny-Ann Oh, director of public relations firm Asia PR Werkz, said that she assesses the soft skills of her employees during their online interactions.
"There is a lot of brainstorming and discussion virtually which lets us observe leadership in the team or initiatives that are taken," said the 46-year-old. 
"I don't think it is any harder to assess (employees) on other aspects when they work remotely."
Camaraderie was another issue raised by employers and employees alike. Many said that they missed having meals with colleagues or simply chatting with someone in the pantry.
On whether office camaraderie is still relevant in a world where people work away from the office, Mr Lee said he believes so, as it helps to create an intrinsic motivation for employees.
He added that even if his company switches to remote working in the long run, he will still insist that staff return at least once a week to have lunch together and bond with one another.