The Big Read in short: What happens when strangers live together in HDB rental flats
SINGAPORE — The tension between Mr Lim and Mr Yap, co-tenants of a flat under a scheme for singles, was apparent during their interview with TODAY.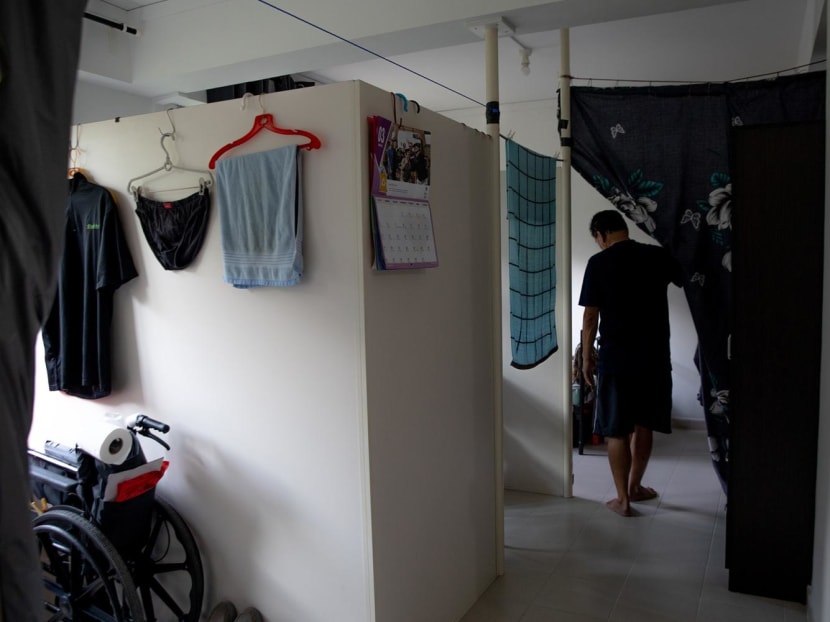 Each week, TODAY's long-running Big Read series delves into the trends and issues that matter. This week, we look at the experience of singles who are assigned to live with strangers in Housing and Development Board (HDB) rental flats. This is a shortened version of the full feature,​ which can be found here.
Singles who are strangers have long been assigned to live together as co-tenants in public rental flats under the Joint Singles Scheme
In the last year or so, the Government has announced two new pilots, one for singles to rent HDB flats with other strangers and another where single tenants can rent units on their own
A recent murder case involving two co-tenants however underscores the challenges that may arise from living with strangers
Tenants who share a HDB rental flat with strangers told TODAY of some disputes they have had with their flatmates, but others also cited positive experiences
Experts interviewed by TODAY said that more can be done to improve existing rental schemes for singles
SINGAPORE — The tension between Mr Lim and Mr Yap, co-tenants of a flat under a scheme for singles, was apparent during their interview with TODAY.
Mr Yap kept interrupting Mr Lim, sometimes making sarcastic remarks, making the latter hesitant to continue talking.
The interview had to be moved from their flat in Bedok to the void deck, and conducted separately to make it more conducive for the two men — who declined to give their full names — to speak more freely.
Their taut relationship is part of the dynamics of living under one roof with strangers, in their case as co-tenants under the Joint Singles Scheme Operator Run Pilot (JSS-OR).
Launched on Dec 17, 2021, the JSS-OR scheme houses two or more lower-income singles in a one or two-room public rental flat, depending on flat size.
Under this scheme, singles can apply for a rental flat without having to find a co-tenant as they will be paired up with other applicants who are strangers.
Pairing up strangers in rental flats is not new.
Though singles who apply under the long-running Joint Single Scheme (JSS) launched in 1990 are encouraged to find co-tenants to rent with, HDB will provide them with viable single co-tenant applicants if they cannot find any. 
Both schemes require tenants to be Singapore citizens and at least 35 years of age.
The JSS-OR scheme differs from JSS in that it is run by in-site social service operators who regularly organise activities for tenants and mediate between them should issues arise. 
One of the operators, Good News Community Services — which runs the JSS-OR pilot at rental flats in Bedok North Road and Buangkok Crescent — said in response to TODAY's queries that tenants are informed prior to moving in that they will have to raise an issue with the operator if they need help in settling disputes with their co-tenants.
Social workers will then attend to the tenant's feedback by engaging those involved in the dispute, which are commonly about hygiene and cleanliness, usage of common areas or items, and noise.
The operator said that the time needed for resolution of the disputes depends on the nature of the disputes.
"Most disputes can be resolved quickly because the social workers are on-site and able to respond quickly to disputes."
The second social service operator is New Hope Community Services which manages a JSS-OR block of flats at Bukit Batok West.
One co-tenant under the scheme, Mr Sankili Poothatthan Kalimuthu, had to put up with his flatmate's disruptive behaviour.
"He was always getting drunk and rowdy late at night," said the 50-year-old.
"One night, he invited two of his friends over for drinks and they were really noisy. I told him to control the volume since I had just come back from a day's work and needed the rest, but he scolded me instead."
Tensions between them came to a head when Mr Kalimuthu's flatmate threatened to hurt him, and he eventually requested to be moved out to a different flat.
On a brighter note, a co-tenant under the JSS-OR scheme could be that much-needed helping hand for their single flatmate in times of trouble. 
That was the experience of a 50-year-old tenant who wanted to be known only as Mr Vincent. Once, he was so ill with diarrhea that he could not move or go about his daily activities as usual.
His flatmate — who could be inconsiderate at times — was the one who helped him with his daily needs, including preparing his meals, and calling the ambulance when he saw Mr Vincent becoming weaker and could not move.
"I told them I was okay, so I didn't have to go to the hospital. But it was very nice of him to take care of me while I was sick," said Mr Vincent.
TODAY's interviews with 10 JSS-OR tenants showed that while there are indeed instances where the flatmates do not see eye to eye, the majority said they can co-exist and get along. 
To achieve this, the tenants said they have had to "'give and take" often and "close one eye" or tolerate their flatmates' quirks and different lifestyles.
WHY IT MATTERS
The issue of singles as co-tenants in a flat has come under the spotlight recently, amid the launch of a new scheme and reports of trouble between flatmates.
Two weeks ago, HDB announced a new pilot called the Single Room Shared Facilities scheme.
Tenants will have their own bedrooms but share facilities with about 20 others. These facilities include toilets, kitchens and laundry and activity rooms.
As lower-income singles ponder which scheme holds better promise for them, two court cases offer a sobering reminder of the perils that co-tenancy may bring. 
Last week, a 59-year-old man was charged with the murder of his co-tenant in a public rental flat in Redhill Close.
THE BIG PICTURE
As Singapore ages rapidly, more than 900,000 — or roughly one in four Singapore citizens — will be aged 65 and above by 2030, with an estimated 83,000 seniors expected to be living alone, according to data released by the Ministry of Health in January.
This means that even more lower-income elderly singles will need support with their accommodation needs. 
THE BOTTOMLINE
While the experts interviewed said that the JSS-OR pilot is a move in the right direction, more could still be done to improve the existing scheme.
Associate Professor Kang Soon-Hock of the Singapore University of Social Sciences (SUSS) said: "One future direction could examine the option of providing some form of limited home care services to elderly beneficiaries who may have minor difficulty with some activities of daily living, as I do not believe this is being offered currently for the pilot." 
Doing so would allow these elderly beneficiaries to continue living within the community, added Assoc Prof Kang, who is vice-dean and head of Behavioural Science Core at SUSS' School of Humanities and Behavioural Sciences.
Assoc Prof Laavanya Kathiravelu at the Nanyang Technology University School of Social Sciences said that while the system of matching provided by the operator in the current JSS-OR pilot would help reduce the need for singles to find co-tenants, a trial period allowing housemates to live together for a few months could also be considered.
"If the arrangement is not working for any party, they should be provided an avenue to leave or (be assigned to) a new housemate without penalty," she said.
This could encourage higher take-up rates for the scheme, while also assuring tenants that they would have some choice on who they live with, added Assoc Prof Kathiravelu.
Beyond ensuring a good match, sociologist Tan Ern Ser, an associate professor at the National University of Singapore's Department of Sociology, pointed to the importance of having programmes, as well as public areas and amenities, that encourage social interaction and the forging of stronger friendship ties and mutual support among residents.
"I think when people form social ties, and build a community, they tend to be more reasonable with one another and observe community norms," he added.