Artist sets up an arts grant for other artists
SINGAPORE — Now here's something interesting: An artist setting up an arts grant for other artists.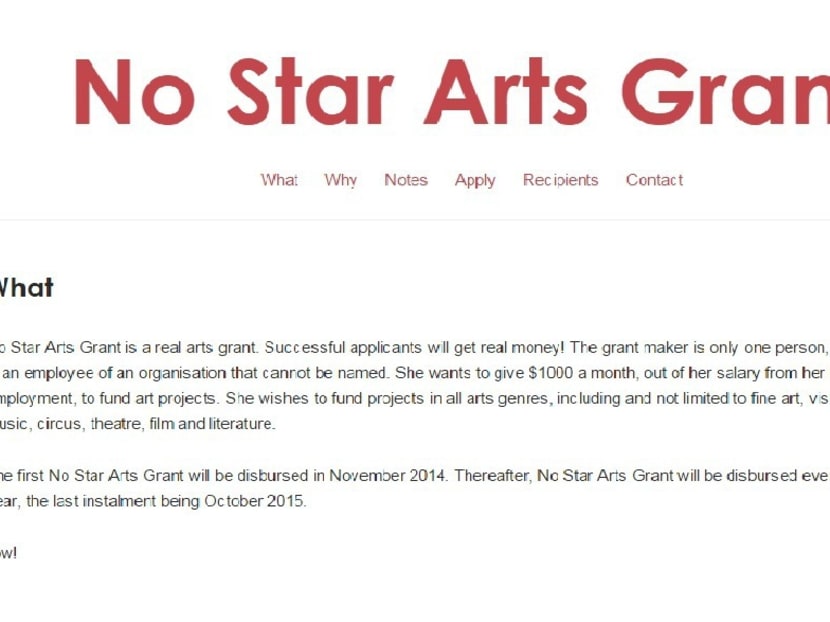 SINGAPORE — Now here's something interesting: An artist setting up an arts grant for other artists.
Dancer-choreographer Eng Kai Er has recently set up No Star Arts Grant and she is offering S$1,000 a month — out of her own salary — to fund art projects in all genres, "including (but) not limited to fine art, visual art, dance, music, circus, theatre, film and literature."
According to the grant's Tumblr site, applicants should be able to explain why the proposed works are "important FOR THEMSELVES (and not for "the community" or "the nation")". Eng will be leaning towards projects that are overlooked by other funding sources such as those with "LGBT themes, sexual themes, political art (and) other marginalised type(s) of work."
The grants will be disbursed every month for a year and it has already started. Among the recipients has been artist Loo Zihan has apparently also received a grant for his work With/Out, an M1 Singapore Fringe Festival 2015 production that interprets Completely With/Out Character, the monologue by the late Paddy Chew, which was staged by The Necessary Stage in 1999.
Of course, there are other conceptual layers to this project beyond being an experiment in and exploring the idea of arts philanthropy, not least of which has to do with Eng's background as an scholar who is, as the website says, "bonded to an organisation that cannot be named, under a scholarship programme that also cannot be named".
It continues: "Eng Kai Er is not interested in her bonded employment at all, but has to serve her bond or pay, as of 30 September 2014, around $741657.37 in order to quit her job. Since she understands the pain of having a paid job that is not aligned with her interests, she wishes to change the world by having more instances of paid jobs aligned with people's interests, and No Star Arts Grant is her own small way of doing that."
Suffice it to say that said organisation is not arts-related, which makes the entire project of "paying it forward" to something arts-related even more interesting.
Eng, who is part of The Substation's Directors' Lab programme and recently staged a piece titled Fish, has kindly refused to be interviewed. But grant recipient Loo lauded her new initiative. "It ensures that projects which would otherwise have difficulty getting official state funding have an opportunity to be realised. It is important for such alternative sources of private funding to exist," he said.
You can check out more about the grant and the rationale behind it on its website here: http://no-star-arts-grant.tumblr.com/