S'pore art: Top picks for 2013
SINGAPORE — It's that time of the year again. Yearend picks.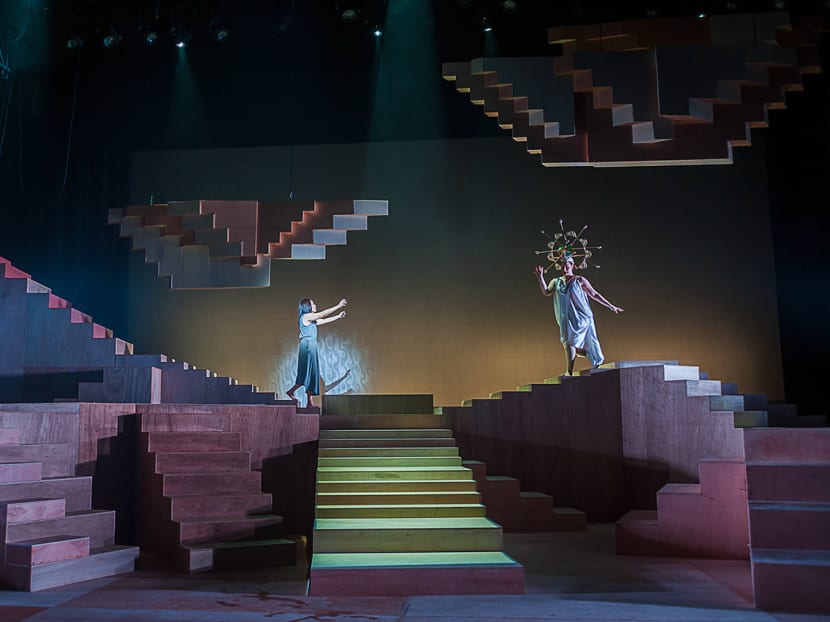 SINGAPORE — It's that time of the year again. Yearend picks.
But we're actually rather late. And there's a reason for that. This year, I've decided to rope in some of the nice folks who have helped me in covering the arts scene in 2013: Artist Bruce Quek and curator Joleen Loh have both chipped in for the visual arts side, while Flying Inkpot contributor Naeem Kapadia has also helped out on the theatre side (another contributor and Inkpotter, Karin Lai, passed up). (To be fair to the Inkpot gang, we've decided to release ours on the same day as theirs, and you can check theirs out at http://www.inkpotreviews.com/).
Below are our lists. On my part, I've concentrated on homegrown works (even as I acknowledge the awesomeness of Shun-kin, Musashi, and Khmeropedies III: Source/Primate). I must say I've missed more shows and exhibitions than in previous years (the dance festival Contact 2013 an admittedly glaring absence). But at the same time, it wasn't as if it was slim pickings across the board, including, for the first time, books. Read on.
***
MAYO MARTIN'S TOP PICKS
1. ILLOGIC by Cake Theatrical Productions. Illogic has a strong sense of clarity and purpose. There's an impassioned, sometimes cheeky and self-referential, love letter to theatre (here). One imagines Natalie Hennedige with one eye on the past and one on the future, standing at the cusp of change and savouring it before moving on.
2. (UN)IT: HD85828 | IN.VISIBLE by Ming Poon. Would you dance with someone with HIV? And in the dark, and to the tune of Adele's lovely cover of The Cure's Lovesong, Poon and his PLHIV collaborators literally reach out and offer a dance in the dark — it is a moving moment that will stay with me for a long time.
3. ARTISTS' GENERAL ASSEMBLY: THE LANGENBACH ARCHIVE by Loo Zihan. Loo Zihan's excellent documentary installation on the Artists' General Assembly (at Sculpture Square's group show Ghost: The Body At The Turn Of The Century) is, to my knowledge, the only public artistic response done for the 20th anniversary of the single most important/notorious/pivotal moment in Singapore's contemporary art history
4. TWELVE ANGRY MEN by Nine Years Theatre. It swaggers with as much confidence as the characters do when they first step inside this temporary bubble of a world of pure judgement. What proves to be fascinating isn't so much one's expectation of outcome as it is the twisting-and-turning group dynamic that lies at the heart of Twelve Angry Men.
5. THE MONSTERS BETWEEN US by Jason Wee. My rave book from the Singapore Writers Festival. There's a lot to love in this exceptional debut poetry collection from Wee, in particular, Unreliable Evidence, an ambitious, gripping suite that masterfully combines childhood memories, pop culture and the political events of the late `80s. There were a lot of politics-themed works this year, and this one (which reminded me very much Carolyn Forche's The Angel Of History) is up there.
6. NEXT TO NORMAL by Pangdemonium Productions. How director Tracie Pang managed to pull this off, we'll never know. The issue of mental illness is handled with such sensitivity and compassion and yet it doesn't tiptoe around it at all. Next To Normal is intense, gritty and emotionally draining, but it's also brash, funny and feels alive.
7. NOT IN ANY ORDER: WRITINGS ON SINGAPORE ART 2006-2010 by Lim Kok Boon. At a time when Singapore contemporary art scene is exploding and it's very hard to find any book about Singapore artists and their works (that's not a catalogue), this is a very timely gem. Remember Zai Kuning's A Bowl Of Rice exhibition at The Substation in 2008? No? That's page 101. The NUS Museum show I Polunin the following year? Page 59. And I'm just flipping through it randomly.
8. KAKAK KAU PUNYA LAKI by Teater Ekamatra. You'll get laughs galore, but at its core, it is an artistic response to the actual events of 2008. And it is a well-thought out response to the Mas Selamat incident — it isn't just playing for laughs or is reduced to a quip or a punchline. If you think about it, it's a strange parallelism: A locked-up Singapore Jemaah Islamiyah leader and a kooky, naive, middle-aged lady who makes curry puffs. But somehow, this very disconnect gives it that off-kilter feel you simply can't resist.
9. NOTES FROM A REVOLUTION by Godwin Koay. This is hardly your typical political art. The choice of a medium as delicate as watercolour — which is a perfect fit for picturesque landscapes but an odd choice for painting riot vans — automatically "softens" everything. The headlines and images approximate the actual scale in newspapers or computer screens, giving the work an uncanny sense of being of the day-to-day.
10. SINGAPORE BIENNALE 2013 by the Singapore Art Museum. It was/is a biennale that divided people's opinions. While some shook their heads at the platoon of curators and the all-over-the-place vibe; dismissed its "kampung" feel and sensibilities; and demanding a more "cosmopolitan" biennale that kept pace with its overseas counterparts, others embraced precisely all these. I belong in the latter camp. Yes, it had its flaws and some works really were "meh", but its audacious, brash and haphazard blueprint, its embrace of emerging regional artists charmed me. Like the region it tries to "capture" in this show, it's pretty messy. But fun too.
(And because I'm greedy, my other noteworthy picks are: Revising Art: The Ten Year Series by Zaki Razak, Nowhere Near by Chun Kai Feng, Rabbit Hole by Pandemonium Productions, The Collected Poems of Arthur Yap, Situationist Bon Gun by Tang Da Wu, Atomic Jaya by Checkpoint Theatre, Pythagoras by Ho Tzu Nyen, Square Moon by Wong Souk Yee/Chng Suan Tze, Ministry of Moral Panic by Amanda Lee Koe, LIFT: Love Is Flower The by TheatreWorks/Jeff Chen)
***
NAEEM KAPADIA'S TOP PICKS (THEATRE)
1. RABBIT HOLE by Pangdemonium! Productions. Pangdemonium's rendering of this sensitive, nuanced and incredibly moving play about the gossamer fine architecture of grief is no better proof that Singapore theatre has truly reached international standards. Fantastic acting, superb direction by Tracie Pang and enough tears to flood the DBS Arts Centre.
2. VENUS IN FUR by Singapore Repertory Theatre. David Ives' sizzling, exquisitely layered two-hander definitely raised the temperatures on our tropical island a notch or two. The sexual dialectic twists, turns and thrashes between the actors, leaving us utterly enraptured. This classy production also featured an outstanding performance by the alternately playful and predatory Steffanie Leigh. Who needs Fifty Shades of Grey when you can watch this sort of thing in the flesh?
3. FOR BETTER OR FOR WORSE by Checkpoint Theatre. I had my initial reservations about Faith Ng's canny dissection of middle-class Singaporean marriage due to its sparseness but the strength of this play lies in its very simplicity. It's a raw and affecting piece of theatre that showcases the playwright's fantastic ear for dialogue but more significantly, it's a play that is proudly, unabashedly Singaporean. It's great to hear that Ng will be replacing Huzir Sulaiman as mentor of young playwrights at NUS – it looks like the future of Singapore writing is in very good hands.
4. NEXT TO NORMAL by Pangdemonium! Productions. You have to give it to Pangdemonium! to mount a musical that confronts the issue of mental illness, and to do this so well that it blows the socks right off the average theatregoer expecting candyfloss and happy endings. It's dark, depressing and bitter but at the same time, suffused with love, humanity and a giddy energy. The uniformly strong cast, sensitive direction, fantastic set, great lighting and superb music all come together to create a truly stunning production, one that is anything but normal.
5. BEST OF by The Necessary Stage. I'm ever so happy to see Siti Khalijah, one of our nation's most talented actresses, being given a monodrama. Haresh Sharma's wonderful portrait of a day in the life of a contemporary Malay girl is both hilarious and tender and reminds us of the subtle power of storytelling. It's being restaged next year as part of the M1 Singapore Fringe Festival – do catch it if you missed the original run.
(Naeem's honourable mentions: Atomic Jaya by Checkpoint Theatre, The Woman Who Cooked Her Husband by Skinned Knee Productions, The Importance of Being Earnest by W!ld Rice, The Suit by Theatre des Bouffes de Nord, and Tahan by Teater Ekamatra.)
***
BRUCE QUEK'S TOP PICKS (VISUAL ARTS)
1. BETWEEN CONVERSATIONS curated by Louis Ho. This free-wheeling exploration of conversational processes took off from the colourfully optimistic Our Singapore Conversation, and ranged from examinations of national iconography to interactive formal experimentation.
2. THE PART OF THE STORY WHERE WE LOST COUNT OF THE DAYS by Heman Chong. Fantastical snapshots of Singapore and all manner of speculative irreverence circulate enigmatically around the titular self-undermining artist's monograph.
3. THE RETROSPECTACLE OF S. RAOUL by Shubigi Rao. A retrospective that wasn't (and was), played out through the quixotic figure of Rao's could-have-been mentor, S. Raoul: Scholar of the obscure, archaeologist of Singapore's leavings, and a researcher of art's deranging powers.
4. THE ARTIST, THE BOOK, AND THE CROWD curated by Ho Rui An, Ang Siew Chin, and Karen Yeh. Much more than just a book club. A frank and engaging invitation to outright bibliomania, with such curious sights as artists "re-writing" the books that influenced them — kind of like time-travelling and hacking your grandad's genome.
5. PENNANGALANAMANIA! by Grieve Perspective. Centred on the myth of the Pennangalan, a kind of South-east Asian vampire, themes of mortality are explored through disquieting animations, videos, and prints.
(Bruce's honourable mentions: Coded Transformations curated by Andreas Schlegel, Situationist Bon Gun by Tang Da Wu, Exposition by Jeremy Sharma, Iconoclast by Cheo Chai Hiang, An Ambiguous Portrait Of A Cunning Linguist curated by Andrew Herdon, Futura Mon Amour by Stephane Lasserre)
***
JOLEEN LOH'S TOP PICKS (VISUAL ARTS)
1. NOWHERE NEAR by Chun Kai Feng. This first major solo exhibition at FOST Gallery featured eleven new works exploring notions of nostalgia and the intangible relationship between people and things, drawing from commonplace objects that, ironically, are far from being universally appreciated. The works referenced familiar things seen around HDB estates to retail franchises, which are deconstructed to allow for another life of these forms to unravel. These solitary structures, through which specific sites are turned into non-places, are subjects on to which various possible futures may been pinned. The exhibition was an absorbing showcase of the artist's keen sense of materiality and continuous experimentation with the language of objects.
2. GHOST: THE BODY AT THE TURN OF THE CENTURY curated by Alan Oei. It brought together an unexpected and intriguing line-up of 13 artists from the fields of art, music, photography, theatre and film who take on corporeality as a focus or point of departure. Here, the agency of the human body — whether in art, popular culture, or anti-establishment forms — is explored in relation to the state. Notable works included Loo Zihan's Artists' General Assembly — The Langenbach Archive (1989–2013), Choy Ka Fai's Prospectus For A Future Body, X' Ho's The Professor Speaks, and Esther Lowless' A Moment With The Visitant.
3. FICTION by Apichatpong Weerasethakul. Future Perfect presented the first solo exhibition in Singapore by the acclaimed Thai film-maker. Notable amongst the artist's video, installation, and photographic works was FAITH, a compelling and mesmeric sci-fi video work focused on two astronauts seen floating weightlessly within the empty stark white interiors of a space vessel. Inspired by the artist's fantasy of preserving personal memories from change, FAITH is also a homage to the genre of science fiction, a work that drew viewers into its open-ended narrative.
4. THE ARTIST, THE BOOK AND THE CROWD curated by Ho Rui An, Ang Siew Chin, and Karen Yeh. The relationship between art and literature was at the heart of this exhibition, which boasted the works of fourteen artists and their selection of texts that have informed their artistic practices. The exhibition transformed the Substation's gallery space into a reading space and a site for reflecting upon the confluences and gaps between literature, contemporary art and critical discourse. The artists were also invited to re-write a selected text that has been important to them. One instance is Lee Wen's The Wen Paper: Monday January 3, 1994, an evocative work that provided the artist's own account of Josef Ng's controversial performance in 1993 Brother Cane, which was misrepresented in mainstream news.
5. THE PART IN THE STORY WHERE WE LOST COUNT OF THE DAYS (2) by Heman Chong. This compelling solo exhibition provided audiences with a rare opportunity to critically examine Chong's multi-genre practice. The artist also released his first monograph of the same title, featuring critical and creative texts by Nav Haq, Ahmad Mashadi, Claudia Pestana, and Tirdad Zolghadr, all of whom were invited to write about Chong's practice with just one rule — they must not mention his artworks.
(Joleen's honourable mentions: Engaging Perspectives: New Art From Singapore curated by Eugene Tan, Bridge: Dari Utara Ke Selatan (From North to South) by Al-Khuzairie Ali and Mohamad Riduan, Notes From A Revolution by Godwin Koay, Ombak Hitam — Orissi by Zai Kuning and Raka Maitra, Zoological by 2902 Gallery)