S'pore Fringe Fest: It's the little things (and Facebook)
SINGAPORE — Breaking news! The M1 Singapore Fringe Fest is back in town. And before the performances go full swing, here's a scoop on what's happening in the exhibitions side, beginning with the Fringe's very own newspaper.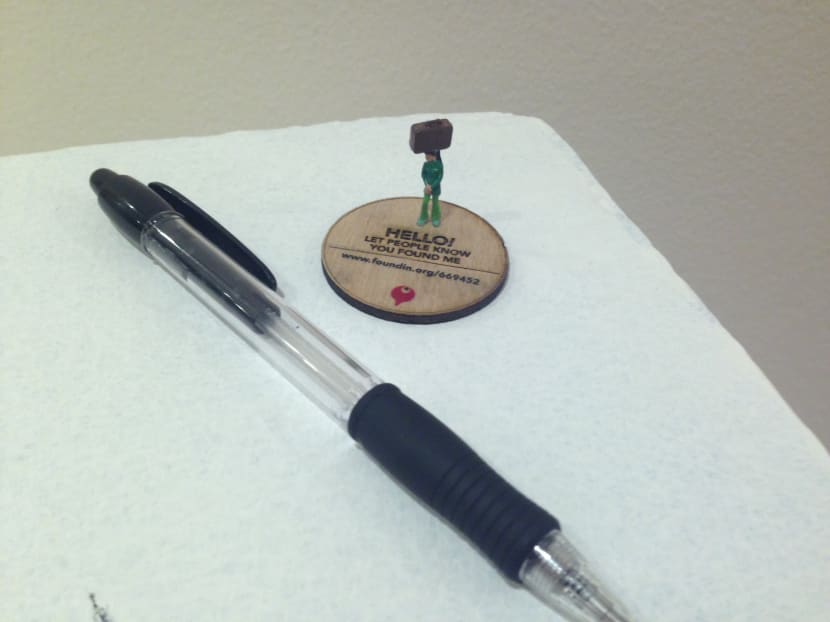 SINGAPORE — Breaking news! The M1 Singapore Fringe Fest is back in town. And before the performances go full swing, here's a scoop on what's happening in the exhibitions side, beginning with the Fringe's very own newspaper.
Drop by The Substation and you'll see the gallery transformed into Ong Kian Peng's very own "office", where the artist-turned-temporary publisher is churning out The Face Daily. It's described as a "fictional" newspaper but I'd consider it an actual one — with Facebook functioning as a sort of wire agency.
Distributed everyday at public places, it compiles a whole range of content from FB in print form, reversing the current conventional process of print-to-online.
A "custom software" collates and lays out the issues so human agency is primarily via social media.
It's not as haphazard as you might think — the content feed is gathered from a specific set of sources: Ong himself, as well as a group of contributors. That said, while the project does underscore the democratising aspects of social media ("Anything is news!") it also, for me lays bare that not everything is News.
Now I'm cool with the whole pick-and-choose/I'm-the-one-who-chooses-what-I-think-I-want-to-read approach, but looking at the first issue of The Face Daily, I can't help but think of the importance of curation.
Admittedly, we all do so online anyway — we share what we want, what comes up on our feeds is based on our little community of Friends (and Friends of Friends) — but in the finite space of The Face Daily's printed page, the selection does seem odd.
Consider the "front page" headlines: "Men! THIS is the perfect dating profile picture to attract the ladies. If you're female, THIS is the pic that will help you find love..." and "This Wearable Necklace Mic Could Change How You Hear - Or Record".
Inside jostling for space and attention are articles (and "articles") on architecture, an accident in Buangkok (with STOMP comments), a WWII POW, Doraemon... you get the picture.
Hierarchies and sections are erased, something perhaps in-built in the online world but in print, a bit weird la. What does it tell us about our consumption of online information? The divide between online and print? A lot actually.
***
If The Face Daily is about what's floating out there and in your face, Alecia Neo's photography installation at ION Art Gallery is about the Unseen.
A collaboration with visually impaired or blind people from Taiwan, the irony is obvious: Here's an exhibit to show what they see.
But that's the catch, isn't it? For some, it literally is an act of "imagining", of forming a mental image or an approximation of the actual image.
The first section comprises a series of portraits of Neo's collaborators creating light paintings. I'm not quite sure what to make of this — I'm looking at images of people creating images they can't see. But at the same time, "light painting" can only be seen as a photographic image anyway. But more on this later.
What I found more interesting is the video inside of participants talking about their processes while their photographs are shown.
In a way, there's a tinge of futility given the premise, but this also makes it somewhat poetic. For one participant, taking photographs is therapeutic and a way out of depression. Another considers the blurry images he sees as how one would see a Picasso (his cubist works, for example) or abstract art. Instead of seeing it (no pun intended) as a limitation, he positively takes it to the next level. Which is quite true, isn't it? What was Impressionism after all but a different way of perceiving the world?
As for the photographs themselves, well, I was more interested in the stories behind them, as well as Neo's *entire* project of empowerment. The act of photographing, of engaging the visual environment, the action rather than the result.
(And going back to that bit about the photographic image, one other thing I got from the show is how it tangentially showcases the power of the camera as a democratising mechanical eye. There's absolutely no difference between the photographs a visually impaired/blind person takes and one who has 20/20 vision. Both are mediated by another pair of eyes, so to speak. Bad composition? Unfocused? You've got thousands of that on Instagram.
Unseen is a commendable endeavour by Neo and to add to that, there's apparently going to be a Braille book containing the images (she hadn't dropped it off at the gallery when I visited), which I'm assuming makes the entire installation more inclusive, engaging the visually impaired public as well.
***
Both shows embrace/engage the public in different ways (the Fringe theme after all is "Art and People") and Hiroshi Sunairi does the same with his Majulah Singapura — Tree Project, the Singapore, erm, branch of his global project to get people to grow their own trees from seeds of trees that survived the A-bombing of Hiroshima.
I've yet to see the video documentary featuring the Singapore participants, but the saplings are displayed at the National Museum concourse, along with a collection of correspondences with Sunairi from around the world.
It's this sort of community building that the fourth exhibition aspires to.
In the same way that the Tree Project begins with a small seed and branches out to a kind of informal network of people, Tan Wei Keong and collaborator Samuel Woo's Foundin project is about a small thing and a network.
A thousand or so teeny weeny figurines are (or will be) discreetly placed in places all over Singapore, waiting to be found and taken home.
The procedure seems a bit complicated but essentially, if you find one and you access its QR code, it's "found". You've got the option of leaving a note online on its website (www.foundin.org). (Note: Apparently once it's tagged, that's it, it's yours. So no point leaving it there. Unless you want to. Heh.)
I found a few at ION Orchard and The Substation (it's apparently really *everywhere* and not just near Fringe venues) but it's so tiny that searching for it consciously can be rather leceh.
Sure, you could treat it as a "treasure hunt" or a game, but then it occurred to me that you can approach Foundin differently — by just stumbling upon it. You don't look for the figurines, you come across them, they "find" you. Because, seriously, how many of these little things do you want to collect? Is collecting even the point?
But a passive way of encountering these little buggers can be a delightful surprise. You're having coffee somewhere and... hey, what's that... a Foundin! It's a public art exhibition that could well extend beyond the Fringe.
I'm not completely familiar with the online aspect, but I'm assuming it sort of works to build a community of people who've found Foundins, as it tracks where and when they're found.
A small world after all?
(The M1 Singapore Fringe Festival runs until Jan 19. www.singaporefringe.com. The Face Daily office is at The Substation (copies are available there as well as in other Fringe venues and public places). Unseen is at ION Art Gallery. Majulah Singapura is at the National Museum of Singapore and there's a screening of the film on Jan 10, 8pm. Free admission. Foundin is... everywhere. Woot.)