We RAT on Michael Chiang
SINGAPORE — What do Army Daze and 8 Days have in common? Michael Chiang, that's who! Singapore's most popular and successful playwright is also a magician when it comes to magazines. We sat down with him last week to give us a personalised crash course on how he got started as both playwright and entertainment magazine guru. This year, after all, marks the 30th anniversary of his first ever play Beauty Box and this week, he'll be launching Play Things, his book of collected plays. It's been a while since we've come out with an instalment of our We RAT On series but you know the drill: Find a quiet place, get some coffee and dive right into our (super) lengthy interview with one of the entertainment world's most iconic figures.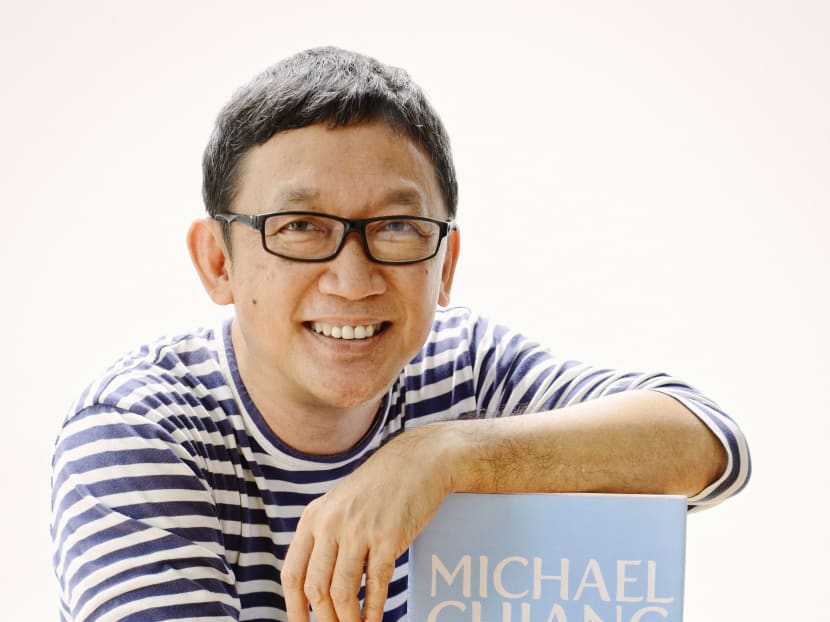 SINGAPORE — What do Army Daze and 8 Days have in common? Michael Chiang, that's who! Singapore's most popular and successful playwright is also a magician when it comes to magazines. We sat down with him last week to give us a personalised crash course on how he got started as both playwright and entertainment magazine guru. This year, after all, marks the 30th anniversary of his first ever play Beauty Box and this week, he'll be launching Play Things, his book of collected plays. It's been a while since we've come out with an instalment of our We RAT On series but you know the drill: Find a quiet place, get some coffee and dive right into our (super) lengthy interview with one of the entertainment world's most iconic figures.
Play Things will be out in bookstores on Oct 1 and priced at S$39.95. Book signings are slated on Oct 11, 3.30pm, at Books Kinokuniya, and Oct 15, 7.30pm, at BooksActually. There will be a Meet The Author session at the Singapore Writers Festival on Nov 2, 7pm.
***
Q: Thanks for doing this interview with us. So what has Michael Chiang been doing lately?
A: This year has been a bit more intense than usual. I did the script for NDP and there was Our Sister Mambo, both of which I started working on last year. Doing the movie was quite an interesting process. When I do theatre, with Beatrice (Chia-Richmond) or Ivan (Heng) or whoever, maybe they're a bit too respectful. Whereas (director) Ho Wi Ding, doesn't know me from anybody since he's based in Taiwan. His whole approach to the script was completely different from what I'm used to. Cinematically, they worry about the sequence, like they don't have three night scenes in a row, 'cos the audience won't be able to tell if it's one long night. So you insert a daytime scene. It's something I've never thought of. He taught me how to plot (the story). I found it fascinating, like learning again how to write, which I really, really enjoyed.
Q: Let's just put it out there then: Will there be a stage version of Our Sister Mambo?
A: (laughs) It's been suggested to me. The storyline is pretty close to the kind of comedy stuff I write. I don't know. We'll see how it does.
Q: And then, of course, you're launching your book of collected plays, Play Things, this week. It's not your first right?
A: No, Landmark Books published one in 1994. This one has four more scripts, including Mortal Sins, My Lonely Tarts, Heaven II and High Class.
Q: Why did you decide to publish?
A: I actually have to thank — or blame — Kenny (Leck) from BooksActually. (laughs) Cos every now and then I go to his store and one day, we were chatting and he told me I should reprint my book, which had been out of stock for a long time. That kind of planted the idea in my head. Last year, I was thinking if I should rush it so that I could sell it (during the run of) High Class. Then I thought if I waited one year, it would actually be my 30th anniversary (as a playwright) because in `84 I wrote Beauty Box. So I waited to make it the 30-year anthology la.
Q: There are actually two parallel Michael Chiang careers right? The playwright and the magazine guru. How are they related?
A: I was trained to be a journalist, first with (the defunct afternoon tabloid) New Nation and after that I was transferred to The Sunday Times. This was during the mid-`80s. I was editing entertainment and lifestyle stories, but occasionally I would write a humour column. Every silly thing I'd write la. They'd draw an illustration of me queueing up for Arts Fest tickets, and when taxi fares were raised, I'd write some funny comment…
So, back in 1983, there was a plan to produce a show called Bumboat! for the Arts Festival in 1984. A New York director named Tzi Ma was going to co-direct it with (director/actor) Lim Siauw Chong and they were trying to assemble scripts. I wasn't even aware of it until I got this call from a total stranger. "We noticed you've got a humour column and we were wondering if you were willing to write a humour piece for theatre." I said I didn't write theatre but I was invited to attend a reading. I remember going to this single storey house with total strangers and listening to all these people, and thinking to myself, "I could do that!" (laughs)
I was told all the scripts that were coming in were all very angsty and negative, unhappy about Singapore, alienation and wanting to leave the country… all very dark scripts. They said they needed something light. So I went away and over a weekend I wrote Beauty Box.
Q: Your first play out of nowhere. How did that come about?
A: It was inspired by a colleague of mine, Peggy, who would go to Liang Court, which had just opened, every lunch time. And one day she came back and said, "Michael, it's so embarrassing, the security man actually thought I worked there since I go there often." So I called her Miss Liang Court.
So (for Beauty Box) I thought, why not write a play about shopping malls, each with their own beauty queens? (laughs) What if there's a quest to find the Singapore Shopping Queen and we have reps from Liang Court, Parkway Parade, Centrepoint… That's where I started my whole Singlish, heartland thing.
Q: Sounds like your recent play, High Class.
A: Exactly. High Class was actually a kind of tribute to my first play la. So I wrote that piece in one night and submitted it. I think 60 scripts were sent off to New York where Tzi Ma picked five. When they told me they were going to perform my script, I thought, "You've got to be kidding…" To me it was so silly. I was 30. I was already a journalist for at least five years.
I eventually met everybody in the theatre community — and I was never a part of the theatre community — and they were laughing as they read the script. And it was so weird 'cos it was all in my head and for the first time I'm hearing this bunch of actresses reading it.
Then I went to the show at World Trade Centre Auditorium and it was clearly a hit. The audience loved it. But the reviews were horrible! (laughs) I remember being slammed by both Singapore Monitor and The Straits Times. They said the whole production Bumboat! was interesting, but I was singled out as the worst thing in there. They said (my piece) was full of caricatures with no substance, just cardboard.
I was very depressed when the review came out. At the third and last show — and this is like in the movies — Tzi Ma was standing in the wings with me. The WTC Auditorium was, like, a thousand-seater, and you could see the audience from where we were. He said, "Michael, just listen to this audience. This is who you should care about. This is who you're writing for." And they were loving it. Nobody had done Singlish then. I just made fun of everything.
Q: And prior to this you had absolutely no background in theatre?
A: In ACS, I was always in the backstage crew. There was one show called The Pigeon With The Silver Foot and all I remember was, "My god, they're using live pigeons!" (laughs) I was so amazed. I was as clueless as that. I was sawing stuff. I was the curtain puller (?).
Q: Your next big thing was Army Daze—which started as a book right?
A: The book came out first in `85. Goh Eck Kheng (then with Times Editions) said he was keen to do a book about National Service. I wasn't interested in it but finally I said I would write one but in a first-person (point of view) voice and fictitious la. I took all my annual leave, went to Taipei and stayed with a friend, but had no idea what I was gonna write, I just locked myself in the house and sat with the typewriter for two to three weeks. Luckily I came back with a full manuscript. The title came to me on the last day.
When (the book) came out, it was a bestseller. And then after that, Siauw Chong said 'Why don't you make it into a play?' So I just used that same story and created episodes around a bunch of friends. That became my first full-length play (in 1987). The movie then came nine years later. All these things I never planned, okay?
Q: So they just fall on your lap? Like Beauty World?
A: Dick (Lee) approached me. I knew him through mutual friends. He said he'd been commissioned by Arts Fest '88 to do a Singapore musical. I said okay since I had fun doing Army Daze. But this was a bit more serious lah, it was an arts festival commission.
I basically mapped out the story for him. He had a title — he wanted a show called Beauty World because that was a place near where he lived in Bukit Timah. And I said we'll make it into a cabaret. And because I had come from Muar, I thought, let's make the central character come from Batu Pahat, which is the town next to mine. Some places just have the nicest sound. "I come all the way from Batu Pahat" just sounds funny lah.
What happened was he played me the song. "I don't know the story, I just know this is the song.. Beauty World cha-cha-cha! It must open the show." So I kinda knew the starting point but we had no idea where the story would go.
Q: Were you surprised by the response?
A: There was a six-month rehearsal process, which was very, very long. Back then everybody worked (in the day) so we could only rehearse at night, from 7 to 11. We'd meet at the old Drama Centre rehearsal studios. We knew it was a "big deal" project and because we had stars like Jacintha (Abisheganaden) and Christina (Ong), we knew we were definitely able to sell tickets. But whether it clicked or not, we weren't sure.
The best part was, on opening night at WTC Auditorium, there was a sound blackout. I think the President (Wee Kim Wee) was there, the VIPs, the sponsors — and the mics didn't work! I was sitting with (director Ong) Keng Sen and he (mimics covering his face). I think my face just went white.
It was the Polar Cafe scene with Rosemary serving Ivy Green Spot (soft drink), and the two actresses, Jacintha and Claire (Wong) just decided to talk. Then Jacintha came down the stage and offered drinks to the front row patrons! "Have some Green Spot while we wait." And the whole audience cheered—but I thought I was gonna die. (laughs)
The reviews were mixed. We had a standing ovation that night, but the Straits Times reviewer said it was was mainly from family and supporters. It was the kind of grudging "Yah, you had a standing ovation, but I'm sure they're all your friends". Keng Sen was very upset. "Why did she need to put that line in?" (laughs)
Q: The following year came Mixed Signals.
A: It was the whole SDU (Social Development Unit) period. It had just been formed and everyone was making jokes about it. I had written about it for Love And Belachan in `85, the same year I did the Army Daze book. I was asked to write something Peranakan and it was a two-hander: Lim Kay Tong and Jacintha. So this fresh graduate from UK, full of himself, condescendingly turns up to see what the girls are like and bumps into this square, typical civil servant school teacher, realising that underneath all that, they both just want to find somebody.
So I thought, I could do the SDU thing again, this time in full-force. And at that time killer litter was also a big thing in Singapore — so let's do killer litter *and* SDU. I don't know how to do it, but I'll find a way. The premise was, this really sweet girl and really sweet guy are about to start dating. They pass the first level. Then they part and say goodbye and on the way, somebody throws a TV set which lands on her head. So she has to be reconstructed and she turns into this gorgeous woman who has no recollection of her previous life and she becomes the PR face of SDU. And she meets up with the boy again.
It was commissioned by Amex. They came to TheatreWorks and they wanted to commission a show. It had never been done before. And you know, I was, "Sure. Can. When do you want the script?" It's just the way I operated. It never occurs to me whether I had an idea or not. I just operate based on timelines. When I was a journalist I was only able to do my playwriting at night, after 10pm. I had to be quite disciplined. I'm deadline driven. To me the idea's sometimes the last thing on my mind.
Q: What?!
A: It's a journalist thing lah. I don't know how to explain it. I tell you if I have the window to write a script. If not, so sorry.
Q: So you start off with a deadline…
A: And then a loose idea, then I panic and then I start to write!
Q: Do you start with characters? A premise?
A: Sometimes it's character first, then a loose premise; sometimes premise first with no characters. It depends on my state of mind I guess.
Q: So you basically wing it.
A: Uhm, in my head I'm just confident — but actually I'm just winging it. (laughs) I only panic with deadlines. So if the deadline is nearing and Keng Sen goes, "Hey, Mike, how's it coming along ah?" "Uh, it's okay. I'll talk to you later." I don't tell them much! Then they'll say "Jacintha's available, you want to cast her?" "Yah, just book her first." So it's quite random sometimes. Or from the start, I know Jacintha's in it, then I'll write a Eurasian or Indian character to be the lead.
Q: But surely at some point, you would have already formed a system for writing plays right?
A: Yes, there's some order. (laughs) I watched a lot of plays before, on my travels to London or New York. I just love watching plays. I'm consciously looking for things. If I saw something in New York, "oh, if I ever do a play I must have a scene like that." Or I'd love a character or the way a play ended. I file it in my head.
Q: Who would be your influences?
A: When I was writing as a journalist, it was Woody Allen. He just completely connected with me. He has a very dry, illogical sense of humour. He wasn't flat-out ha-ha-ha. It's just playing with words, imagery that connects in a very odd way.
Q: Since you mentioned journalism, let's shift gears and talk about that "other" Michael Chiang — the magazine guru. How did that start?
A: (While I was still with the newspaper), I asked to sit in for a redesign of The Sunday Times. And it gave me a different approach to projecting stories, made me conscious about headlines and the impact of headlines and captions. After that I asked to design the TV section and they humoured me. That's kind of where my grounding for magazines lay. I would approach a story from a very visual point of view. I would always think of the headline and the visual. I was very fixated with that.
And then after that stint, I took a shot at a young women's magazine called Go (under SPH Magazines' precursor Times Periodicals). They were looking for an editor to revamp it because it had started to decline. They told me to just do what I want, so me being me, I rejigged the whole formula and turned it around within the first year. I tripled the circulation within that first year and of course I was the blue eyed boy for quite a while. (laughs)
One of the things I did was put Channel 8 actresses on the cover, which was quite groundbreaking then because they were always putting models. The English publications were not interested and figured it wasn't their scene, but I knew a lot of my friends were watching Channel 8. So we relaunched with Xiang Yun, Zeng Huifen and Zheng Wanling. I put them in Italian designer dresses, same outfit in three different colours. We sold out. After that, everybody started going to Channel 8! That's how my magazine career took off. This was in 1988.
Q: When did your MediaCorp days start?
A: When I left Go, I was offered a position in a small publishing house run by a former classmate of mine with three upmarket lifestyle titles. So I thought why not? One of these was Man magazine, which I revamped, and the first cover was Glen Goei, who had just done M Butterfly in London. My second cover was writer Philip Jeyaretnam. It was fun to do lah. I hired Russel Wong, who was this hip upstart photographer back then.
But just after I launched it, I was headhunted by SBC for their TV guides in English and Chinese. It was already 10 years old and the Chinese one was making money and the English one was in the red. There was a new chairman on board (who wanted to change things). The position was VP, Publishing (at SBC Enterprises, their commercial arm). I was thinking, do I really want to join SBC? It's so uncool. (laughs)
But I went and revamped the English magazine. Before, it was Radio And TV Times (English), Radio And TV Times (Chinese). In brackets no? (laughs) So I changed them to 8 Days and, a couple of years later, I-Weekly.
Whenever I traveled, the first thing I'd look for was Time Out. I thought we needed something like that in Singapore. I wanted to do something like Time Out, People magazine, all the magazines that I liked, rolled into one product and to make it cheap. I was there from 1990 to 2009. 19 years.
Q: Meanwhile, you were still writing plays.
A: Once I was with the broadcast company, less so. I wrote Private Parts (in 1992) when I was in SBC and of course the protagonist was a TV talk show host.
I made open references and I remember the chairman was a bit taken aback. There's one scene, which was after the three drag queens appear on the talk-show, where the stage goes dark and you hear, "Hello? SBC? I want to complain ah. You know the show just now, men dressed in women's clothes, what is this ah? My children watching also…" And everyone cracked up because they recognise the whole culture (of people calling to complain about TV shows).
And then, in `95 it was Mortal Sins. At that time, Keng Sen was doing a lot of the more dance-theatre, dance-drama, rediscovering Asian roots...
I think the story is very, very strong (in itself) but he added a lot of traditional elements in it. So like, he had a Greek chorus and they're all dressed in Goth make-up with the black lipstick and black fingernails, all holding black umbrellas with the slicked-back hair. My friends asked me, "Eh, what are they doing ah?" (laughs) So I said, "It's Keng Sen's thing lah, it's okay lah." "But I don't understand! Do they mean something?"
Q: An avant-garde Michael Chiang piece?
A: We had actually marketed it as the 'return of the dream team' behind Beauty World: Najip (Ali), myself, Dick, Keng Sen. Everybody came expecting Beauty World Part 2, all fun and games, but it was a very dark story.
I had actually wanted to do the story of Rose Chan the stripper. But when I started reading up, I realised she still had family around. I think she had a daughter in Singapore. So I thought not very nice lah, not a good idea. But I still wanted to do the Rose Chan story — so how about a frigid, extreme woman heading (the) censorship (board in the present day) and the old Singapore where we allowed striptease? What if the two meet?
Q: So how did that pan out then, when people were expecting Beauty World Part 2 and had this instead?
A: I wouldn't say disappointed lah, but it was not as accessible. And it didn't help that there was this big chorus floating about with black umbrellas. (laughs) It already had a 'supernatural' time-travel theme, we had this huge bridge inside Kallang Theatre where she crossed from present to past, then there's a big striptease scene… it's like, what the hell's going on? (laughs) But I was quite fascinated at how Keng Sen took the script and added all these elements. He layered it. I'm actually quite proud of the play 'cos I think we broke a lot of ground.
Q: And you were discussion censorship. The comedy playwright was tackling "Issues".
A: I didn't think I was! (laughs) Keng Sen said I was but I didn't think I was. I thought, okay, lah, around that time they were also debating censorship ratings so it was topical. I normally try and make things a bit more current.
It's the same with Private Parts, which was for the `92 Arts Festival. I had been given the brief 10 months earlier so I looked up the calendar and saw that Bugis Street was going to be reopened. So I thought, what if I project a story further down to 1997 – imagine that, with the success of the reopening of Bugis Street, a Disneyworld for transvestites is opened.
Q: Your last production before the long break was My Lonely Tarts in 1999.
A: At that time, I was launching more and more magazines. I was worried about public perception of things. So the first idea I had was a protagonist who was a really high-ranking officer in the army who takes part in a cooking programme — and wins. And the army's a bit unhappy. Then I thought the joke could wear thin after 30 minutes. So in the end, it became a story about a guy who inherits an egg-business fortune. A bit like Beauty World, he comes from Malaysia and is a schoolteacher in this whole corporate environment with PR people and lawyers who don't trust him. And all he wanted to do was just come to pay respects to the father he never knew. It's a bit of my own experience, about marketing, creating jingles…
It was by TheatreWorks and directed by Casey Lim. I came up with this idea of revisiting all my childhood things lah, like the black and white Hong Kong movies I loved when I was a kid. There were elements of that in Beauty World but I thought to do something full-on — this protagonist whose father, whom he's never met, always appears in dreams as a leading actor in some Hong Kong movie.
So we had all these big screen moments, scenes with a swordfight, espionage thrillers, all in Cantonese and subtitled. Casey loved the idea. We got the two most popular stars on TV to play the movie stars: Kym Ng and Bryan Wong.
Q: You did a multimedia show in 1999?
A: Yes. The minute the play starts, you see this black and white movie onscreen and this wizard fighting with this sorceress… then he dies, then it's blackout and the spotlight falls on Edmund Chen, who plays the main character. He says, "My father's dead" and the story starts. Very dramatic opening lah. And as it goes on, he starts interacting with the movie characters.
Q: Very Woody Allen!
A: (laughs) Purple Rose Of Cairo right?
Q: I guess most of the younger folks forget you wrote stuff that was *not* Beauty World or Army Daze. Do you get frustrated by this?
A: Not at all. If not for those two plays, I wouldn't be getting all the opportunities I had.
Q: The gap between 1999's My Lonely Tarts and 2013's High Class is quite wide. Why?
A: It got harder when I started running the magazines. At some point I was running over 20 magazines. And I was pretty hands on. But I really enjoyed writing High Class. And Beatrice kept telling me we needed to do another new play. So maybe in 2016? We have a couple of ideas but we haven't sat down. But I'm actually quite happy to write again. (High Class) only happened because (producer) Annie (Pek) was staging the Army Daze rerun and she kept asking me to write a new play. I didn't plan it. People just ask and I always say yes. (laughs)
Q: What do you think when you look back at these past three decades?
A: I'm very happy. I didn't plan to write plays at all. I don't think I'm a very gutsy person, but sometimes when I look back, I think, "My god, you needed guts to have done that." I mean when I say yes (to write a play) and people are selling tickets based on your name.
Like, when I worked with TheatreWorks, they'll say, "Michael, we're looking to do something by you. We're gonna book Drama Centre for two and a half weeks, can you write something?"
And I'll say yes. It doesn't' dawn on me that it's actually quite a scary thing to do. Seriously. I think the scariest was for Private Parts, because it was commissioned for the Arts Fest. It was the star show for that year and when we did the press conference, I hadn't written it yet! I just came up with the title first, just as a joke. Michael Chiang's Private Parts. Ha-ha-ha.
So when they asked what the play was about, I looked at Keng Sen and said, "No lah, why don't they find out when they come on opening night?" I didn't have protagonists or know what the storyline was, I just knew it was gonna open with the Bugis World video clip. It was that gutsy.
Q: I don't think you can take such a risk these days.
A: Yeah. I think I've been lucky lah. The many times I've done it, how it pulled together. That's why when it came to High Class, I wasn't sure. With a fresh play and the scene that has changed so much, was it enough to just say it's a new play by Michael Chiang? I wasn't that sure. But because I worked with Beatrice for Army Daze, I thought, can lah.
Q: Some people look down on the idea of theatre as entertainment. But you're practically Mister Entertainment, with your plays and your hand in 8 Days. What are your thoughts on this?
A: I think I'm just plugged into popular culture. To me, people just want to let their hair down – buy two tickets, watch a show, come out feeling good. I think that's always been my main (thing). (Entertainment) is not a bad word. Not at all.
When one of my best friends overseas found out I was doing this book, he said to me, "For once, do not play down what you've done." "What do you mean?" "Very few people can boast of a track record like yours — you come up with plays on a consistent level and all of them are hits. It's very, very rare and I'm not just talking about Singapore." It was quite a shock to be told off. He's worked in Broadway before and actually, at one point, wanted to bring Private Parts to Broadway.
Q: Wait a minute, you mean you were *this* close to being on Broadway?
A: I don't know lah. It wasn't my pursuit. It was him doing this thing for me. (laughs) He did this whole massive undertaking and said if I wanted to bring it (to Broadway) I had to change the setting. "It needs to be in Long Island and not Batam. But your play is so universal… You're so ahead of your time, you've no idea." This was way before Priscilla (Queen Of The Dessert). He spent a year (working on it) but I suspect it was too massive for him to undertake.
***
(RAT Note: He later revealed that said friend was none other than `80s Chinese pop star-turned-musical theatre actor Fei Xiang. "He never even saw Private Parts but read the script and was quite convinced it would work on Broadway. So he embarked on this massive project: Got me to do a proper film recording of the stage production and prepared a marketing kit. I'm not sure how many Broadway producers or theatres he eventually showed it to," he told us.)
***
Q: Time to wrap it up. From the current crop of playwrights, who catches your fancy?
A: I like Alfian (Sa'at)'s writing, I think he's very good. I like Huzir (Sulaiman) as well. They both have a gift with the language. Some others I've heard of but haven't seen the work, so can't really judge. Generally, I do respect and admire people who've decided, this is what I want to do, I want to be a full-time writer. Because it's something that I never really (did). I never had the gumption to shut out the nine-to-five job.
Q: Final thoughts on the current theatre scene?
A: To some extent it scares me because I feel there's so much going on and if I ever started now as a newbie, I don't think I'd have the guts to do what I did. Because back then, nobody did it and there was no benchmark. I was writing comedy. I was writing to entertain. But in this day and age when you've got YouTube, all these funny viral videos, funny commercials… If I wrote comedy now, it's not as unique. You (already) hear the Singapore voice, the Singapore humour, stand-up comedy shows around you all the time… I don't think I'd be as confident now.