Singapore film Ilo Ilo wins historic Cannes prize
Anthony Chen's Ilo Ilo wins Camera d'Or for best first feature film, becoming first Singaporean movie to win at prestigious Cannes Film Festival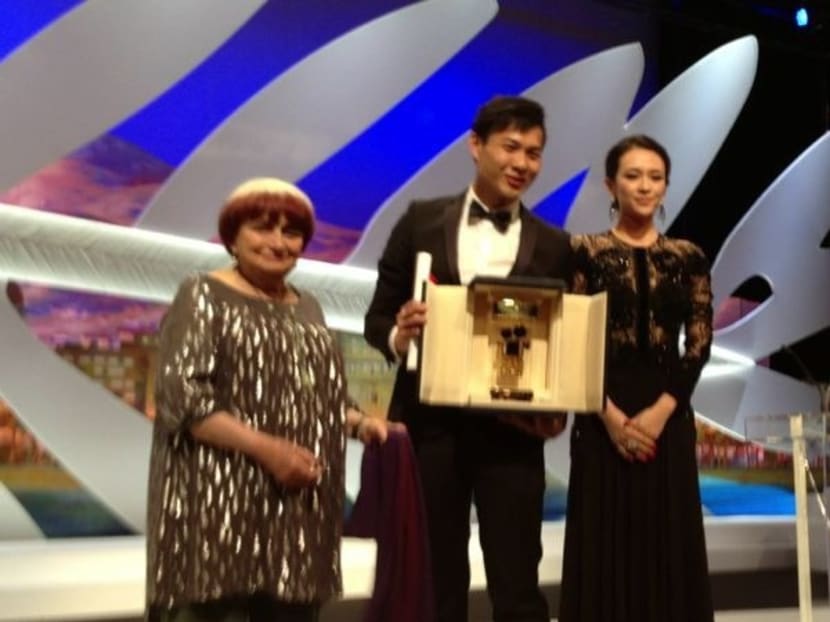 BREAKING NEWS FILM FANS!
I'm so overjoyed to announce the best news EVER for Singapore film and our very own home-grown director Anthony Chen.
Congratulations Anthony for making history two hours ago (Sunday evening in Cannes, 2am in the morning Singapore time) as the FIRST EVER SINGAPOREAN to win the coveted Camera d'Or prize at the 2013 Cannes Film Festival!
If you don't get the importance and magnitude of this epic win, you'll most certainly get it now.
Yes film fans, Anthony's film Ilo Ilo (which we wrote about here won the award for BEST FIRST FEATURE of the ENTIRE Cannes Film Festival, one of the world's most influential, prestigious and glittery celebration of cinema, stars, filmmakers and industry bigwigs
Anthony told TODAY directly after his win: "The whole week has been filled with such wonderful experiences that it's been surreal. It's a dream for a first film to get this much support and encouragement!"
Anthony scored the biggest coup for Singapore film by pipping the 18 films eligible for the award from the Official Selection, Director's Fortnight and International Critics' Week. This is especially momentous after overcoming disastrous technical problems during the film's premiere at the Director's Fortnight section in Cannes on May 19 which garnered a 15 minute standing ovation. A sidebar programme put together by the French Film Directors Association, the Director's Fortnight is long considered one of the foremost platforms that serves to discover tomorrow's filmmakers.
"It is a complete surprise and I'm still trying to take it in. This is not just an honour for me but for Singapore since it is the first time a feature from Singapore is awarded at Cannes," said Anthony.
"What really heartens me is that a story about an ordinary family in Singapore can touch the hearts of audiences miles away. The Camera d'Or is the most prestigious award for a first time feature film director and there is nothing more I can ask for with this very humble first film."
Live from inside the Grand Théâtre Lumière, Anthony accepted the award from Zhang Ziyi and acclaimed French director and the head of jury for this year's Camera d'Or, Agnes Varda.
The award-winner said on stage: "It is a great honour to receive this award from the hands of one of cinema's greatest directors and one of its greatest actresses. It is also a great honour for my country because this is the first time Singapore has received an award. I would like to thank the incredible team who worked on this film for three years. Thank you"
This has been a historic, remarkable outing in Cannes for Anthony and his cast which includes Singapore television veteran Chen Tianwen, Malaysian actress Yeo Yann Yann and award-winning Filipino actress Angeli Bayani who were all praised for their performances in many a glowing review from various international publications.
Ilo Ilo and Anthony also received a congratulatory note from Prime Minister Lee Hsien Loong himself on Facebook, saying "Congrats to Anthony! You are a great encouragement to our budding directors!"
"This is a big step for Singapore film in general, one that will associate Singapore films with quality in the eyes of international audiences, media, investors and critics,"shared producer Yuni Hadi. "What we are excited about is showing our film back home later this year because at the end of the day, Singapore films record the stories of Singaporeans"
Posted on ILO ILO facebook page was this message: "For us, just to be selected for the Cannes Film Festival, to be mentioned alongside the most talented and passionate filmmakers, and to be a part of this magnificent celebration of film, was already a real triumph in itself for us. But to actually win the Camera d'Or, is truly beyond anything we could have ever imagined.
What an amazing journey this has been, and we are so, so thankful that all of you have been with us from the very beginning. Congratulations to Anthony, the cast and crew and to everyone involved in the film!! Last but not least, congratulations to all of you for supporting us throughout this entire experience."
Last year, New Orleans filmmaker Benh Zeitlin won the award for Beasts of the Southern Wild and the film went on to be nominated for one of filmdom's highest accolades- the Best Picture Oscar at this year's 85th Academy Awards. If that is anything to go by, Flick Chick thinks the sky's the limit for Anthony!
Congrats again Anthony! Thank you for your hard work, your tenacity, and all your blood, sweat and tears on Ilo Ilo. Most importantly, thank you for flying the Singapore flag high and showing the world what Singaporean filmmakers can do. We're so proud of you.
Let me know what you think film fans? Do send all your love and congrats to Anthony Chen and TEAM ILO ILO. And please… SUPPORT LOCAL FILM!
XOXO,
Your Flick Chick
G