Better sleep, clarity and well-being with support from nutrients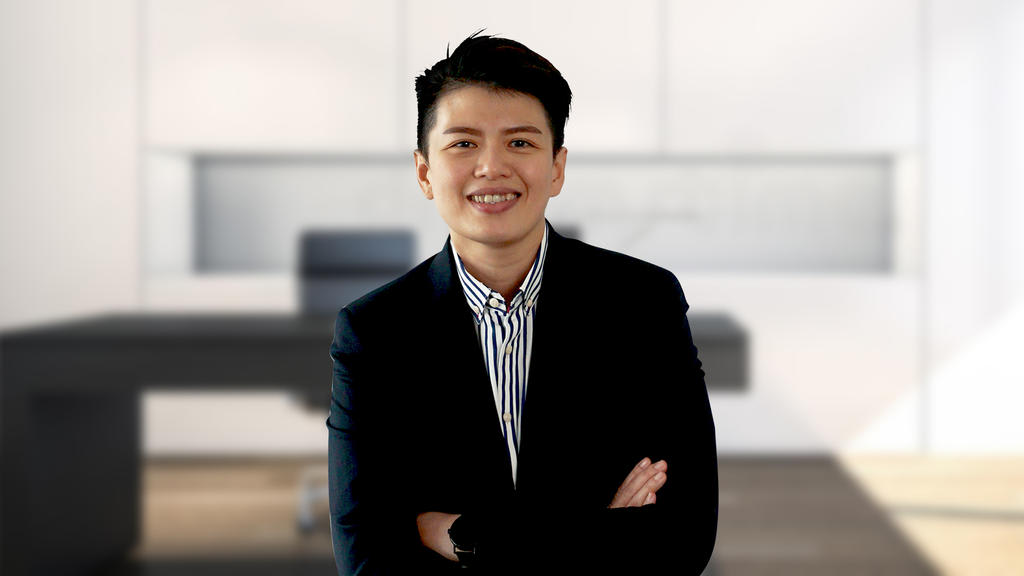 VitaHealth's CHARGE-UP series targets a range of concerns for overall mental wellness.
Good health is not just about looking after your body and being free of physical ailments.
Mental resilience – how your mind copes in the face of adversity – is equally important, particularly in these trying times.
From tackling COVID-19-related uncertainty and burnout from juggling work and family commitments to working on the frontlines, the pressure of living amid a pandemic has affected the mental health of Singaporeans.
More than nine in 10 locals surveyed said mental health has declined in the past year, according to a study by AIA in April 2021, which polled over 300 working adults aged 30 to 55.
The findings are concerning, given that long-term mental health issues can impact overall health.
While the body is equipped to handle stress in manageable doses, the American Psychological Association says that too much chronic stress can affect physical health, impacting the musculoskeletal, respiratory, cardiovascular, endocrine, gastrointestinal, nervous and reproductive systems.
Healthy lifestyle habits such as getting the right nutrients, good quality sleep and having sufficient time to rest and relax are key to coping – and thriving – during stressful times.
Health supplement brand VitaHealth has launched the CHARGE-UP range to support mental wellness by maintaining a balanced state of mind, boosting cognitive health and providing burnout relief by increasing energy levels.
"VitaHealth has been working on the CHARGE-UP series to address this particular health concern. Product conceptualisation as well as research and development began three years ago. Three products have since been launched and we will be expanding the product range in stages in 2022," shared Ms Beh Kheng Suan, VitaHealth's country head in Malaysia and Singapore.
TO PROMOTE BETTER SLEEP
It is no secret that Singapore is among the world's sleep-deprived nations. Getting enough shut-eye is critical to both physical and mental health, but how much sleep is sufficient?
According to guidelines from the National Sleep Foundation, healthy adults should aim for between seven and nine hours of sleep per night.
Having said that, it is not enough to just look at the number of sleeping hours – the quality of sleep matters, too. Some people may have trouble falling asleep, wake intermittently and have trouble going back to sleep.
"CHARGE-UP Sleep Well is a natural sleep aid, which is formulated with melatonin and Vitamin B6 to enhance sleep quality, help consumers fall asleep and stay asleep. Taking melatonin may help shorten the time needed to fall asleep, support restful sleep to wake up refreshed and relieve jet lag symptoms," said Ms Beh.
A hormone secreted in the brain, melatonin's main job is to manage natural sleep cycles, says online health information provider Healthline, and is important for sound, restful sleep. The level of melatonin declines as we age, making it more challenging for some people to get a good night's sleep.
According to Sleepfoundation.org, research has shown that melatonin supplements may be useful in certain situations. For example, a low dose of melatonin may help people with delayed sleep-wake phase disorder or those with late-night routines adjust their sleep cycle forward. The article adds that taking melatonin may potentially help with jetlag and shift workers who struggle with sleep difficulties.
Vitamin B6 aids in the production of melatonin, and a deficiency in this vitamin has been linked to poor sleep and even depression, according to an article on Psychology Today.
According to Ms Beh, CHARGE-UP Sleep Well is a non-habit-forming formula that does not cause withdrawal or side effects, which may occur for prescribed sleeping pills. It is available in a mint-flavour sublingual tablet form – which dissolves under the tongue for rapid absorption before bedtime, she added.  
FOR CLARITY OF MIND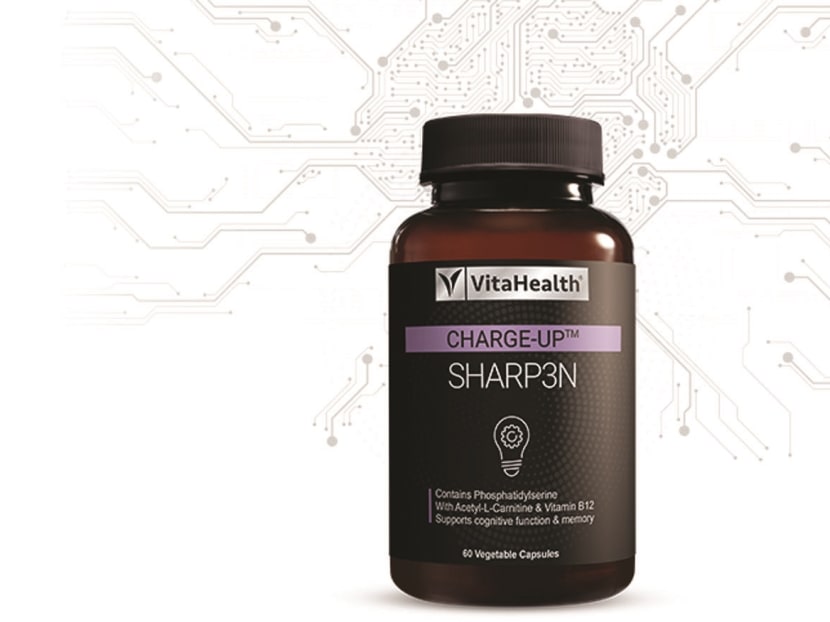 Stress, lack of sleep and being overwhelmed by too many demands can lead to brain fog, which describes a lack of mental clarity.
When experiencing brain fog, you may have symptoms like trouble putting your thoughts together, difficulty in focusing and concentrating on tasks and a general lack of motivation.  
"CHARGE-UP Sharp3n, which is available in capsule form, is a non-stimulant brain formula developed to help support brain performance required for learning, memory, focus and alertness," said Ms Beh.
She added that students aged 15 years and above, working adults, busy parents who have to multi-task and seniors could benefit from CHARGE-UP Sharp3n.
It is formulated with phosphatidylserine, acetly-L-carnitine and Vitamin B12, all of which may play a role in boosting brain function and performance.
Phosphatidylserine is a brain nutrient, or phospholipid, that plays a role in keeping the mind sharp.
According to Psychology Today, some studies have reported beneficial effects of supplementation of acetly-L-carnitine, an amino acid, on mood and cognitive function.
Additionally, Vitamin B12 is a vitamin that the body needs but cannot produce on its own. It plays many important roles, including improving energy levels, memory and mood. A Vitamin B12 deficiency has been linked to poorer brain function and mental decline, according to research, including a 2016 study published in the American Journal of Clinical Nutrition.
KEEP CALM AND CARRY ON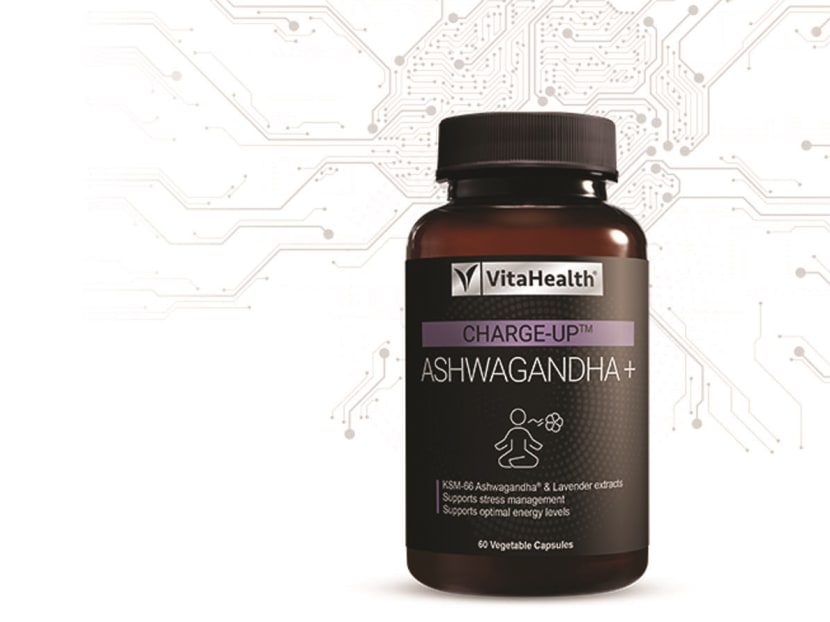 While stress is an inevitable part of life, managing it well can make a difference.
"CHARGE-UP Ashwagandha+ is formulated with patented ingredient KSM-66 ashwagandha and lavender," said Ms Beh.
Also known as Indian ginseng, ashwagandha has been used in Ayurvedic medicine since ancient times. According to Ms Beh, KSM-66 ashwagandha – manufactured by Ixoreal Biomed – contains the highest concentration of ashwagandha extract in the market and has been tested in clinical trials to promote relaxation and calmness.
Additionally, lavender is known for its calming properties, and may also support individuals who have sleep difficulties.
"CHARGE-UP Ashwagandha+ is suitable for people with busy work schedules and those who lead a hectic lifestyle or experience sleep difficulties," added Ms Beh.
Whether you are a student, frazzled parent or busy working professional, it pays to make mental health a priority. Similar to how one cares for their physical health, it is important to take proactive steps to protect one's mental health. Consult a healthcare professional before starting a new vitamin or supplement routine.
VitaHealth is available at OG, Metro, BHG, selected stores at Watsons, Welcia-BHG and VitaHealth Online Flagship Stores. Enjoy an additional 15 per cent discount at VitaHealth Shopee Mall using VITACUP15.