This business built better burgers with some help from a cloud kitchen
Homegrown gourmet burger joint Wolf Burgers leaned on Grab's cloud kitchen facility GrabKitchen to grow its presence and reach hungry customers across Singapore, even as malls went quiet and diners stayed home.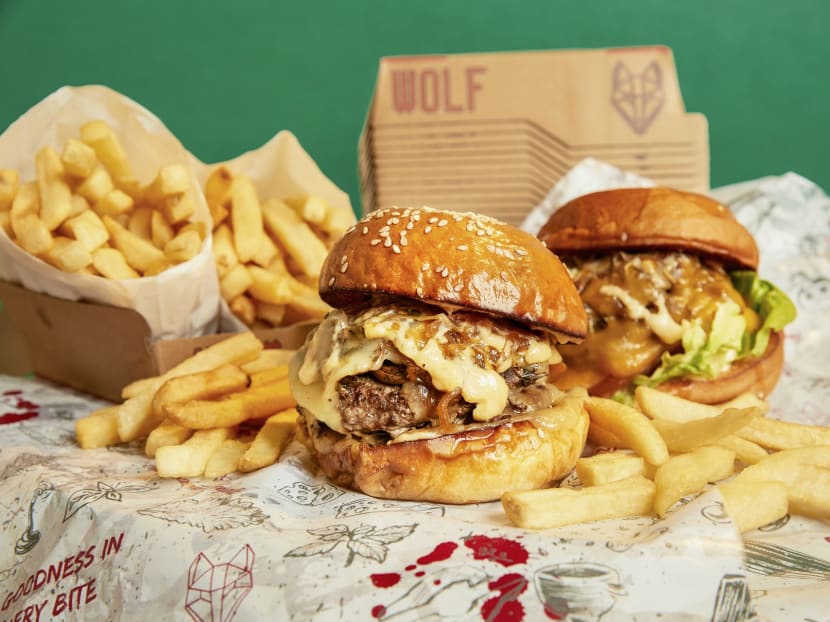 Like many F&B merchants, local brand Wolf Burgers saw dine-in demand drop this year but they still found a way to adapt and make the most of the new normal.
Running a food-and-beverage (F&B) business is challenging enough under normal circumstances. Keeping an F&B venture running amid a period of economic uncertainty ups that challenge significantly.
But expanding said business amid an unprecedented global pandemic?
That actually isn't as foolhardy as it might first sound thanks to cloud kitchen services that help reduce costs and the availability of timely data to improve the customer experience.
Homegrown gourmet burger joint Wolf Burgers leaned on Grab's cloud kitchen facility GrabKitchen to grow its presence and reach hungry customers across Singapore, even as malls went quiet and diners stayed home.
Since joining GrabKitchen Hillview last November, Wolf Burgers has seen its sales there double. In October, GrabKitchen Aljunied became home to the restaurant's second cloud kitchen outlet.
EXPANDING THEIR REACH WITH A SMALL FOOTPRINT
Mr Ho Song En, co-founder of Wolf Burgers, spent over a decade working in private equity. The business' other co-founders and co-owners include a pilates instructor, musician and a finance professional.
Wolf Burgers has two physical outlets at Funan Mall and Suntec City, as well as a sister concept, Carvers X at Asia Square.
While traditional businesses naturally associate expansion with increasing their brick-and-mortar footprint, Mr Ho and his partners were certain that customers wanted more on-demand food delivery services for their meals, and believed that expanding via cloud kitchen was the right way to go.
They believed that cloud kitchens offered several crucial advantages, like the ability to tap into a wider customer base and rapidly expand their reach. Cloud kitchens also offered greater operational flexibility and lower start-up and manpower costs. Such businesses did not need to hire wait staff, rent extra space for dine-in customers and pay higher rents for locations with high footfall.
Their hunch was proven right this year.
When the COVID-19 pandemic struck, Wolf Burgers saw a severe decline in dine-in demand and a corresponding spike in delivery orders.
Having GrabKitchen allowed the brand to continue operating virtually, as well as offer island-wide delivery to customers in the comfort and safety of their homes at a relatively affordable price.
The outbreak of the pandemic – and the circuit breaker period that followed – changed conventional F&B business assumptions. Dining-in was dead in the water and eateries needed to adapt fast.
WINNING HEARTS AND STOMACHS, THROUGH DATA
The surge in demand for delivery – an average 20-per-cent increase from GrabKitchen Hillview alone during the circuit breaker – meant that Wolf Burgers could rely on consumer insights from Grab to enhance its menu and operational procedures and reduce customer waiting times.
For example, Wolf Burgers was able to learn consumers' ordering patterns, which allowed it to optimise its staffing levels at its GrabKitchen outlets. Costs were better controlled and staff were more efficiently deployed – this helped during the labour crunch it experienced during the circuit breaker period.
"Wolf Burgers depends a lot on data to guide our near-term decision-making and longer-term strategy," explained Mr Ho. "Through the GrabMerchant app, we are able to analyse sales performance that can help us fine-tune our operations to improve efficiency and productivity. We rely on our intuition, too, but we always fall back on data to tweak the assumptions we've made, as a form of check and balance."
The use of data also made it easier to introduce new menu items in the midst of the pandemic to suit customers' tastes.
Mr Ho cited the example of its Homage Burger, the brainchild of a Malaysian staff member named Jun Hao, who missed the popular Ramly Burgers sold back home. For many Singaporeans, Ramly Burgers were a mainstay of trips across the causeway. With borders closed and trips up north off the cards, there was also a solid business case for Wolf Burgers introducing their take on this classic burger.
Greater control over costs and access to consumption patterns that helped them better understand customer needs gave the team the confidence to introduce the Homage Burger.
Said Mr Ho: "We were able to get it up and running within a week, trialled the Homage Burger online, and tweaked it with the consumer insights coming in. It became a hit and is now a permanent item on the menu."
USING TECH FOR A BETTER CUSTOMER EXPERIENCE
While the Wolf Burgers team was tech-savvy from the start, it realised that digitalisation – like COVID-19 – was constantly evolving and they needed to keep abreast of the latest technological developments. This would help them make the most of opportunities in a challenging business environment.
The team appreciated the frequent meetings and training sessions with Grab to get feedback and come up with ideas for collaborations.
"Grab is able to provide us with relevant insights on how our business can be improved through regular discussions with the team, and the GrabMerchant app provides a timely analysis on what our customers love," said Mr Ho.
Besides the GrabMerchant app, F&B partners also have access to the Grab Merchant Academy, which helps to familiarise them with tech assets and equip them with the digital skills to make the most of these tools.
In June, Grab's Small Business Booster Programme was launched, to provide tools and guidance for its F&B partners in expanding their visibility and digitalising their operations.
BROADENING HORIZONS WITH NASI LEMAK
Support like this has encouraged Wolf Burgers to look into launching a new brand built around another perennial Singapore favourite.
"With the close support of GrabKitchen, we will soon be launching a new brand focusing on nasi lemak, with the same underlying mission of providing access to a quality dining experience at an affordable price," said Mr Ho.
He added that he is keen to continue expanding into more GrabKitchen locations. "There is no doubt in our minds that cloud kitchens and delivery services will continue to not only play a key part in consumption, but also grow exponentially. GrabKitchen has shown itself to be a key partner for us in this move."
"The pandemic has accelerated digitalisation and changed consumer behaviour. We need to always be flexible, and be prepared to shift and adapt with the changing food and consumer trends."
Find out more about how Grab is giving eateries opportunities to grow.