Discover and experience our digital future right now
At IMDA's SG:Digital Wonderland 2019, explore cutting-edge technology while learning about the importance of cyber-defence, and protecting your online privacy.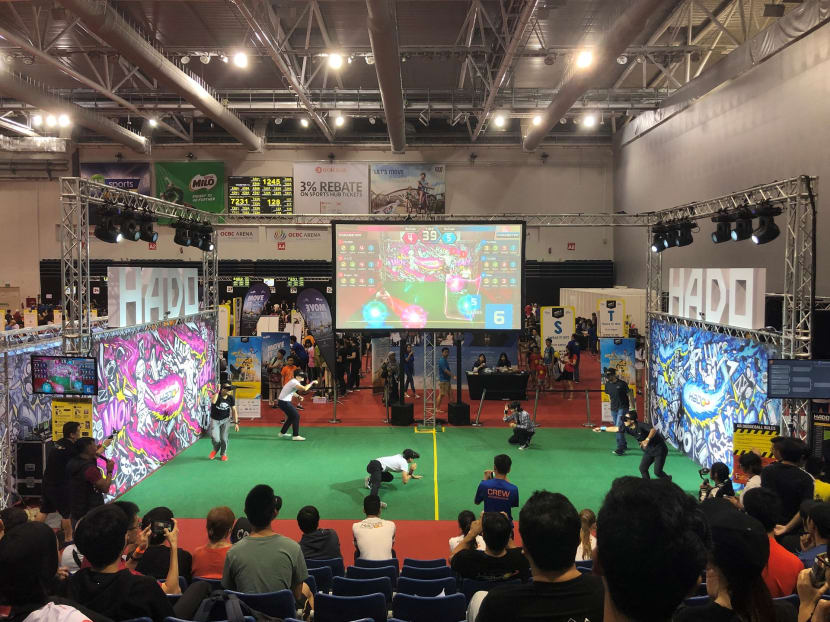 We often take basic utilities and infrastructure services – like water, power and transportation services – for granted. But what happens if these essential services are disrupted by a cyber-attack? How do we respond and what can be done to fight back against such acts?
Visitors to SG:Digital Wonderland 2019 (May 18-19) will get the chance to find out through role-play. Organised by the IMDA's Lab On Wheels team, the CSI (cyber-security investigation) experience lets visitors take on the role of interns at companies that are part of a country's critical infrastructure, such as transport or water utility providers.
How would you react to a cyber-attack? The CSI (cyber-security investigation) experience lets visitors protect critical infrastructure from hackers.
TOMORROW'S TECHNOLOGY, TODAY
Visitors can also learn more about how to safeguard their online privacy, and discover and interact with groundbreaking future tech and current innovations that are already changing how we live, work and play.
Organised by the Infocomm Media Development Authority (IMDA), the two-day tech carnival offers plenty of activities, whether you're up for knuckle-cracking tech challenges or a cool game of augmented reality (AR) dodgeball.
You may have already conquered an escape room or two with your friends – but what about one that features artificial intelligence (AI) challenges that you have to outsmart? The Lab on Wheels Escape Room AI challenge gives visitors a better understanding of AI and how it can help them accomplish a variety of tasks.
DODGEBALL AND DRONES
The Experience zone offers a physical challenge in the form of the first-ever AR Dodgeball Challenge. The challenge showcases fitness gaming enhanced by wearable AR devices. Experience dodgeball like never before. Shoot fireballs, draw up shields and dodge attacks in AR. If you're a student aged between 13 and 25, form a team of three and pre-register to join the HADO Youth Cup championship to win cash and prizes.
Over at the Drones Arcade, you can take part in the Drone TRY-athlon. Unleash your inner Thanos with a special motion glove that allows you to control a drone with hand gestures. Sail or race your drone through water or a specially designed race track.
The Arcade Claw Game: Drone Edition! offers a challenge with more finesse – and the chance to put your piloting skills to the test to win cool prizes – even your very own selfie drone.
DIGITAL MEDIA PLAYGROUND
What better way to bond with a buddy than by slaying the undead in Zombie Busters?
Experience technology at its most immersive in the Digital Media Playground, where AR and Virtual Reality (VR) technology transform your entertainment experience. Pair up with a buddy (or even local celeb Desmond Tan) to slay zombies in the interactive Zombie Busters game.
Over at the VR Cinema, visitors can experience short films in an entirely new way. The multi-user platform lets many participants experience VR content simultaneously. One of the short films that will be screened, Dangerous Jobs VR 360, lets you experience (virtually, of course) the hazards faced by the world's few remaining volcanic sulphur miners.
Whether you're a future healthcare professional or just curious about your own inner workings, the Digital Media Playground also allows you to experience how mixed reality is changing the way we learn about medicine and health sciences, using 3D visualisation with the Hololens. Once you've had a 3D view of the human body, your biology textbook will never look the same again.
MOBILE LEGENDS TODAY, SEA GAMES LEGENDS TOMORROW
Visitors to SG:Digital Wonderland 2019 will see players take on one another in popular game Mobile Legends Bang Bang for bragging rights.
E-sports will make a splash in a big way at the 2019 SEA Games in the Philippines when Mobile Legends Bang Bang debuts as a medal event. Visitors to SG:Digital Wonderland 2019 will get to watch South-east Asia's top teams take on one another in this multiplayer online battle arena mobile game.
Take in all these digital experiences for free at SG:Digital Wonderland 2019, which takes place from May 18 to 19 at Suntec Convention Centre Halls 404-406, from 11am to 8pm daily. Admission is free
Challenge The Muttons and Desmond Tan to a game or two at SG:Digital Wonderland and walk home with great prizes.
Celebrity Challenge timings:
May 18: 1pm – 3pm, Mediacorp CLASS 95 DJ The Muttons
May 19: 11.30am – 1.30pm, Mediacorp artiste Desmond Tan