A family that works together stays together
As the line between responsibilities shouldered by men and women becomes increasingly blurred, here's how an equal partnership supports mums and dads in raising a family while allowing them to pursue personal aspirations.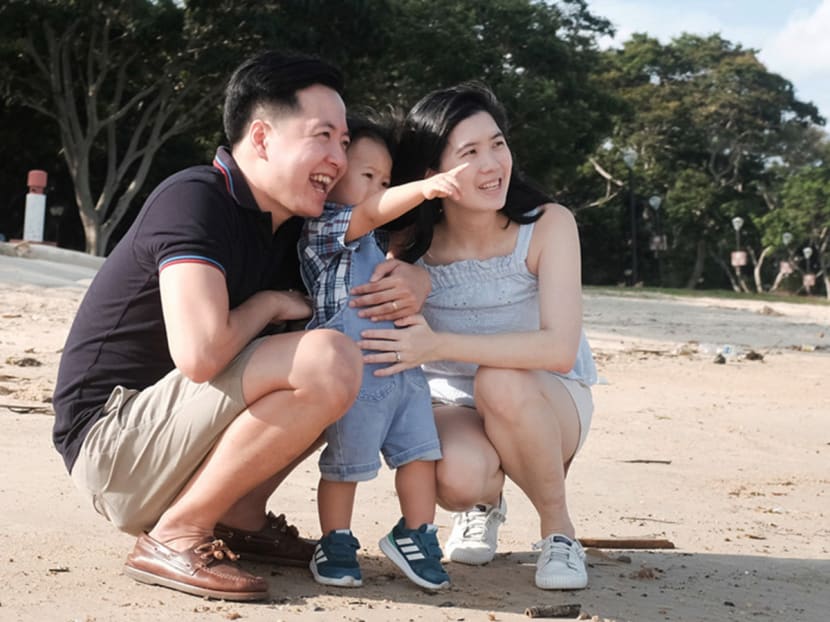 As the line between responsibilities shouldered by men and women becomes increasingly blurred, here's how an equal partnership supports mums and dads in raising a family while allowing them to pursue personal aspirations.
Ng Yu Bin is a 17-month-old toddler whose first word was "papa" and not "mama". While this may come as a surprise to some, mum Ng Zhuo Ying, 31, took it all in her stride.
"My husband spends a lot of time with Yu Bin. He sends and picks up Yu Bin from infant care, and showers him every day," she shared.
As we commemorate 2021 as the Year of Celebrating SG Women, let's take a closer look at how families like the Ngs have embraced an equal partnership and shared responsibilities through their actions.
SUPPORTING HER CAREER GOALS
More Singaporean families are beginning to break out of traditional mother-father roles in the household.
For example, mums are typically thought to be more involved in cultivating parent-teacher relationships. In the case of the Ng family, dad Ng Jing Bao, 32, built a strong rapport with the teachers at Yu Bin's infant care centre.
"Encouraging men to break stereotypes and imparting this to our children from a young age is a good way to move the needle from dated mindsets," he said.
The finance manager believes education is key when it comes to moving away from rigid gender roles. And greater equity in society helps pave the way for greater career progression for women.
Mr Ng supports his wife's career advancement by taking on more caregiving responsibilities – he feeds Yu Bin and puts him to bed every night. He is such a hands-on dad that Ms Ng is confident she has all the support she needs to pursue her career goals.
"In any marriage, open conversations with your spouse and having a give-and-take mentality are essential. It's the little things that count. In doing this, we've not only achieved individual success, but have also strengthened our relationship," shared Ms Ng, a trading assistant.
WHAT IT MEANS TO BE A DAD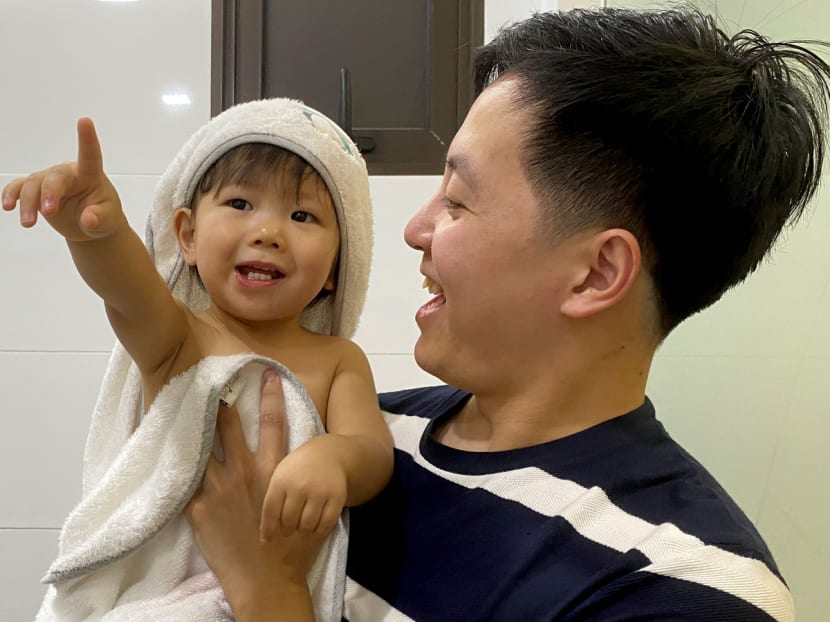 "On days when Zhuo Ying needs some 'me time', I'll take charge of the chores at home and look after Yu Bin, so she has the space to rest and recharge," said Mr Ng.
While spouses like Mr Ng are a pillar of support at home, there remains many – often unseen – social, cultural and structural obstacles in the way of achieving greater equality between men and women.
Organisations like the Centre for Fathering (CFF) have worked towards achieving greater balance in gender roles in families by encouraging fathers to be more involved with their children and take on greater parental responsibilities. To help fathers balance family life with work responsibilities, CFF launched the inaugural Great Companies for Dads Award this year to recognise outstanding organisations with policies and practices that support fathers and help them thrive at work.
"Fathers who are actively involved in their children's lives contribute to their emotional health, overall wellness, social development and self-respect," shared Mr Keith Magnus, chairman of the Centre for Fathering, Dads for Life and Mums for Life.
Mr Magnus also stressed the importance of consciously supporting mothers in their roles and modelling the fact that the raising of children and taking care of the home is a shared responsibility.
"It shows our children that strong families require strong partnerships between husbands and wives, where housework, caregiving and parenting responsibilities are co-owned and shared. This sets the tone for the next generation of families to start off on the right foot of having shared responsibilities at home from the start," he said.
According to Mr Magnus, spouses who support each other grow closer, are happier and forge more resilient familial ties.
"When fathers do more at home, it benefits their marriages. Research indicates that when 60 per cent or more of the parenting responsibilities fall on mum, the relationship between mum and dad suffers. But, when dads do their part around the house, couples have stronger relationships," he explained.
THE BEGINNINGS OF A JOURNEY OF CHANGE
Societal views of women are continually changing. With each passing decade, we are seeing more women represented in areas such as politics and in positions of leadership in the private sector.
This progress creates an important cycle of role models for young women; each successive generation of strong, successful women serves to inspire the next to strive to be the best they can be. Ms Ng's mum was one such role model for herself. Her father, a businessman, supported his wife's decision to continue working in the banking sector back in the day.
"My mum worked full-time and contributed to the family financially. She set the example for blurred gender roles for me since I was young," said Ms Ng.
While progress on the equality front has been made, it remains important to continue educating our children, keeping inclusive conversations going and, like the Ngs, taking everyday steps that bring us closer to the goal of true equality between men and women.
Read more about the Year of Celebrating SG Women and how you can be a part of the movement.
Join the ongoing social activation #MakeTheNorm and show your support for SG women.
Share your stories on how you have overcome gender norms at home and/or in the workplace on your social media platforms. Some examples can include how:
You and your partner share caregiving and household responsibilities;
You empower women to achieve their work aspirations
You inspire future generations to respect women as equals
Tag your friends and colleagues to encourage them to participate and share how they too #MakeTheNorm and are #CelebratingSGWomen.