The gold standard for nutritional support
Australia-based supplement brand Herbs of Gold shares how Singaporeans can boost health, well-being and mobility while going about their busy lives.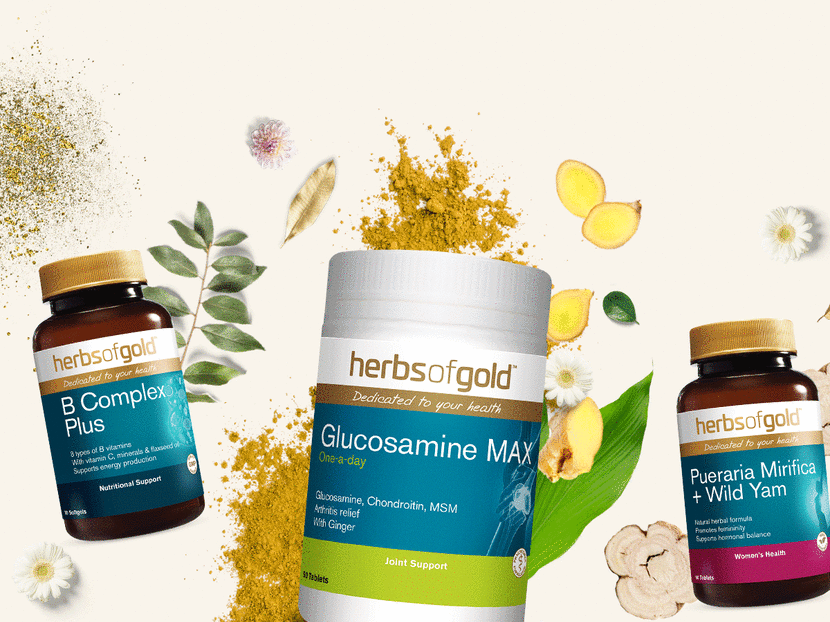 Australia-based supplement brand Herbs of Gold shares how Singaporeans can boost health, well-being and mobility while going about their busy lives.
A healthy, nutritious diet fuels our mind and body. But when work, family and other priorities are clamouring for attention, making time to put together a well-balanced meal three times a day can be an uphill task.
Yet, at every stage of your life, getting enough vitamins, minerals and nutrients is essential when it comes to building a strong immune system, maintaining good health and ageing gracefully.
Recognising the need to help people find the right balance in health, work and play, Australian-based nutritional supplement brand Herbs of Gold offers a range of therapeutic herbal and nutritional supplements formulated by a team of experienced naturopaths, herbalists and nutritionists.
A TRUSTED BRAND NAME      
Originally founded in Australia in 1989, the 32-year-old brand started out offering a range of herbal liquid products.
Today, Herbs of Gold has over 100 different formulations that are created using a holistic combination of herbs, vitamins, minerals and nutrients, targeted at people of all ages.
According to Ms Beh Kheng Suan, Herbs of Gold's country head in Malaysia and Singapore, its products have "therapeutic dosages based on the latest in clinical research and traditional evidence".  
"We ensure that all our 'golden' formulas are intelligently crafted, of high quality and formulated with integrity," said Ms Beh. "Each step of our manufacturing process, from the selection of raw materials to the manufacturing of the finished product, is performed with utmost care. All our products meet stringent regulations for safety and quality, set out by both the Australian government and Herbs of Gold."
With the COVID-19 pandemic in our midst, there is no better time than now to take steps towards safeguarding our health and well-being. Here, Herbs of Gold shares ways to give your health a much-needed boost.  
IMPROVE YOUR GUT HEALTH
Research has shown that 80 per cent of the immune system lies within the gut, which is why it makes sense to build up the body's defences by starting with digestive health.
However, maintaining a healthy gut balance may be easier said than done if your diet is made up of greasy hawker delights, fast food and bubble tea.
Besides having a healthy balanced diet, a broad-spectrum probiotic can give gut health a boost, and help re-establish friendly intestinal flora. At the same time, the right probiotic can help to relieve digestive complaints such as regurgitation, abdominal pain, nausea, constipation, irregular bowels and flatulence.
Herbs of Gold's Probiotic 55 Billion consists of a high-strength, broad-spectrum combination of 11 dairy-free probiotics sourced from probiotic specialist Danisco, which utilises patented stabilisation technology to ensure that probiotics are stable at room temperature and do not require refrigeration.
Ms Beh shared that Probiotic 55 Billion contains probiotic strains such as Lactobacillus acidophilus La-14, Bifidobacterium lactis BI-04, Lactobacillus plantarum Lp-115 and Saccharomyces cerevisiae (Boulardii).
"They are specially chosen for their ability to survive stomach acid. They can also reach the intestines, where they colonise and adhere to the intestinal wall for enhanced absorption," she explained.
"In addition, these probiotics are resistant to between 50 and 77 per cent of antibiotics, while Saccharomyces cerevisiae is 100 per cent resistant to antibiotics, making these probiotics suitable to take in conjunction with most antibiotic therapies."
According to Ms Beh, each capsule is equivalent to taking 55 cups of yogurt, but without the extra calories and sugar. It also does not require refrigeration, making it handy for people on the go.
PROTECT YOUR JOINTS
Joint pain is a common problem in older adults. But did you know that younger people can get it, too? Being overweight and having poor posture are among some reasons why young working professionals may have stiff joints.
Herbs of Gold's Glucosamine Max is a once-a-day, high-strength joint care formulation that supports joint health in physically active individuals, middle-aged and older adults as well as overweight individuals with joint issues.
It contains glucosamine, chondroitin, MSM (methylsulfonylmethane), ginger, silica, zinc, manganese, glycine and proline.
According to Ms Beh, some studies show that glucosamine, silica, zinc, manganese, glycine and proline are required for the formation of healthy cartilage, which may help to increase joint mobility and decrease joint stiffness. They may also provide anti-inflammatory activity for symptomatic relief of joint pain.
Chondroitin helps to protect cartilage and maintain fluid content in joint cartilage, which acts as a shock absorber, while ginger provides anti-inflammatory support for joints, she added.
When it comes to improving health and well-being, identifying nutrition gaps in your diet can benefit you in the long run. For those who are looking to give their nutrition a boost, supplements may come in handy but be sure to also check with your doctor, especially if you are currently taking medications.
Use promo code "HERBGMX15" to enjoy a 15 per cent discount at Herbs of Gold Shopee Mall. Herbs of Gold is also available at OG, Metro, BHG, Welcia BHG, selected stores at Watsons (JEM, Heartbeat @ Bedok, NUH Medical Centre, Bukit Panjang Plaza, Ngee Ann City, Paragon, Causeway Point, Toa Payoh (HDB), Tiong Bahru Plaza, The Centrepoint, Suntec City, Marina Bay Sands) and Herbs of Gold online flagship stores.