Green jobs and skills: Paving the way towards a more sustainable future
The sustainability sector in the Asia Pacific region is on the rise, in line with whole-of-economy efforts to meet collective global climate targets.
The sustainability sector in the Asia Pacific region is on the rise, in line with whole-of-economy efforts to meet collective global climate targets.
For Mr Steven Toh, sustainability is a way of life.
At home, he uses solar energy and energy-efficient appliances. At work, the 46-year-old assistant facility/energy manager implements energy management technologies and finetunes systems to improve sustainable outcomes at 3M Singapore's Tuas plant.
His greatest satisfaction at work, he said, comes from successfully implementing sustainability projects that benefit the plant's operations in terms of water and energy efficiency.
"My interest in sustainability was cultivated through years of experience and learning," he shared.
 
Mr Toh's experience is a reflection of how the green movement has gained traction on an individual level, and beyond. According to LinkedIn's Global Green Skills Report, some of the most popular green skills sought after by companies in Singapore include those related to sustainability; environment, health and safety; renewable energy; sustainable design; and corporate social responsibility.
 
Green skills are necessary for the success of the green transition in the region, said Ms Chua Pei Ying, LinkedIn's Asian Pacific (APAC) lead economist. "While our data shows that only about 1 per cent of roles are currently green in nature, over 40 per cent of roles have the potential to be revamped. It is critical to incorporate green skills into more of these roles in order to accelerate the green shift across APAC."
 
Ms Chua added that as organisations begin to incorporate sustainability practices into their business models, they should also invest in green upskilling for their employees. "Workers in roles traditionally once thought to be non-green – like business strategists and IT managers – can be trained in green skills and thus effectively contribute to the businesses' sustainability practices."
 
SCALING THE GREEN LADDER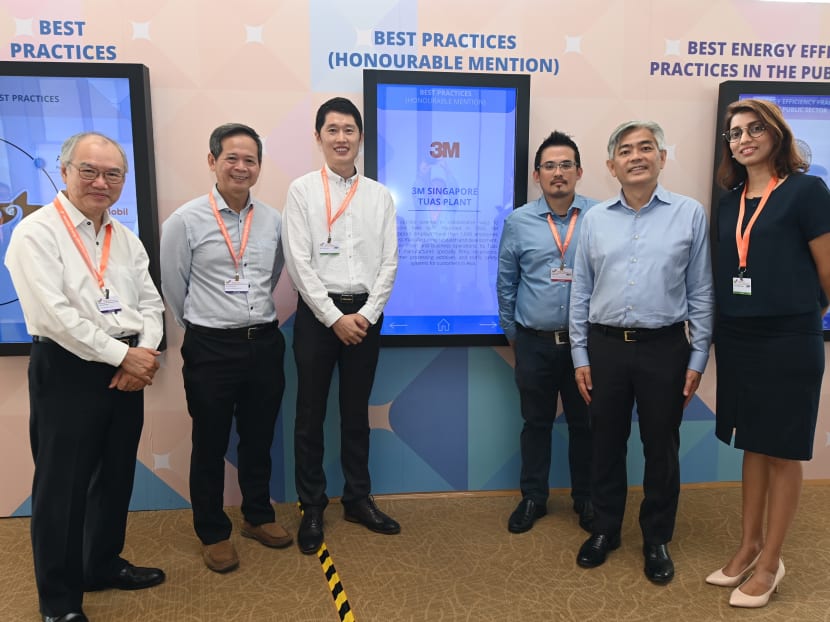 Mr Toh started out as a senior equipment engineer before being appointed as an assistant facility/energy manager in 2014, for which he attained the Singapore Certified Energy Manager qualification.
 
3M has been setting global environmental goals since 1990. It is also a member of the Climate Action Singapore Alliance (CASA), which was incepted in 2018. The company believes in turning climate awareness into action, which includes the greening of career trajectories, as in Mr Toh's case.
Mr Kevin McGuigan, vice president and managing director for 3M Southeast Asia and country leader for Singapore, said that 3M strives to combine technology and expertise in its quest to advance a global circular economy: "Part of this means empowering our employees with skills and opportunities to accelerate the development of climate solutions and improve our environmental footprint. It's built into our culture of learning and innovation."
 
Mr Toh, who is Green Mark-accredited and a certified Energy Efficiency Opportunities Assessor, highlighted that continuous upskilling is important, as the sustainability sector is still nascent and its technologies are constantly evolving. "I attend seminars and trainings every year to ensure I stay updated with the latest standards and technological advancements, and to become a subject matter expert in the industry."
 
For a rewarding career in sustainability management, he advises cultivating an open mindset along with one's passion for the sector. "Adaptability is key to success – one must be ready to grow with new technologies and the demands of the industry."
 
ACQUIRING SKILLS TO UNLOCK DOORS IN SUSTAINABILITY
A green transition can also be made by young professionals, similar to the career journey of sustainability analyst Leong Kah Heng.
 
The former librarian was keen on taking up a sustainability role that would make an impact on the world. Knowing that she was at a disadvantage compared to others with directly relevant educational backgrounds and internships, the 25-year-old chose to volunteer with Green Nudge – a green social enterprise – which opened doors in the sustainability field for her.
 
"On top of volunteering, I used LinkedIn to explore the various career options in the green space and noted the skills I needed to develop," she recounted. "I took up online courses related to data management, strategy and sustainability to support my career change."
 
Ms Leong is now a sustainability analyst at Greenview, a provider of sustainability programmes and data management for the hospitality and tourism sector. She analyses client data to help make better sense of their environmental, social and governance goals for reporting purposes and planning. She also supports her team with research work related to industry methodologies.
 
"Knowing that the work we do is backed by data is something that I really appreciate," reflected Ms Leong. "The most satisfying aspect of working in sustainability is feeling that my contributions are slowly but surely making an impact on a larger scale, compared to individual effort."
 
GROWING OPPORTUNITIES IN THE GREEN SPACE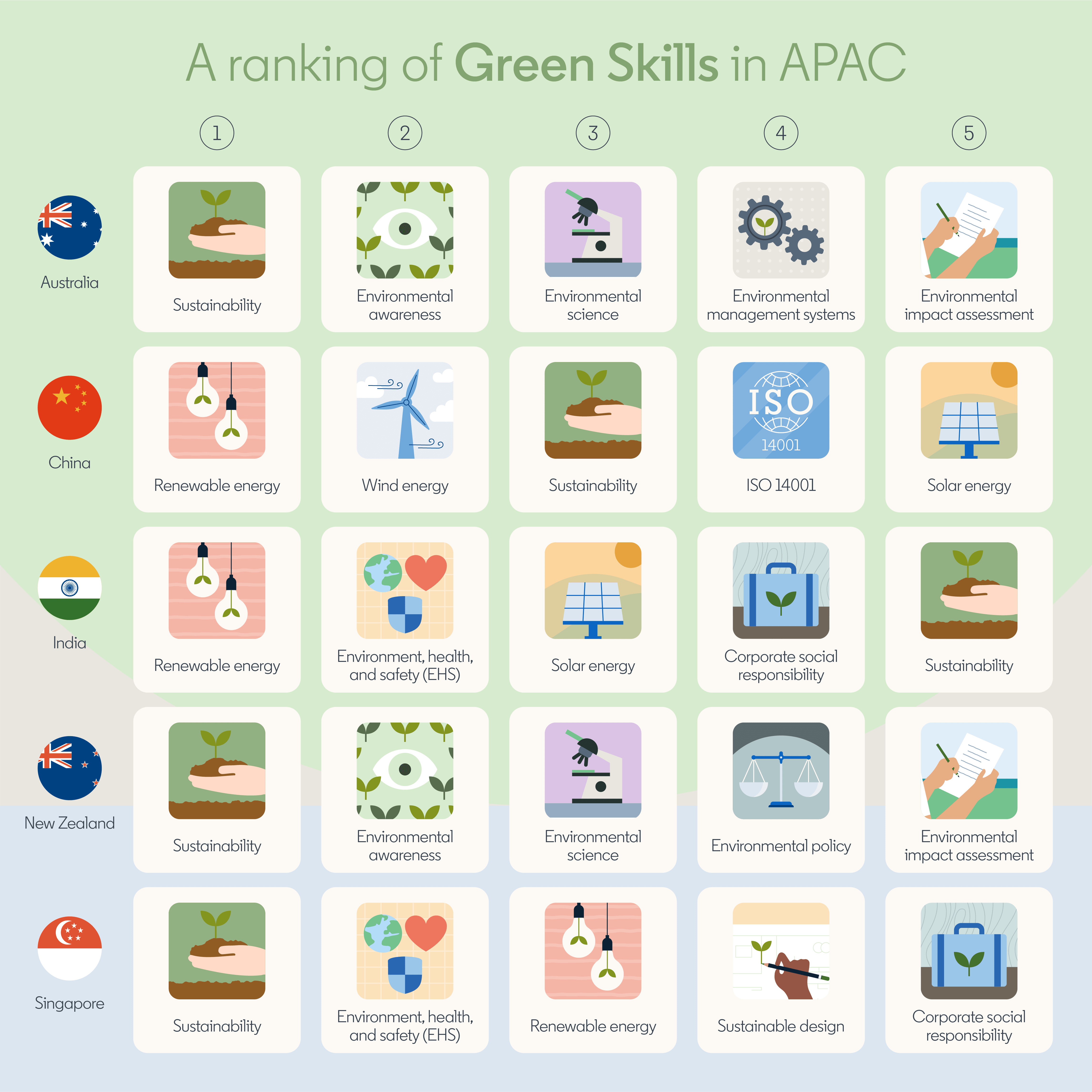 Achieving collective climate targets, such as the goal set in the United Nations' Paris Agreement to limit the global temperature increase to well below 2 degrees Celsius, requires a whole-of-economy effort on the part of governments, companies and professionals.
 
Maintaining a pipeline of green talent and jobs is imperative to sustaining the momentum of this global green transition. Through the Global Green Skills Report, LinkedIn aims to offer insights to help professionals understand the trends, gaps and opportunities in the developing green future of work.
 
The report hopes to bring together civil society, industry and government to raise awareness of and encourage action on pertinent climate issues. Outside of Singapore, the Global Green Skills Report has identified great potential for rapid transformation in non-green parts of the regional economy with the coordinated efforts of governments and firms.
 
Said Ms Chua: "While each country in APAC is on its own unique journey to achieving sustainable growth, it is undeniable that the green transition is already underway. So much more can be achieved through a coordinated effort by companies and governments to identify existing jobs that can become more green, and to invest in upskilling the workforce to succeed in them."
 
Interested in a career with a sustainability focus? Read LinkedIn's 2022 Global Green Skills Report for insights into the region's fastest-growing green jobs and skills, and learn more about developments in the green economy from CASA.