Homes of the future
Explore the hands-free home of the future and discover how tech can benefit the entire family at IMDA's SG:Digital Wonderland 2019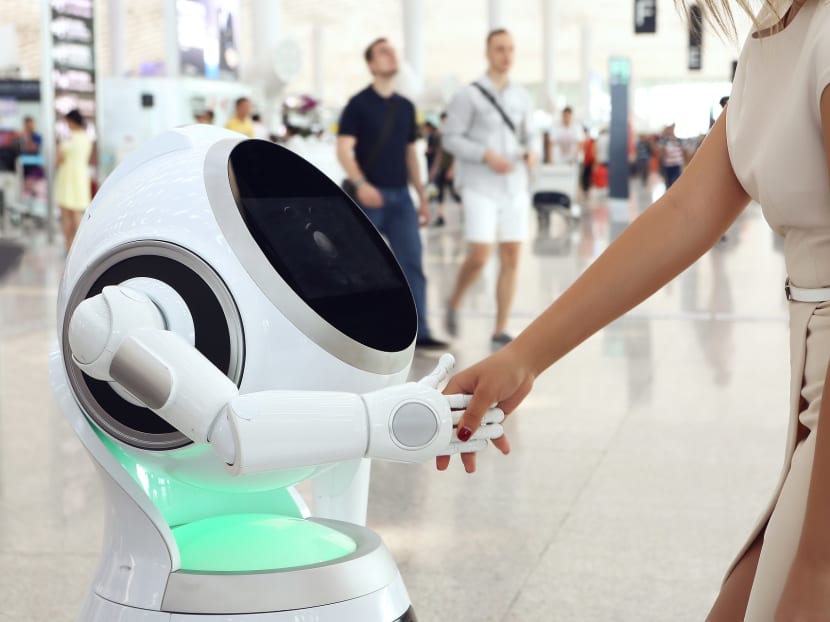 You wake up in the morning and your coffee machine begins to prepare your favourite brew. When you enter the bathroom, the lights brighten automatically and your favourite song is cued up, ready to play once you step into the shower.
Scrolling through your phone apps to activate these functions?
Why bother with a touchscreen interface when you can use voice commands instead?
This vision of a smart home isn't a distant dream, but an achievable reality that will be on display in the AI Smart Home Studio at SG:Digital Wonderland 2019. The tech carnival, which is organised by the Infocomm Media Development Authority (IMDA), showcases innovative gadgets, technologies and ideas that will improve the lives of people of all ages.
LIFE WITH ROBOTS
Crown Coffee will offer your daily caffeine fix digital-style, served by a robotic barista equipped with a multi-axis arm.
If you've ever dreamt of having a robot butler or housekeeper to assist with chores, the AI Robot World at SG:Digital Wonderland's Discover Zone shows how those fantasies could become a reality.
You'll learn how AI technologies are used in the creation of AI humanoid robots, interact with a cloud-based intelligent concierge robot known as Cruzr and be entertained by a synchronised robot dance performance. Marvel fans will also enjoy a chance to play an augmented reality (AR) game with the latest Marvel hero bot. Even if you're not a Marvel fanboy/girl, you can still learn to build, code and play with your own robot creation.
At the Experience Zone, the Future Ready Living section showcases the latest lifestyle and health tech innovations. Highlights include a fully digital cafe experience from Crown Coffee, featuring a robotic barista that will make you the perfect cuppa – all on the house.
If you're tired of playing hunt-the-remote at home on a regular basis, or loading up on batteries, Smart Egg by Aico integrates all your remote controls into your phone.
The Argon Transform is a kit containing two cameras and an augmented vision system that can be added on to standard full-face motorcycle helmets.
For motorists, Argon Transform by Whyre allows you to modify any bike helmet into a smart one, with two cameras and an augmented vision system to aid in navigation.
A REAL LIFE VIRTUAL PLAYGROUND
Budding archaeologists can take a break from digging at the beach and instead, discover rare finds in air-conditioned comfort at Excavation Through Time from Immersively, at the Experience Zone. Visitors of all ages will learn about real-life artefacts and Singapore's rich history with the help of virtual reality (VR).
After the kids tire of playing Indiana Jones, head to the VR cinema where stunning, immersive 360-degree documentaries await to transport them to a different world. Or try the AR Mirror that will magically transform them with different Halloween looks.
CHALLENGE YOURSELF
Visitors to SG:Digital Wonderland 2019 will see players take on one another in popular game Mobile Legends Bang Bang for bragging rights.
At the Drone TRY-athlon, you can unleash your inner Thanos with a special motion glove that allows you to control a drone with hand gestures. Fly, sail or race your drone through water or a specially designed race track. Participants can also put their piloting skills to the test by trying out the Drone Arcade Claw Machine Game and stand a chance to walk home with a selfie drone.
If you're up for a competition, the Hado Open Challenge at the Experience zone is also open to all ages, and does not require pre-registration. Form a team with your family or friends to play AR dodgeball – shoot fire balls, draw up shields all in AR – and if you're on top of the hourly leaderboard, you get to take home an exclusive goodie bag worth S$60.
When you're ready to slow things down, stroll around the Tech for Good Exhibition at the Innovate zone. The exhibition showcases prototypes created by students and staff from Engineering for Good and Tech Pals, that aim to make life easier and safer for groups such as children with special needs and elderly people with dementia.
Be moved and inspired by the heartwarming projects on display that prove that the digital future is truly one for the whole family.
Take in all these digital experiences for free at SG:Digital Wonderland 2019, which takes place from May 18 to 19 at Suntec Convention Centre Halls 404-406, from 11am to 8pm daily. Admission is free
Challenge The Muttons and Desmond Tan to a game or two at SG:Digital Wonderland and walk home with great prizes.
Celebrity Challenge timings:
May 18: 1pm – 3pm, Mediacorp CLASS 95 DJ The Muttons
May 19: 11.30am – 1.30pm, Mediacorp artiste Desmond Tan