How driving with Gojek fuels their passions
Mr Benny Tay and Mr Lawrence Quek are full-time drivers with ride-hailing company Gojek. The duo are also entrepreneurs who use their earnings to bolster income from their businesses.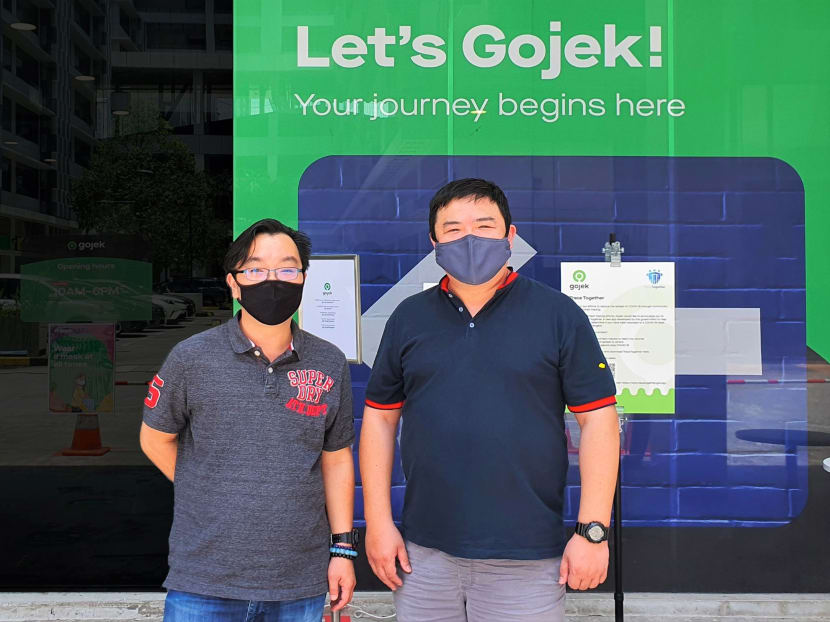 These two private-hire drivers with Gojek are hitting the road to make their ambitions a reality.
Mr Benny Tay and Mr Lawrence Quek are full-time drivers with ride-hailing company Gojek. Like many private-hire drivers, the duo appreciate the job's flexibility. Each driver is their own boss, and their ability to earn rests largely in their own hands – the more passengers they pick up, the higher their earnings.
The duo are also entrepreneurs who use their earnings to bolster income from their businesses. Mr Quek's company provides T-shirt printing and embroidery services. Mr Tay runs a cartoon company named Chipsley's World.
Both men say they can make up to S$300 each day in earnings by driving with Gojek. They drive every day except Sundays, which is set aside for their families.
According to Mr Quek, his "daily cash flow" has been pivotal in supporting his livelihood and financing his printing business. While the business is subject to irregular payment cycles and unpredictable events like overdue payments or changes to credit terms, Gojek provides relatively stable earnings, which he uses to capitalise his business if needed.
For Mr Tay, driving with Gojek not only gives him the versatility to split his time between driving and working on Chipsley, it also lets him spread the word about his business to his passengers.
SEAL OF APPROVAL
Mr Tay's creation of The Chipsleys – a cartoon family of seals – was inspired by his passion for design and his wife's love of adorable animals and characters. Since their launch in 2013, The Chipsleys have gained over one million fans on their Facebook page. They also had a Chipsley-themed section in Snow City Singapore, comprising snow sculptures of Chipsley and family.
Last November, to mark Gojek's second anniversary in Singapore, the firm partnered with Chipsley's Virtual Run.
For every 1km a Gojek affiliate completed, the firm donated S$1 to RSVP Singapore, an organisation that trains the elderly to become volunteers and improve the digital literacy of seniors in the community.
"When I became a private-hire driver, I never thought a ride-hailing company would support a driver-partner's passion in this way. Gojek proved me wrong," said Mr Tay.
Hundreds of Gojek employees, driver-partners and customers participated in the fun run in groups of five. Ms Amy Khor, Senior Minister of State in the Ministry of Transport, also participated with a small group that comprised Mr Tay and Mr Lien Choong Luen, general manager of Gojek Singapore.
Mr Lien said: "Our driver-partners' success is vital to our success. We are excited and proud to support their endeavours or passions while they leverage our platform for supplemental earnings. This speaks to the key benefits offered by ride-hailing: Flexibility and a means to supplement their other interests, be it studies, sports or starting their own business."
STABILITY THROUGH FLEXIBILITY
Earnings stability is another important benefit of driving with Gojek, according to Mr Quek, who recently met with a traffic accident. A truck collided with his vehicle, causing him neck injuries. He was on hospitalisation leave for nearly a month.
During this period, he received earnings protection coverage from Gojek of S$80 per day, through the company's driver benefits programme, GoalBetter.
Gojek covers driver-partners for medical leave of up to 21 days and hospitalisation leave of up to 84 days. Other GoalBetter benefits include fuel rebates, subsidised medical consultation and health screening services, accident coverage for every trip as well as health benefits for their dependents.
Both Mr Quek and Mr Tay said they would recommend driving with Gojek to their friends, as it offered an accessible opportunity for extra earnings. Being a self-employed participant of the gig economy can also offer a supplemental source of earnings for retirees or workers who wish to take up part-time studies.
Mr Tay added: "I'm even telling my friends in full-time jobs to drive with Gojek on a part-time basis, if they have the time. They can meet new people and earn some extra money – so why not?"
Find out more about the benefits of driving with Gojek.