Hybrid work at your fingertips: Work smarter with touchscreen support on the new Huawei MateBook 14s
Packed with thoughtful enhancements, the versatile laptop lets you straddle work and play effortlessly.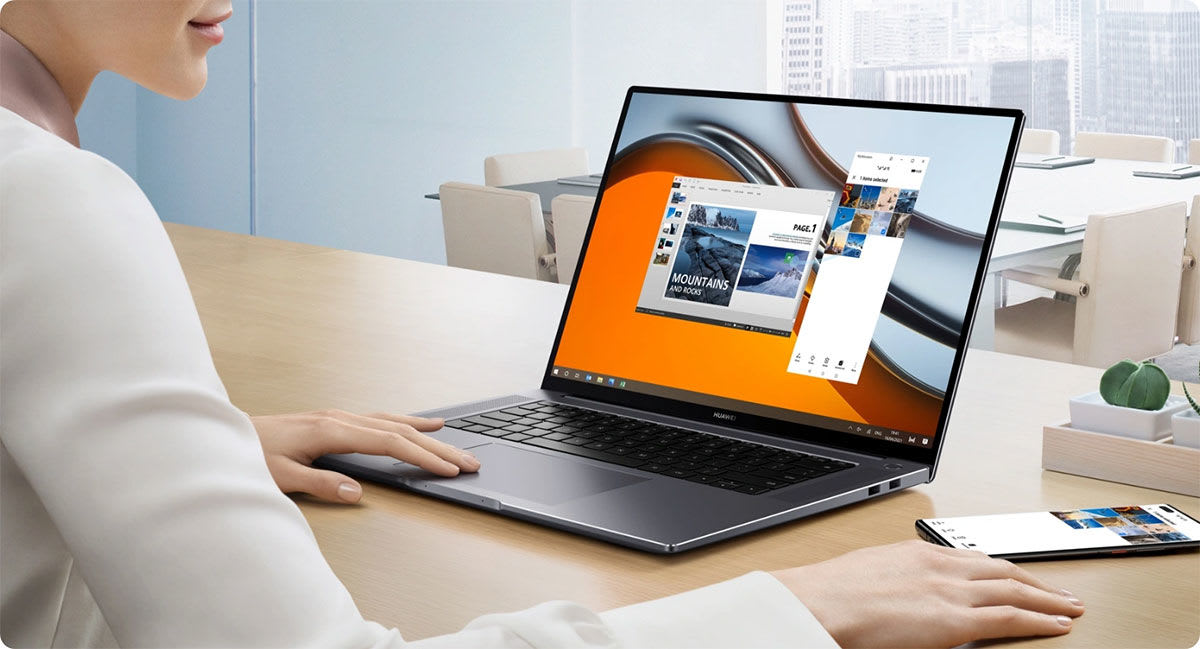 Packed with thoughtful enhancements, the versatile laptop lets you straddle work and play effortlessly.
A decade ago, the most straightforward requirement for a laptop was how much power it packed. Today, a maturing hybrid workforce and the popularity of tablets are shaping how device makers now have to accommodate more considerations in order to keep the laptop both practical and desirable.
Versatility seems to be the key here, and with the Huawei MateBook 14s, Huawei has struck a successful balance between power and portability. At the same time, it has incorporated thoughtful upgrades to boost collaborative work, such as a generous touchscreen display and heightened audio-visual technology.
ENVISION YOUR NEW LIFESTYLE

With the time we spend staring at screens, it makes sense that it should be as pleasurable as possible. Huawei focused on this aspect with the MateBook 14s and elevates your viewing experience with a 2.5K FullView Display. Set at 2,520x1,680 pixels and rendered in 1.07 billion colours, the screen with super-slim bezels serves up a deep 3:2 aspect ratio, making content more immersive.
Those who enjoy tablet-like interactions can instantly call upon touch support on the screen. In fact, enable the Collaborate mode with other Huawei devices and discover new ways of working with mirroring and extension features.

Powering the Huawei MateBook 14s is the Intel Core i7-11370H processor, along with integrated Intel Iris Xe Graphics that gives buttery smooth fluidity for applications like Excel and gaming. And if you love your tabbed workspace, Performance mode harnesses up to 45 watts of thermal design power – yet another innovation – to enable lag-free multi-tasking.  
It's surprising that all these come bundled in a device as svelte as the Matebook 14s. It keeps itself lightweight at approximately 1.43kg, and at its thickest, is just 16.7mm. For the nomadic worker of today, this combination of portable convenience and instant power will surely take you places.
SOOTHING EVERYDAY USE

Small things do add up, and the effects of extended screen time can lead to unwelcome symptoms like eye strain and headaches. But with today's hybrid work and lifestyle, being online is almost a necessity. The Huawei Matebook 14s seeks to alleviate this predicament with a bevy of new features.
One of the key issues when using electronic devices is blue light, which may cause visual discomfort and disrupt one's natural sleep cycles. A new hardware solution from Huawei has been installed to filter out the unwanted wavelengths between 415nm and 455nm. It works in tandem with an onboard light sensor that adjusts to ambient light, so that even the brilliant display of 400 nits and vivid contract ratio of 1,500:1 will always be delivered in a comfortable manner in your chosen setting. With its careful optimisation, the screen has achieved both the TUV Rheinland Low Blue Light (Hardware Solution) Certification as well as the TUV Rheinland Flicker Free Certification.
Other thoughtful details can be found on the tactile full-sized keyboard, which offers a responsive and comfortable experience, even for long hours. The backlight feature (boasting three settings) comes on automatically as the lights go down. With its soft-landing pad design, it's also incredibly quiet, which is a boon when you're in a hushed environment like a library or have to work a little bit later than usual and share a space with another.
In fact, this ethos continues in the improved cooling system as well. Huawei combines more than 79 ultra-slim finned blades in its fan with two all-new 8mm heat pipes for distributed cooling – all engineered to perform at an average of 25dB, the equivalent of a whisper.
The Matebook 14s comes with a high-capacity 60Wh battery for up to 13 hours of video play and even more for less intensive tasks. On the rare occasion you need a fast charge, the pocket 90W power will inject another three hours of productivity with just 15 minutes of charge. Its universal design makes it good for your Huawei phone and tablet, too.
CONNECT AND COLLABORATE Achieving seamless connectivity is crucial to productivity and the MateBook 14s has refined its specs in this area, too. First, Wi-Fi 6 ensures enhanced network connection in all environments for theoretical speeds of up to 2.4Gbps, so no more laggy video calls or remote presentations.
To up your video conference game, the laptop comes with several upsized audio communication features. A quad-speaker sound system aims to deliver astounding clarity while the Huawei Sound algorithm seeks to produce an enveloping aural experience. These are complemented by four microphones precisely placed around the edges of the laptop, which are able to pick up sounds from sources up to 5m away. But don't worry, the algorithms address reverberation and target vocals, so you and your colleagues can always be heard. Additionally, the new Personal Voice Enhancement technology analyses your voice fingerprint and amplifies your voice when necessary.
Collaboration can happen easily, especially when you're pairing with other Huawei devices. Work multi-screen transitions, tapping into each platform's strengths, and interact across them with ease. Take notes during a virtual class with two synced screens, or just tweak that final design from that inspired sketch on your tablet. Transfers are a breeze, of course.
Many of these exceptional functions and features can also be seen in the MateBook 14s' cousin – the MateBook D 15. Designed with the same thought for enhanced productivity and souped up entertainment, it comes at a more affordable pricing for less demanding needs.
The Huawei MateBook 14s (S$1,998) and Huawei MateBook D 15 2021 edition (S$1,098) are available at select Huawei authorised stores at 313@Somerset and Westgate, and consumer electronic stores including Best Denki, COURTS, Challenger, Gain City, as well as Huawei official online stores on Lazada and Shopee.