Identify your acne skin type and learn how to best care for it
The trick to caring for acne-prone skin is knowing the type of acne affecting you and matching the correct skincare that works.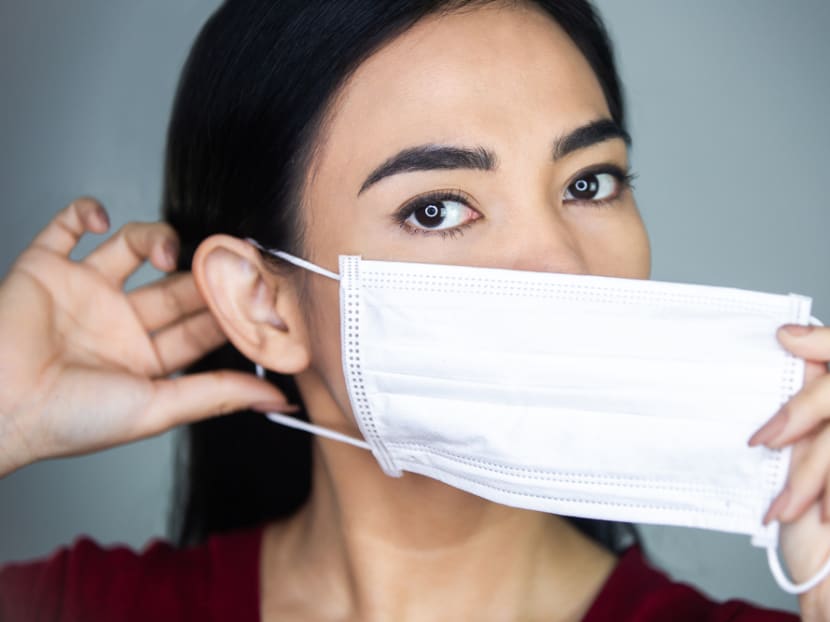 The trick to caring for acne-prone skin is knowing the type of acne affecting you and matching the correct skincare that works.
Caring for acne-prone skin can be frustrating, especially when the spots and blemishes keep recurring.
Just like how different people have different skin types, there are many types of acne in varying severity that can affect complexion.
Acne is a broad term that encompasses different types of acne lesions, also called pimples. The skin condition affects around 88 per cent of adolescents aged 13 to 19 years here, based on a community-based study in Singapore published in the British Journal of Dermatology in 2007.
A 2012 study in the British Journal of Dermatology found that the skin condition can persist well into adulthood, too, with 43 per cent of individuals affected by acne while in their 30s. 
Acne forms when pores become clogged with excess sebum, bacteria and dead skin cells. Take "maskne", for instance. It's a classic sign of clogged pores that has become an increasingly common concern amid the pandemic and remains a challenge for many people as wearing face masks becomes the new norm.
Dr Cheong Lai Leng, consultant dermatologist at LL Cheong Skin & Laser Clinic, Mount Elizabeth Medical Centre, explained: "You already have oil, bacteria and dead skin cells on your skin. But when you wear a mask, these substances can build up and block your pores. A mask also traps humidity due to your breathing and sweating, which may increase the risk of acne."
Wearing a mask for even a short period of time can also make skin more sensitive, she added. A combination of the hot and humid tropical weather and pore-clogging makeup may add on to maskne woes.
DIFFERENT TYPES OF ACNE
For some people, outbreaks caused by mask-wearing can manifest as blackheads, whiteheads, papules, pustules, nodules and cysts, and they can range from mild to severe.
Whiteheads are skin-coloured bumps with no or minimal redness while blackheads appear black on the skin's surface. Papules are small inflamed bumps that form when oil or excess skin cells block a pore and mix with bacteria on the skin.
Nodules are huge papules that are deep under the skin's surface. Acne cysts are large collections of pus, although the yellow pus is not usually visible as the inflammation is deep in the skin, Dr Cheong said.
Each type of acne is treated differently, depending on its severity. For example, Dr Cheong shared that those with mild acne can be treated initially with over-the-counter topical medication but if the condition fails to improve or if the acne becomes red and inflamed, it is advisable to seek medical help early to prevent skin scarring.
On the other hand, severe acne involving multiple cysts and nodules, which may turn deep red or purple and often leave scars, will require prompt treatment by a dermatologist to minimise scarring, she added.
CHOOSING THE RIGHT SKINCARE PRODUCTS
If you have acne-prone skin, avoid harsh ingredients such as alcohol and other astringents that may dry out the skin excessively, advised Dr Cheong. In addition, steer clear of chemicals and scrubs that may result in skin irritation, and avoid rich balms, moisturising creams or serums that may clog pores.
Understanding your main acne skin concern can help you choose the correct product that works.
For example, ingredients like salicylic acid and alpha-hydroxy acids gently exfoliate the skin and can be helpful for those with whiteheads and blackheads, while products containing ingredients with anti-inflammatory properties like benzoyl peroxide and niacinamide may be useful for those with inflammatory acne, Dr Cheong said.
A DIFFERENT FORMULATION FOR EACH ACNE SKIN CONCERN
Developed to provide dermatological solutions for acne-prone skin, the Effaclar range by French skincare brand La Roche-Posay consists of various anti-imperfection solutions that target different acne-related concerns.
If you have acne-prone skin with acne marks 
The Effaclar Duo(+) is a non-greasy, hydrating gel-cream that helps clear and prevent spots, and limit the risk of marks. It contains ingredients such as niacinamide, Procerad as well as Aqua Posae Filiformis (APF) and mannose.
According to La Roche-Posay, niacinamide decreases redness, Procerad minimises post-acne pigmentation that can remain long after breakouts have gone, while APF and mannose help rebalance the microbiome and reduce inflammation.
Studies conducted by La Roche-Posay on 15 participants found a 56 per cent reduction in appearance of imperfections and acne marks in eight weeks, as well as two times clearer skin in four weeks.
If you have oily skin prone to blackheads
Effaclar K(+) is an ultra-light, non-oily moisturiser that mattifies skin and helps reduce the visibility and recurrence of blackheads.
It is formulated with ingredients including carnosine, which La Roche-Posay says protects skin by reducing oxidation, as well as airlicium, a molecule that can absorb a high volume of sebum to mattify the skin. Additionally, beta-lipohydroxy acid and salicylic acid micro-exfoliate the skin's surface and unclog pores.
According to La Roche-Posay, a clinical study it conducted on 55 subjects found a 33 per cent reduction in blackheads in eight weeks.
If you have oily skin with visible and enlarged pores
Effaclar Mat is an oil-control moisturiser designed to combat shine and reduce pore size in oily acne-prone skin that is susceptible to clogged pores while providing a mattifying effect.
It contains sebum-regulating ingredients such as sebulyse, which targets the production of excess oil to mattify skin and refine the appearance of enlarged pores.
La Roche-Posay said a study conducted under dermatological supervision found that over 76 per cent of test participants reported tightened and less visible pores after four weeks.
Face masks may be the new norm but you do not have to live with mask-related skin imperfections.  Besides seeking professional help early if your skin condition worsens or does not improve, the skin care routine and products you use matter. By choosing the right skincare, you can learn to manage your acne-prone skin and prevent breakouts.
Visit La Roche-Posay's derma advisors at all major Watsons (Ngee Ann City, Bugis, Raffles City, Toa Payoh Hub, Junction 8, JEM, Tampines Mall, Northpoint and Vivo City), Guardian outlets (NEX Mall, Paragon, Ngee Ann City, Ion, Holland Village, Northpoint, Ang Mo Kio Hub) to do a quick diagnosis check on your skin to understand your main skin concern and purchase the right acne solution.
Effaclar Duo(+), K(+) and Mat are available at Watsons, Guardian, Lazada and Shopee at up to 25 per cent off till 30 July. The usual prices are S$42.90 for Effaclar Duo(+) 40ml; S$42.90 for Effaclar K(+) 40ml; and S$38.90 for Effaclar Mat 40ml.You can also sign up and receive a free sample of  Effaclar Duo (+).