Keeping colds at bay with a nasal spray
With adults getting two to five bouts of upper respiratory tract infections per year, a scientist shares a clinically proven way to help stop a cold before it progresses.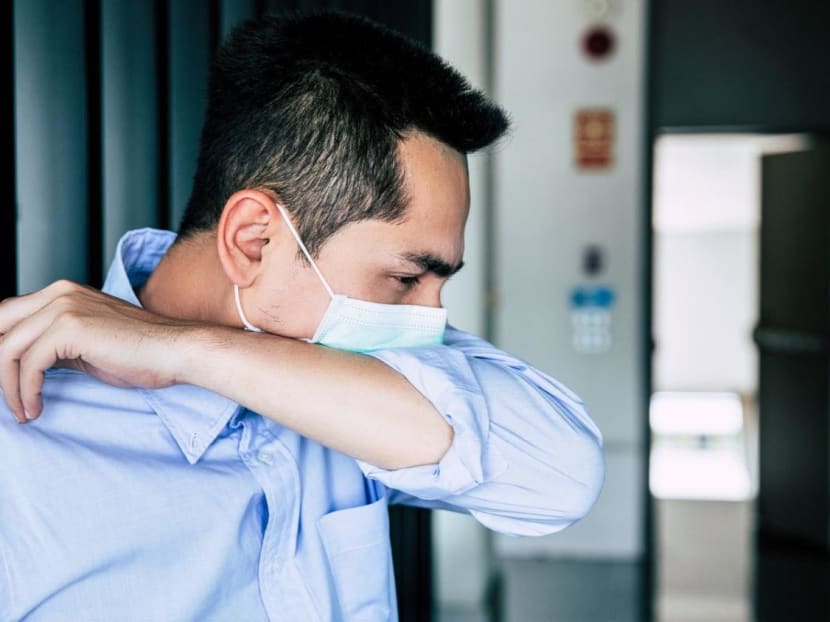 With adults getting two to five bouts of upper respiratory tract infections per year, a scientist shares a clinically proven way to help stop a cold before it progresses.
Meet Ms Michelle Hon, wearer of at least five hats. She's a mum to three kids, entrepreneur, author, blogger and wife. With so many roles to juggle, the last thing she wants to do is spend precious time battling a bad cold.
The 42-year-old, who built six-figure businesses from home, said she does not fall ill often and the last time she had a full-blown cold was at least two years ago.
Her secret to keeping the sniffles at bay and preventing them from becoming a full-blown cold? A nasal spray.
"I first discovered nasal sprays when Lauren (her firstborn, now 10) was a toddler. I thought: 'Hey, that's a neat idea! Let me find out if they have nasal sprays for adults'."
Now, at the first signs of a cold, she uses a nasal spray, coupled with lots of water and rest.
THE COMMON COLD IS MORE COMMON THAN YOU THINK
Having a plan to keep colds at bay makes sense, given how common upper respiratory tract infections (URTI), like colds and flu, are.
Dr Wong Yong Chiat, senior scientist with P&G Personal Healthcare, pointed out that an estimated 14.7 million incidences of URTI were recorded in 2019 in Singapore.
This works out to around two to five bouts of URTI per year for an adult, he said. For children, the number is higher. It is not unusual for them to get up to 10 bouts of cold and flu per year. However, seniors get just around one to two episodes of URTI yearly.
"The longer you live, the more types of cold viruses your immune system has been exposed to, and the more immunity you develop," Dr Wong explained.
HOW A COLD PROGRESSES
A cold infection begins when a cold virus enters the nose, eyes or mouth, with the nose as the main entry site. Upon infection by a cold virus, the incubation period takes place before cold symptoms appear, Dr Wong said.
During this period, the viruses invade the cells that line the back of the nasal passages, multiply and then invade more cells. The incubation period may last two to four days, during which the patient may experience early cold symptoms – like a scratchy throat, a tickle in the nose or sneezing.
According to Dr Wong, these symptoms are not triggered by the virus itself. Rather, they are due to the body's natural defensive response to a cold virus.
"Viral infections lead to the generation of inflammatory mediators, which stimulate our sensory nerves, resulting in the production of nasal mucous secretions as well as activating the nerve endings found in our nose and throat," he explained.
"The resulting hypersecretion and irritation cause runny and blocked nose symptoms. In effect, the body is trying to remove the unwanted virus through sneezing and coughing, and it's trying to restrict further infection."
As the viruses continue to multiply and the infection spreads, this progresses into a full-blown cold with associated symptoms such as a runny nose, nasal congestion and coughing. There may be other symptoms such as fever, chills, headache, body aches and pains, and fatigue, although they are typically mild.
Cold symptoms usually resolve in seven to 10 days for most people but may last up to three weeks, Dr Wong said.
CAN YOU STOP A COLD IN ITS EARLY STAGE?
For those who feel the first signs of a cold coming on, it is possible to help stop it from progressing with clinically-proven early intervention solutions, such as mucoadhesive gel nasal sprays.
Ms Hon, who has been using the Vicks First Defence nasal spray at the first sign of a cold, believes that intervening early has helped to prevent full-blown symptoms.
"As soon as my nose is blocked or I have a scratchy throat, I use it. Most of the time, I find that it would stop the cold in its tracks," she said.
Dr Wong, who is part of the team at P&G Singapore Innovation Centre that developed Vicks First Defence technology, said the nasal spray is clinically demonstrated in a large-scale study to reduce the severity of cold symptoms and shorten their duration by 2.4 days.
Dr Wong shared that Vicks First Defence contains plant-derived mucoadhesive polymer – hydroxypropyl methylcellulose – that works in three physical ways to trap the cold virus, make the virus inactive and remove it.
"When sprayed onto the back of the nose at the first signs of a cold, the microgel can adhere to the surface of the nasal passages, creating a barrier that traps virus particles and prevents them from invading the cells," he explained.
"It is formulated in an acidic buffer to transiently lower the pH of the nasal cavity, inactivating the viruses and reducing their ability to multiply and cause further infection."
It also acts as a nasal irrigate to help stimulate natural nasal secretions. This can help remove the virus when the person either blows the nose or swallows, the scientist added.
According to Dr Wong, Vicks First Defence can also be used when there is a risk of catching a cold. "Just like putting out a fire, it is best to intervene as early as possible to reduce the chance of developing a full-blown cold," he said.
Ms Hon emphasised that it is also important for one to get sufficient rest when one feels unwell.
"Your body needs rest to fight a virus and recover. Your work can survive without you for a day. As for your kids, let someone else help and watch them while you rest," she said.
Here's how Vicks First Defence can help keep colds at bay.
Vicks First Defence is suitable for use for adults and children 12 years and older. Vicks First Defence is not suitable for people who are allergic to any of the ingredients listed in the package or have inflamed skin and inner lining of the nose. Read the label before use. Use as directed. If symptoms persist, see your doctor.