A new era of learning comes with benefits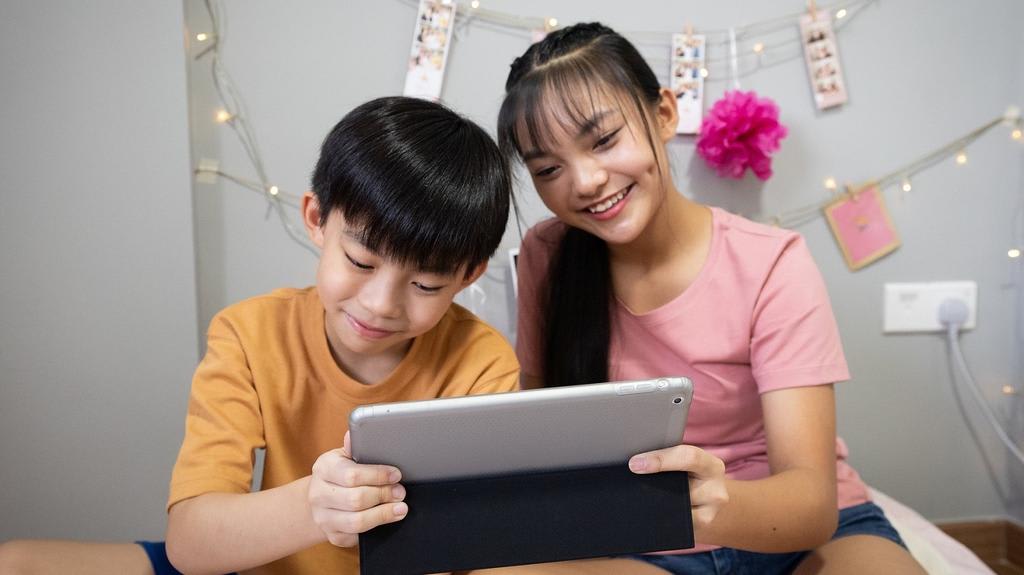 The COVID-19 pandemic has brought learning online, which comes with both challenges and benefits. Superstar Teacher shows students how best to maximise their online study experience.
It's safe to say that screen time has increased drastically for students in Singapore since the COVID-19 pandemic caused schools to shift to home-based learning, with tuition and enrichment centres quickly following suit.
Even as the pandemic becomes endemic, online learning is here to stay as students adapt to a blended learning approach – combining regular in-class lessons with home-based learning days – and Singapore continues to fine-tune its COVID-19 measures in response to the evolving situation.
A CHALLENGING TRANSITION
Still, the shift in learning styles and environments has taken some getting used to.
"Just as parents had to adapt to working from home, both students and parents faced similar challenges during the transition to home-based online learning," said Mr Benjamin Tan, chief operating officer of online learning platform Superstar Teacher.
Behind a screen and isolated from their peers, it's easy for students to lose motivation or feel ignored when teachers are unable to engage with them individually. The different style of interaction may also cause students to be less comfortable when asking questions.
"More introverted students may not be willing to interact with the teacher on-screen and thus will have no way of clarifying their doubts during the lesson," explained Mr Tan.
 
Superstar Teacher has an instant homework help feature that assigns subject-matter experts to students who are struggling with difficult homework questions and have no one to seek help from. Through a one-to-one chat interface, students can use their star tokens – which come complimentary with the lesson subscription – to submit questions and work out a solution with the help of the expert anytime of the day.
Another challenge to online learning: Students may need to share a limited number of devices with other family members or lack a conducive environment. This can result in conflicts when the study space or device is in use when a student needs it.
Said Mr Tan: "For classes that take the form of synchronous learning, both learners and teachers need to have access to a good Internet connection and devices, as they have to be online at the same time. Often, students encounter unforeseen technical difficulties that disrupt their learning experience as well as cut into the lesson duration."
Instead of streaming lessons on the go, Superstar Teacher offers an updated course library of over 9,000 lessons that cover all the concepts in the Ministry of Education's primary and secondary-level subject syllabuses, as well as commonly tested exam questions that are benchmarked yearly against top schools' examination papers. All lessons come with printed worksheets. This makes it easier for students to follow the online lessons as they are able to take notes and write down their workings.  
The benefit of such an arrangement is that students do not need to rearrange their schedules to attend a live class or even sit through an entire lesson. "They can fast-forward or skip through concepts they already have clear knowledge of and focus on their weaker topics. Pop-up quizzes will appear throughout the lesson to engage the student and act as checkpoints to ensure that the student has understood the contents of the lesson fully," said Mr Tan.
PERSONALISED LEARNING THROUGH INNOVATIVE TECHNOLOGIES
As one of the pioneers of online learning in Singapore, Superstar Teacher has over a decade of experience in educating students online through interactive features, engaging teachers and the continual development of innovative technologies on its learning platform.
At the start of Singapore's circuit breaker period last year, Superstar Teacher introduced an Achievements feature to help motivate students. Star points are accumulated as learning objectives are met, and the points can be exchanged for rewards – such as stationery items, gift cards and gaming consoles – or redeemed for a monetary donation to the Children's Cancer Foundation. 
More recently, Superstar Teacher has enhanced its course library with an artificial intelligence (AI) learning mode for primary-level Mathematics lessons. The AI generates questions based on the course library's content to assess each child's strengths and weaknesses. After identifying the child's knowledge gaps, it then creates a personalised study schedule. This makes learning more efficient and ensures that the learning experience is targeted to individual needs.  
Since the beginning of the year, Superstar Teacher has seen a 40 per cent increase in the number of learners and a 50 per cent increase in the amount of time students spend on the platform. According to Mr Tan, parents and students say that the platform offers convenience and flexibility, as students can avoid commuting to tuition centres.
"When lessons are broken down into digestible bite-sized content, students find it easier to grasp complex topics, and learning becomes fun and interesting," said Mr Tan. "Our teachers are passionate about teaching and imparting knowledge to students of mixed learning capabilities. This is in line with our vision to provide a quality online learning experience to all our students."  
Get a free 14-day trial with Superstar Teacher to experience the ease and accessibility of online learning.