Novel ways to pay, and grow a business
It's fastest fingers first when scoring limited-edition kicks, but sneaker platform Novelship's partnership with Grab means that buyers can not only get the latest kicks fast, but without paying for them fully upfront.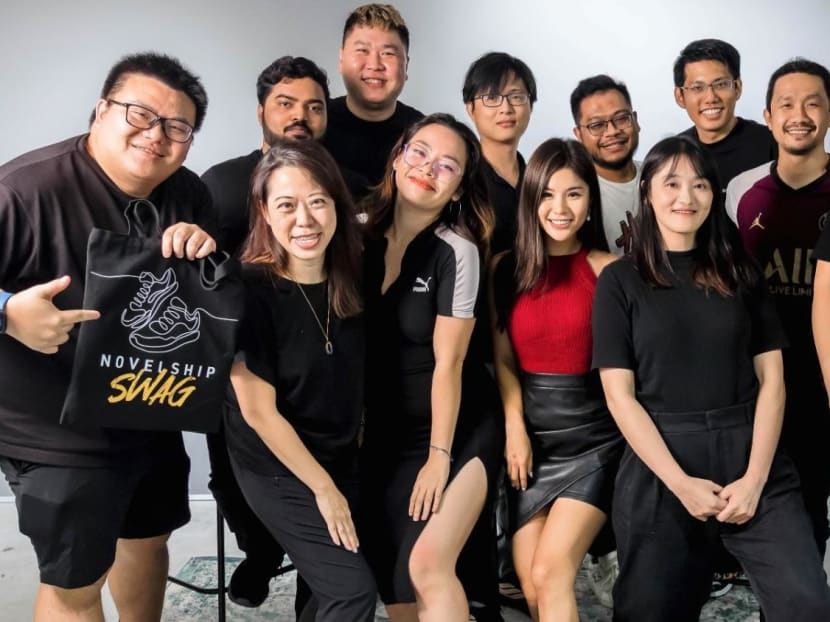 It's fastest fingers first when scoring limited-edition kicks, but sneaker platform Novelship's partnership with Grab means that buyers can not only get the latest kicks fast, but without paying for them fully upfront.
Queuing overnight when the latest sneakers drop is no longer cool. In fact, it's not even necessary if you know where to score the best deals. These days, sneakerheads are flocking online to sites like Novelship, a marketplace for authentic, limited-edition sneakers, streetwear and collectibles. 
Through its partnership with Grab, Novelship is able to offer customers more flexible payment options, like Grab's buy now, pay later service, PayLater. It enables customers to break their purchases up into four interest-free monthly installments or pay the following month. 
This passion – whether it be for sneakers or minimising customers' pain points – lies at the heart of Novelship's founding. 
Founded by Mr Richard Xia and Mr Chris Xue, Novelship was born out of a mutual love of street fashion. "We would spend hours talking about the latest trends and dreaming about owning the newest sneakers," said Mr Xia, the platform's chief executive officer. "Eventually, we decided to turn our passion into a business. We started by selling our personal collection of sneakers and streetwear. This allowed us to raise enough capital to start Novelship in 2018." 
POWERED BY PASSION
The duo were no strangers to start-ups, having run a mobile cafe business in university before venturing into e-commerce software sales later on. But their passion for sneakers and knowledge of the scene allowed them to capture lightning in a bottle when it came to Novelship, which recently raised US$10 million (S$14 million) in Series A funding.
 
Even the COVID-19 pandemic couldn't put a dent in Novelship's growth. The gross merchandise volume of the platform for sneakers and streetwear rose 5.5 times in 2021. Mr Xia attributed this to sneakerheads turning to the online sneaker and streetwear community as an outlet, when many across Asia were confined to their homes due to social distancing measures.
"We knew that our customers were looking for ways to keep their spirits up, so we made a point of stocking exclusive and hard-to-find sneakers," he said. Knowing that customers also wanted peace of mind when shelling out for highly desirable sneakers – some of which can change hands (or feet, in this case) for five-figure sums – means Novelship goes the extra mile with what Mr Xia calls "an extremely lengthy authentication process". 
A dedicated team from Novelship curates and professionally authenticates every item in its collection to ensure that every product bought or sold on the platform is genuine. "I believe that our authentication practice sets us apart from our competitors, and we are committed to providing the best possible experience for our users," he says. 
CONVENIENCE, NOW OR LATER
For most customers, however, convenience rules all, which is where Novelship's recent partnership with Grab comes into play. It helps offer a seamless shopping experience for its users via the GrabPay digital wallet. According to Mr Xia, "Bringing GrabPay on board has allowed us to provide our users with a payment option that many people across the region prefer." 
Since the partnership began in May, Mr Xia says that Novelship has seen over 1,000 Grab-enabled transactions, which have collectively generated over S$300,000 in sales across sneakers and streetwear. With Grab's diversified payment options, merchants can increase their revenue by tapping into the former's large and engaged consumer base.
PayLater has proved popular among resellers on Novelship. "They can get their hands on the latest sneakers and flip them for a decent profit, while not having to shell out the entire cost of the footwear upon purchase," said Mr Xia. 
This allows for greater flexibility as there is no interest, upfront costs or hidden fees, with built-in features to encourage responsible spending. Users can also consolidate their payments into a single bill with PayLater Postpaid, which can be settled using their GrabPay balance at the end of the month.
VENTURING TO NEW TERRITORY
Novelship's plans for the future are firmly rooted in the platform's DNA and community, according to Mr Xia: "We'll continue to expand our reach in the markets we operate in, while adding more markets across the Asia-Pacific region this year. We are also exploring some exciting metaverse integration and brand partnerships in the retail space."
When it comes to reflecting on what growing Novelship has taught him, Mr Xia says that while ideas can be generated from one's intuition, they always need to be backed up by data. For example, offering payment solutions like buy now, pay later may help increase conversion and boost order values, with the average spend projected to go up by up to 40 per cent. BNPL also makes it easier for Novelship to reach its mainly Gen Z clientele, who may not have access to credit cards and require greater payment flexibility.
In addition, there are two outcomes to trying new things as a young start-up: "It might turn out to be great, or you can always learn a very valuable lesson from it. I truly believe that every experience you face today is preparing you for a larger challenge in your near future."
"Lastly, you are making a bold decision to go out there and pursue your passion," he adds. "While you work tirelessly for weeks, months and years, don't forget to enjoy the ride and take in all the experiences. That is truly the best part of the journey."
Find out more about Grab's payment solutions for merchants in Singapore and Malaysia.