Singtel wants to power up your leisure activities with its next-generation 5G network
Here's how 5G networks can open up new ways to take things easy.
You want to take things slowly, but that doesn't mean you have to wait interminably. Here's how 5G networks can open up new ways to take things easy.
We get it: Stepping away from the daily grind is good for the soul. Forgetting about the hustle – to meet deadlines, to hit sales targets, to just find time for oneself – can be a challenge at best, near-impossible at worst.
It helps if you have the tools to make the most of your hard-earned me-time, couple-time or friend-time to its fullest, offering new adventures that can be enjoyed seamlessly, smoothly and speedily.
Fancy downloading 4K videos in seconds? Or enjoying an ultra-responsive gaming or livestream session? Singtel 5G – Singapore's first 5G Standalone (SA) network – is here to help.
HIGH SPEED, LOW LATENCY GOODNESS
The 5G SA network boasts speeds that are more than 10 times faster than that of ubiquitous 4G networks. Such ultra-fast connectivity, which supports near-zero latency, lends potential to the development and improvement of various products and services, which could include augmented reality books and virtual reality events.
Singtel's 5G service aims to provide a superior user experience. It is ultra-fast, enabling 4K videos to be downloaded in seconds, and ultra-consistent with coverage both indoors and outdoors. 5G's ultra-responsiveness promises two times lower latency and seamless livestreams for events such as football matches and online concerts. The network's ultra-smooth connectivity ensures uninterrupted video call experiences, and its ultra-secure infrastructure allows for multiple connected devices to be managed in a safe environment.
FANCY A NIGHT RACE AFTER YOUR MEAL?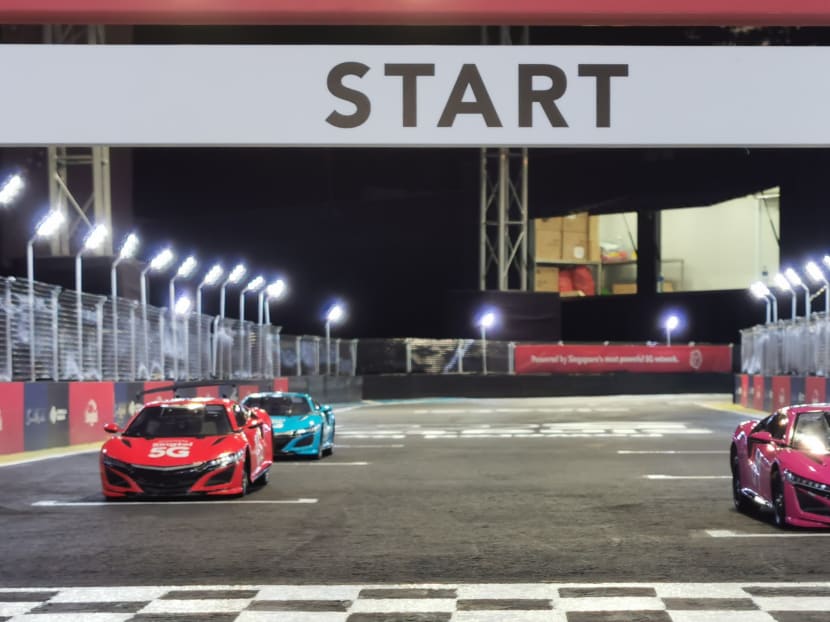 We'd never recommend a car race after dinner and drinks, but at the 5G-powered night e-Racing at Southside, Sentosa, you can live out your fondest Fast and Furious fantasies in complete safety.
The attraction features radio-controlled, 1:10 race cars with a camera mounted on each car. The result? A first-person, live view of the track, with each camera's feed transmitted instantaneously to racing simulator screens. Steering commands are transmitted in near real time to the model cars on the track 50m away from the simulators, so drivers can expect an immersive, realistic and ultra-responsive racing session on both the visual and sensory fronts.
The high-speed and real-time wireless connectivity required for such racing experiences was previously only possible via specially configured networks. Today, however, such seamless experiences can be achieved with a 5G network.
Available on weekends, patrons who dine at Southside, Sentosa will be able to redeem and experience Singapore's only 5G-powered night e-Racing. Plus, they get to score exclusive Singtel 5G merchandise!
GET IN TOUCH WITH YOUR INNER EXPLORER
Those up for a Hidden Gem Hunt around Sentosa will stand to win a 3-day, 2-night staycation at Sentosa. If you're a fervent Pokémon GO player who can't resist the urge to catch-'em all, this could be up your alley. First, get clues to the five gems' locations on Sentosa via Singtel's Instagram page. When you find the gems, take a creative photo of each of them and post it on your Facebook or Instagram account with the hashtags #PowerUpwithSingtel5G, #Singtel5Gsentosa and tag @Singtel.  Remember to make your Facebook or Instagram accounts public and share how Singtel's 5G network aided your gem hunt in your posts. Lastly, submit your entry via singtel.com/5Gsentosa.
A Samsung 5G tablet is also up for grabs for those who can't head down to Sentosa. Participate in Singtel's #PowerUpwithSingtel5G contest and stand to win a Samsung Galaxy Tab S7+ 5G!
UNDER THE (VIRTUAL) SEA
Head down to UNBOXED@SingPost Centre — Singapore's first 5G-powered unmanned pop-up store — to experience Singapore's first 5G-powered underwater livestream. This ultra-smooth 5G livestream can also be viewed at Singtel Shop Comcentre, Singtel Shop Waterway Point and Singtel Shop Tampines Mall.
An underwater camera is placed in the S.E.A Aquarium, which sends real-time, 4K quality footage of aquarium life to the larger screens at UNBOXED and selected Singtel Shops. Because of the ultra-smooth Singtel 5G network through which the footage is streamed, you get an immersive viewing experience akin to being right there at the aquarium. Be sure to catch the sea creatures during their feeding time at 3.45pm daily, excluding Mondays and Fridays.
CHANGING THE WAY WE LIVE, WORK AND PLAY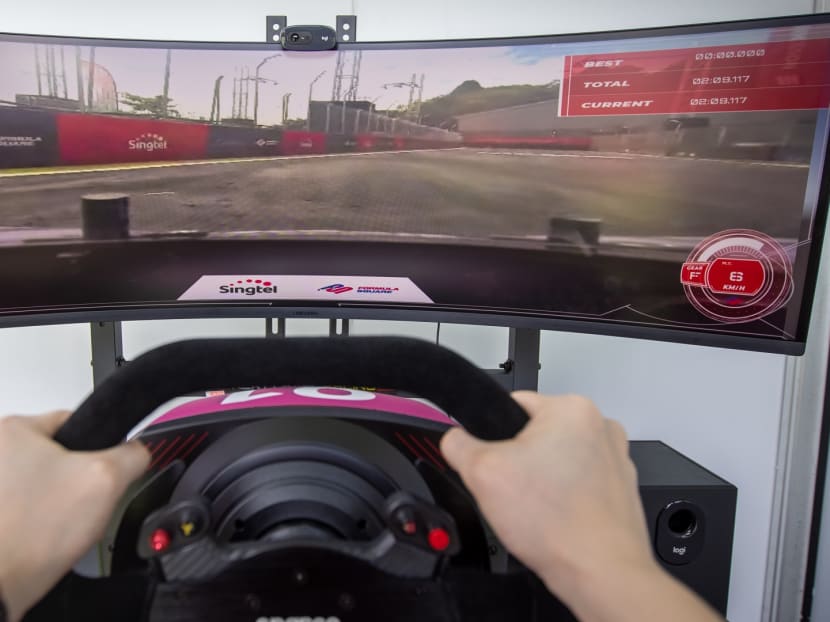 Now that we have gotten a glimpse of these 5G-powered activities made possible with Singtel's ultra-fast, ultra-smooth, ultra-consistent, ultra-secure and ultra-responsive 5G network, it's exciting to consider how it will change the way we live, work and play every day.
To date, Singtel has brought us a number of 5G SA use cases — including the activities at Sentosa we've covered, demonstrating the power and potential of 5G.
The service provider's 5G network now covers over two-thirds of Singapore, including densely populated areas such as Choa Chu Kang, Tampines and Punggol. It has also extended its indoor 5G coverage to more major shopping malls like Funan, Northpoint City, Tampines Mall, Waterway Point and West Mall. This means we're more likely to get a reliable 5G connection at more places than ever before.                                              
Discover more about the Sentosa experiences powered by Singtel 5G. Get on Singtel 5G and experience Singapore's most powerful* 5G network today.
*According to tests on network speeds and consistency across locations conducted by HardwareZone in 2020.