Stigma, shame and stress: The effects of sensitive, eczema-prone skin are more than skin-deep
Managing a skin condition is challenging, but early intervention and choosing the right skincare products can help ease the discomfort, according to dermatologists.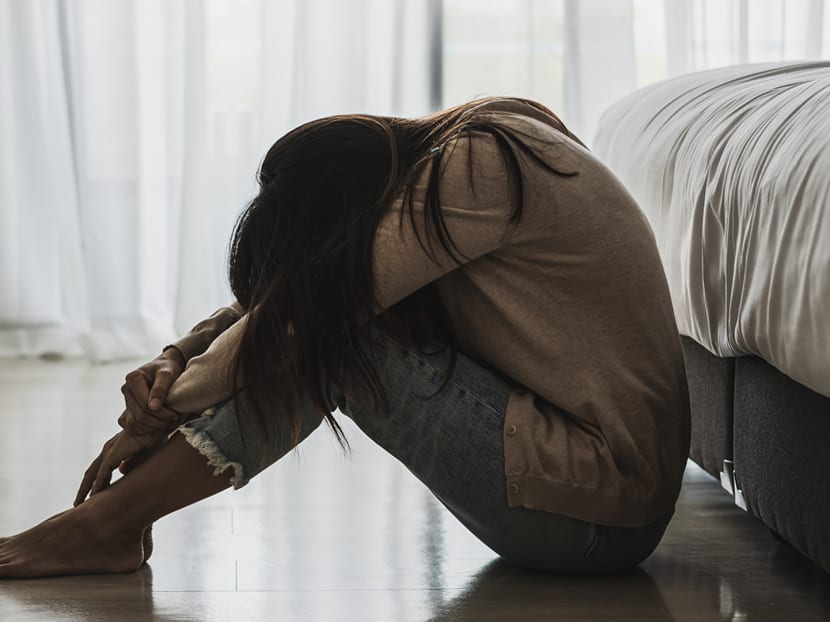 Managing a skin condition is challenging, but early intervention and choosing the right skincare products can help ease the discomfort, according to dermatologists.
Eric (not his real name) is a 26-year-old IT professional whose life has been severely affected by his eczema-prone skin since a young age.
His skin symptoms – red, itchy and flaky skin – peaked during his National Service days. He often felt embarrassed about his appearance and found it difficult to establish friendships.
Having eczema-prone skin is not a life-threatening condition, nor are its corresponding itchy, red rashes contagious. Yet, studies have found that people living with this skin condition report having a worse quality of life than those living with other chronic illnesses such as heart disease and diabetes, said dermatologist Dr Paul Chia from The Dermatology Practice.
LIVING WITH SENSITIVE, ECZEMA-PRONE SKIN
"There is so much stigma about skin conditions because they are often assumed to be contagious. Many people also often associate skin disorders with poor hygiene," he said.
"It is not surprising that having eczema-prone skin can lead to mental stress and an impaired quality of life. Even those with mild symptoms are known to limit their lifestyle and avoid social interactions. The harmful effects are even worse for those whose conditions are moderate to severe," Dr Chia continued.
Apart from affecting self-confidence, eczema-prone skin can limit one's activities and even occupation if it becomes "weepy" with watery discharge or if it forms a sticky crust when infected, said Dr Shanna Ng, a dermatologist with The Dermatology Practice.
DEBUNKING UNHELPFUL MISCONCEPTIONS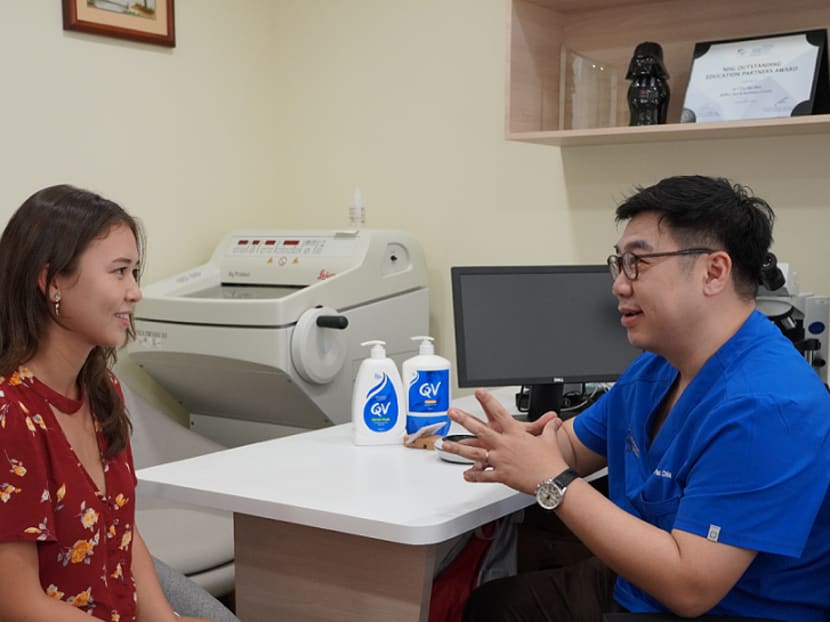 Dr Chia shared that much of the stigma patients face is due to misinformation or misconceptions surrounding skin disorders.
For one, contrary to popular belief, eczema-prone skin is not caused by food allergies.
"The affliction arises because of an impaired skin barrier and a highly sensitised immune system that reacts to allergens or irritants through inflammation of the skin. But many patients and their families avoid many types of food, often leading to malnutrition, while not improving their skin condition," Dr Chia said.
Common triggers of the condition include dry skin, infection, irritants like dust or cigarette smoke, a change in climate and even mental stress, added Dr Chia.
Another common misconception is that a dermatologist only prescribes steroids, said Dr Ng. Dr Chia said the management of eczema-prone skin is not limited to using steroid creams, and that there are newer methods that allow patients to manage their skin condition.
EARLY INTERVENTION AND SUITABLE SKINCARE CAN HELP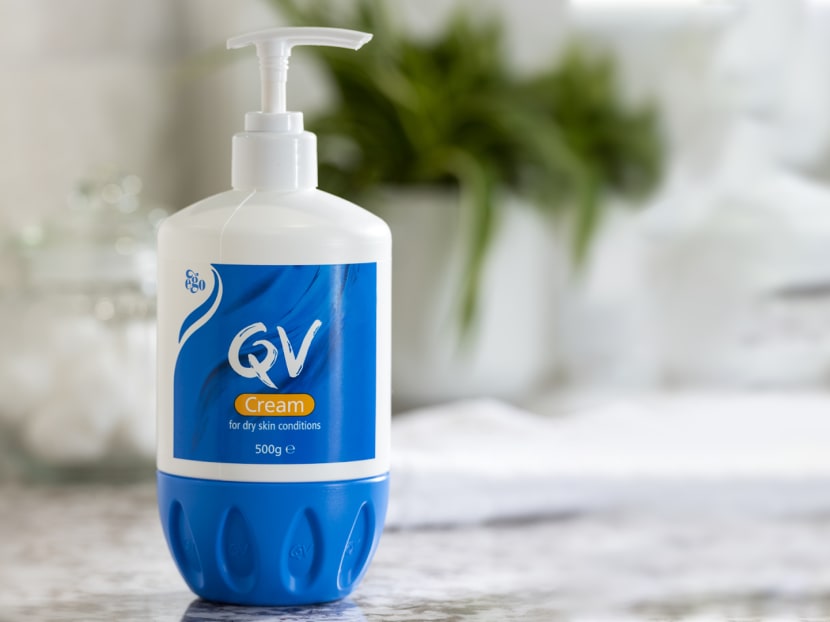 When managing eczema-prone skin, Dr Chia said one needs to be armed with the right knowledge. Seeking help early is also crucial, as it facilitates access to appropriate dermatological intervention.
Eric's condition has improved significantly since his consultations with Dr Chia. He is now able to sleep better and can enjoy outdoor activities such as cycling.
Said Dr Chia: "Consistency is key to keeping these conditions under control – patients need to adhere to the selected skin management regimen for best outcomes."
Besides consulting a healthcare professional, the experts said that using suitable skincare products matters, and that frequent moisturising helps, too.
"Choose moisturisers that help boost skin hydration and repair your skin barrier. This helps relieve itch in the long run. Many look for instant anti-itch cream but these products only provide temporary relief. The root cause is that the skin barrier is impaired and this needs to be addressed by repairing skin via moisturisation, to help skin restore moisture and heal," Dr Chia advised.
Using dermatologically tested products that are free of soap, colour, fragrance and other common irritants is also recommended. There are also moisturisers that contain oils, such as paraffin, that help prevent water loss through the skin, Dr Ng said.
"These measures prevent a dry, cracked skin barrier that exposes an already hypersensitive immune system to external irritants and allergens," she explained.
Dr Ng added that good lifestyle habits, such as having adequate rest, proper nutrition and exercise, are important in maintaining a healthy skin barrier. "Stress certainly plays a part. A good night's rest is always helpful to reduce flare-ups," she said.
SKINCARE THAT SUPPORTS SKIN HEALTH
Lifestyle choices aside, the right skincare products will help to keep skin healthy day-to-day.
QV Skincare draws its name from Queen Victoria Hospital in Melbourne, where QV Bath Oil was first developed. The brand uses only gentle ingredients that are less likely to irritate delicate and sensitive skin.
Dermatologically tested and specially formulated for dry, sensitive or eczema-prone skin, QV's range of cleansers and moisturisers is free from soap, fragrance and other common irritants, and does not dry out the skin or strip its natural protective oils.
10 out of 10 dermatologists in Singapore recommend QV for dry, sensitive or eczema-prone skin1 and is the No 1 brand in Singapore hospitals2. QV Cream and QV Gentle Wash are some of its most popular offerings.
QV Cream contains five moisturising ingredients, including glycerin and squalane. This formulation helps locks in moisture to calm and soothe dry skin. It has also been clinically proven to boost skin hydration by around 30 per cent for up to 24 hours3.
QV Gentle Wash is soap-free and has a pH-balanced formula. The body wash contains 15 per cent glycerin and gentle surfactants for a hydrating shower experience.
QV is also available in other ranges, including QV Baby, QV Face and QV Hair, which are gentle to skin and suitable for people with dry, sensitive or eczema-prone skin.
Learn more about why dermatologists in Singapore recommend QV. Shop now at Shopee, Lazada, Guardian, Watsons and other offline channels.
This advertorial contains information based on the doctors' clinical experience and medical opinions. It does not constitute or imply the endorsement or recommendation of QV.
1Based on results of survey conducted by Ego Pharmaceuticals Singapore, Aug-Nov 2021, on 46 dermatologists in Singapore.
2QV's calculation based in part on IQVIA National Sales Audit for D02 Emollients & Protective Market, Hospital channel, MAT Mar 2020 (Sales Values).
3Applies to QV Cream (pump), average increase of around 30 per cent in skin hydration (corneometer), N=33 females. Measurements taken pre-application and 24 hours after application.