Upskill and go digital with Microsoft's skilling initiatives in Singapore
#GetReadySG is part of Microsoft's efforts to help young and mid-career professionals in Singapore develop in-demand skills for a post-COVID world.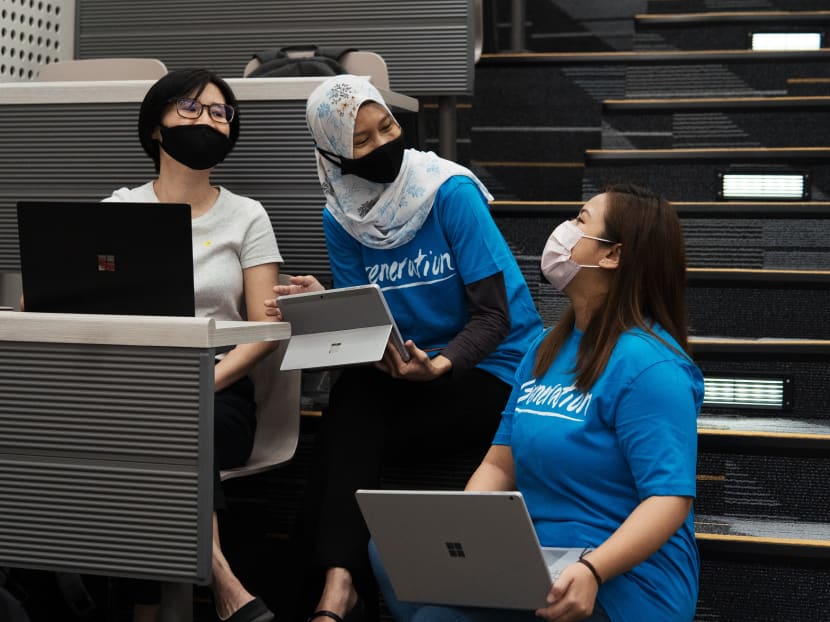 #GetReadySG is part of Microsoft's efforts to help young and mid-career professionals in Singapore develop in-demand skills for a post-COVID world.
The world has been changed permanently by the COVID-19 pandemic, and one of its most far-reaching effects has been the acceleration of digitalisation and innovation. At Budget 2021, the Singapore Government reaffirmed the need for broader, more relevant skills within the workforce in order for workers to close the gap and fill new growth areas in Singapore's employment landscape.
Microsoft launched its Global Skills Initiative in June last year to expand access to digital skills. To date, the programme has helped over 30 million people in 249 countries receive the training needed to navigate a digital economy, of whom over 200,000 are Singaporeans.
As the initiative continues in its second year, Microsoft has announced that the free online courses on LinkedIn Learning and Microsoft Learn will be available till Dec 31. These courses lead to in-demand Microsoft software certifications such as Azure Fundamentals, Azure Data Fundamentals and Power Platform Fundamentals, as well as role-based certifications like Azure Developer Associate and Azure Security Engineer Associate. Being certified in these areas offers learners a boost in job eligibility, and opens up opportunities to advance in existing roles.
December 2020 also saw the launch of #GetReadySG in Singapore, a holistic training programme organised by Microsoft and global employment non-profit Generation in partnership with the Infocomm Media Development Authority (IMDA), SkillsFuture Singapore (SSG), Digital Industry Singapore and Temasek Polytechnic.
Aimed at mid-career or young professionals, the programme is part of the SGUnited Jobs and Skills Package. Its goal is to reskill, place and fill demand for tech-enabled jobs for up to 1,000 Singaporeans and permanent residents from 2021 to end 2022.
Harnessing learning resources on Microsoft Learn and LinkedIn, the curriculum also enables participants to pick up programming languages like Java and Python, as well as Microsoft Azure cloud computing skills. To further cement knowledge, Microsoft's partner companies will provide on-the-job training with the potential for placement in roles in areas such as cloud support, business intelligence and data analysis, once participants have completed their training courses.
TRAINING FUTURE-READY TALENT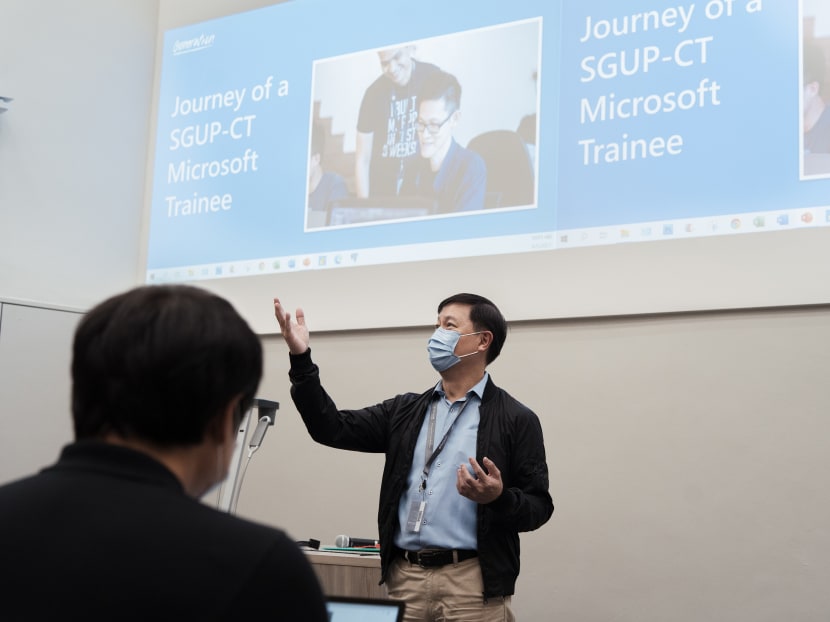 #GetReadySG's curriculum was designed based on industry needs, combining best-in-class skilling resources from both Microsoft and government programmes.
Said Mr Kevin Wo, managing director of Microsoft Singapore: "In today's world of hybrid work, digital and tech roles continue to be in strong demand across industries including manufacturing, telco, government and financial services. Through trusted partnerships with our customers and the local community, we continue to work towards closing the loop on connecting industry-relevant skills with opportunities for employment for Singapore's digital future."
#GetReadySG's curriculum was shaped by insights from the LinkedIn Economic Graph, a digital representation of the global economy based on platform data. This ensures that the programme can effectively facilitate job placements and enable talent to succeed in the digital economy.
"Based on this data, Generation was able to customise the curriculum to ensure that courses and training pathways that #GetReadySG participants embark on include exposure to industry-relevant skills, in order to thrive in today's modern workplace," said Mr Wo.
SUPPORT FOR SOFT SKILLS AND CAREERS
Participant Ellie Koh, 41, was a programme scheduling executive for over a decade but felt her career options shrinking in a changing industry. While exploring a mid-career switch, she learnt about #GetReadySG and was drawn to it for its apprenticeship element.
"Being able to learn and use immediate knowledge in a real-life setting is very practical," said Ms Koh. "I'm excited about the tech skills and apprenticeship as I am from a non-tech background and have to learn from scratch."
Apprenticeship training is carried out at Microsoft partner companies such as NTT Global, NTT Data, Standard Chartered Bank and ComfortDelGro, where participants will have the opportunity to gain hands-on work experience.
Said Ms Charlotte Thng, head of human resources, Singapore, Australia and ASEAN Markets at Standard Chartered Bank: "We are proud to be part of the #GetReadySG initiative, working closely with the Government and industry partners such as Microsoft, IMDA, SSG and Generation to nurture a pipeline of homegrown techno-bankers for the future – especially in areas including cyber, data solutions, digital banking, analytics, cloud, AI architect, API and DevOps."
As soft skills are also important for forging successful careers, participants will receive mentorship and career coaching from Microsoft, Generation and LinkedIn to help them assimilate into workplaces and meet challenges. The #GetReadySG curriculum aims to equip participants with mindsets like future orientation and resilience, and behavioural skills such as detail orientation, communication and teamwork.
Mr Wo explained: "These skills were identified based on numerous interviews with tech practitioners. While technical knowledge and skills are necessary to land a job in tech, the mindsets and behavioural skills fuel continued growth in a tech career."
Before the COVID-19 pandemic, Ms Nikki Lim was a primary school teacher and a mathematics tutor for over 20 years. The 48-year-old sees #GetReadySG as an opportunity to enter the tech sector, where she hopes to embark on a career as a junior data engineer.
"The #GetReadySG programme is very well-designed – the multipronged approach differentiates the programme from others that focus mainly on teaching tech skills," said Ms Lim.
Interested in jumpstarting your digital career? Take up an industry-recognised Microsoft certification, or access free online courses to boost your digital skills. Learn more and apply for #GetReadySG, or drop an email to getreadysg [at] generation.org if you want to explore building a talent pipeline for your company by joining as an employer partner.