When nature lives with you: Home is a tranquil retreat for all ages at North Gaia
Ensconced amid verdant greenery, this upcoming executive condominium boasts spectacular views and comprehensive facilities for everyone.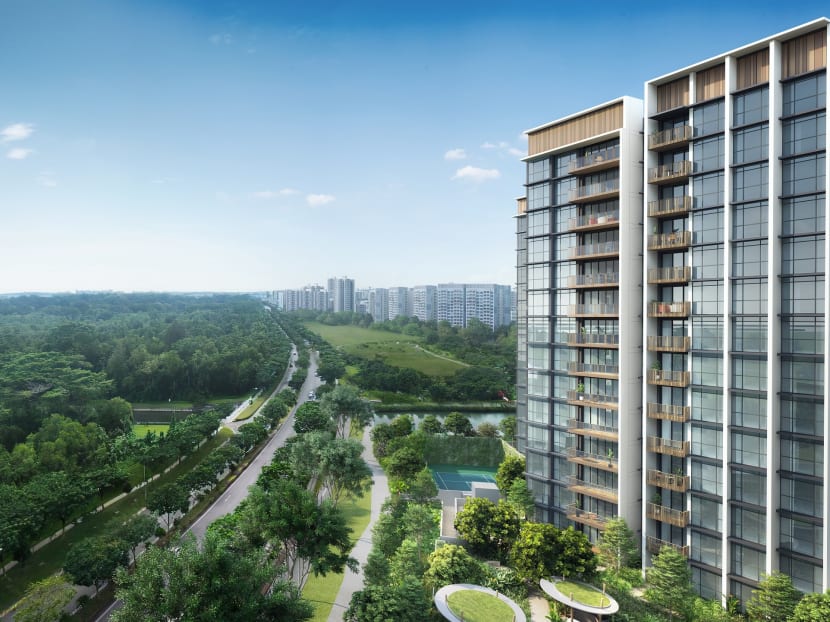 Ensconced amid verdant greenery, this upcoming executive condominium boasts spectacular views and comprehensive facilities for everyone. 
If living at one with nature is your cup of tea, a home at North Gaia could just be what you're looking for. The first executive condominium (EC) to be launched in Yishun since 2015 is located along Yishun Avenue 8, facing Khatib Bongsu Nature Park and its lush expanse of mangroves.
North Gaia is well-placed for nature lovers who thrive on fresh air and wide, open spaces. Khatib Bongsu Nature Park will be the first stop on the Northern Explorer Loop, which traces a leisurely park connector route all the way to Sembawang Hot Spring Park. Whether you're an avid cyclist, jogger or walker, the scenic passage would be a welcome break from the hustle and bustle of urban life. 
HOME FOR ALL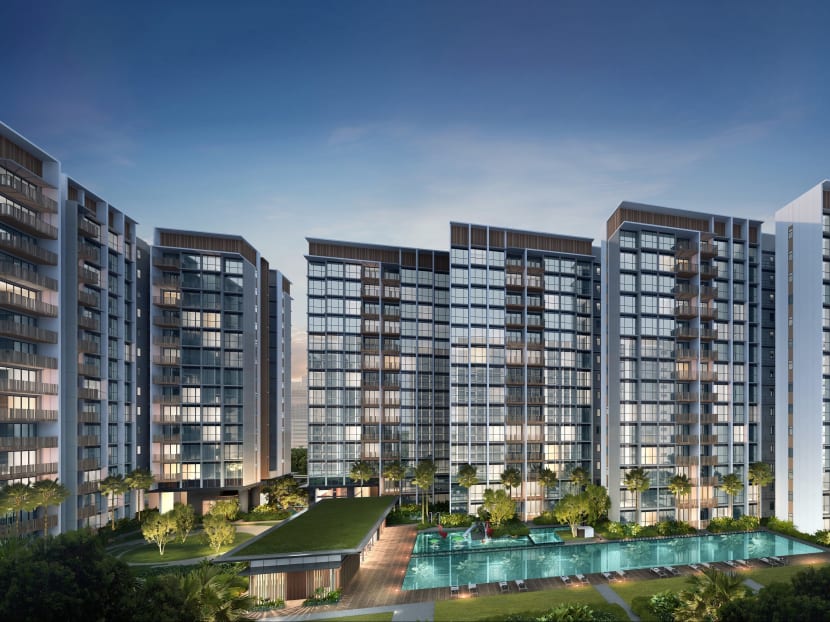 In keeping with the tranquil landscape, North Gaia is thoughtfully designed to ensure maximum privacy and sweeping vistas. The development is elevated above the surroundings to minimise street-level noise. Reflecting the expansiveness of its environment, units on the 14th storey boast lofty ceiling heights of 4m.
The EC comprises 616 three- to five-bedroom apartments, each with ample space to support hybrid work arrangements and coming together as a family, even multi-generational ones.
 
All units are equipped with quality Brandt kitchen equipment and American Standard and Grohe sanitary fittings – sleek enough to look good, while suited for everyday use. 
For buyers looking to further customise their homes upon collection of their keys, selected three-bedroom units come with an area designated as The Smartspace, which can be transformed into a guest room, a hobby space or a study room with dual access – whatever suits your needs best. 
 At North Gaia, you're close to nature – but with all the modern conveniences of the digital world. All units are equipped with a Smart Hub, Smart Voice Assistant and Air-Con Control set-up, aimed at making everyday living that much easier. Picture coming home after a long day and giving a voice command to play your favourite jazz album and to turn on the air-conditioning, all before you slip off your shoes. You can keep track of reminders, weather forecasts and set air-con timers on your phone. 
FACILITIES EVERYONE CAN ENJOY
North Gaia has two main landscape strips that act as visual corridors between blocks, allowing for easy access of resort-style amenities. Nestling facilities amid lush landscaping infuses the conveniences of an urban lifestyle with the vibrancy of nature. 
Why settle for one when you can have two? Whether you swim for exercise or leisure, residents can look forward to some splashing good fun at the development's 50m lap pool and 50m leisure pool. The young ones are bound to enjoy the Heron Water Play & Splash area and Kids Dancing Fountain beside the leisure pool. Other child-friendly recreation options include a romp at the Adventure Playground & Mini Flying Fox, the Trampoline Garden, the Whimsical Play Garden and the Mini Rock Climbing Wall.
In addition to a large, well-equipped gym, North Gaia features an aqua gym, tennis court, yoga deck and jogging track. Those who prefer a slower pace of exercise can consider a stroll at the Firefly Garden or jog around the development on balmy evenings.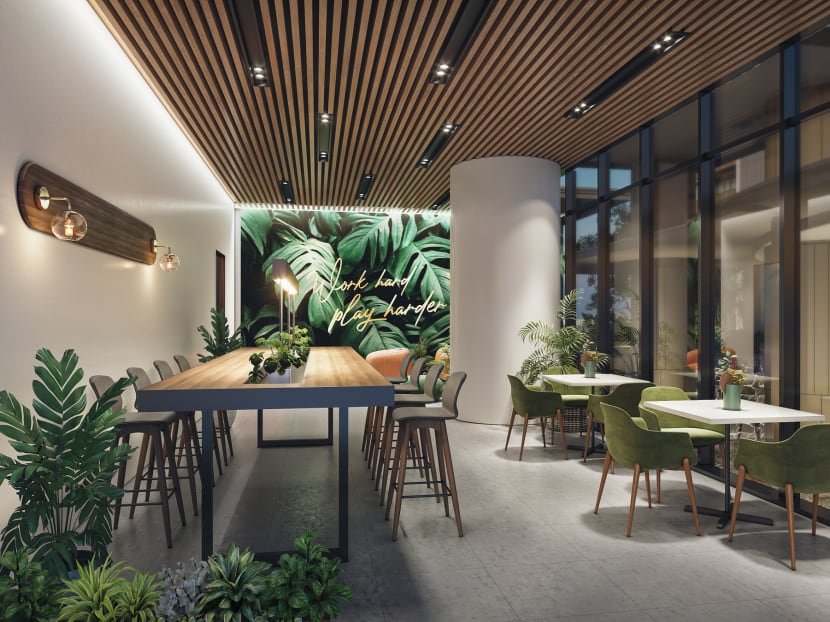 If you need a place to focus while working from home, head to the co-working space with your laptop. On special occasions, the function room, dining room, party room and four outdoor BBQ pavilions are available, making birthday parties and family gatherings a pleasure to host. 
Designed for a greener, digital-age lifestyle, North Gaia features electric vehicle charging lots and a Smart Locker facility for convenient parcel drop-offs and pick-ups. 
AMENITIES AND RECREATION OPTIONS GALORE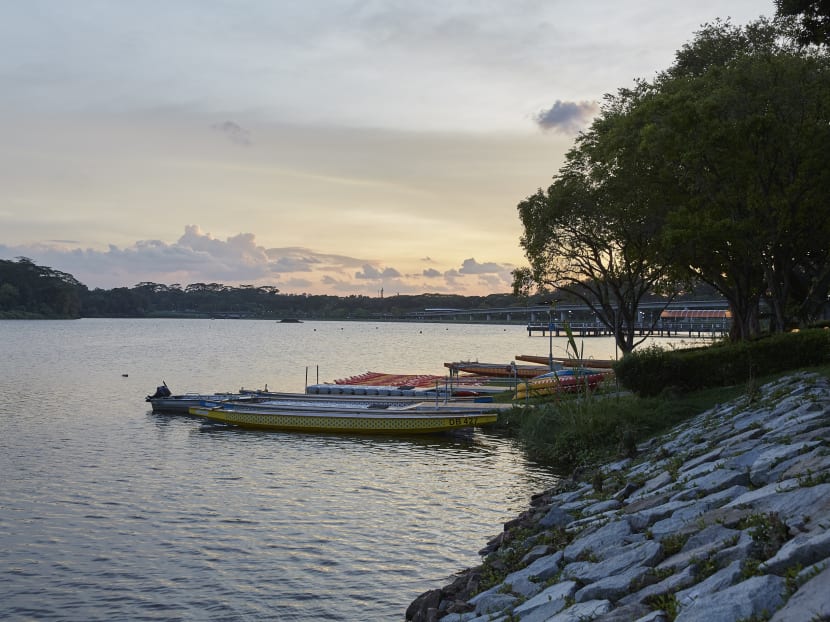 Spend weekends kayaking to explore the mangrove waterways, bike to the Sembawang Hot Spring Park or simply open your windows and gaze out at soothing greenery stretching along Singapore's coastline while sipping your morning coffee. 
Later in the day, take a seven-minute stroll to Junction 9 Shopping Mall where the little ones can attend music classes or tuition lessons while you pick up the groceries for the week. 
For more family-friendly fun, check out ORTO, a multi-recreational park with a wide range of dining options – it's just around 10 minutes* away by car from North Gaia. Take your kids prawning, fishing and even trampolining for a memorable day out. Orchid Country Club and SAFRA Yishun are in the neighbourhood as well. 
If plane-spotting is up your alley, Seletar Aerospace Park is a scenic 14-minute drive* away – perfect for cafe-hopping at Wheeler's Estate and Wildseed Cafe & Bar.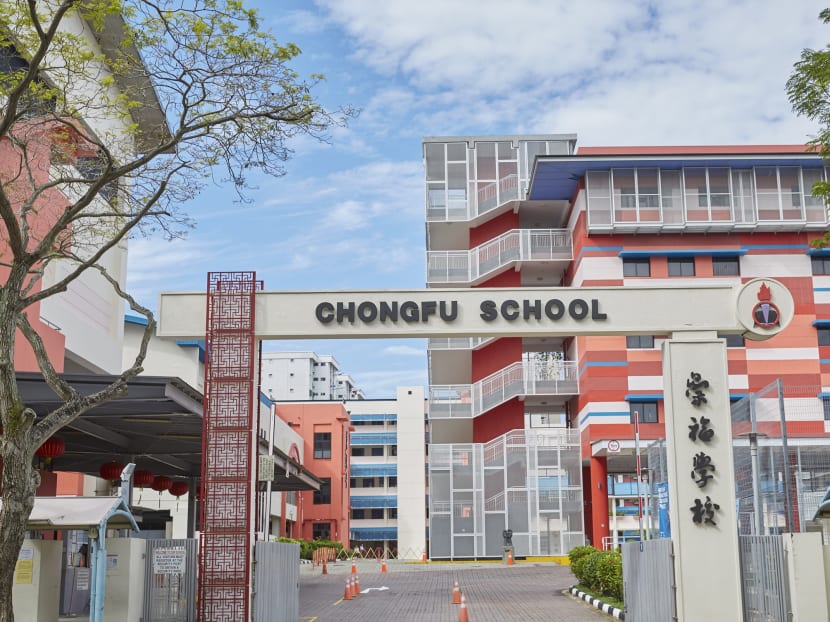 Education is often a top concern for families with school-going children. Located within a short drive of North Gaia are primary schools such as Chongfu School, North View Primary School, Xishan Primary School and Huamin Primary School; the latter also houses a kindergarten. Secondary schools and the Yishun Innova Junior College are a short bus ride away. 
Nee Soon East Community Club and Yishun Polyclinic are around a 12-minute walk*, or three bus stops away. It takes only about 10 minutes* to drive to the integrated hub of Northpoint City.
If you're heading to the city centre, the upcoming North-South Corridor will make commuting by car a breeze. 
The word home means different things to different people. No matter which station in life you find yourself at, a home at North Gaia could be the ideal base to build the life of your dreams with those nearest and dearest. 
Visit the North Gaia website or call 6734 3688 to learn more.
*All travel times are estimates and subject to real-time travel conditions.