Where family fun never ends: Let loose from dawn to dusk at Sunway Theme Parks
With opportunities to camp, glamp and more, you'll have a full day of fun even after the sun goes down.
With opportunities to camp, glamp and more, you'll have a full day of play even after the sun goes down.
Many of us have started thinking about that long-awaited year-end vacation. But planning can be challenging when you have to balance the needs of rambunctious children, excitement-starved teens and work-weary adults who just want a chance to unwind. 
The solution? Combine the thrills of an amusement park with the best of nature on a trip just across the Causeway to Sunway Theme Parks.
Whether you opt for Sunway Lagoon in Kuala Lumpur or Sunway Lost World of Tambun in Ipoh, there's just something for everyone. From wildlife encounters and water slides to the American Old West, you'll find them all at Sunway Theme Parks. 
The best part? Being able to extend your experience, thanks to the feature-packed camping and glamping facilities that can turn an ordinary trip into a full-fledged holiday. 
COSY CAMPING AT SUNWAY LAGOON
Picture this: Falling asleep under a starlit sky, surrounded by exciting attractions, in the middle of a theme park with over 90 attractions and rides. This is what it'll be like with the Camp Out experience at Sunway Lagoon, a 20-minute drive away from KL's city centre. Forget bugs and mosquitoes – you'll be snuggled up in a proper bed inside a cute tent, all in air-conditioned comfort.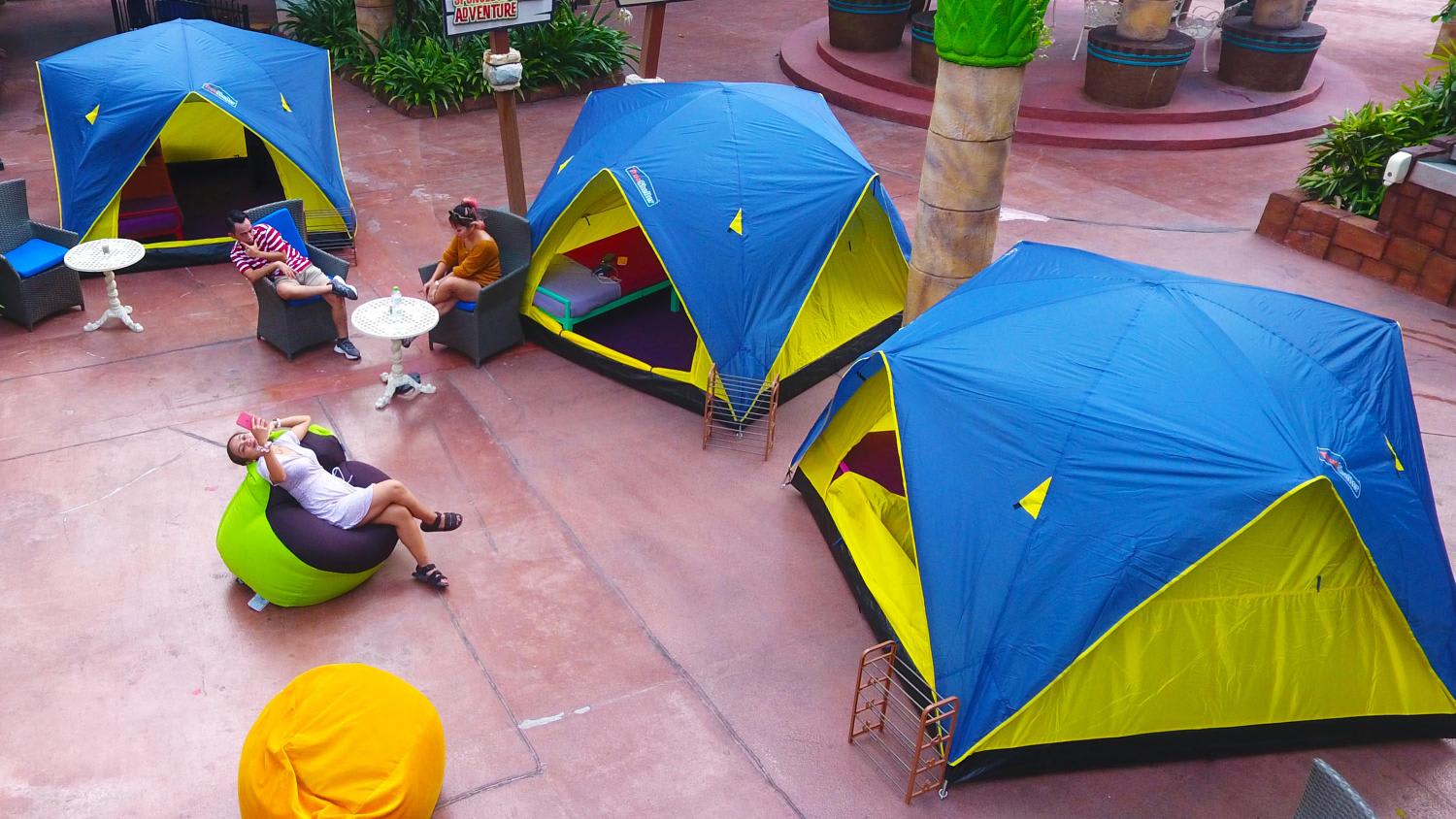 The Camp Out package includes a choice of a single- or twin-bedded tent, along with dinner, breakfast and an admission ticket to the world-class theme park. 
Scream your lungs out as you spin 360 degrees on Pirates Revenge, splash down Vuvuzela (reportedly the world's highest and largest water ride), or zip along Malaysia's longest flying fox before finishing off at Nickelodeon Lost Lagoon with an avalanche of gooey, green "slime" at SpongeBob's Splash Adventure. 
By the time 6pm rolls around, you'll be glad to make your way to the Explorer's Campsite for a swim in the private pool before sitting back to enjoy a barbecue dinner prepared by a chef.
After that, the fun continues at the park's newest attraction, the Wild Wild West. Giddy up into another world as you live out your cowboy fantasies in a rustic town set in the 19th century. Expect Western saloons and themed activities designed to give you a gun-slingin' good time, no matter the age.
Along with entertaining nightly shows and exhilarating rides set in the Old West, such as River Rapids and Colorado Splash, you'll be saying "Yee-haw!" before you know it.
GLAMP IN STYLE AT THE LOST WORLD OF TAMBUN 
Those who decide to venture to Lost World of Tambun further north will find a slew of attractions set amid a tropical rainforest and 400-million-year-old limestone hills.
Nature is the prime attraction here – get up close to majestic Siberian tigers at Tiger Valley or enjoy a special encounter with sun bears and Jaguh the baby hippo at the Petting Zoo. Thrill-seekers can kayak, explore caves or drift down the country's longest man-made adventure river.
Maximise your time here by getting the Glamping package, which comes with a choice of tent accommodation for families or couples, breakfast, and entrance tickets to Lost World of Tambun, the hot springs and Night Park.
This region in Ipoh is known for its natural mineral hot springs, which are best enjoyed when night falls as the air cools and the pools are beautifully lit up. Take your time to enjoy the steam cave, the Geyser of Tambun (which shoots water up over 12m into the air), the shimmering Crystal Pool and an indulgent massage at the spa.
You'll come back relaxed, ready to doze off in your luxury canvas tent. Because this is glamping – where camping is combined with every practical comfort – rest assured you'll get a bed with fresh sheets, an electric fan and power sockets for charging your phone.
If you are looking for something a little more extravagant, you can book one of the three Malayana Floating Villas, which boasts luxurious air-conditioned bedrooms, private bathrooms and free Wi-Fi.
Whichever accommodation you choose, you know you'll wake up refreshed and recharged. Savour a scrumptious breakfast before making the delightful decision of what to do next. Pan for ore in the Tin Valley or swing out on a Dragon Flight? The adventures of a new day beckon.
Avoid the last-minute school-holiday crush and lock in your leave – book your Camp Out at Sunway Lagoon or Glamping at Sunway Lost World of Tambun package now.