Looking Ahead to 2018: Property market poised to roar back to life
SINGAPORE — After several years in the doldrums, the recovery of the Singapore property market will be in full swing in 2018, experts say.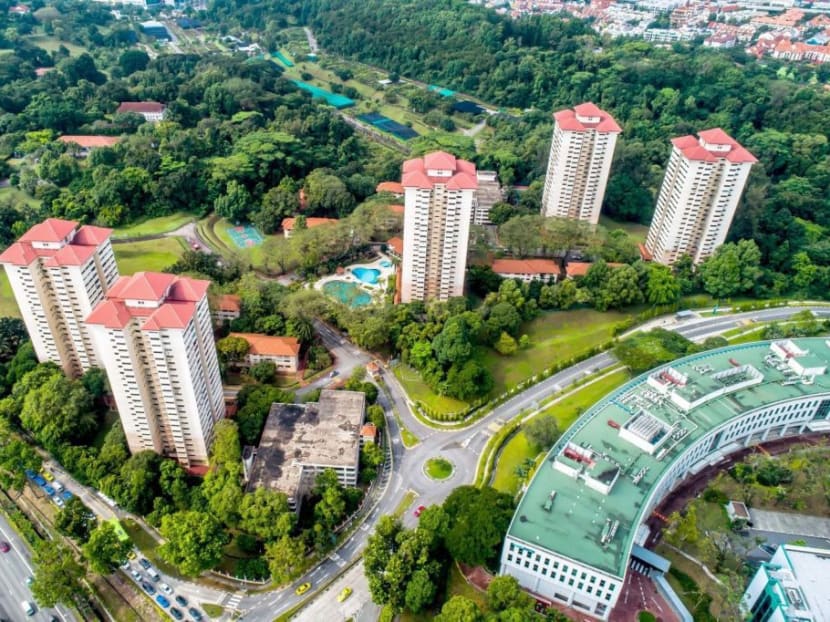 As the year draws to a close, TODAY kicks off a series looking at key issues on the local and foreign front in the next 12 months. In Singapore, we look at what lies ahead in areas ranging from political succession, climate change and the terrorism threat, to public transportation, electronic payments and sports. Beyond our shores, the focus will be on the Malaysian general election and Singapore's chairmanship of Asean. In the third instalment of the series, we examine the outlook for the property market.
SINGAPORE — After several years in the doldrums, the recovery of the Singapore property market will be in full swing in 2018, experts say.
The jury is still out on whether concerns over a potential supply glut are warranted, but experts point out that how the market shapes up next year will depend very much on demand from buyers. This, in turn, hinges on the one major lever which the Government could yet call upon: The cooling measures, several of which — including the Total Debt Servicing Ratio (TDSR) — have remained in place since 2013.
The predicted market rebound will take place against a background of improved economic showing and jobs market for Singapore. The Republic's economy had expanded 5.2 per cent year-on-year in the third quarter, the fastest pace in more than three years, prompting the government to raise its full-year economic growth forecast for this year to between 3 and 3.5 per cent, up from 2 to 3 per cent. .
"(Property) prices are picking up because of... the higher economic growth, low unemployment and stronger buyer confidence," said ERA Realty's key executive officer Eugene Lim.
Mr Ong Teck Hui, national director of research and consultancy at JLL, added: "Many buyers are back in the market to make their purchases before prices rise too much. This phenomenon is typical during the recovery phase of the market cycle when sentiments are positive and demand is healthy."
ABUNDANT SUPPLY
Analysts first saw signs of an upturn in market sentiment at the beginning of this year when units at new project launches were snapped up quickly. The unexpected relaxing of the cooling measures in March also breathed new life into a market which had previously contracted for 15 consecutive quarters.
The partial easing entailed adjustments to the Seller's Stamp Duty (SSD) and TDSR, with the holding period for the SSD shortened and the rates lowered because speculative flipping of properties had declined significantly. Mortgage equity withdrawal loans with loan-to-value ratios of 50 per cent or less were also excluded from the TDSR framework to give home owners greater flexibility to monetise their properties for retirement needs.
Transaction volume this year is expected to hit around 21,000 to 23,000 (excluding executive condominium transactions) units, according to analysts, which is almost 30 per cent higher than last year's 16,378 units.
For next year, the analysts expects transaction volume to grow 10 to 30 per cent. "Sales volume should be buoyant given that more en bloc redevelopment will result in a spike in the number of units," said Ms Christine Li, director of research at Cushman and Wakefield.
Developer sales volume could end 2017 at around 10,500 to 11,000 units, said Mr Ong. 
Latest Urban Redevelopment Authority statistics showed that unsold residential stock has fallen by about half in the last four years, from more than 32,000 units in the third quarter of 2013, to 17,421 units as of the third quarter this year, Mr Ong added. If the "buying momentum" is sustained into 2018 and 2019, the unsold stock of 17,421 units would be depleted "in less than two years", he noted.
Describing recent Government Land Sales (GLS) programmes as "conservative", Mr Ong said the potential supply from the redevelopment of collective sale sites which were sold since the middle of last year would be "timely in augmenting the supply". He added: "This should have the effect of avoiding an under supply situation, and allowing prices to appreciate more moderately rather than rise sharply."
While the Government has flagged the risk of an oversupply — with the Monetary Authority of Singapore last month urging developers, potential buyers and banks to "proceed cautiously" — some analysts have played down such fears. They pointed out that the redeveloped properties from the recent surge in en bloc sales would only come onstream in 2020 and 2021. For example, a report released earlier this month from Maybank Kim Eng analyst Derrick Heng said it was "far too early" to worry about a potential oversupply of private homes.
However, ZACD Group executive director Nicholas Mak questioned whether there would be enough demand to absorb the supply, including in a few years when units from the redeveloped properties are completed. He noted that the high demand and elevated top bids for recent private residential land tenders were driven by developers eager to build up their land banks.
Policymakers will be watching the market and they could intervene if there are runaway increases in prices or a potential supply glut, said Mr Mak.
"Perhaps a policy to increase the minimum size of an apartment for example (which would limit the number of units at redeveloped sites)... It could be an urban planning measure," he added.

ROBUST DEMAND
The en bloc fever this year, coming almost a decade since the last one, had surprised many analysts. They noted that the sales commanded higher than expected prices.
Mr Ong said: "To-date about S$8.5 billion worth of residential en bloc deals have been concluded in 2017, which is the highest sales value since 2007 when a record total en bloc sales value of S$11.9 billion was achieved."
He attributed the frenzy to "developers' hunger for fresh sites", the limited supply of land from recent GLS programmes and the impetus of a market recovery.
Overall, the developments in the market showed that confidence is returning, the analysts noted.
Redbrick Mortgage Advisory director Eugene Huang said the company has seen enquiries on potential new property purchases increased by 25 per cent in the fourth quarter of this year compared to the same period last year.
He noted a concern among prospective home buyers about the continued interest rate hikes by the United States Federal Reserve.
The three-month Singapore Interbank Offered Rate (Sibor) - the benchmark rate for most residential property loans here – has risen from 0.969 per cent on Jan 3, to 1.212 per cent as of the middle of this month. It is expected to go up further, in line with the Fed interest rate hikes next year.
Mr Huang noted that about seven in 10 of his customers are choosing to take up fixed rates. "They seem more concerned about property price (increases) next year and are choosing to make their purchases now," he added.
The company is seeing a higher number of applications with property purchase prices that are higher than previous transactions. "This phenomenon is usually evident in an up trending market," he said.
Mr Huang predicts a "very vibrant" market next year. "Developers will start launching plump, prime sites which they acquired last year - most of which are in mature estates. We should be seeing aggressive marketing by developers right after Chinese New Year, when the market usually awakens after the year-end lull," he said.
Describing buyers' sentiment as a "self-propagating phenomenon" to some extent, Mr Lim said: "As more people buy, it sends the signal that there is optimism in the market, and this prompts more people to join in the buying."
In the wake of the en bloc fever, analyts expect a wave of money to be injected into the market next year — particularly in the second half of the year — by home owners who received a windfall from the collective sales.
Ms Li said: "We are expecting (owners who sold their units in the en bloc sales) to return to the market with their proceeds looking for replacement homes. Displaced tenants will also return to the leasing market. This could help to reduce vacancy rates in the residential market in the face of dwindling supply completion."
PRICES SET TO SPIKE
With the market poised for a full recovery, analysts said property prices are expected to increase by between 5 and 10 per cent in general next year, with those in selected areas such as estates near upcoming MRT stations on the Thomson East Coast Line going up by as much as 15 per cent.
In comparison, prices are expected to rise this year by between zero and 1 per cent, reversing a decline of 3.1 per cent last year.
Ms Li noted that 2018 will be a better time for owners looking to sell their properties, although they could face keen competition for new homes from those who sold their units in recent en bloc sales.
Predicting a "sellers' market" next year, she said: "Home buyers should consider scouting around for existing launches or resale properties because the prices have generally been quite stable especially for larger units."
For those looking to upgrade, Mr Huang advised them to make their purchases first, and try to sell their properties later. "Home buyers should really start shopping soon, before the market does into exuberance," he said.
*On Wednesday (Dec 27), watch out for our report on political succession in Singapore.