Looking Ahead to 2018: A year of reckoning for S'pore's cashless ambitions
SINGAPORE — After several stop-start attempts, 2018 looks set to be year when Singapore takes a giant stride towards becoming a cashless society, with major nationwide initiatives in the pipeline next year.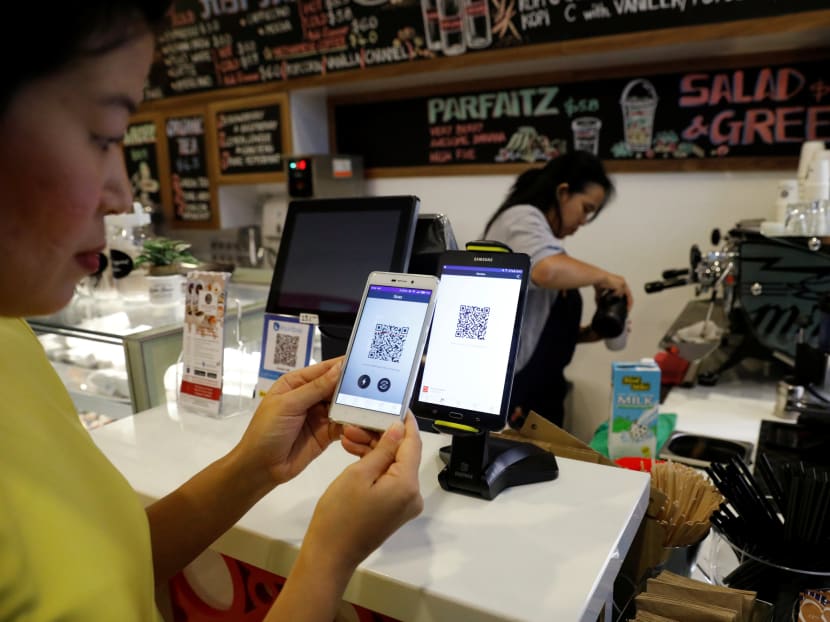 As the year draws to a close, TODAY kicks off a series looking at key issues on the local and foreign front in the next 12 months. In Singapore, we look at what lies ahead in areas ranging from political succession, climate change and the terrorism threat, to public transportation, the property market and sports. Beyond our shores, the focus will be on the Malaysian general election and Singapore's chairmanship of Asean. In the second instalment of the series, we look at how Singapore's bid to wean consumers and businesses off cash could finally take off following a few false starts.
SINGAPORE — After several stop-start attempts, 2018 looks set to be the year when Singapore takes a giant stride towards becoming a cashless society, with major nationwide initiatives in the pipeline next year.
The Monetary Authority of Singapore (MAS) is rolling out a common QR (quick response) code system next year, which any payment provider can use.
Concurrently, Nets — the largest payment networks in Singapore — will implement its QR code system to all its 100,000 acceptance points by the middle of 2018. From June onwards, PayNow, a service which allows inter-bank transfers using just mobile numbers or personal identity numbers, will also be extended to businesses. This means businesses will be able to pay each other, or receive payments from customers, through their registration numbers, or Unique Entity Numbers.
These upcoming initiatives will come as other parties, such as ride hailing app Grab and Chinese payment provider Alipay carry out plans to roll out payment solutions targeting cash-based merchants.
Taken together, these measures could be game changers, with consumers and businesses expected to reap the benefits, experts say. However, several obstacles could arise including the growing concerns over the security of QR codes.
E-PAYMENTS PRIMED FOR TAKE-OFF
Attempts in the past at making electronic payments mainstream in Singapore had met with roadblocks, such as the lack of interoperability, but 2018 might just be the year that such modes of payment can finally take off.
In the past year, the authorities as well as the banks have gotten together to bridge the divide, resulting in several payment initiatives that consumers can use regardless of which bank or providers they are with.
The lack of interoperability – meaning a single system where all e-payments can be paid, whether via a phone, credit card or an ATM card – have previously caused confusion among consumers and led many to revert to older forms of payment, such as cash or credit cards.
For instance, near-field communications contactless mobile payments were not available on all phone models or at all merchants.
Terminal and transaction fees have previously also put small businesses off from offering Nets or credit card payments.
For its QR code system, Nets has said it would waive the fees for the initial three years.
Café owner Jessie Tan, who has only been accepting cash payments from customers, said that she might finally start accepting electronic payments with no fees.
"However, I would prefer using QR codes as it seems more idiot proof, my customers or suppliers don't have to key in my business registration number," she said, referring to the options that would be available for merchants next year.
Mr Paddy Tan, 42, is among more than 600,000 people who have registered to use PayNow since it was launched in July.
The digital fund transfer system enables customers of participating banks to send and receive money instantly using their mobile phone number or NRIC/FIN. This removes the need for customers to know the fund recipient's bank account details to transfer funds.
Mr Tan, who is a businessman, said: "Mainly we use it to pay for food and drinks, to split costs, I can pay them the exact amount without having to return any change or coins. In the past, I would tabulate the costs first, like after asking people to help me buy 10 coffees, then I will pay them one shot."
Mr Tan is the founder of Interventures Asia, a firm which helps startups with their strategies. He said he will consider using PayNow for his business when it is extended to companies next year. "I will only do it if it is not a big amount, like reimbursing staff for their petty cash claims. For salaries, I will still stick to Giro as it is pretty seamless," said Mr Tan,
According to the MAS, some potential business uses of PayNow could include salary payments, receiving insurance claims, or paying taxi drivers. It is expected that smaller businesses will be the ones using the services. Mr Andrew Lee, the owner of a small design consultancy, said he is open to using this system to pay his freelancers.
POTENTIAL ROADBLOCKS
But even as newer forms of payments are taking off, fraudsters are already hard at work. In China, there have been incidents where scammers paste fraudulent QR codes over the merchants' genuine ones.
"These QR codes then initiate a download of malicious software which steals data and allows fraudsters to gain access to customer bank accounts," said Mr Michael Yeo, a research manager at IDC Financial Insights. Such malicious software could also direct payment transfers to the scammers' accounts instead, added Mr Japnit Singh, deputy chief executive of Spire Research and Consulting.
Mr Yeo said: "This is perhaps one of the drawbacks of the simplicity of the QR code. As a consumer we cannot differentiate between real and artificial ones just by sight alone and they are quite easy to tamper with."
Companies that produce QR code labels are trying to come up with codes that are tamper-proof. Mr Yeo added: "There is a way to create a list at the backend that only allows authorised QR codes to be scanned. This would work for large retailers, but the mass of small retailers would definitely not be able to or have the means to get registered."
The Cyber Security Agency (CSA) and Info-communications Media Development Authority urged merchants to be vigilant by checking their QR codes regularly.
"This is to ensure that the QR codes are not modified by criminals to conduct malicious activities that will affect the consumers," both agencies said in response to TODAY's queries.
CSA's Singapore Computer Emergency Response Team (SingCERT) noted that so far, the only known QR code scam involves the pasting of a fraudulent sticker over an authentic QR code. To date, it has not received any reports of scams involving QR codes in Singapore.
Still, CSA urged consumers to be vigilant: "Before scanning the QR code, users should check for signs of tampering. They should not proceed if there are such signs." Users should also verify that the QR code is from a legitimate and trusted source, CSA said. They can do this by verifying with the merchant that the code is valid.
Technologies are also in place to weed out fake QR codes, said SingCERT. There are QR code readers which block malicious sites before pages are loaded on consumers' mobile devices, for instance. Fraudulent QR codes might initiate download of malicious software which may direct the phone browser to go to malicious sites.
In response to queries, banks here said they have several security measures in place for their mobile wallet applications which allow QR code payments, among other things.
Both DBS and OCBC said they have biometric authentication in place. Nevertheless, OCBC advised customers not to store fingerprints of multiple people on their devices, and to check their transaction history for any irregularities.
Amid the push for hawkers in particular to adopt cashless payments, some of these self-employed individuals have expressed concerns that should they come onboard, the taxmen could go after them for previously under-declaring their income as their earnings will now be electronically documented.
While Nets, for example, is waiving the fees for the first few years, the charges — likely to be below 1 per cent of the transacted amount, the company said — will be imposed on merchants thereafter. When that happens, it remains to be seen if merchants will still bite, the analysts said.
All things considered, 2018 could make or break Singapore's long-held ambitions to go cashless.
"While this year we have seen the entry of new players in the Singapore market, it will be in the next year that we start to see how this reality starts to pan out, who the major players will be, as well as the reality of market acceptance... and ultimately whether or not Singapore can really be turned into a truly cashless society," Mr Yeo said.
On Tuesday (Dec 26), watch out for our report on Singapore's property market in 2018.