Online grocery stores heading for the fast lane
SINGAPORE – It's slightly past 10 on a Monday morning. Mrs Samantha Chung's mobile phone rings, jarring her out of a fitful slumber that had been interrupted the entire night and morning by a sick toddler and a teething baby.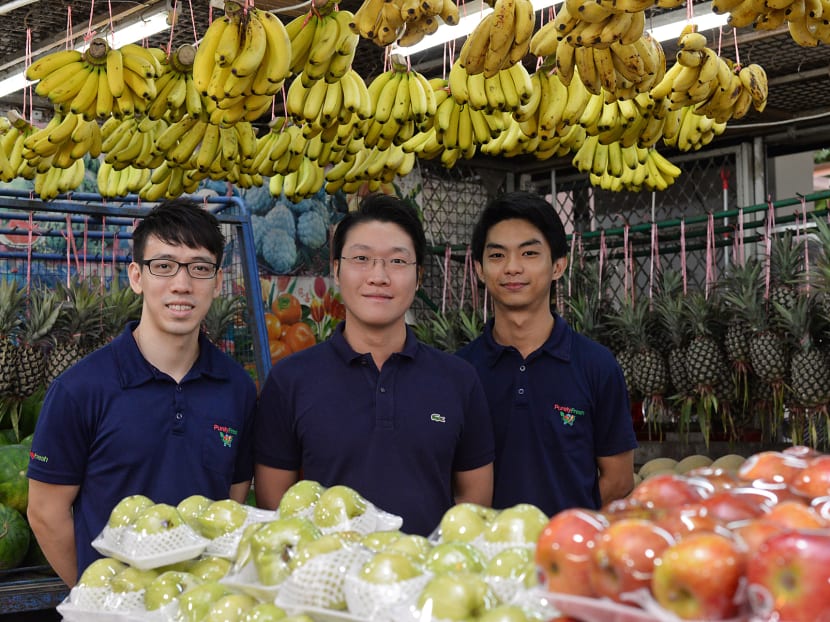 SINGAPORE – It's slightly past 10 on a Monday morning. Mrs Samantha Chung's mobile phone rings, jarring her out of a fitful slumber that had been interrupted the entire night and morning by a sick toddler and a teething baby.
"The brand of eggs you ordered is not available," a lady on the other end of the line says. "Would you like me to replace them with Pasar Fresh Eggs instead?"
Mrs Chung sits up, confused. Then she remembers. She had placed her first online order for some groceries the night before at 11pm.
At FairPrice Xtra Kallang Wave, a lady in a yellow T-shirt with a bee motif finishes a conversation on her phone, carefully selects a tray of Pasar Fresh Eggs from the shelf, then places it in her shopping cart. She checks the shopping list on her phone again, expertly going from aisle to aisle to collect two tins of infant formula, a carton of whipping cream, a bag of tomatoes, a round of lettuce, some mangoes and a packet of fresh chicken breast.
Ten minutes later, after checking out the items and bagging them in three sunny yellow carriers, she pushes the cart to a waiting van filled with multiple other bags – some in large transparent containers, others in cooler boxes – and hands over the package. Waving goodbye to the delivery guy, Susan heads back into the supermarket with the now-empty cart, whips out her phone to look at another shopping list and begins filling up the trolley again.
On that Monday, Susan would eventually complete 15 orders in her four-hour shift, helping Mrs Chung and 14 other customers do their grocery shopping.
Susan is one of about 1,200 personal shoppers and delivery personnel globally who work for honestbee, one of the latest players in Singapore's increasingly competitive online grocery market.
"E-commerce has taken off in a big way, breathing new life into the commoditised retail sector and transforming the way business is being done in something as routine as grocery shopping," said Mr Lyon Poh, Head of Digital and Innovation at KPMG in Singapore. "New operational models focusing on service excellence and delivery, coupled with the convenience of being able to shop at any time, any place, have made online grocery an attractive option."
MOVING PAST THE SUPERMARKET LINE
The offline grocery market in Singapore is worth about S$8 billion, while online grocery retailing is worth at least S$120 million taking the combined sales of major players like Fairprice Online, Cold Storage Online and RedMart, according to Euromonitor International. With online sales making up only about 1 to 2 per cent of the entire grocery market in Singapore, there's plenty of room for growth.
Honestbee's growth has been quite rapid, to say the least. The company in October raised US$15 million in a Series A round led by venture capital firm Formation 8 and several other investors, including YouTube cofounder Steve Chen and former Facebook and YouTube CFO Gideon Yu.
Since its launch in Singapore last July, the company has expanded to Hong Kong, Taipei and Japan's Niseko, where it has a pop-up store, and plans to enter Kuala Lumpur, Manila, Jakarta, Bangkok and Tokyo by mid this year. Already, as of January, it has travelled about 283,000 kilometers, or about seven times around the Earth.
The company, which promises deliveries in as quickly as an hour, works on a revenue-share agreement with 12 partner merchants in Singapore, including NTUC FairPrice, Pet Lovers Centre, jones the grocer and GNC, assigning their shopper and delivery bees to handpick and deliver the groceries. Customers can choose to shop from multiple stores in one order.
"The consumer likes convenience. That's a general trend in our lives where we want things to be faster, cheaper, more efficient," said Mr Joel Sng, co-founder and CEO of honestbee.
"Stores have a finite amount of hours in which they stay open. There are some that are 24 hours these days. But the stores are also very large … We have close to 20,000 products that you could browse through on your tablet, or phone or your computer, and to do that in a physical store is going to be quite tiring. Being able to buy at midnight or 2am in bed or in the toilet, anywhere, that's not a problem. You don't have to dress up, you don't have to travel and you don't have to lug it back home," he quipped.HIGH INTERNET ADOPTION HELPS ONLINE GROCERY GAIN TRACTION
With Singapore's Internet penetration rate in 2014 among the highest in Asia at 82 per cent, according to World Bank data, e-commerce has taken off in a big way, giving consumers access to a sea of choices at the click of a mouse.
"The proliferation of the Internet saw online shopping become an integral part of our everyday lives … Grocery players are actually pretty late to online retailing, but they can surely leverage on the steadily increasing appetite for online shopping in Singapore," said Euromonitor International analyst Lim Yu Xian.
According to InfoComm Development Authority (IDA) data, about 1.44 million Singapore residents shopped online in 2014, increasing at a compound annual growth rate of about 14 per cent from 2012. About 15 per cent of online shoppers bought food or grocery-related items, IDA data showed, while 7 in 10 shoppers spent at least S$100 on their online purchases.
"A high internet penetration rate, particularly among the young Gen-Z and Millennial segments who are fast adopters of technology, also explains why online grocery is gaining traction," said KPMG's Mr Poh.
Between 2012 and 2014, the highest proportion of online shoppers were in the 25-34 year age group, followed by 35-49 years, and 15-24 years, according to IDA.
"I have an eight-month-old whom I need to babywear when going out. And also a four-year-old. So it's a big hassle to deal with both of them at the same time while grocery shopping. Online shopping I can do in the middle of the night. No need to deal with a preschooler bugging me to buy treats for him or asking me to bring him to toilet, or changing the baby's diaper," said Ms Kwan Xiuwen, a homemaker, who shops at RedMart.
As Singapore's population ages, the more educated senior citizens who may not be as mobile as before could also see the benefit of having their daily necessities delivered to their doorstep, added Mr Poh.
Tech adoption figures among senior citizens does seem to lend some credence to this. In 2014, the Internet usage rate by senior citizens aged 50 to 59 and 60 and above rose significantly to 75 per cent and 31 per cent, respectively, an increase of 24 and 15 percentage points from 2012.
COMPETITION HEATS UP
Although there is opportunity for yet more growth in the online grocery market, analysts say competition is heating up quickly, exerting pressure on service providers to better their game.
Aside from honestbee, which markets itself as providing on-demand personalised service from multiple stores in the same order, several other online grocery providers are carving out a niche for themselves.
There are online grocers dedicated to selling only Indian products (www.myonlinegroceries.com), French ingredients (www.thefrenchgrocer.com and www.quartier.sg), organic food (theorganicgrocer.com) and halal items (halalmarket.sg), among others.
There's also GoFresh, which seeks to provide gourmet items including crabs, lobsters, oysters, steaks and veal and partners directly with fishermen, farmers and artisans around the world. And PurelyFresh, which owns five wet markets in Singapore, and banks on supplying a larger range of fresh produce from their butchers and fishmongers.
PurelyFresh, which entered the online market in July 2014, provides a customisation service for customers who want their fish sliced or pork minced, for example. And so confident are they of the freshness of their produce that they offer a 100 per cent money-back guarantee for unhappy customers. Their website lists about 3,000 items, including 500 fresh products.
"Youngsters don't really go to wet markets these days. We created PurelyFresh to cater to these youngsters as well as to the working adults and those who generally don't have time to do their grocery shopping," said Mr Desmond Khoo, founder and CEO of PurelyFresh.
"In Singapore, time is very precious. We want to save time for our customers and help them get the freshest items without the hassle of having to go to a market or supermarket," he added.
PurelyFresh has processed about 30,000 orders since its inception, which its 20 drivers fulfil. The selection of the items, customisation and packaging all take place at the wet markets.
The company's history began with a single vegetable store Mr Khoo's family rented at a market in Woodlands back in 1998, where a young Mr Khoo recalls spending most of his days and even nights.
Today, PurelyFresh – whose revenue growth Mr Khoo estimates to be about 20 per cent month on month – is in talks with some supermarkets for partnerships, and may also engage in more indepth discussions in a year or two to take the business to Malaysia or Thailand, Mr Khoo said.
TRADITIONAL PLAYERS DEFEND THEIR TURF
Competing with these online players are the traditional supermarkets, as well as RedMart, one of the earliest players in the online grocery market. According to CrunchBase, RedMart has garnered about US$55.1 million in six rounds of funding as of August last year. Facebook co-founder Eduardo Saverin is one of its investors.
Founded in 2011 as a pureplay online-only grocer, RedMart has no storefront, operating out of a 100,000-square foot warehouse with 75 delivery vehicles and about 550 employees, CEO Roger Egan told Tech in Asia late last year. Its inventory are picked and sourced from in-house fulfillment centers then delivered via its RedMart vehicles.
Not content to be cast aside in their grocery turf, traditional supermarkets are upping their game.
"In fact they are in a good position to give online players a run for money," said Euromonitor's Ms Lim. "Multi-channel players have access to existing inventory in stores and owning a physical presence makes it easier for them to roll out click-and-collect option. They also offer a wider selection of non-groceries and tend to have stronger supplier relationships due to years in the business."
Cold Storage was the first supermarket in Singapore to offer its merchandise online in 1997. Towards the end of 2013, Giant and Sheng Siong both launched their online shopfronts, while leading retailer FairPrice introduced a click-and-collect service in 2014. In August last year, FairPrice also revamped its mobile app to make online grocery shopping even more convenient. It is currently in the midst of enhancing its current system, and is expected to release more details in the second quarter of this year.
The grocery titan – which stocks about 6,000 items on its online platform – has more than 200,000 online subscribers currently, up by over 70 per cent from last year. Its online sales have increased by about 20 per cent year-on-year.
"We see online shopping as a complementary service to our physical stores," said Mr Dominic Ng, Deputy General Manager (Online), NTUC FairPrice. "FairPrice Online is popular with working adults and those with busy lifestyles who are always on the go. It has also become popular with shoppers who wish to order groceries for their aging parents to save them from having to shop at the store or carry bulky or heavy items."
Both honestbee and PurelyFresh say they have also noticed a growing trend of customers ordering groceries for their parents.
"It's a function of outsourcing your love," honestbee's Mr Sng quips. "If you have that one once-a-week-time with your parents, do you want to spend two hours of that going to the grocery store, or do you want to take them out to a movie or to Gardens by the Bay or Sentosa?"
PHYSICAL STORES STILL RELEVANT
But despite the changing retail landscape, brick-and-mortar stores are largely unaffected by Internet retailing and will be hard to replace, analysts say. Some consumers still prefer to touch and feel a product before purchase, especially for fresh produce. Moreover, many families treat grocery shopping as bonding time, and this something the online experience cannot offer.
"Brick-and-mortar stores also serve the purpose of catering to single item/ low value purchases as it is unprofitable for businesses to offer online delivery for such purchases," said Ms Lim. "In fact, outlet growth is looking stable for hypermarkets and supermarkets. With more new towns sprouting up, there are still opportunities for the offline market to grow."
The online grocery providers also recognise that, and say they do not believe that physical grocery stores will disappear, nor should they disappear.
"My personal view is that online grocery stores is complementary to physical retail stores. But as technology improves, as customers become more open to purchasing items online, what you'll start to see is that they will demand a different type of experience in the physical store. (The stores) will need to put in a bit more of that see, touch, feel and taste into the shopping experience," said honestbee's Mr Sng. "Humans by nature still would want to go out, still would want to explore. But they don't necessarily need to search and hunt, because that searching and hunting for that product happens a lot more easily online."
Name of company: NTUC FairPrice
Website: www.fairprice.com.sg
Delivery charges: S$10.70 for orders S$60 and below and S$7.49 for orders above S$60. Free delivery for orders S$150 and charged to Plus! Visa / NTUC Plus! Visa Credit / Debit Card.
Most commonly purchased items: Milk powder, diapers, rice, soft drinks, coffee and various paper products.
Name of company: honestbee
Website: https://honestbee.com
Delivery charges: Free for first-time customers. Subsequently, a minimum order of S$30 is needed to qualify for free delivery. S$2 concierge shopping fee applies.
Most commonly purchased items: fresh whole chicken, lettuce, red onions, white mushrooms and potatoes.
Name of company: PurelyFresh
Website: https://www.purelyfresh.com.sg
Delivery charges: Free delivery for orders above S$69. The minimum order is S$39, with a S$6 delivery fee charged for orders below S$69.
Most commonly purchased items: Fresh Norwegian salmon, grey prawns, Australian broccoli, minced pork, red grapes