Private housing resale market shines as buyers get off sidelines
SINGAPORE — After waiting more than one year for an opportune time to purchase a condominium to house his family of three, Mr Amrit took the plunge in early 2015 after coming across a resale unit in his choice location with a "reasonable" price tag.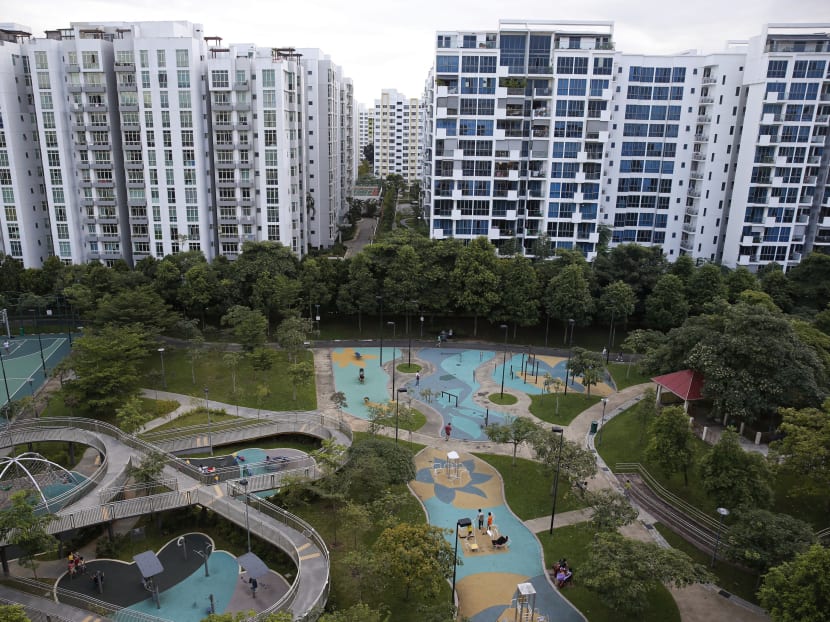 SINGAPORE — After waiting more than one year for an opportune time to purchase a condominium to house his family of three, Mr Amrit took the plunge in early 2015 after coming across a resale unit in his choice location with a "reasonable" price tag.
He had always intended to upgrade to a private home, and when prices for Housing and Development Board (HDB) flats started falling in 2013, he decided to cash out before the value of their four-room flat dipped further.
But instead of immediately upgrading to a private property, Mr Amrit, who is in his 40s, decided to bide his time and rent a place with his wife and teenage daughter while they went about hunting for the ideal home. This came about one year later, in the form of a two-bedroom resale condominium in the Western part of Singapore.
"We heard that prices would fall even more, so we thought we should take our time to look around," said Mr Amrit, who works in the media industry.
Like Mr Amrit, many homebuyers who are owner-occupiers returned to the market last year after property cooling measures and loan curbs put a lid on private home prices.
SRX data shows that by the end of last year, resale prices of non-landed private residences had fallen 7.8 per cent from the recent peak in January 2014. Analysts said compared with new launches sold directly by developers, some sellers in the resale market have been more willing to price down their properties to secure buyers.
The return of potential buyers on the sidelines helped transaction volume in the resale private homes segment grow by 24.1 per cent to 6,160 sales last year from the previous year, far outpacing the 1.7 per cent increase in sales in the primary market to 7,440 units, showed statistics by the Urban Redevelopment Authority (URA).
"I believe there's pent-up demand that has built up when prices were rising, because a lot of upgrading decisions had to be put on hold then. Now that prices have come down from the peak, it has become a good time for upgraders to buy," said Mr Colin Tan, director of research and consultancy at Suntec Real Estate Consultants.
Property agents note that besides more realistic pricing by sellers, these buyers often look for larger units to house their families and prefer certain locations that many new launches today are unable to provide. As a result, many of them turned to the resale market — a business opportunity that agents have also tapped.
ERA key executive officer Eugene Lim told TODAY that private residential resale transactions done by the agency jumped 33 per cent last year from the previous year.
"Many buyers nowadays are owner-occupiers (and) these buyers have very specific needs — location and size are very important to them. The sizes of new projects are smaller than some of the older ones and developers have also not dropped prices significantly, whereas there are serious sellers in the resale market who are more open to negotiating," said Mr Lim.
"The investment climate is not quite there any more. We see the rental market is not doing so well, so generally we see fewer investors in the market," he added.
Sharing his view is Mr Chris Koh, director of Chris International, who said that rental prospects have dimmed as a result of tighter controls on foreign manpower inflows and the large impending supply of completed homes, with close to 22,000 private homes due for completion this year.
Rents have also taken a hit, falling 7.9 per cent in nine consecutive quarters from the peak in the third quarter of 2013 to the last three months of 2015, showed URA data.
Besides property curbs such as the Additional Buyer's Stamp Duty (ABSD) and Total Debt Servicing Ratio (TDSR) framework, the current economic climate is also adding to the subdued investment sentiment, with slower growth prospects and rising interest rates deterring big-ticket investments such as property.
The analysts said growth in private residential resales will likely continue for the rest of this year, given that prices are likely to fall further and attract more potential buyers on the sidelines to return to the market. In addition, the number of new launches is expected to come down due to the reduction in land supply in the Government Land Sales programme.
However, the return of owner-­occupier buyers to the market would not be enough to lift the overall market that has seen prices decline for nine consecutive quarters, said analysts.
"I don't think prices will come up in the short term because supply is still outpacing demand. In 2015, prices have already reached 2011 levels, so it's starting to look attractive to buyers who have been waiting. By this year, prices would have dropped for three years, I believe more buyers will find it attractive," said Mr Koh.
By the last quarter of 2015, overall private property prices had fallen 8.4 per cent from the recent peak in the third quarter of 2013, showed URA data. This is still shy of the more than 60 per cent increase in prices after the global financial crisis, which prompted the Government to implement cooling measures to prevent the market from overheating.
The Government has repeatedly said the time is not yet right to tinker with the measures. In October, Minister for National Development Lawrence Wong said that even though the market is stabilising, price adjustments so far had been moderate compared with the price increase in earlier years and the Government did not want to "risk a premature market rebound".