The wheel comes full circle
The North-South and East-West MRT lines follow the Radial Rule for investing in Singapore property.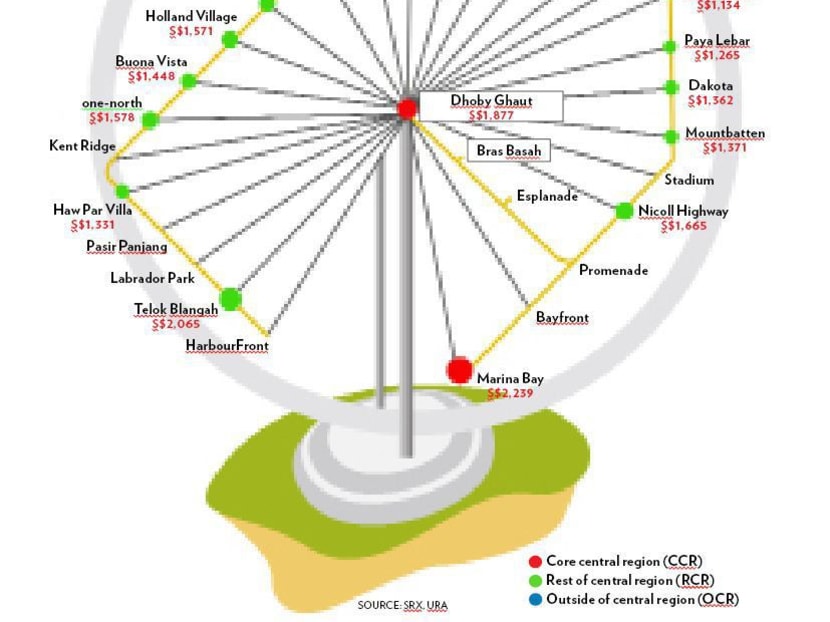 The North-South and East-West MRT lines follow the Radial Rule for investing in Singapore property.
This rule states that as one moves away from Raffles Place MRT Station on either line, the median price per square foot (PSF) of condominiums within 1km of a station drops. There is a recognisable price pattern and this has been rather linear in most cases.
However, the Circle Line does not have such a discernible, linear pattern because, well, it is a rather odd-shaped circle.
This line primarily serves the rest of central region (RCR). From the perspective of property prices, it can be a wild ride.
As you move anticlockwise, PSF drops precipitously from Marina Bay to Nicoll Highway and all the way down to Bartley. There, the train starts travelling back up the PSF track as it moves towards HarbourFront.
After Lorong Chuan, fasten your seat belts. You are in for a roller coaster of a ride, with the median PSF varying dramatically from one station to another. For example, median PSF is S$1,571 at Holland Village. One stop later at Buona Vista, you pay S$1,448. At the next stop, one-north, median PSF is back up at S$1,578. Two stations later, you plunge, like in a roller coaster, to S$1,331 PSF at Haw Par Villa, only to climb up to the dizzying height of S$2,065 PSF three stops later at Telok Blangah. Are you seasick yet?
You might have seen different patterns in the Circle Line from that I have just outlined.
However, one pattern on which we can all agree is that if we start at Marina Bay, where median PSF is S$2,239, and ride the Circle Line all the way to Telok Blangah, we are back in the S$2,000 PSF range. As Edmund in Shakespeare's King Lear said, the wheel is come full circle.
ABOUT THE AUTHOR: Sam Baker is co-founder of Singapore Real Estate Exchange (SRX), an information exchange formed by leading real estate agencies in Singapore to disseminate market pricing information and facilitate property transactions. For more details on the statistics used in creating this article, visit http://www.srx.com.sg/research.