Why the ABSD and other property cooling measures should stay
I bought my first home in Singapore recently. To be honest, I was not exactly keen to buy at this point in the cycle, with prices still high in both absolute and relative terms, but my fiancee and I needed more space than the bedroom in my parents' flat.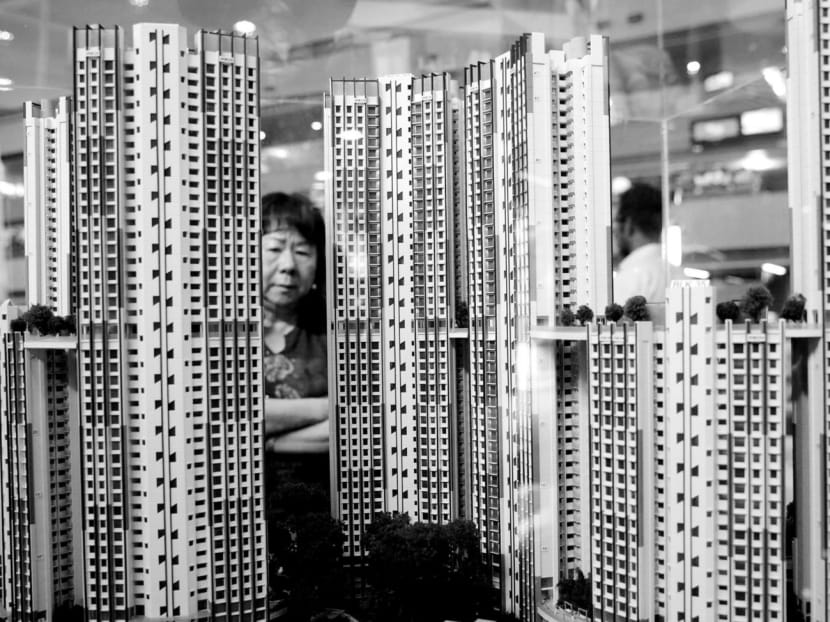 I bought my first home in Singapore recently. To be honest, I was not exactly keen to buy at this point in the cycle, with prices still high in both absolute and relative terms, but my fiancee and I needed more space than the bedroom in my parents' flat.
Besides, prices have eased since the 2013 peak. Private home prices, for example, have been falling for 11 consecutive quarters and the resale market for Housing and Development (HDB) flats has had a similarly weak period, even though the fall in prices is much less than the surge from 2009 to 2013.
As the property market continues to slump, calls from developers to lift cooling measures such as the Additional Buyer's Stamp Duty (ABSD) and other macroprudential policies will no doubt grow louder.
The ABSD is an extra cost that property buyers have to pay, depending on the number of properties they already own. Singapore citizens who are buying their first residential property do not need to pay this stamp duty.
In my opinion, policymakers would do well to ignore calls to do away with these measures. I would even suggest that they tighten policies further to make it more difficult or expensive for Singaporeans and foreigners alike to acquire second and subsequent properties.
My family and friends think I am crazy to suggest this. After all, as a homeowner now, I should have a vested interest in seeing property prices soar, and investment demand is a key driver of capital growth.
However, my motivations are not purely monetary nor short-term.
Unlike the estimated 10 per cent of Singaporeans with two or more properties, I own just one. It is not for investment, but it is the home my family and I live in. The size and duration of my mortgage for this home means that this will remain my only property for quite a while.
I have no interest in seeing property prices soar, because when the time comes for me to upgrade my home (as the size of my family grows), I will have to trade in my presumably slightly more expensive home for a much more expensive one, and my children may not even be able to afford their own home without my help in the future.
When the latest raft of property cooling measures was announced in 2013, the Government said that it was "significant, but temporary" and would be "reviewed in future depending on market conditions". I believe it should be made permanent.
I say this because, much like the situation is with buying cars or smoking, the actions of a few may impose significant costs upon the many (what economists call externalities); it is for this reason that we tax and regulate cigarettes and cars heavily.
Accordingly, I would argue that the generally higher prices and increased volatility that result from investors or speculators buying and selling multiple properties in land-scarce Singapore imposes significant costs on the greater public, and such activities should be discouraged somewhat with taxes and regulations while largely preserving free-market principles.
My point is an ideological one at its core. To a buyer, a residential property is part financial asset, part basic human need. Proponents of a laissez-faire property market forget that housing is not just another investment and that, for the overwhelming majority of buyers, each house is also a home — a sanctuary that helps to build and stabilise family life because of the security it provides.
When the cost of acquiring property becomes prohibitively high, as is the case in cities such as Hong Kong and London — driven by foreign investment flows and extraordinary monetary stimulus — we may condemn an entire generation of young people and couples to sharing rental flats or rooms or living with their parents well into their adult years. This may have implications for the country's push to get more young people to start their own families and boost fertility rates.
To be fair, our Government has long recognised the importance of affordable housing, and thanks to the (heavily subsidised) public housing programme, Singapore boasts one of the highest rates of home ownership (more than 90 per cent) in the developed world.
There are those who will point to this statistic as proof that the status quo is fine, but consider that in 2013, then-National Development Minister Khaw Boon Wan was reported as saying that the HDB was a "price setter" and he hoped to price new HDB flats in non-mature estates at around four times the annual median salary of a buyer, or about 30 per cent less than the average 5.5 times at the time.
That was, he said, so that prices would return to what they were "before the bull run of the last six years".
However, in the three years since the cooling measures were introduced, URA data show that average prices across both private and resale HDB markets have only declined 10 per cent. I would argue that such official statistics suggest the market remains significantly distorted and that further policy intervention/tightening is therefore justified.
Furthermore, the HDB's deficit has shot up from S$143 million in FY2010/11 to about S$2 billion per annum in the last two years, with Mr Khaw saying last year that it would "continue to remain high" in the next few financial years.
This is a function of the increased number of HDB units the Government is building to help meet demand, but it is also a reflection of the widening gulf between prices charged and the development costs. The largest component of this is land that the HDB buys from the state at market prices.
With my proposed call to keep up property cooling measures such as higher stamp duties, these would further dampen investment demand, the market values of private property and land costs should decline, while the extra tax revenues raised could be earmarked for the HDB to help fund future deficits or build reserves for the longer term.
And for the majority of Singaporeans who own or will own the one home they live in (usually an HDB flat), they would be no worse off, and would not be directly affected by the ABSD or other cooling measures.
Echoing the expressed views of Mr Khaw, the era of skyrocketing property prices is probably at an end with slower economic growth being observed globally and interest rates beginning to normalise, led by the United States Federal Reserve.
Furthermore, households today can no longer rely on rapid inflation or wage growth to help cut the real burden of their substantial mortgages.
Considering the gradual pace of the correction, and with reports of developers circumventing cooling measures such as the Qualifying Certificate by setting up shell companies to buy unsold units, I believe there is certainly scope to tighten regulations and increase taxes on investment properties further, and the Government should do so sooner rather than later.
ABOUT THE AUTHOR:
Charles Tan Meah Yang is co-founder of 31-East.com, a start-up that aims to tackle waste, corruption and inefficiency in the property sector.