Relooking new homes and resale homes in a soft market
The private home market has been experiencing, for the most part, sluggish sales and a prolonged but gradual price decline as the Total Debt Servicing Ratio (TDSR) framework continues to curb buying power.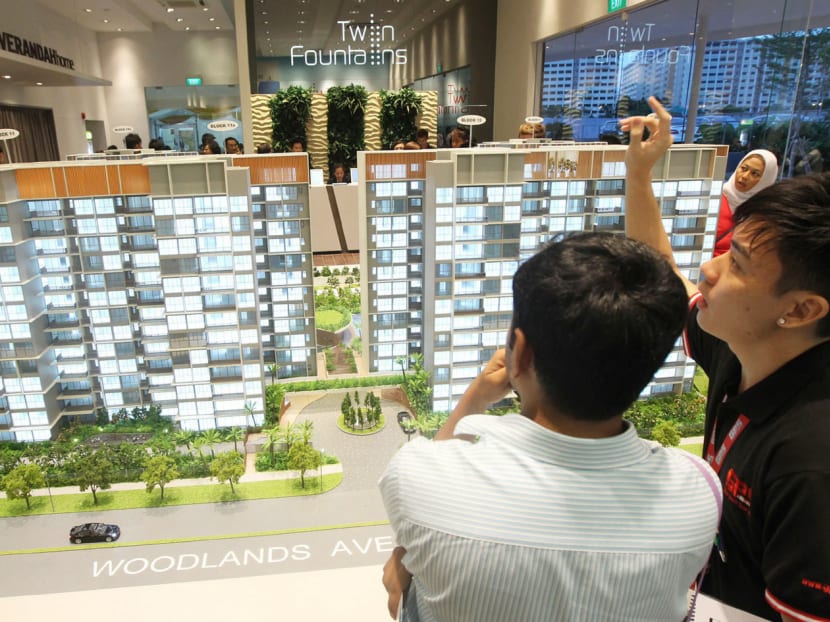 The private home market has been experiencing, for the most part, sluggish sales and a prolonged but gradual price decline as the Total Debt Servicing Ratio (TDSR) framework continues to curb buying power.
While prices of resale homes are lower than those of developer sales, buyers tend to reserve their TDSR limits for a new property largely because of newer designs. However, buying interest at developer launches is very price-sensitive and in the absence of unique selling points, buyers will hold back in this persistently soft market. Recently, North Park Residences and Botanique at Bartley achieved encouraging sales, with the former offering an integrated-use development concept and the latter positioned as a quaint residential enclave.
Buying a property from the developer is a much more passive affair than purchasing a home on the resale market. While resale property buyers often meticulously scout for value deals and negotiate assiduously, those buying at launches can only either accept or refuse the price set by developers.
In soft market conditions, developers either have to cut the selling prices for all units, or in batches if the project is a big one, or face the risk of buyers walking away. The current practice of selling all units based on a standard price set by the developer has been going on for decades. Perhaps, it is time to rethink the pricing mechanism, especially as buyers' preferences and requirements have become more diverse and fluid.
Developers launching projects in these soft market conditions can consider setting aside about 15 per cent of total units with prices open for negotiation. These are likely to be the units with the weakest attributes in a project and perhaps the developer can set a reserve price in advance. The interested buyer can put in a price and have the developer notify him or her in about a week's time on whether it is acceptable. Until then, neither party is obligated to sign on the dotted line.
Others purchasing homes with better attributes at standard pricing may find this acceptable as they are getting a unit in the same project that will likely have a better resale value and investment potential.
The benefit of this strategy is that it allows buyers to be more actively engaged in negotiations while developers will be better able to achieve a minimum sales target despite a soft market. Units with the weakest attributes are sold at competitive prices without hurting the standard pricing of the better units. Sure, there will be many details that have to be worked out, but the suggested changes should provide food for thought.
It is quite unlikely that the cooling measures will be lifted in the immediate future. However, if these measures are to be tweaked, perhaps the resale property segment could be treated separately from new homes, looking at how resale demand and prices have been depressed.
The cooling measures and loan curbs were put in place to ensure prudence in home buying. A resale property is usually priced lower than a new one by up to 20 per cent and buyers often have ready financing, so they are mostly prudent in their purchase. Resale home buyers also assume full financing almost immediately when the transaction is completed, compared to a developer sale where buyers opt for progressive payments.
As such, some relaxation in rules for a completed secondary sale can be considered by the authorities, such as shortening the holding period whereby Sellers' Stamp Duty is payable upon resale, currently at four years.
It can remain at four years for those who buy directly from developers but perhaps it could be reduced to two years for those buying from the secondary market. The Additional Buyers' Stamp Duty could also be waived for Singaporeans buying a resale private property as their second home.
It has been almost two years since the implementation of TDSR in June 2013 and some latent demand has built up during this period. Instead of developer sales, owner-occupier buyers with ready financing capabilities may want to consider units completed in the past few years as resale prices can be attractive with sellers bracing for a wave of new completions this year and next. Those buying a newly completed unit solely for investment may want to hold back, however, as leasing competition intensifies.
Condominiums completed since 2013 have modern designs and impressive facilities. Meanwhile, new projects launched since last year do not feature better designs, as developers cut costs to offer properties at attractive prices after TDSR was implemented in mid-2013. Savvy resale property buyers will also have observed that a significant number of homes are untenanted, and they can use this to drive a harder bargain.
ABOUT THE AUTHORS: Ong Kah Seng and Alex Sun are director and senior analyst, respectively, at R'ST Research, a real estate research firm in Singapore covering all property sectors, including residential, retail, office, industrial, investment, leisure and hospitality.