Singaporeans are ageing fast — let's get planning
I am not bringing up this subject because I see my hairline receding rapidly or because I need bifocals.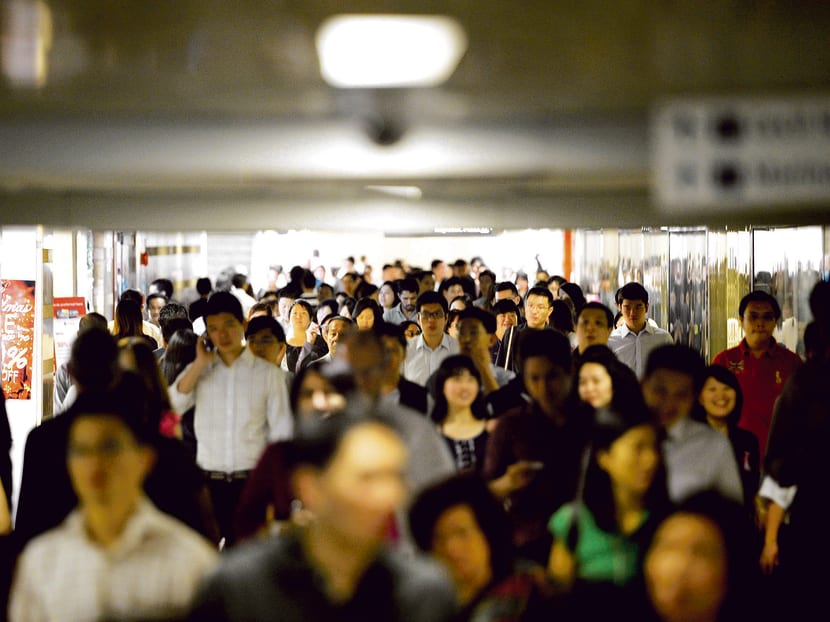 I am not bringing up this subject because I see my hairline receding rapidly or because I need bifocals.
As highlighted in my latest book, Weathering a Property Downturn, if we took a snapshot of Singapore's population tree in 2015 and assumed that the population was with us all the while (that is, no inward or outward migration), 400,000 residents celebrated their 60th birthdays between 2006 and 2015, and in the next 10-year period between 2016 and 2025, more than 600,000 residents will celebrate their 60th year on earth.
Our resident population in 2015 was 3.9 million, of which 700,000, or 18 per cent, were already over 60 years of age. If we froze the population based on the 2015 demographics and accounting for about 19,000 a year for residents who pass away, by the year 2025 at least 30 per cent of us will be older than 60. That equates to more than 1.1 million Singapore residents.
I am not qualified to discuss concerns about the old-age support ratio, which is dropping fast, nor the issues we face when fewer residents contribute to CPF while more draw down on their CPF accounts. I am concerned about whether our master plan has planned for sufficient land for healthcare facilities to soothe my aching bones when I am older.
Need to expand hospital capacity
Our current estimated capacity is 2.3 hospital beds per 1,000 population. While some may deem this ratio adequate, I doubt it will be sufficient in the next 10 years.
First, as a population ages, the demand for beds will increase. Second, our situation was made worse as the big 1.1 million jump in Singapore's population in the past 10 years was not matched by a corresponding increase in the number of hospital beds. Third, our international promotion for medical tourism since 2003 meant that the 2.3 beds per 1,000 population are shared with foreign visitors.
We have received accolades as a world-class healthcare hub. However, we are far behind the world's best in several key metrics. For example, Monaco and Japan lead the world with 16.0 and 13.4 beds per 1,000 population, respectively. And while having 2.3 physicians per 1,000 population might seem high, the World Health Organization ranked Singapore 71st for this measure.
New developments
In the past few years, plans for several new precincts were announced: Woodlands Regional Centre, Jurong Lake District, Paya Lebar Central, Marina South Residential District, Bidadari, Tampines North and Punggol Matilda. In scrutinising each of these areas, I look for land parcels earmarked for healthcare, such as for polyclinics and hospitals.
The 1,400-bed Sengkang General and Community Hospitals, and the 550-bed Outram Community Hospital are currently under construction. The total number of polyclinics across the island, which remained at 18 for more than a decade, is expected to increase to 20 by next year with new polyclinics in Pioneer and Punggol, and then rise to 22 by 2020 when Bukit Batok Polyclinic and another primary healthcare facility opens in Sembawang/Admiralty.
Unfortunately, I am not able to find land allocated for additional healthcare facilities beyond 2020, especially in the new precincts of Bidadari and Tampines North, which are expected to add tens of thousands of homes.
Recommendation
In view of the expected rapid increase in the number of senior citizens, I hope that healthcare and our ageing population will be the top priority when our planners develop Master Plan 2019 (which guides Singapore's development over the medium term of about 10-15 years) and review the Concept Plan (which guides Singapore's development over 40-50 years).
The new land use plan could include building one 500-bed public or private hospital a year between 2021 and 2030. This will bring a total of about 20,000 beds to serve the needs of a bigger but older population of 6.9 million, or a ratio of 2.9 beds per 1,000 population in 2030. Still far from world class, but certainly an improvement from today.
ABOUT THE AUTHOR: Ku Swee Yong is a licensed real estate agent and the CEO of property agency Century 21 Singapore. His fourth book, Weathering a Property Downturn, is available in bookstores.