Making jobs her business
SINGAPORE — When an investor expressed interest in putting money in Ms Huang Shao-Ning's online job portal start-up several years ago, the rookie entrepreneur was naturally excited.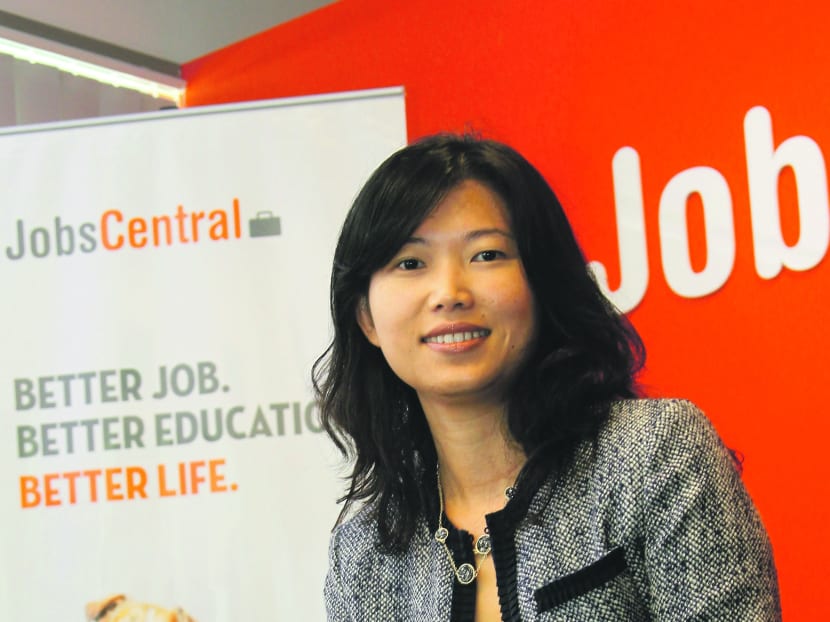 SINGAPORE — When an investor expressed interest in putting money in Ms Huang Shao-Ning's online job portal start-up several years ago, the rookie entrepreneur was naturally excited.
She and her partner invited him and his team to have a closer look at how the business operated, eagerly sharing details about its operations. But as the due diligence exercise dragged on, the pair sensed something was amiss.
"He was the first person who wanted to invest in us, so we showcased a lot of things we developed. But when we saw that his managers were furiously copying everything we said and the meetings carried on for one to two weeks, we knew something was not right," said Ms Huang, who co-founded the JobsCentral Group with her husband Lim Der Shing in 1999, soon after graduating from university.
It turned out the person was more interested in replicating the company's business than investing in it.
"We were very naive then. The lesson we learnt was to not let our guard down so easily," said the 38-year-old.
It was one of many difficult lessons the partners have had to learn during their entrepreneurial journey. Without the generous government-led funding and support available to new entrepreneurs today, everything from paying taxes to hiring staff was picked up through an arduous process of trial and error.
"Back then, we had to figure out everything on our own. Even to set up a company, we had to go through a lawyer. The whole process was very unclear and there was no one we could turn to for help," recalled Ms Huang, currently the firm's Deputy Chief Executive Officer.
One thing they did get right early on was to change their business model, when their initial idea of a job portal targeted at the general market failed to gain traction.
The partners had realised, after launching their website, that they were no match for the industry's established players. So, they decided to abandon the general market and set up portals specifically for fresh graduates looking for their first jobs.
That move to focus on campus recruitment — where employers would list their jobs on a website dedicated to a specific tertiary institution — turned out to be a winner, and the company turned profitable within the first 18 months of the launch.
Buoyed by that success, they eventually launched a service for the general recruitment market in 2005 and have since grown the business to a 100-strong organisation, with operations in Singapore and Malaysia.
In 2009, Ms Huang started mentoring young entrepreneurs through a programme led by the private/public sector body Action Community for Entrepreneurship, turning her school-of-hard-knocks experiences into valuable lessons for newbies in business.
One challenge that she sees many start-ups facing is what to do when an angel investor or venture capitalist comes calling, dangling hard cash in front of the founders' faces.
"The dilemma is for a business that is already in its second or third year and has hit certain benchmarks. If the company has enough cash flow and someone wants to give you S$2 million, the founders have to make a call on whether it is worth it in the long term," she said.
"You have (to consider what might) happen in the next three years. People are giving away 50 per cent of their companies just for the sake of S$50,000, and they end up regretting it later on," she added.
Ms Huang is no stranger to the situation, having successfully negotiated the sale of JobsCentral to a United States company two-and-a-half years ago. Having transitioned from owner to employee, her entrepreneurial journey appears to have come full circle.
Despite the lack of help when she started the business, she would not have done it differently.
"If we had all the support then that we have now, we wouldn't have had to struggle so hard. But I wouldn't trade that experience, because I learnt a lot from it."
Business Adviser
Ms Huang Shao-Ning, the co-founder and Deputy CEO of JobsCentral Group, shares her views on the problem of ownership faced by founders of start-ups:
"The most common problem among new entrepreneurs is about ownership. A lot of start-ups are founded by friends, and I always tell them that you have to make it very clear at the beginning what the ownership structure is going to be.
"Otherwise, in three to four years, when the business starts making money, things can get messy when some feel they deserve more than others.
"It's like getting married; you draw up a pre-nuptial agreement when things are fine. It's also important that everyone gets paid a salary early on. It is a concrete way of measuring everyone's contribution."
If you have a question for our experts, email todaysme [at] mediacorp.com.sg.