The Big Read: At some suburban malls, retailers confront the sound of silence
SINGAPORE — It is an increasingly common sight these days in the heartlands: Spanking new mixed-use developments with rows and rows of empty shop spaces plastered with posters and banners screaming "For Rent" or "For Sale".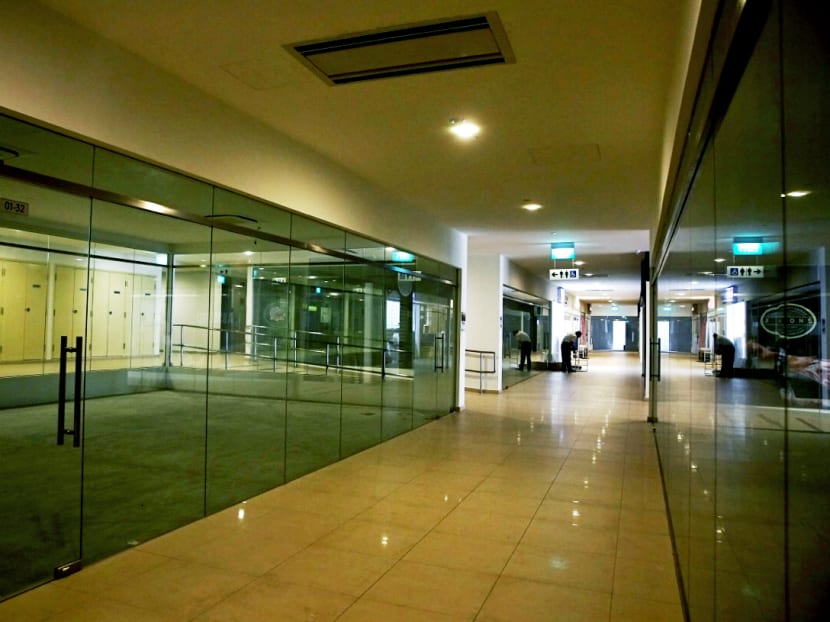 SINGAPORE — It is an increasingly common sight these days in the heartlands: Spanking new mixed-use developments with rows and rows of empty shop spaces plastered with posters and banners screaming "For Rent" or "For Sale".
From Kensington Square along Upper Paya Lebar Road and Novena Regency to The Midtown @ Hougang and MacPherson Mall, to name a few, the retail slump — which first hit the prime shopping districts several months ago — is starting to bite suburban retailers, and the impact on strata-titled malls in housing estates is stark. At the real estate investment trust (Reit)-owned malls such as Jurong Point, Nex in Serangoon, Northpoint in Yishun and AMK Hub, landlords are pulling out all the stops through promotions and loyalty programmes to stave off the chill. However, amid the economic slowdown and uncertain job market, vacancy rates are creeping up and tenants are reporting lower earnings as shoppers tighten their belts, even during the festive period.
Data from property firm Jones Lang Lasalle show that the average vacancy rate of suburban malls, including Reit-owned and strata-titled shopping centres, has more than doubled from less than 1 per cent in 2013 to 2.4 per cent in the fourth quarter of last year. Average monthly gross rents for prime retail space in these malls have also fallen by 7.1 per cent in the final three months of last year, compared with the fourth quarter of 2015. The decline is catching up with the fall of 7.5 per cent in rentals for prime retail space in Orchard Road over the same period.
Mr Alan Cheong, senior director of property firm Savills Singapore, said: "While the heartlands are a strong source of catchment, they are also vulnerable to any decline in disposable income or concerns about job security."
Analysts noted that the recently-launched strata-titled malls — where shop owners or investors own the individual units — were sold by developers during the property bull run between 2010 and 2013, and bought at high prices by cash-rich individuals. These investors are likely to leave their shops vacant for now, instead of lowering rents, the analysts said.
Kensington Square, for example, has 57 commercial units, apart from its 141 residential units. When TODAY visited the development last week, there was only one tenant open for business — a Giant supermarket, which occupies several units. Another unit is undergoing renovation, but the rest of the shop spaces are empty.
Residents living in the adjacent Tai Keng Gardens private housing estate had been looking forward to the mall, as there are few shops in the area, but they have been left disappointed so far.
"We were initially glad that we will not need to take a long walk to get to the eateries or shops across the road, or to take the bus to the nearby Nex ... but look at it now," said Mr Kendo Chan, a 75-year-old resident.
At the older strata-titled malls, such as East Village in Simpang Bedok, the shop spaces end up being dominated by eateries, which tend to be more resilient in an economic slowdown.
Ms Natasha, who works at the snack bar Chulop at East Village, noted that several non-eateries have recently closed shop. "They were not able to do good business," she said.
STRATA-TITLED MALLS BADLY HIT
The woes of old strata-titled malls, including former household names and those in prime shopping districts, are well documented. Yet, investors were "swayed by optimistic projections by developers and agents" during the property boom into ploughing their money into the new ones in the belief that, over the long run, prices would appreciate in land-scarce Singapore, R'ST Research director Ong Kah Seng noted.
"Back then, there was this desperate need to park money in property since interest rates were low," he said, adding that rentals of strata-titled shops have dipped by about 15 to 25 per cent between 2014 and last year.
There was also a belief that the 
suburban market, with a ready catchment of shoppers, is more resilient to the vicissitudes of the economic cycle. But Mr Cheong pointed out: "The rental evidence seems to point to the two paralleling each other. The more it mirrors each other in future, the more the belief that suburban malls are sturdier in rental support turns to myth."
JLL head of research (Singapore) Tay Huey Ying reiterated that during a retail slump, strata-titled malls will find the going especially tough. "As ownership is fragmented ... they generally lack a coordinated marketing programme and this results in a lack of identity or positioning for the malls. This can weaken the appeal of the mall to shoppers and, hence, retailers," she said.
"Moreover — due to the current weak and challenging economic and retailing climate — retailers, and food and beverage (F&B) operators are becoming increasingly selective about their store locations ... retailers and F&B operators have adopted the strategy of focusing on rechanneling funds and manpower towards profitable outlets, while consolidating loss-making and unprofitable outlets within Singapore. This thus reinforces the appeal of malls with a central marketing team."
An owner at one of the newly-launched strata-titled malls said she ended up running a food business herself to make use of the shop space, after receiving rental offers that were too low for consideration. A shop assistant at Giant in Kensington Square said there are hardly any customers on weekdays. "We have been hearing that some shops are going to open but we don't see much action," she said.
The Midtown, a two-storey retail podium that is part of a mixed-use development, was jointly developed by Oxley Holdings and Lian Beng Group. Oxley Deputy CEO Eric Low said that of the 107 retail units, all but one have been sold. While the developer does not operate the mall or receive any rental income, Mr Low said the rise of e-commerce has significantly affected the retail scene.
"The convenience and efficiency offered by online shopping have definitely taken a toll on retail property," he said.
Oxley has gradually shifted its focus overseas over the past few years, and the bulk of its revenue in the coming years will come from abroad, he added.
The Midtown, which is located near Hougang MRT, opened its doors around the middle of last year. However, at least three-quarters of the shop spaces remain empty when TODAY visited the mall earlier this week.
Mr Christopher Ng is renting a 450sqf space for S$9,000 a month to operate his spectacle shop iProfessionals. He has rented the space since September.
Noting that rental rates have fallen by about 40 to 50 per cent for new tenants, he said: "It is not hurting me much as I am able to break even. I also use this space as my office for other businesses, besides keeping costs low with mostly a one-man operation."
At Novena Regency, TODAY understands that upscale supermarket chain Jasons has deferred the opening of its outlet, given the low take-up of the shop spaces at the mall. The development has 45 commercial units, and the vast majority are empty.
Tenants told TODAY that they are trying different ways and means to improve business, including turning to social-media marketing and relying on food delivery services. They are banking their hopes on the re-opening of the nearby Novena Church — which is undergoing renovation — slated for the first quarter of this year.
SUBURBAN MALLS LOSING RESILIENCE
Retailers agree with analysts that suburban malls are becoming less resilient to the downturn even with their captive market in the heartlands.
"Although suburban malls tend to be better insulated from market volatility, the entire retail market is slowing down. Suburban malls are no exception. This is definitely because core consumer spending is down. Consumers are spending less money, and when they do, they look for good value," said Mr Pang Fu Wei, executive director at Mothercare. The kids' clothing retailer said it has seen declining sales at its suburban outlets since the third quarter of 2015.
Rental negotiations, Mr Pang added, are always tough with landlords, especially when the malls are owned by Reits, whose investors expect steady growth in returns. "If landlords continue to demand high and increasing rents, retailers will be forced to consider different channels and focus on online instead," he added.
For Ms Kazankina Ena, shop assistant at a Fragrance shop in Northpoint Shopping Centre, it is tough to make even S$100 in sales on some days. Even during this festive season spanning Christmas and Chinese New Year (CNY), the maximum sales she is able to achieve amount to around S$400 to S$500 a day, she said.
"Last year, we could do close to S$1,000 on some of the days during the peak season … My customers now say they choose to go to the Chinatown market for CNY gifts, or their children buy for them online. Others say they choose to go on holiday abroad for the amount they would spend during the festive season in Singapore," Ms Kazankina added. The fragrance company has been around for more than 14 years with outlets across eight suburban malls in Singapore.
However, some landlords, especially the Reit-owned malls, are singing a different tune. These mall owners say their shopping centres continue to experience heavy footfall, given their appeal with the communities in the vicinity.
A spokesperson at Frasers Centrepoint Malls said: "These are popular meeting points located at the doorsteps of families and friends who enjoy the integrated experiences of dining, shopping, catching the latest blockbusters in cinemas and participating in wellness regimes as a group.
"The success of Waterway Point in Punggol is a testament to this. Despite December being a popular outbound travel period, the mall maintained a steady stream of visitors, especially among those who wanted to experience Christmas festivities within their neighbourhood. Overall, the mall recorded a 5 per cent increase in average monthly traffic since its opening in January 2016."
Most of these mall owners have been offering incentives to retailers besides working with them on joint campaigns to provide some buffer during tough times. Many malls have also intensified loyalty programmes and social-media initiatives to pull buyers.
Said Mr Tan Kee Yong, managing director of AsiaMalls: "We recognise the changing shopping habits and behaviour of our shoppers as they become more digital-savvy now. This has also opened up fresh opportunities … In order to continually improve the shopping experience, we are always looking out for new and unique ways to enhance convenience for shoppers, and to provide what they truly need."
The company has embarked on asset enhancement initiative (AEI) work at White Sands in Pasir Ris and Tiong Bahru Plaza over the past three years. As a result, White Sands experienced 25 per cent more foot traffic in December last year compared with December 2013, Mr Tan said.
Other initiatives included the introduction of a shopper reward programme in December 2015, and a revamp of its mobile app, AMperkz, to enhance the shopping experience. The app allows customers to reserve seats at restaurants, check available parking lots and redeem points for e-vouchers.
At the same time, malls have been re-organising their tenant mix to have a greater share of F&B, education hubs and personal grooming centres. CapitaLand, for instance, has converted the Level 5 open roof at Tampines Mall into a new education hub with well-known operators.
SINGAPOREANS FEELING DOWN
As the rest of the Asia-Pacific region remained hopeful despite a faltering global economy, Singaporeans have grown pessimistic as a result of employment and income uncertainties. The MasterCard Index of Consumer Confidence highlighted a "significant deterioration" in Singapore's score, which slumped 10.7 points to 33.6 in the first half of 2016, the lowest since June 2009 when the world was still reeling from the global financial crisis. A steep decline was reported in all of the survey's five categories: Employment, economy, regular income, stock market and quality of life.
This slump in consumer sentiment is hurting the retail subsectors. According to JLL, the average vacancy rate in the fourth quarter of last year was the highest for the Marina area sub-market at 6.2 per cent, followed by Orchard Road at 3.9 per cent, compared with the suburban sub-market at 2.4 per cent.
However, some bright spots are emerging amid the gloom, as some retailers take advantage of falling rentals to expand operations, while new international brands are pouring in as they consolidate regional operations.
Around the middle of last year, Japanese lifestyle brand Muji opened its tenth local outlet, together with its second Cafe & Meal Muji at Raffles City. IT giant HP Singapore announced the opening of its 1,500sqf flagship store at Marina Square, Japanese retailer Uniqlo unveiled its first global flagship store in South-east Asia in September at Orchard Central, while fashion house Michael Kors opened a two-storey flagship store at Mandarin Gallery.
For the suburban malls, rents have fallen for the fifth straight quarter, and demand from F&B as well as the beauty and health segment continued to drive leasing enquiries.
Sengkang's Compass One mall reopened in the third quarter of last year, with its F&B share of the tenant mix rising sharply to 33 per cent, from 20 per cent previously.
This is in line with the overall trend, according to Mr Desmond Sim, head of CBRE Research in Singapore and South-east Asia. "(F&B) is a major crowd puller," he said.
He added: "Those malls located near transport nodes and in residential areas will continue to perform and may be considered by new-to-market brands."
Mr James Fong, senior lecturer at Nanyang Polytechnic's Singapore Institute of Retail Studies, said the recent launches of suburban malls such as Waterway Point and Compass One "show that there are still opportunities and growth" for these shopping centres. Whether retailers are able to survive and emerge from the slump is in their own hands.
"The outlook for retailers in the next two years is very much dependent on how they upgrade themselves by gaining knowledge on social-media engagement, digital marketing, e-commerce and delivering the right value proposition," he said.