S'pore still 'compelling location' despite spate of R&D closures
SINGAPORE — Even as several multinational pharmaceutical giants are setting up their regional headquarters here to much fanfare, some have quietly wound down their research investments in the Republic.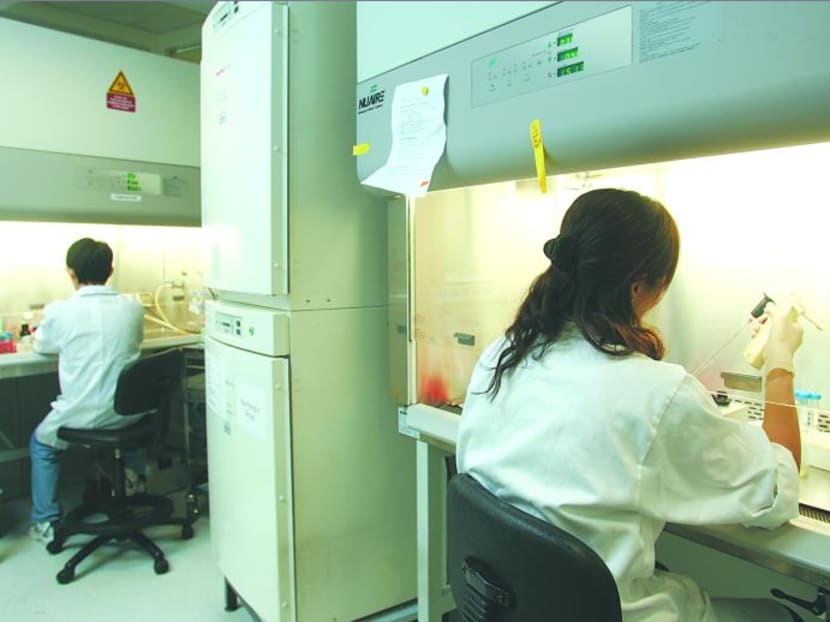 SINGAPORE — Even as several multinational pharmaceutical giants are setting up their regional headquarters here to much fanfare, some have quietly wound down their research investments in the Republic.
In the past five years, at least three major pharmaceutical companies have shut down their research and development (R&D) operations here. In 2010, American pharmaceutical firm Eli Lilly and Company closed its R&D unit of 130 staff, nine years after it was set up.
Three years later, United States-based Pfizer closed its clinical research unit, which was set up in 2000. It laid off 30 employees as a result.
Last year, British firm GlaxoSmithKline (GSK) ended its eight-year-old R&D operations at Biopolis.
Noting the timing of the closures, which came after the end of tax breaks and other incentives offered by the Government for starting operations here, analysts noted that given the high business costs, it was inevitable for some pharmaceutical companies to rationalise their operations after being here for a while.
"It may not be so visible immediately, but the trend is catching up," said Dr Siddharth Dutta, industry manager for life sciences at Frost & Sullivan Asia Pacific. "Talent is expensive in Singapore and when the Government grants and tax breaks come to an end, it only adds to the cost of research operation. Sometimes it is cheaper to acquire a regional company with promising pipeline molecule instead of having a dedicated R&D site."
Mr Jason Humphries, managing director of Good Pharma Consulting in Singapore, added: "Government grants do influence investment decisions in R&D as pharmaceutical companies continue to revamp their research portfolios."
Responding to TODAY's queries, Mr Kevin Lai, executive director of biomedical sciences and consumer businesses at the Economic Development Board (EDB), said: "A pharmaceutical company's decision to withdraw its R&D operations from Singapore is usually a global business decision and is taken as a result of reasons specific to the company. In most cases, Singapore is not the only location affected by the restructuring."
He added that the statutory board works closely with affected companies to minimise the impact on the employees and to provide new employment opportunities in Singapore.
Mr Humphries pointed out that the Republic's focus was clearly on getting pharmaceutical firms to set up their "control towers for regional and emerging markets".
He also noted that companies are consolidating after the recent spate of mergers and acquisition in the region.
Eight of the top 10 Japanese pharmaceutical companies, for example, have established their regional headquarters here.
Last month, GSK also announced that it would use Singapore as a base to steer its growth in Asia, with the set-up of a new regional headquarters here.
Pharmaceutical companies, including some of those that have wound down their R&D investments here, are getting into external collaborations with Singaporean research and clinical groups, or outsourcing their R&D operations to these organisations.
For example, United Kingdom-based AstraZeneca is collaborating with the Agency for Science, Technology and Research (A*STAR), the National University Heart Centre and the National University of Singapore.
Swiss drug-maker Novartis has also entered into several partnerships with Singaporean research institutes since it started the Novartis Institute for Tropical Diseases (NITD) in 2002.
A Pfizer spokesperson said: "Key to expediting the translation of science into breakthrough therapies of tomorrow will be driving greater, deeper and stronger collaborations across the healthcare landscape. At Pfizer, we know we can't go at it alone and are actively supporting the development of an emerging, highly networked ecosystem."
Mr Lai said the EDB continues to see interest from companies to invest, collaborate and conduct R&D here given Singapore's "strong scientific capabilities and the growth of the Asian market".
For example, Chugai Pharmaceutical announced in February that it will invest S$476 million in total by 2021 into its Singapore research institute, Chugai Pharmabody Research.
Mr Lai said: "We are confident that Singapore remains a compelling location for pharmaceutical R&D, manufacturing and commercial operations, and a biomedical sciences hub for Asia and beyond."