This vending machine sells protein bars and shuttlecocks
SINGAPORE — In the void deck of an HDB block in Tampines, a vending machine stands next to the entrance of a provision shop.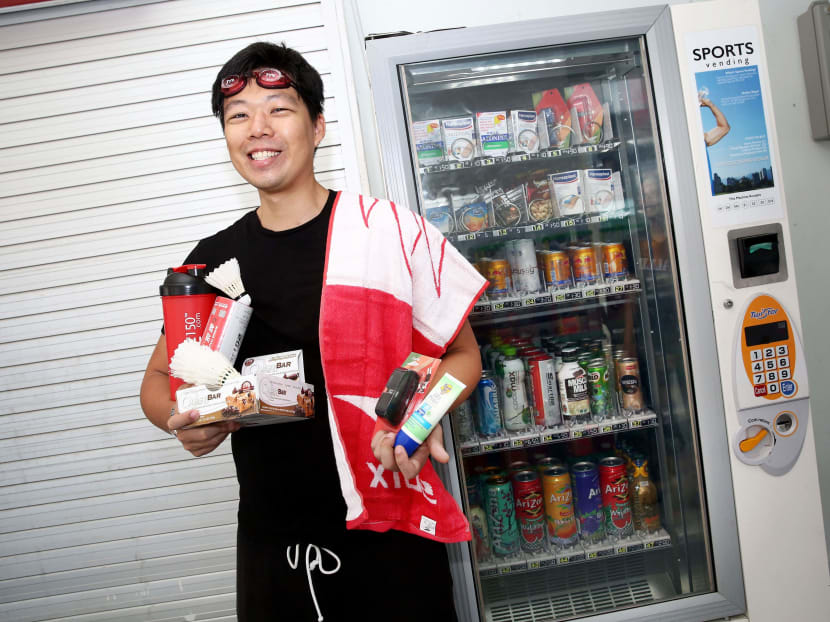 SINGAPORE — In the void deck of an HDB block in Tampines, a vending machine stands next to the entrance of a provision shop.
The machine, bereft of fancy colours or loud advertising, is unassuming. All but for the products inside it.
Instead of your usual snacks or soft drinks, this vending machine dispenses shuttlecocks, badminton grips, energy drinks and protein bars.
The brainchild of Kegan Tan, 30, vending machines that dispense sports-related items could soon be available at swimming complexes and other fitness locations across Singapore, providing a convenient and relatively low-cost method of retailing such goods.
Mr Tan is in talks with several sports organisations, gyms and yoga studios to place up to eight such machines around the island by the end of the year.
The idea for a sporting goods vending machine came to Mr Tan, the owner of Spartan Sports, in 2014. At that time, he was operating a sports shop at Tampines Safra, which although profitable, was not seeing great growth. In order to automate the business and increase his revenue, he installed a vending machine – loading it first with sports-related drinks, followed by sporting goods.
"Vending was the fastest premade solution. In the store that I was running back then, people would often order the same things. So as long as we could size the items, we could replace the store within the machine," Mr Tan said.
"We (first) put basic items such as supplements, water, protein products, pre-workout drinks into the machine. Then we started putting in goggles and other items to test the market," he said.
It was a hit. The vending machine – which operated around the clock - turned a profit in the first month, helping increase his Spartan Sports' overall sales by 20 per cent.
Last year, Mr Tan decided to close the retail store at Tampines Safra and focus on growing his vending machine and online retail businesses – thecrazybadmanshop.
He moved the vending machine to the void deck of an HDB at Tampines Street 23, tweaking the products on offer to suit the clientele in the area.
The current machine, located next to the future Tampines East MRT station, sells a range of products for between S$1.10 and S$8.50 each.
Examples of some products that have been placed in the machine include towels, badminton grips, plasters, protein sachets, protein bars, and energy drinks such as Red Bull.
Mr Tan declined to disclose how much revenue the vending machine brings in each month, but said that it sells between 30 and 40 items each day.
The machine has drawn interest from several gyms, yoga studios, and sports organisations, Mr Tan said, adding that discussions are ongoing to introduce up to eight of these self-service machines across Singapore by the end of this year.
Meanwhile, swimming complexes and soccer stadiums could also see Spartan Sports' vending machines in the near term. These machines would offer products that complement the sport at those locations, Mr Tan said. For example, the machine at a soccer stadium would dispense products such as soccer balls, shin guards, socks and towels, while one at a swimming complex would offer goggles, suntan lotion, shampoo, soap and swimming trunks.
And in contrast to his first barebones machine, the newer ones will feature more advanced technology such as a customised inventory system that will be able to automatically track stock levels and sales.
Looking further into the future, Mr Tan envisions that his machines will be present in key sporting venues, as well as places with high traffic within the next five years. Eventually, when the time is right, Mr Tan said, expansion outside of Singapore is also on the cards, on a franchising model basis.