Weakening pound hurts UK businesses, residents as Brexit talks loom
LONDON — While the United Kingdom's formal withdrawal from the European Union (EU) is still some time away, local small businesses and residents are already feeling the pinch from the weakening pound, which has cut their spending power and undermined their way of life.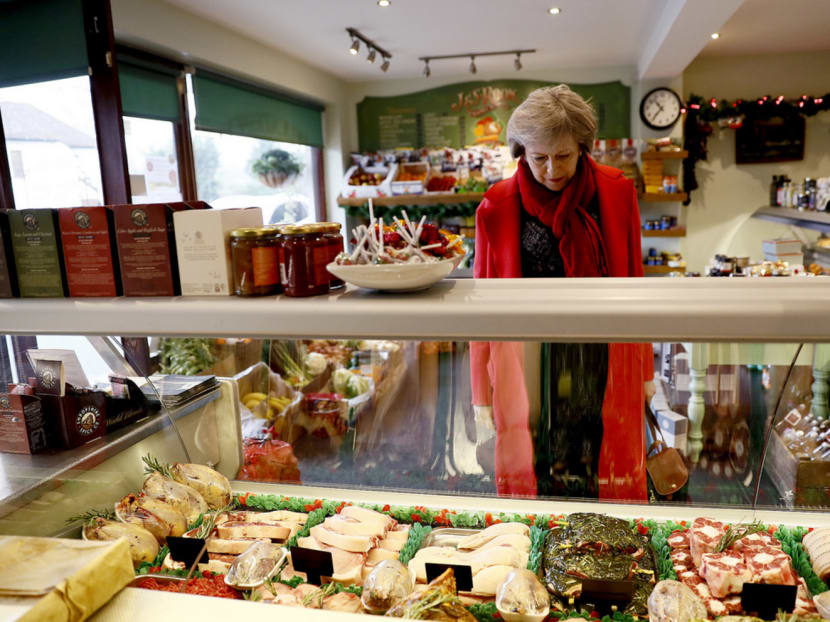 LONDON — While the United Kingdom's formal withdrawal from the European Union (EU) is still some time away, local small businesses and residents are already feeling the pinch from the weakening pound, which has cut their spending power and undermined their way of life.
UK Prime Minister Theresa May on Thursday secured the backing of British lawmakers to trigger Article 50 of the Treaty of Lisbon by the end of March to begin the formal Brexit negotiation process. Observers had said that negotiations could take up to two years.
Following the June referendum, when 52 per cent of UK voters opted for Brexit, the pound slumped from above €1.30 to a low of under €1.10 before clawing back some losses to trade at around €1.19 on Friday.
The fall in the pound — the most immediate impact of the Brexit vote — has hurt small businesses in the UK who import their products from Europe. While some initially tried to absorb the additional costs to remain competitive, many ended up raising their prices to limit losses, business owners told TODAY.
"We have products like notebooks, pens, greeting cards that we bring in from Europe — places like Germany, Italy and France — so those have become more expensive for us. We tried to keep our pricing but it became difficult to maintain profits, so we have just raised the prices of some greeting cards by about 10 per cent. That's between 20 and 30 pence," said Ms Amelie Bryce, 46, a stationery and gift shop owner in the Paddington area of London.
Mr Matias, a 39-year-old owner of a convenience store also in Paddington, noticed a 5 per cent dip in sales in the months after the referendum as British consumers suffered a loss in purchasing power.
"I think people have become more careful in their spending. I try to manage by taking in new stocks less frequently, cutting that from two to three times a month to between one and two times. Does that mean I earn less? Yes. What I worry now is that everyone doesn't feel good about the economy and spends less and less. That's bad for my business," he said.
The sentiments echo the findings of a quarterly survey by the Federation of Small Businesses (FSB), which found that UK small business confidence dipped into negative territory for the first time since 2012 in the third quarter this year.
This was the first survey conducted since the Brexit vote. It also found an increase in the share of businesses that cited exchange rates as a main cause of rising business costs — to 21 per cent in the third quarter this year from 6 per cent a year ago.
London residents also lamented the weaker pound, as it means goods purchased overseas and trips abroad now cost more than they used to.
"I've just booked a weekend trip to Paris Disneyland and I'm pretty sure it's at least 10 per cent more expensive than before the referendum because of the worsening exchange rate now. If this continues, I'll have to make fewer trips," said 26-year-old Sam Acton, who works in the services industry.
And for those working in the banking sector, the mood at work has been sombre amid heightened concerns about job security.
Nevertheless, they reckon that it is too early to assess the impact of Brexit, as much will depend on the outcome of negotiations between the UK and the EU. Furthermore, London would not lose its key financial centre status overnight — a fact that offers some comfort to workers in the sector.
"Of course, we'll want things to stay the same but what's done is done," said a Malaysian employee with a foreign bank in London. "There are still questions about what will happen to us, because the banks will be the first few to be affected, if anything.
"The message from management has been that they will monitor the situation and any decisions will be made only when there's more clarity on the negotiations.
"I personally would still want to stay in London," said the banker, who declined to be named as he is not authorised to talk to the media. "I think London will retain its appeal, whether or not the UK is in the EU."
A Singaporean employee with another foreign bank said his employer had not made any decision to move operations out of the UK.
He is optimistic that most banking jobs will stay put, saying that few locations come close to London when it comes to financial expertise.
"All the talk about banks moving to Frankfurt or Paris is true but London will not shut down entirely. In fact, I feel that, even in the worst case, the majority of jobs will stay in London.
"Most likely only client-facing roles will have to move to other European locations," said the banker, who also declined to be named.
In his visit to Singapore last month, British Minister of State for Trade Policy Mark Price said a key priority of the government is to ensure continuity in the UK's existing trade relations with countries such as Singapore after Brexit.
The British government has also reassured foreign companies that the UK remains an attractive place to do business.
"After Silicon Valley, London is the next biggest place in the world for tech startups. We have a strong financial centre, one of the world's leading financial centres in London, (similar to yours) in Singapore.
"Our time zones mean many people can trade in the east in the morning and the west in the evening. Geographically, we are well positioned. So there are lots of reasons we need to make sure that the people know the UK is a great place to set up and run a business," he said. ADDITIONAL REPORTING BY ALISON JENNER