Chengdu pushes to become China's Silicon Valley
CHENGDU — At first glance, the concrete skyscraper on the outskirts of Chengdu is just like the others in the city of 20 million in China's western hinterland.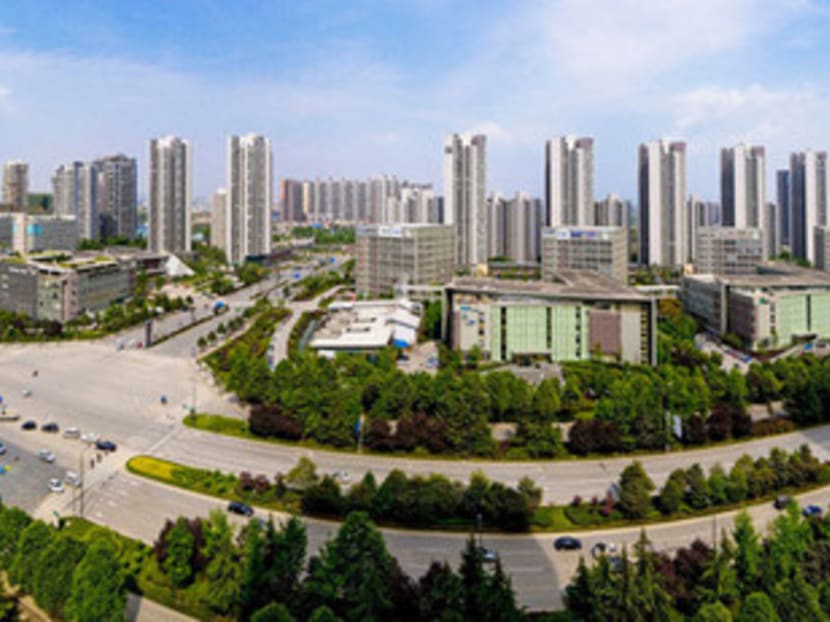 CHENGDU — At first glance, the concrete skyscraper on the outskirts of Chengdu is just like the others in the city of 20 million in China's western hinterland.
But little details stand out. There is the artfully curated spray paint graffito, and an outdoor walkway adorned with posters of Albert Einstein, Apple co-founder Steve Jobs and Facebook CEO Mark Zuckerberg.
The offices themselves sport Silicon Valley-style kitsch: Beanbag chairs, Nerf basketball hoops and electric guitars hanging from walls.
The building is home to 110 Internet start-ups, projects that were lucky enough to be chosen for the "start-up incubator", as the Tianfu Software Park is called. They enjoy free office space, free recruitment services for engineers, and support on everything right down to the "Idea" coffee house on the ground floor, where a government-subsidised cappuccino costs US$0.60 (S$0.86), versus US$5 at a Starbucks down the road.
Tianfu offers 100 million yuan (S$22 million) in total annual subsidies to early stage start-ups, and 1 billion yuan in subsidies overall, according to its management.
The project is the centrepiece of an effort by Chengdu's local government to challenge the notion that high-tech innovation in China is mainly a game for coastal cities such as Beijing, Shanghai and Shenzhen.
In contrast, China's hinterland has long been seen as a low-cost manufacturing hub and a source of migrant workers. This reputation is something the government is trying to change by spending freely to turn the city — better known for pandas and that spicy delicacy called hot pot — into a new Silicon Valley.
Mr Jonathan Woetzel of the consultancy McKinsey, said the urge to innovate comes as many Chinese mega cities such as Chengdu push to move their economies up the value chain. Foreigners often see China as one undifferentiated mass, he said, "but the difference between Harbin and Hainan is like Helsinki and Athens. Each of these mega cities is starting to behave economically like little countries."
Given the scale and heterogeneity, "I don't see why, in the future, China wouldn't have 15-20 Silicon Valleys," he added.
The biggest draw for investors in Chengdu is its low wages. Mr Chen Bing, deputy head of the Chengdu Investment Promotion Commission, an agency that grants perks to businesses that want to invest, said wages average two-thirds to half of those paid in coastal Chinese hubs.
That has already attracted high-tech manufacturing. Chengdu's government claims that Apple contractor Foxconn makes one half of the world's iPads in Chengdu — though Foxconn refused to comment on this claim. The government also said that half of Intel's laptop computer chips are made there as well, thanks to relatively cheap wages. Intel would only say that "some good percentages" of its chips are made in Chengdu.
The existence of high-tech contractors such as Foxconn subsequently attracts inventors. Mr Fan Yongjun, deputy general manager of Chengdu Raja New Energy Automobile, a company that aims to become "the Tesla of light trucks", said that among his motivations for basing in Chengdu — aside from generous perks such as free rent offered to his business — the company wanted to "be near the OEMs", he said, referring to the manufacturers of his company's products.
But, in spite of the perks, many are sceptical that government support alone can change the equation in China in favour of lower-income cities. "I think the key is still talent," said Mr JP Gan of Qiming, a Shanghai-based venture capital group. "Most of the talent here is still in Shanghai, Beijing, and Shenzhen, and increasingly Hangzhou." Out of more than 100 companies he funds, only two or three are in Chengdu.
One of Tianfu Park's success stories is Camera360, a selfie-taking smartphone app that continues to be based in Chengdu after taking the Chinese Internet by storm last year. It is hugely popular — and controversial — in China for its "beautify" function that retouches selfies and portraits to make Asian eyes appear bigger and skin whiter.
But funding Internet start-ups can be a risky business due to high failure rates. Mr Chen said that the main support they offer are subsidies on office space, in exchange for the promise that when they become profitable companies they remain in Chengdu.
The wall of the Tianfu Software incubator lists six success stories of Internet apps that have gone on to make it big, such as Camera360. But that is out of hundreds of also-rans. Mr Chen said he cannot specify the failure rate. "We have to tolerate failures, because that is part of business," he said.
Mr John Landers of Gobi Partners, another Shanghai-based venture firm, said the potential of low living costs to draw early-stage tech investors should not be underestimated. "Most seed-stage companies are going to be able to pay salaries of, at most, RMB 5,000 per month. In a place such as Chengdu you can live on that," he said.
That was what attracted Mr Xianshen Liu, CEO of Llama, an app aimed at bringing video editors and customers together online. "It's so much cheaper," he said. "And, for the Internet, it doesn't really matter where you are."
He is originally from Shandong province, worked for years in the United States as an accountant, and returned to China to become an entrepreneur. "Beijing is too crazy for me," he said. FINANCIAL TIMES