With dreadlocks, rhythm and flow, China embraces hip-hop
CHENGDU — Standing under a phalanx of flashing blue lights, Masiwei gazed down at the sea of waving fans. Cheers erupted as he threw his head back and called out to the hometown crowd.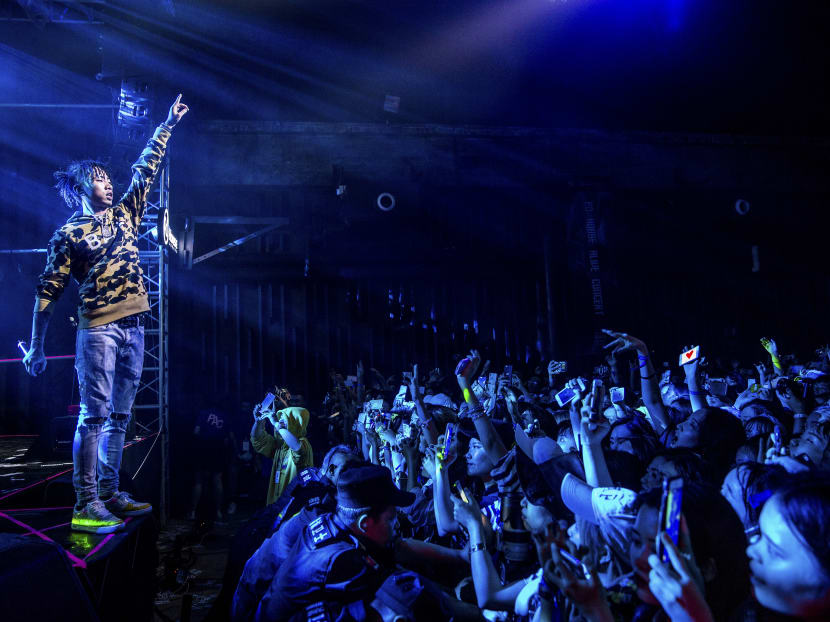 CHENGDU — Standing under a phalanx of flashing blue lights, Masiwei gazed down at the sea of waving fans. Cheers erupted as he threw his head back and called out to the hometown crowd.
"Chengduuuu!"
Just minutes later, the wiry rapper — one-fourth of the four-man Chinese rap crew known as the Higher Brothers — was stomping across the stage with his shirt off, tattoos out and short dreadlocks pulled back into a high ponytail. At the other end of the stage, Dzknow, another Higher Brothers rapper, grabbed a fistful of cash and took aim, sending a flurry of fake bills raining down on the sweaty fans below.
It was a classic rapper move in a not-so-classic setting: a small hip-hop festival on the outskirts of the southwestern Chinese city of Chengdu.
Once an underground subculture, hip-hop — the music, the culture and the fashion — has stormed the Chinese mainstream in recent months. Fans are flocking to nightclubs and music festivals to see their favourite local rappers and DJs perform, while English terms like flow, freestyle and even dis have made their way into popular urban parlance.
Perhaps nowhere is that more apparent than here in Chengdu, a sprawling metropolis of nearly 16 million that is best known for its pandas and mouth-numbing spicy food but is quickly becoming a hotbed of hip-hop, particularly rap.
The city has produced a steady stream of prominent underground hip-hop artists, including Fat Shady, Kafe Hu, Ty and, most recently, the Higher Brothers, the current breakout stars of the Chinese hip-hop world.
And, as is often the case among rappers, hubris is not in short supply here.
"Of course Chengdu rappers are much cooler than rappers from other cities," said Masiwei, 24, in an interview backstage before the recent show.
Less than two decades ago, few people in Chengdu had even heard of the term hip-hop, "xiha" in Chinese, let alone listened to it. In the late 1990s, when access to the internet and pirated videos became more widespread, locals began to discover the genre.
Many were teenagers when they heard artists like Jay-Z, 50 Cent and Eminem (referred to rather affectionately among Chinese as "Em") for the first time. Some stumbled upon the music through NBA mixtapes; others through watching break-dance, or B-boy, videos.
Demi Zhu, one of the first amateur rappers in Chengdu, recalled hearing DMX and Run DMC in a B-boy video for the first time at the age of 17.
"We had no idea who they were or what they were saying, but we liked the tempo and we liked the feel," said Zhu, now 32. "You could feel their passion."
No one can quite say why hip-hop took hold here so early, compared with other Chinese cities. Local rappers say the Chengdu dialect, with its bouncy rhythm and irregular tones, is versatile in a way that is especially well suited to rap music.
"I use the dialect as a tool when I write verses," said Masiwei of the Higher Brothers. "If I want to achieve a certain flow, I can use Chengdu dialect in one sentence, then English in the next and then standard Mandarin."
But when it comes to writing songs, government censorship is the bane of every Chinese rapper. Local rappers say the unofficial list of sensitive topics is long: politics, drugs, sex, violence, gangsters and explicit language — in other words, many of the themes that have come to define modern hip-hop.
As a result, rappers, like most creative workers in China, find themselves constantly testing the boundaries of what is permissible.
"It's like hip-hop 2.0," Luo Sang, a local DJ and a manager at Nasa, one of Chengdu's first hip-hop nightclubs, said with a wink.
Even setting aside censorship concerns, many rappers say that while they look up to American hip-hop, they are not necessarily looking to replicate the music.
"What I want to say, what I want to express, is different," said Kafe Hu, 30, a local rapper. "I am not black. Even though I was once very poor, I have never been in physical danger. I have never lived in a — hood. I've seen people doing drugs before, but it was nothing like the US"
There is certainly one traditional hip-hop obsession that has become a favourite theme among local rappers.
"One theme that really resonates here is money," said Andre Alexander, also known as Harikiri, a British music producer and DJ based in Chengdu. In "Made in China," the Higher Brothers' most popular song, for example, Masiwei boasts: "My chains, my new gold watch / made in China."
"Rappers here love to be like, 'I was poor before, and look what I'm doing now,'" Alexander said.
The "making it to the top" narrative has become more relevant in recent months since the huge popularity this summer of the new online show "The Rap of China" (think "American Idol" for rappers). Each episode got more than 200 million views, and some of the participants on the show are now household names.
Hundreds of fans — mostly women, mostly in their 20s — turned up on a recent Sunday afternoon at a newly built art park in Chengdu to watch the Higher Brothers and others perform.
On the lawn outside the venue, fans puffed on cigarettes while lounging on brightly coloured inflatable cushions. Some meandered over to a row of tents to inquire about the dreadlock braiding services and tarot card readings on offer.
For every recent hip-hop convert, there seemed to be at least one longtime hip-hop buff. Many spoke enthusiastically about their love of the genre, citing its authenticity and its straight-talking nature.
"Hip-hop lets me express my individuality," Yang Jinyue, 24, a local DJ, said as she sat cross-legged on the grass, sporting a black baseball cap and a skimpy black romper that revealed numerous tattoos.
That fixation with individuality was a sentiment echoed repeatedly throughout the day, among both rappers and fans.
"When it comes to our careers, we've already made the most important decision," explained Masiwei, gesturing toward his fellow Higher Brothers crew members. "That was: Should I become a rapper or should I listen to my parents?"
"We're all doing what we want to be doing now," he added, as the other members nodded in agreement. "We are living our own lives." THE NEW YORK TIMES